A complete guide to Worcestershire sauce
Tangy, savoury and utterly delicious, Worcestershire sauce is like a touch of magic. A single drop of this thin, spicy condiment can add incredible richness and depth of flavour to so many dishes, but what is it exactly? We find out where it's come from, how it's made and how to cook with Worcestershire sauce.
What is Worcestershire sauce?
Worcestershire (pronounced WUS-ter-sheer) sauce is best described as a fermented liquid condiment that's characterised by a savoury, tangy, slightly spiced flavour and dark brown colour. Although the exact original Lea & Perrins recipe is a closely guarded secret, the list of ingredients features malt vinegar, anchovies, molasses, tamarind extract, onion, garlic, sugar, salt and a bunch of other seasonings.
First, the onions and garlic are packed in malt vinegar barrels, while anchovies are left to cure in salt. Everything is fermented for 18 months before all the ingredients are brought together and mixed for further maturing. When that's done, the concentrated sauce is diluted and sterilised, ready to bottle.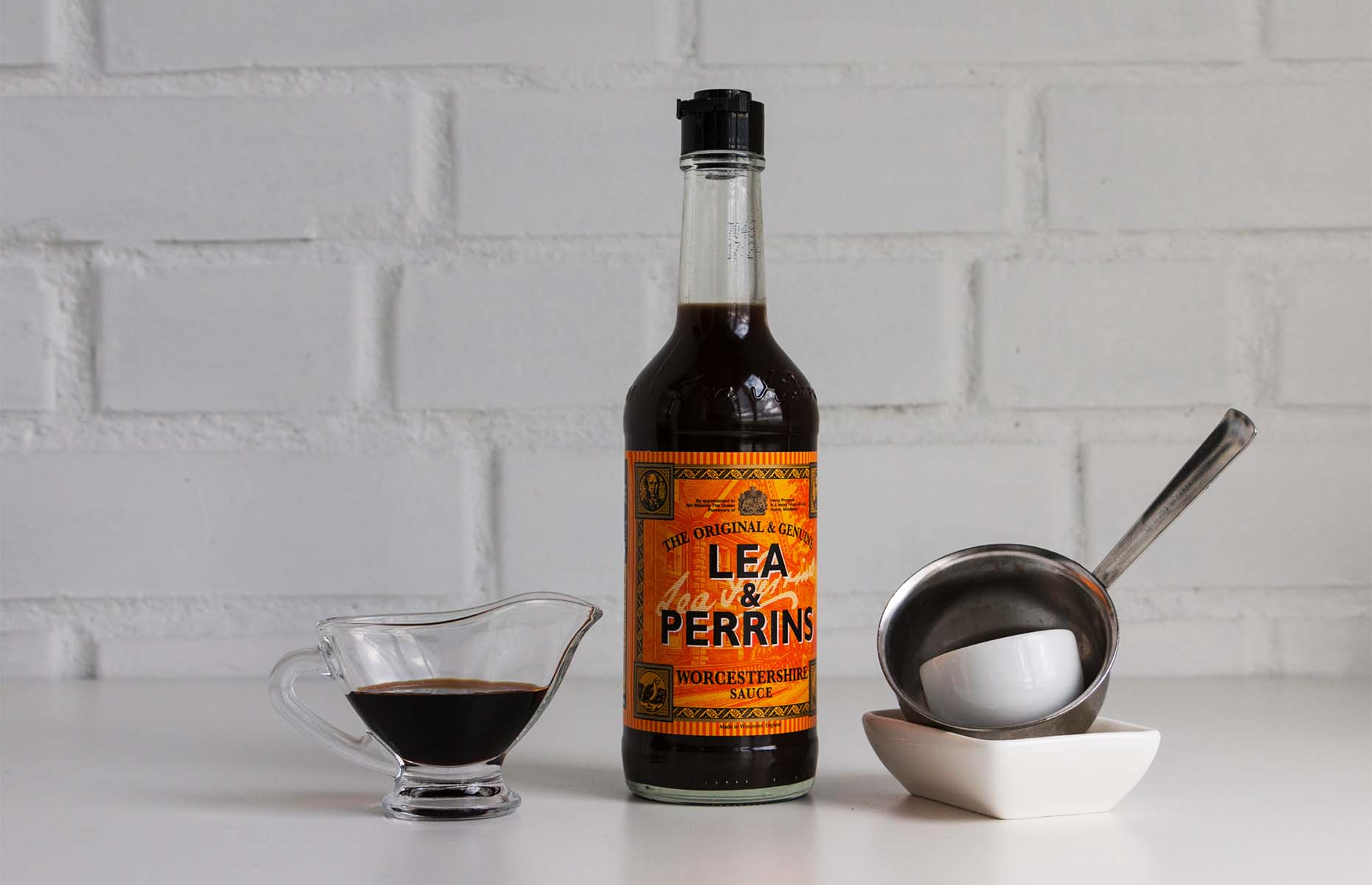 Studio Dagdagaz/Shutterstock
READ MORE: Fabulous foods that made places famous
The origins of Worcestershire sauce
Invented by a Worcester chemist duo John Wheeley Lea and William Perrins, Worcestershire sauce's origins have been somewhat disputed, but the common story starts with Lord Sandys, a British aristocrat. Upon his return to his hometown of Worcester after his stint as the Governor of Bengal in India in 1835, he visited the chemist shop, asking for a recipe he encountered in India to be recreated.
The chemists obliged, but found the sauce to be far too pungent and nearly inedible. For some bizarre reason Lea and Perrins left the sauce to sit in the basement of their shop and when they came across it a few years later during spring cleaning, it had mellowed and developed a rich, savoury flavour. It was clear they were on to something and the first bottles of Worcestershire sauce hit the shelves of their chemist shop in 1837.
READ MORE: Top-secret recipes we'd love to get our hands on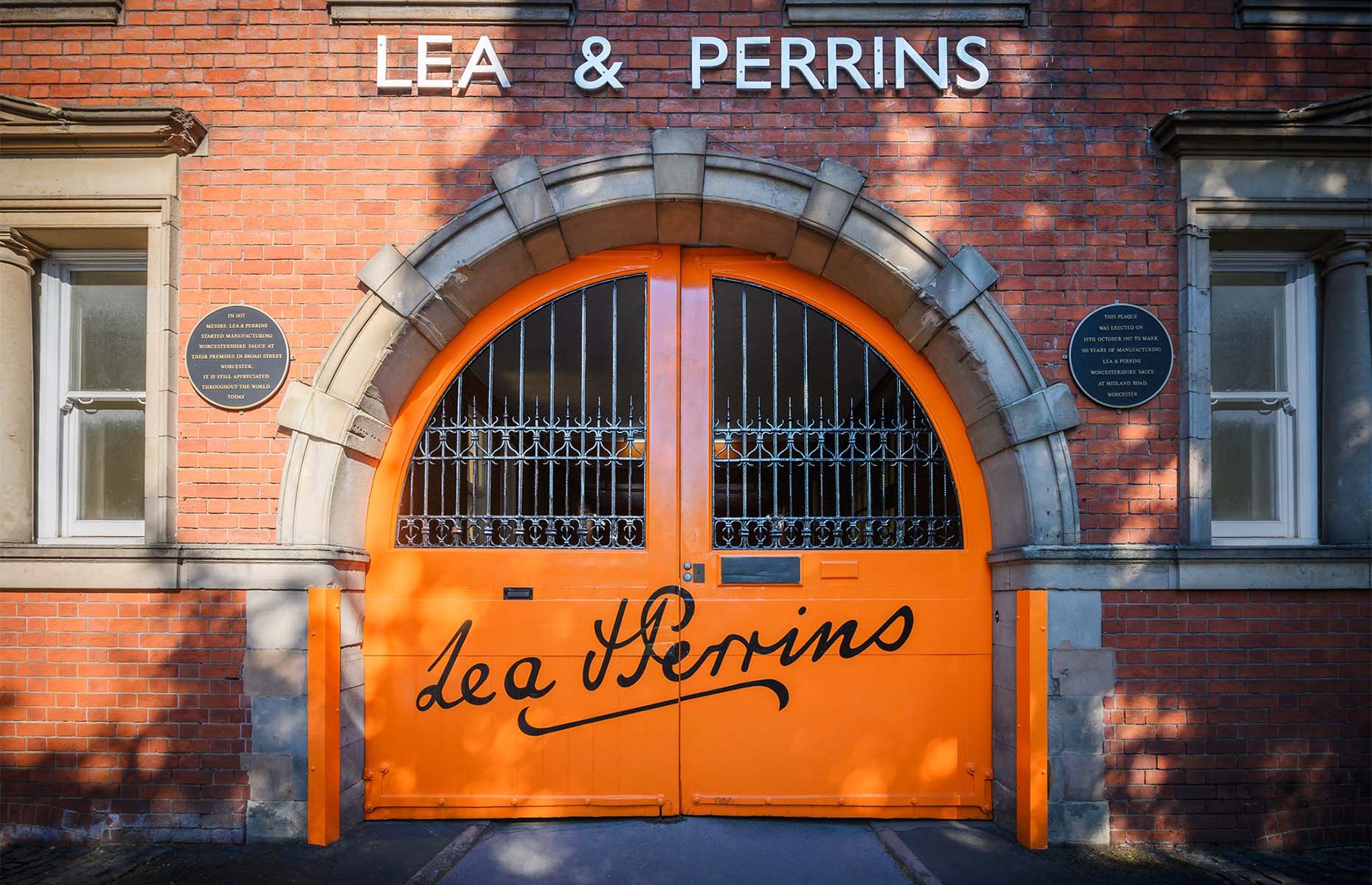 Lea and Perrins/Facebook
Worcestershire sauce history in Britain and beyond
Fermented sauces have a long culinary history in Britain, according to food historian Seren Charrington-Hollins. "The practice of fermenting fish until they yield a dark, piquant and rich-tasting liquid can be traced back to the Roman garum sauce so it's not surprising that Worcestershire sauce gained and retained popularity," she says. So the method of making the sauce wasn't unique, it was rather the distinct flavour. "It has a meaty flavour that's gamey as opposed to fishy. It has all the rich meat flavours of a good meat gravy and it is this quality that led to it becoming the cunning cook's secret weapon," Seren explains.
READ MORE: How store-cupboard ingredients can transform your favourite dishes
Lea and Perrins quickly started exporting their magic sauce to the US, with the first shipment arriving in New York harbour in 1839. The bottles were wrapped in paper to protect them during their journey across the Atlantic and the distinct look has been retained to this day. It's also thought to be the very first commercially bottled condiment to be brought to the United States.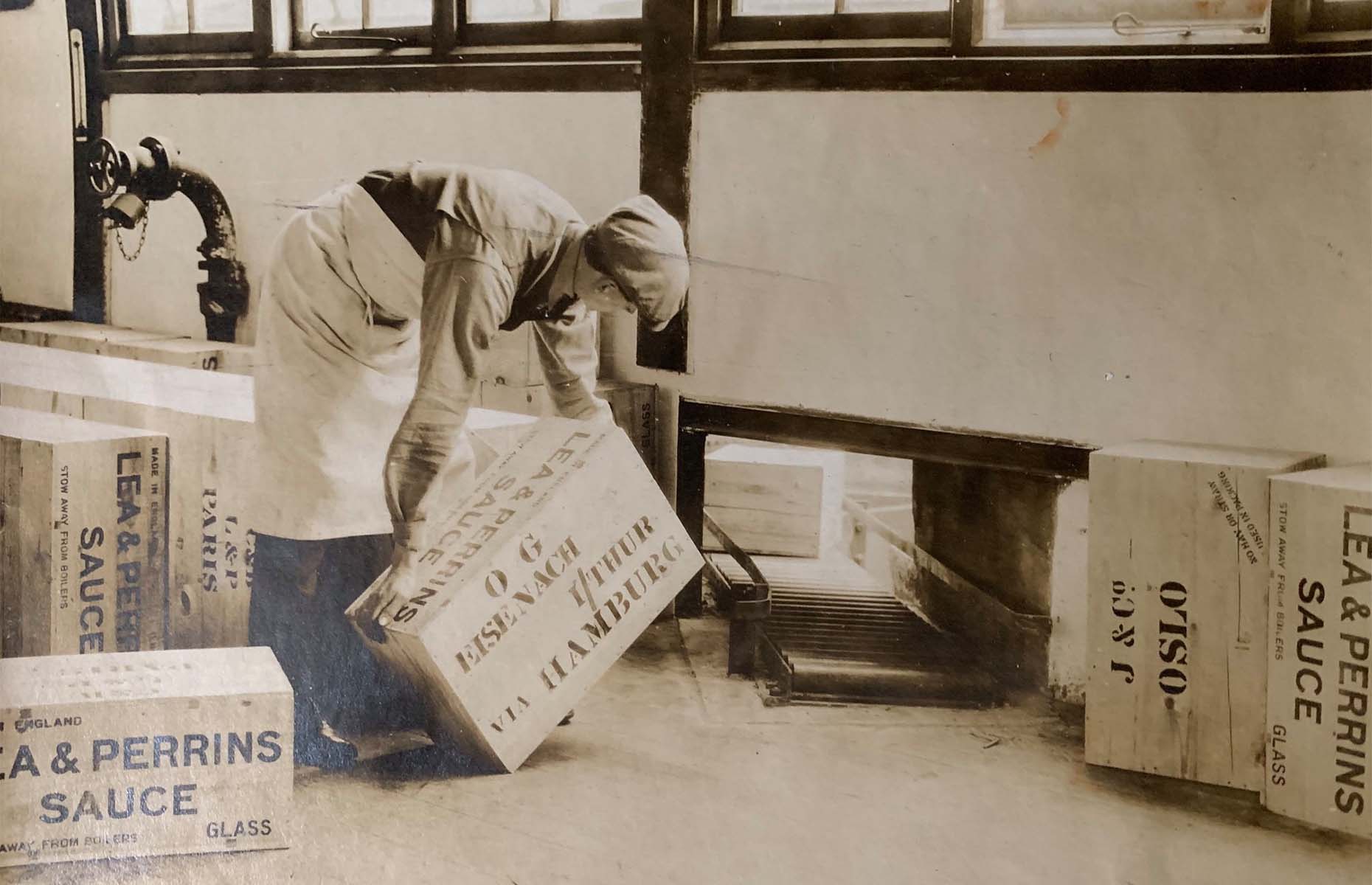 Lea and Perrins/Facebook
Today, it's become a store cupboard staple in Britain and beyond thanks to this rich flavour profile. "It quickly gained popularity because of its ability to pep up dishes such as casseroles, sauces and pies," Seren says. "It was an economical way to add flavour and now it's used as a season-all solution in cooking." Bristol-based chef Dan Voet agrees: "Worcestershire sauce helps add a lot of depth and flavour to dishes that might otherwise be quite bland. It's an easy and simple way to enhance flavours in a dish."
"It has become synonymous with British cooking," Seren says. In fact, its intense umami flavour has also led to the invention of several dishes, like the modern-day British spaghetti bolognese, marie rose sauce (used in the British version of prawn cocktail) and, of course, the bloody mary cocktail.
Things to know about buying Worcestershire sauce
Sold in a distinctly shaped bottle with that familiar orange label in the UK and the paper wrapping in the US, there's only one original Lea & Perrins Worcestershire sauce. Although an unsuccessful legal battle in 1876 still means Worcestershire sauce isn't trademarked, you'll find most alternatives are called Worcester sauce – these are usually either supermarket own-brand or gluten-free or vegetarian- and vegan-friendly versions.
Today, the sauce is sold in 180 countries and the recipe slightly differs in most. For example, the sauce sold in the US uses distilled white vinegar rather than malt vinegar and has three times as much sugar and sodium. This makes the sauce sweeter and saltier than the version available in Britain and Canada, so pay close attention to quantities if cooking a British recipe with a US-bought sauce and vice versa.
Some controversy also exists between Worcestershire sauce and Henderson's Relish. The latter, a spicy table sauce, hails from Sheffield where it's been made since 1885. Although similar in appearance (including the much-discussed orange label), that's where the similarities end. Henderson's Relish is exactly that – a relish rather than a condiment and it doesn't contain anchovies, making it suitable for vegetarians, vegans and people with certain allergies. The relish isn't fermented either and the dominant flavours are that of tamarind, cayenne pepper, vinegar, garlic and cloves.
At home, Worcestershire sauce is best stored in a dark place, like a pantry or cupboard, and kept away from the hob so it's not exposed to rapid temperature changes. Once opened, it can last for years, if stored correctly, but it will slowly start to lose its distinct flavour over time.
READ MORE: A complete guide to miso
How to cook with Worcestershire sauce?
Chef Dan describes the flavour of Worcestershire sauce as a blend of sweet and tangy notes with a bit of spice. This makes it a great addition to dishes that will benefit from great depth of flavour and can even add a certain level of smokiness to tomato-based dishes. "You can start small with just a little splash and then add more depending on taste," Dan says.
Although it's a condiment, it's best used sparingly during cooking not after, but something like steak or cheese on toast can be pimped up with a light drizzle. It's best used to enhance flavour and boost sauces as it helps to create a rich, savoury base. Dan suggests trying it in dishes like chilli con carne, beef bourguignon, steak and ale pie, and even some curries – especially those with a tomato base.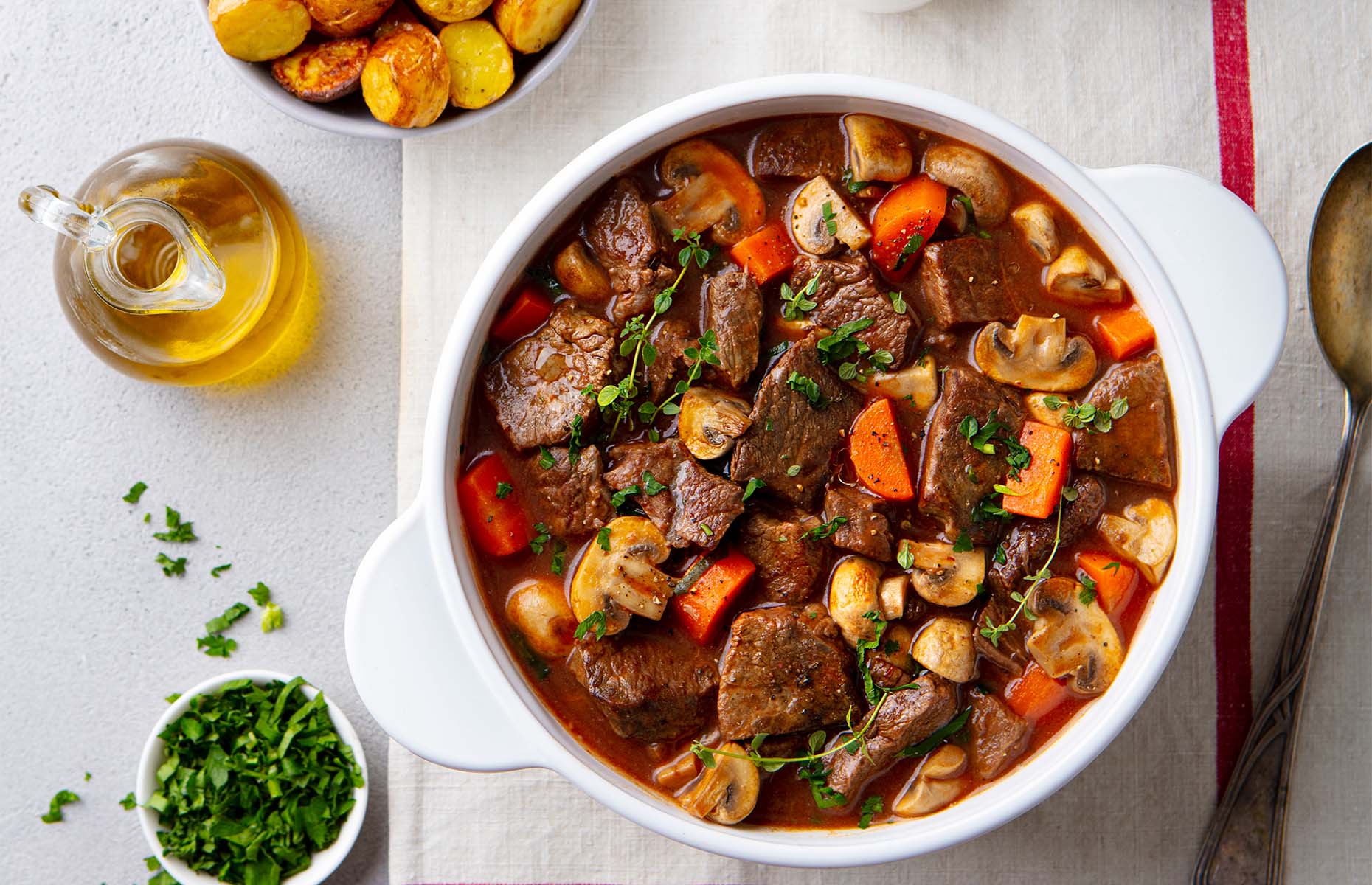 Anna_Pustynnikova/Shutterstock
Recipes to make with Worcestershire sauce
Dressings, marinades and sauces
Most commonly used as a seasoning, Worcestershire sauce is a necessary addition to a classic Caesar salad dressing where it enhances the salty and savoury anchovy flavour. It's also used to make a classic marie rose sauce for prawn cocktail and is an easy way to inject even more flavour into a BBQ sauce and help cut through the sweetness – try it on barbecue ribs.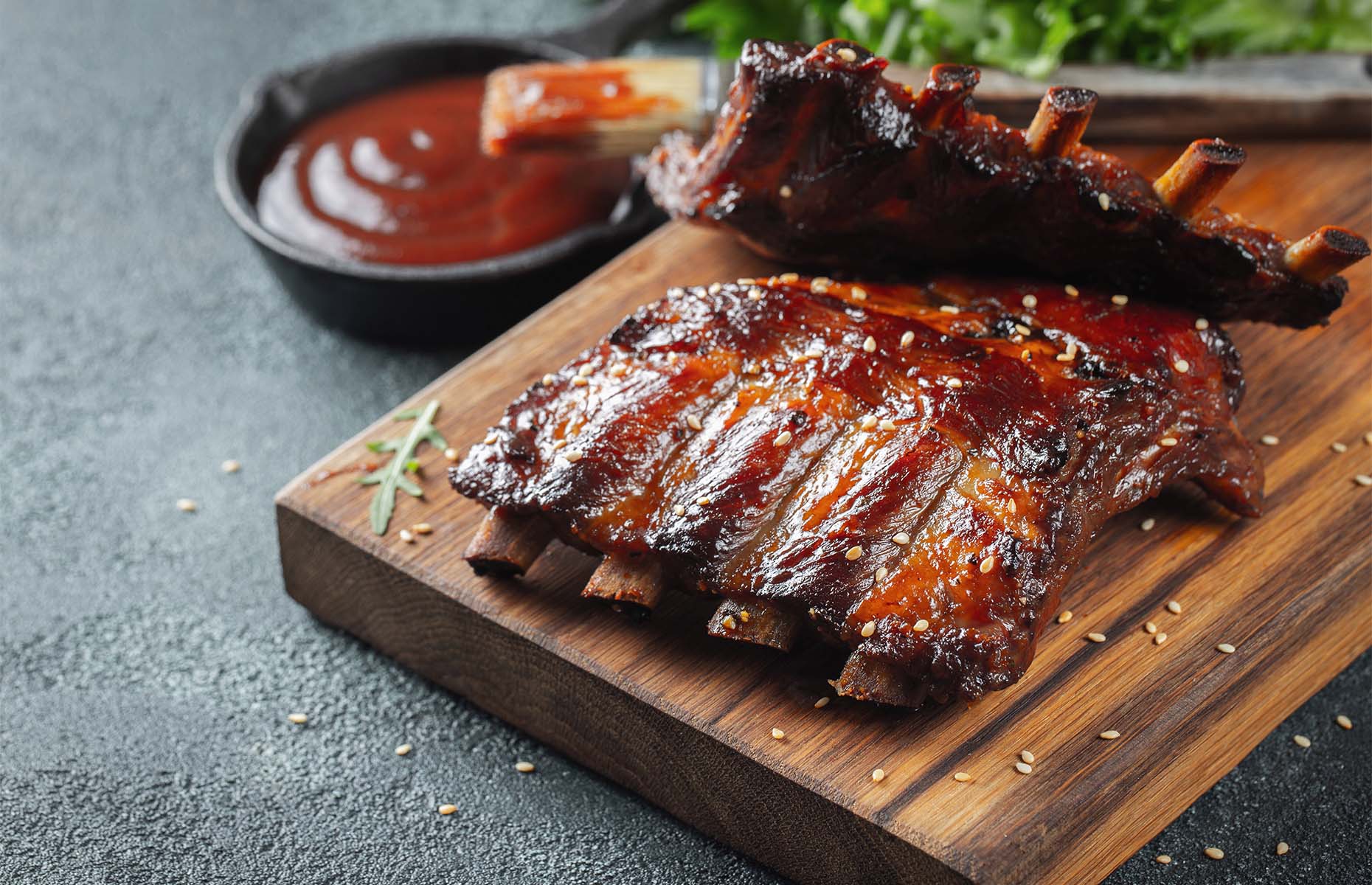 VasiliyBudarin/Shutterstock
Worcestershire sauce can also be used as an alternative to fish sauce if you want to try a slightly different flavour profile in your marinades. A bloody mary-inspired tomato sauce with a dash of Worcestershire sauce is great for prawns while classic oysters kilpatrick see a dash of it added to liven up the flavours of bacon. You could also try it in dishes like sweet and sour pork where you'd normally use soy sauce.
Meat-based dishes
Worcestershire sauce is arguably truly at its best when added to enhance the flavours of already-rich meat dishes. A classic shepherd's pie is one of the obvious recipes to make, as is beef stew with dumplings. Anything that is cooked low and slow can be made even more savoury and rich with Worcestershire sauce – think pulled barbecue chicken or even chilli con carne. Try adding a teaspoon the next time you're making sloppy joes and you'll really taste the difference. Finally, you can even work it into your minced meat mixture, whether you're making sausage rolls, meat loaf or meatballs in tomato sauce.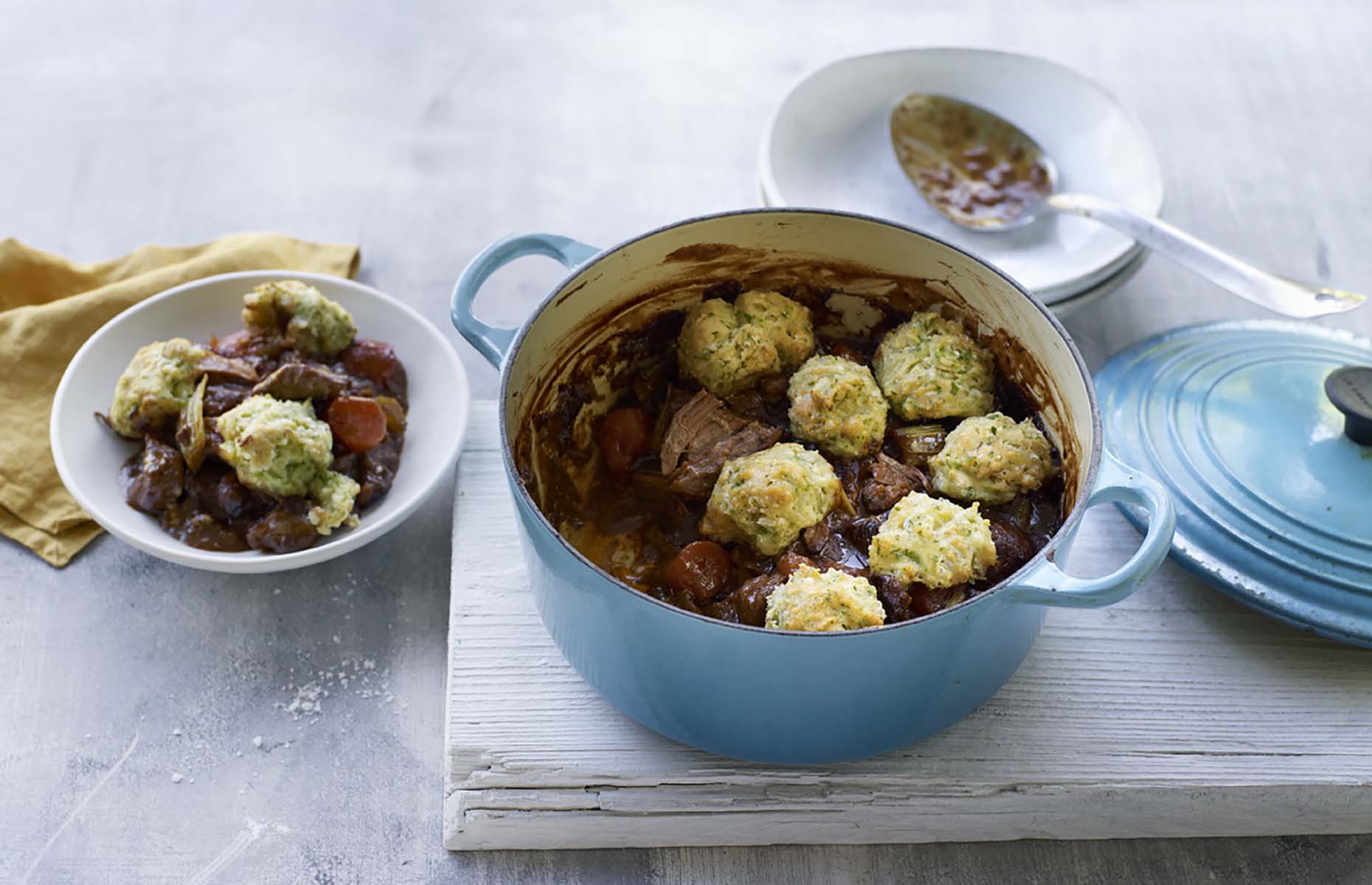 Waitrose & Partners/loveFOOD
Cheesy dishes
Recipes with cheese or cheese-based sauces can often end up overly rich and cloying. But add a touch of Worcestershire sauce and it'll add a savoury flavour that cuts through the cheesiness – it's essential in a Welsh rarebit for a reason. You could easily add a drop to mac 'n' cheese or a light drizzle to these Parmesan cheese toasties before they're grilled. It will also work wonders in the meat sauce used in a lasagne as well as in a cheese sauce for slow-cooked brisket.
Lead image: Lea and Perrins/Facebook
Be the first to comment
Do you want to comment on this article? You need to be signed in for this feature