A complete guide to Parma Ham
Every paper-thin, melt-in-the-mouth slice of sweet, savoury and salty Prosciutto di Parma, or Parma Ham, is the result of traditional, artisan techniques that have changed little over the years. Find out how it's made, plus tips for serving and cooking with this incredibly versatile ingredient.
What is Parma Ham?
Prosciutto di Parma, which translates from Italian as Parma Ham, is one of the finest hams in the world. When thinly sliced – which is how it's most commonly bought and served – the dry-cured ham is characterised by its warm pink colour and sliver of creamy fat running down one side. The meat is silky and melt-in-the-mouth, and the flavour is unbeatable: deliciously savoury with hints of sweetness and salt.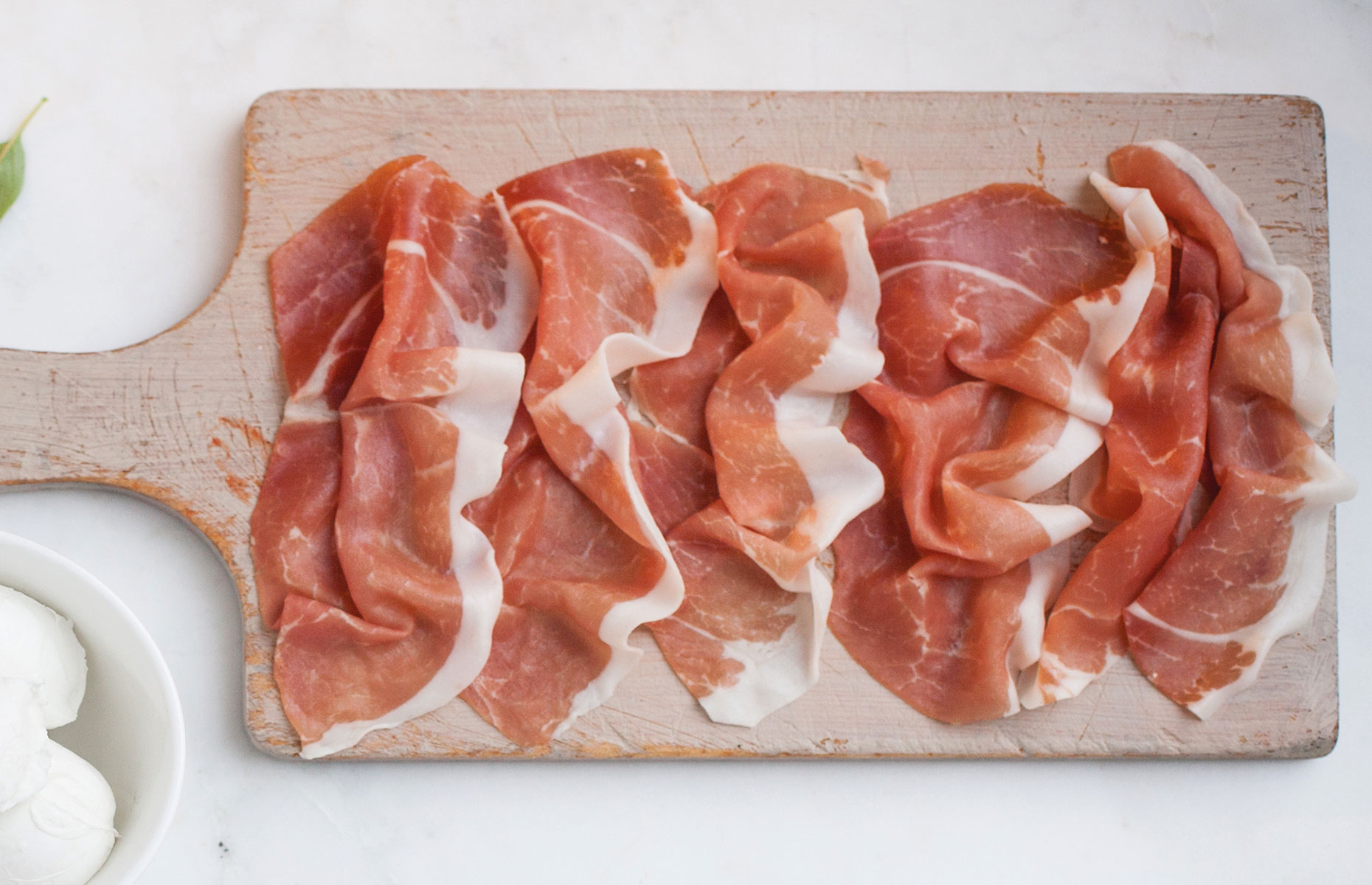 Image courtesy of Consorzio del Prosciutto di Parma
When buying Parma Ham, you're always guaranteed a premium and artisan product. It's a Protected Designation of Origin (PDO) food which means it's entirely produced in a certain place that gives it unique properties. In this case, the clue is in the name: Parma. More specifically, in the hills surrounding the town of Parma in the Emilia Romagna region of Northern Italy.
In fact, air-cured ham has been made in this area since at least 100 BC. Cato the Censor recorded the preservation of pig legs through a process of salting, drying, and greasing with a little oil. It's very similar to the process today which is overseen by the Consorzio del Prosciutto di Parma. The Consorzio checks every single Parma Ham and ensures the production and final result are up to standard before being branded with the certification trademark, the Ducal Crown.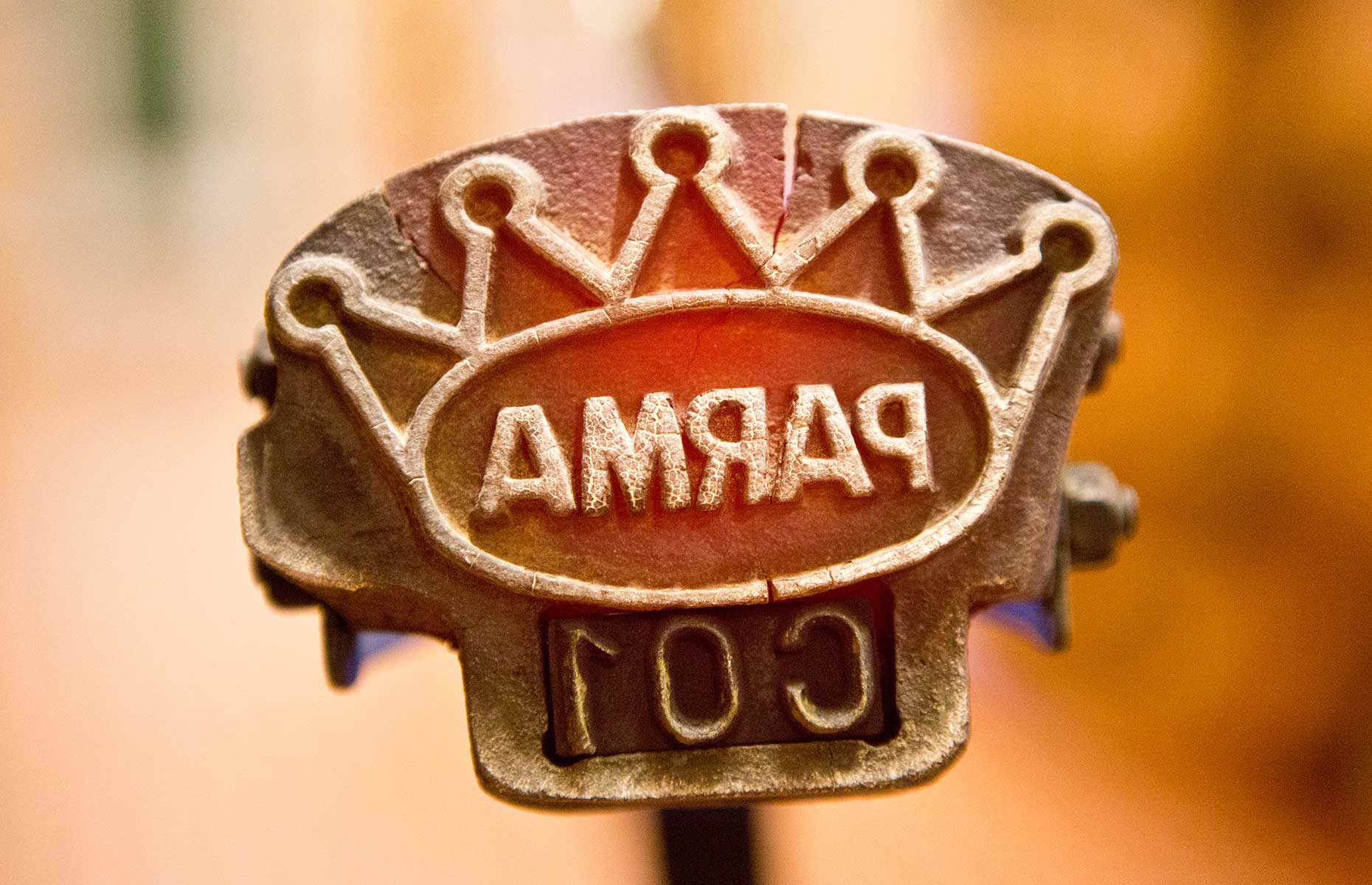 Image courtesy of Consorzio del Prosciutto di Parma
Prosciutto di Parma usually has a delicate aroma and flavour so it's delightful on its own with a glass of sparkling wine or as part of an antipasti selection. Depending on what you're after, hams aged beyond the minimum of a year will also take on a more complex and concentrated profile.
READ MORE: 5 things you didn't know you could do with Parma Ham
But it's also an incredibly versatile ingredient to cook with, perfect for breakfast, lunch and dinner dishes. Drape over fried eggs, stuff in a decadent toastie or mix into creamy pasta. It's particularly great in hearty or celebratory dishes: bake into palmiers and serve as canapés or sprinkle baked and crumbled Parma Ham over roasted sprouts.
How is Parma Ham made?
Prosciutto di Parma has to be made in a certain way to receive the official stamp of approval from the Consortium. But this doesn't mean that every leg of ham tastes the same – of course, every pig from which the meat comes is unique and will add its own very subtle flavour profile. Plus the longer it's aged, the more complex the flavour.
There are only four ingredients that go into making Parma Ham: Italian pork, air, salt and time. But the proper process using artisan techniques is a painstaking one.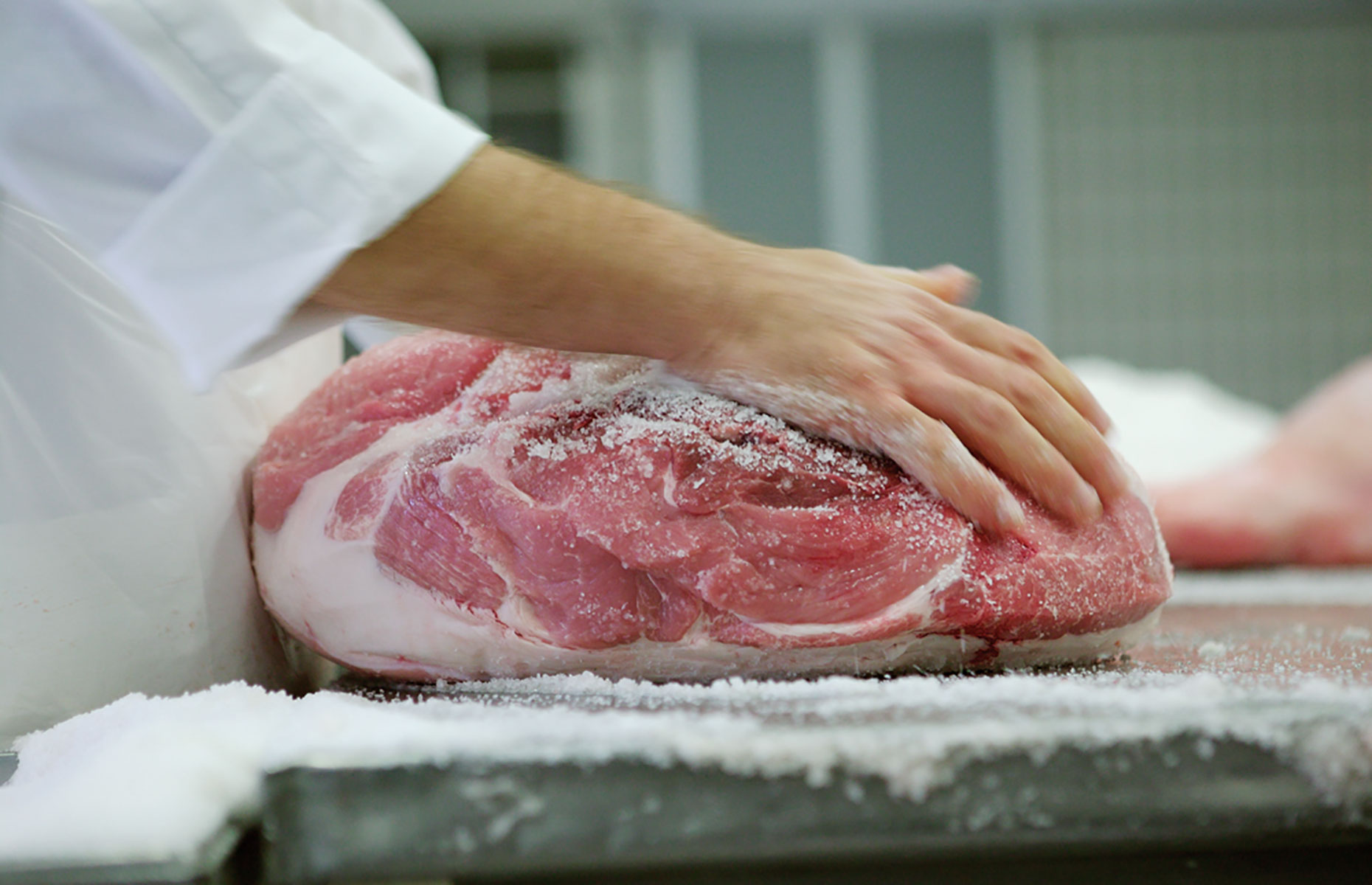 Image courtesy of Consorzio del Prosciutto di Parma
The pigs used are Large White, Landrace and Duroc – either purebred or a breed that's registered in the Italian Herd Book. Parma Ham producers receive fresh legs (the rear haunches of the pig), which weigh an average of 15kg (33lbs), from authorised abattoirs. Then salt is added into the mix. The salt master, or maestro salatore, salts the meat which is then refrigerated for a week. It's given a thin second layer of salt which is absorbed over 15 to 18 days.
READ MORE: A complete guide to Parmesan
Then comes air and time. The legs are hung in humidity-controlled rooms for 60 to 90 days, then washed of excess salt or impurities. After a few days in drying rooms, they're hung on frames in well-ventilated rooms. The next three months are critical to the development of the ham's unique flavour. At the end of this period, they're covered in a mix of lard and salt to prevent the external layers of the ham from drying out.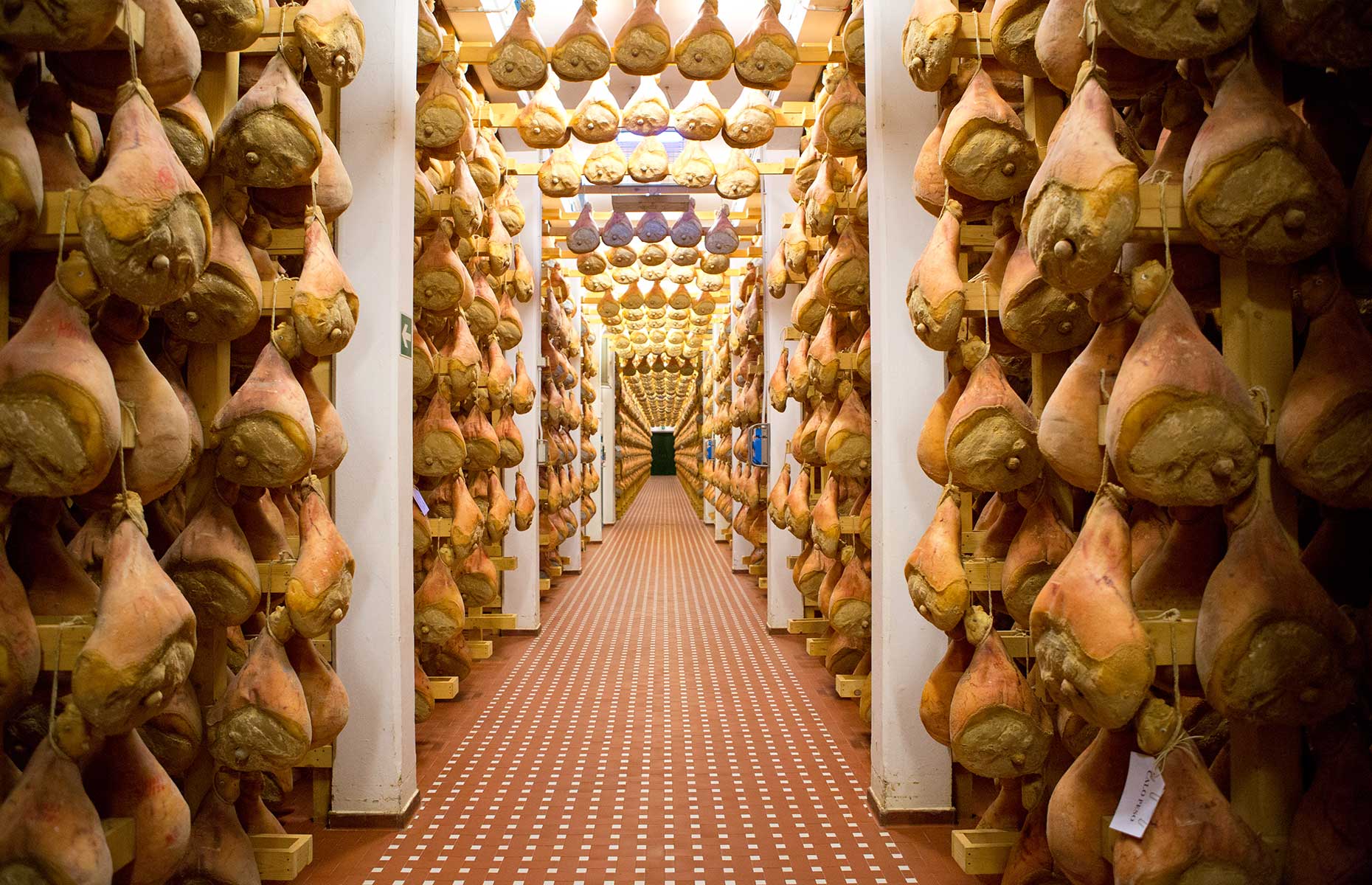 Image courtesy of Consorzio del Prosciutto di Parma
For the final stage of curing, the legs of ham are hung in cellar-like rooms with less air and light. The total ageing period must last, by law, for a minimum of a year. But this labour-intensive process is still not over. Each leg of ham is checked for quality by inserting a needle into five points of the ham and smelling for the right maturity. If it passes muster, the ham is branded with the five-point Ducal Crown which also shows the producer's identification code allowing for full traceability.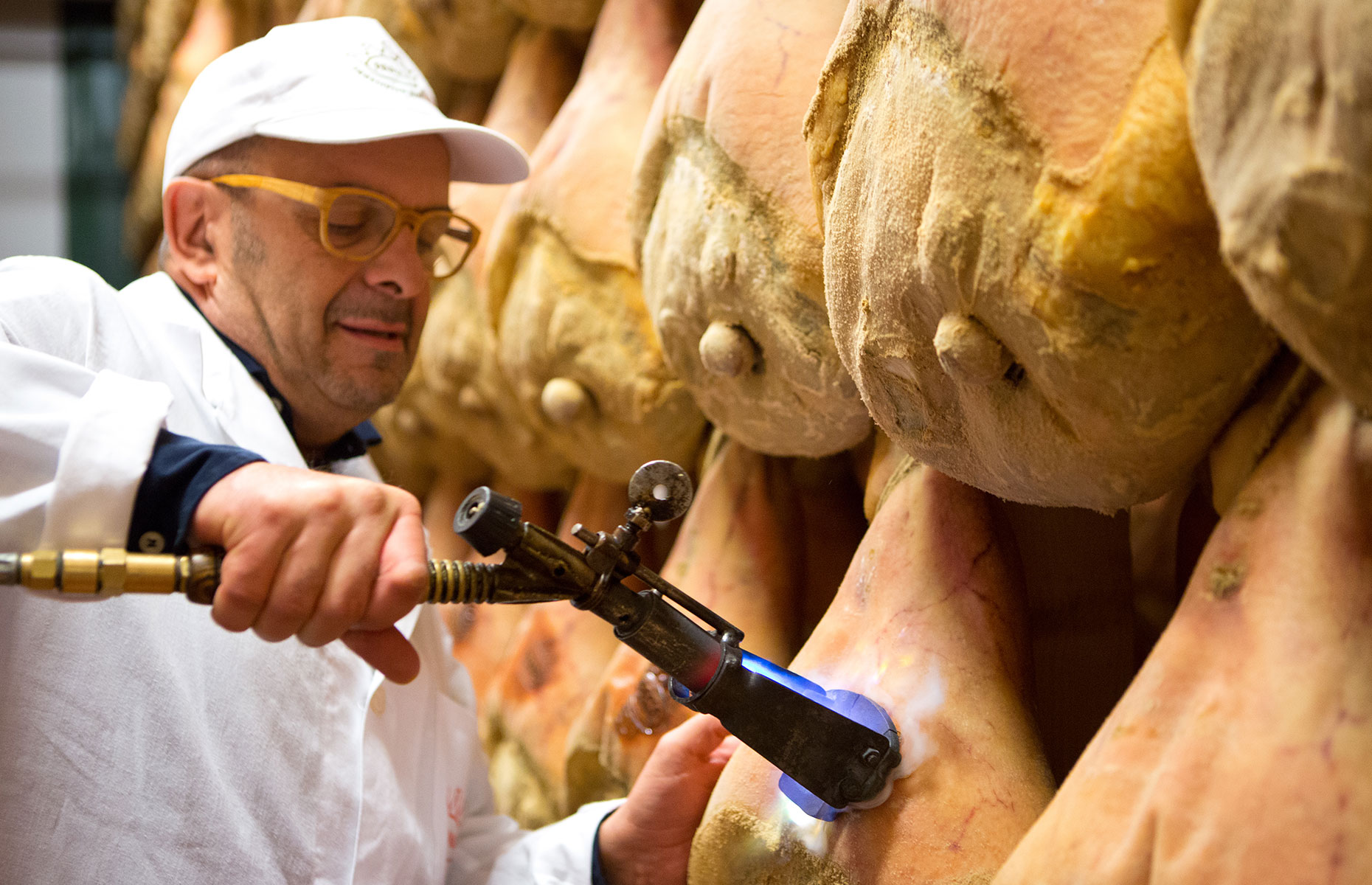 Image courtesy of Consorzio del Prosciutto di Parma
Is Parma Ham healthy?
Parma Ham is high in protein and free amino acids, giving it a high overall digestibility. It's also very rich in oleic acid, a healthy monosaturated omega-9 fatty acid. Slivers of Parma Ham contain many vitamins and minerals: namely B1, B6, B12 and PP (also known as Niacin and a form of B3) plus phosphorus, zinc, iron and selenium.
It's also notable what Parma Ham doesn't contain. According to the Consortium's strict regulations, colouring agents or preservatives such as nitrites and nitrates aren't allowed in production.
READ MORE: A complete guide to jamón ibérico
How to buy Parma Ham
When buying Prosciutto di Parma, look for the Ducal Crown stamp on the packaging to ensure you're getting the real deal.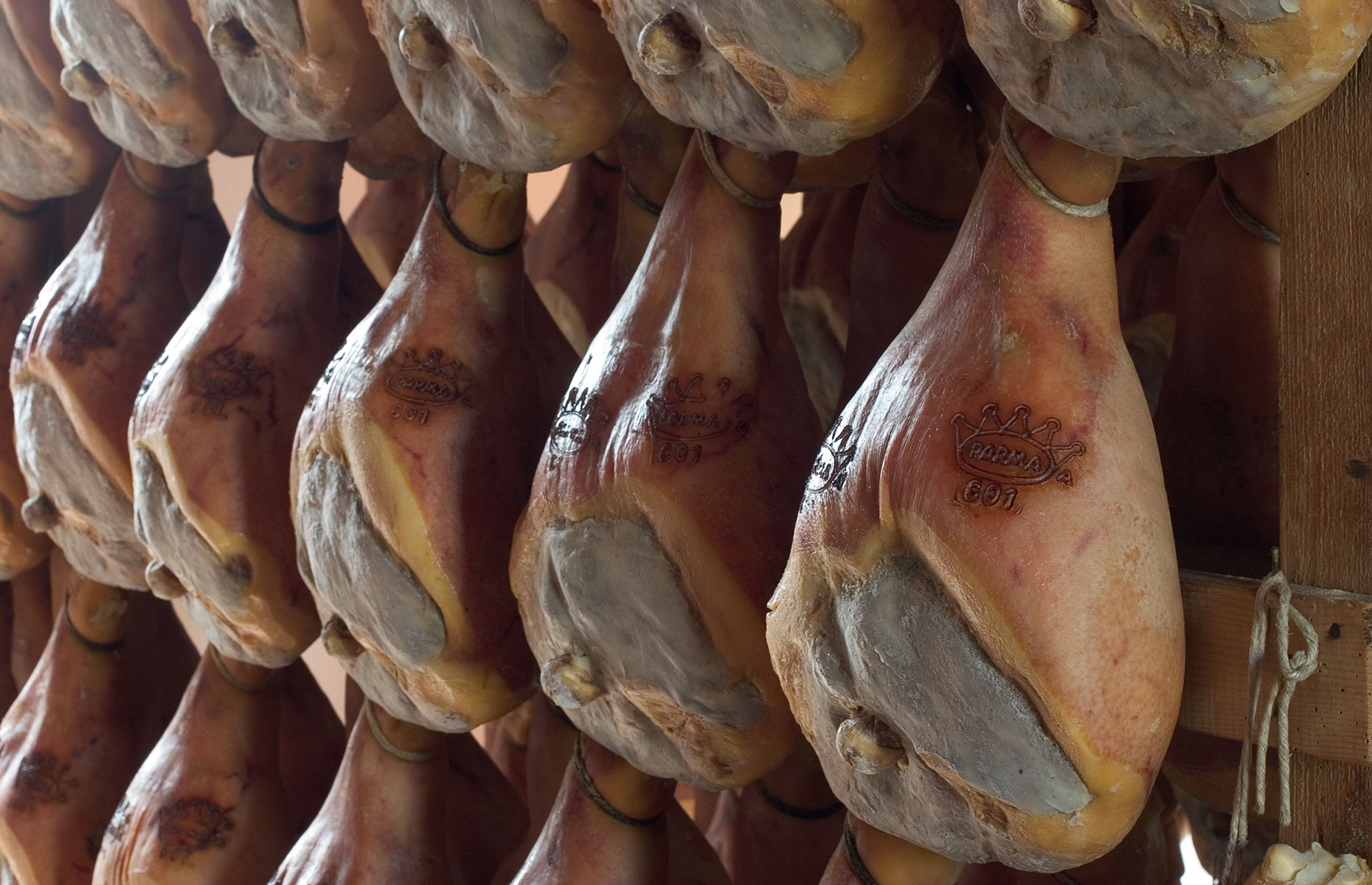 Image courtesy of Consorzio del Prosciutto di Parma
You'll most likely buy the ham ready-sliced in packets from the supermarket. Or support your local deli who may have boneless joints and slice to order.
Generally, packs of pre-sliced Parma Ham from supermarkets would have been aged for 18-20 months but you may be able to find ham aged for longer, around 30-32 months, in specialist delis.
How to store Parma Ham
Always store pre-sliced packages in the refrigerator and once opened, re-wrap anything unused well to prevent it drying out and consume within three days. And one hugely important thing: remove from the fridge about 15 minutes before serving so it comes up to room temperature. Too cold and all those delicate flavours won't come through as well.
READ MORE: A complete guide to Comté
Parma Ham recipes
If you're looking for an easy, chic snack, you can't go wrong with enjoying a few slivers of Parma Ham by itself. It pairs beautifully with a glass of sparkling or fruity white wine. Or serve as part of an antipasti board with bread and fresh fruit such as melon or figs – the easiest way to add a special touch to evening drinks, especially if hosting a dinner party when there's often lots else going on in the kitchen.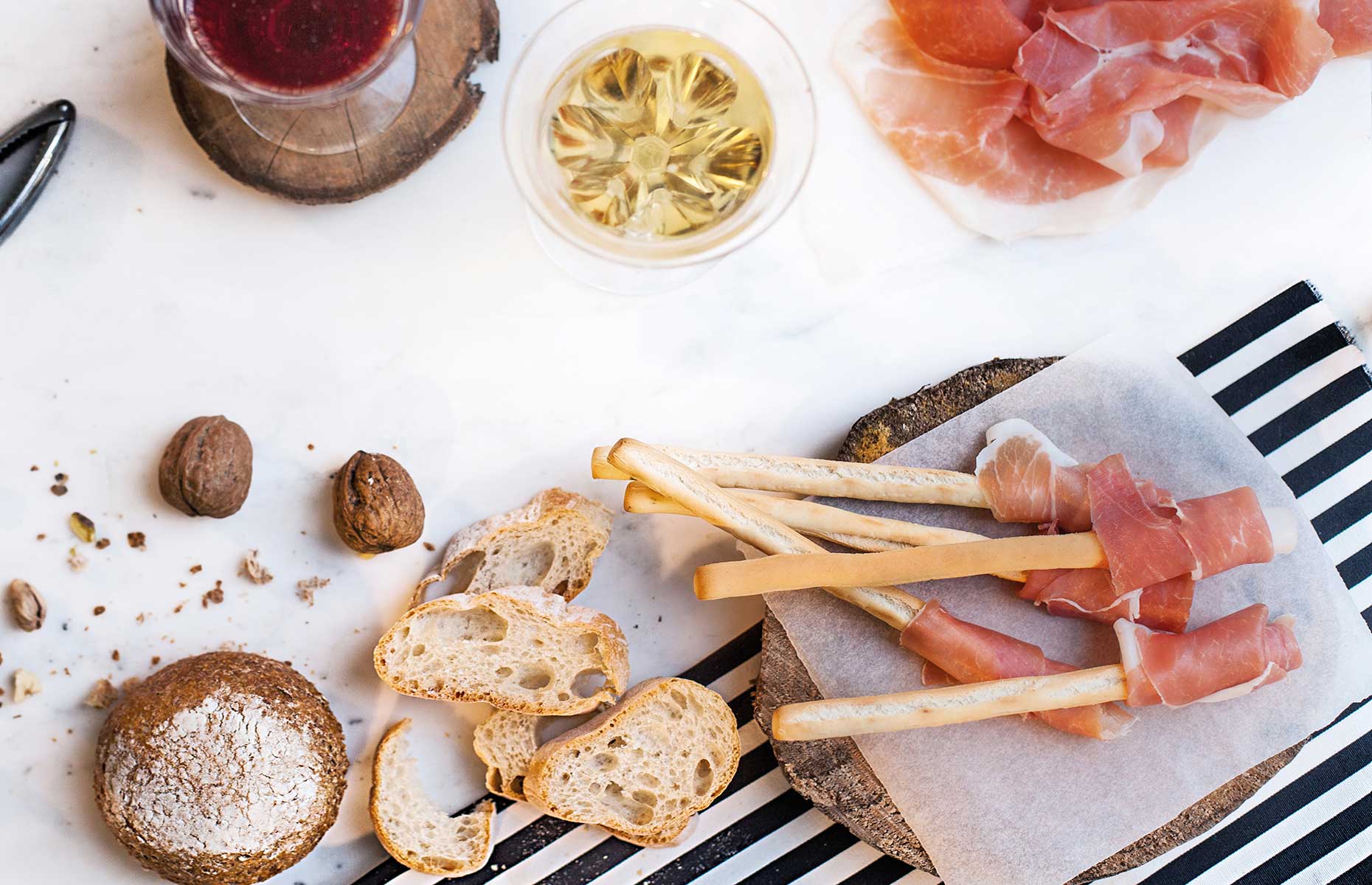 Image courtesy of Consorzio del Prosciutto di Parma
Prosciutto di Parma's delicate sweet-savoury-salty flavour also complements other ingredients and brings a unique profile to dishes. Parma Ham's versatility means it can be enjoyed at any time of the day.
At breakfast or brunch, it's the perfect accompaniment for eggs. Or how about stuffed into an oozy, cheesy ploughman's-inspired toastie?
READ MORE: A complete guide to fennel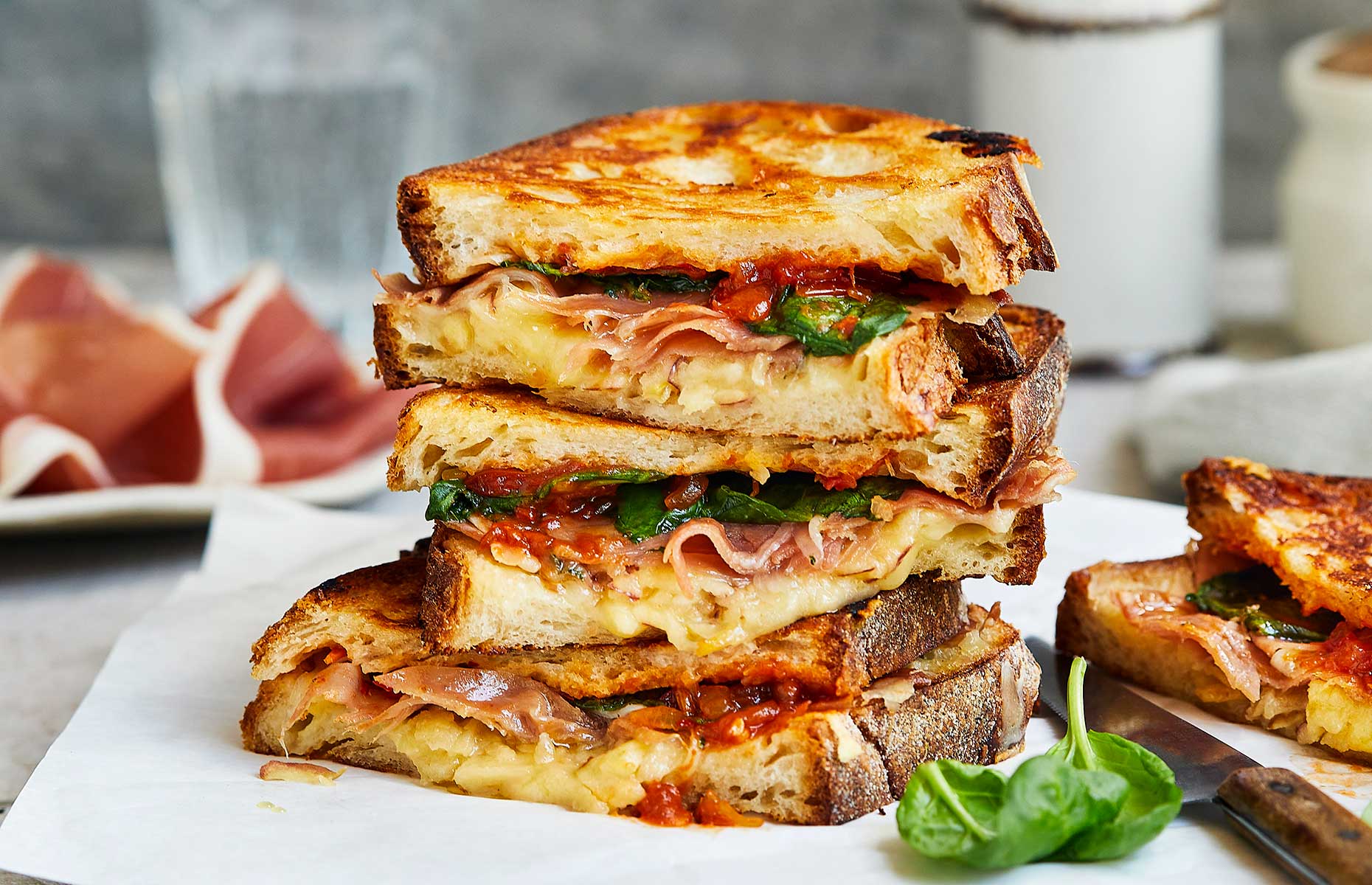 Image courtesy of Consorzio del Prosciutto di Parma
Before dinner, incorporate into canapés or starters in croquettes, moreish pastry palmiers, tasty sausage rolls and skewered with manchego and sweet butternut squash.
In need of the perfect springtime dish? Look no further than this pea, Parma Ham and feta quiche – ideal for picnics. Or how about a light pasta dish with broccoli and spinach? A delicious way to reach your five a day. Crispy bits of Prosciutto di Parma are also a great way to add a twist on crowd-pleasing potato salad.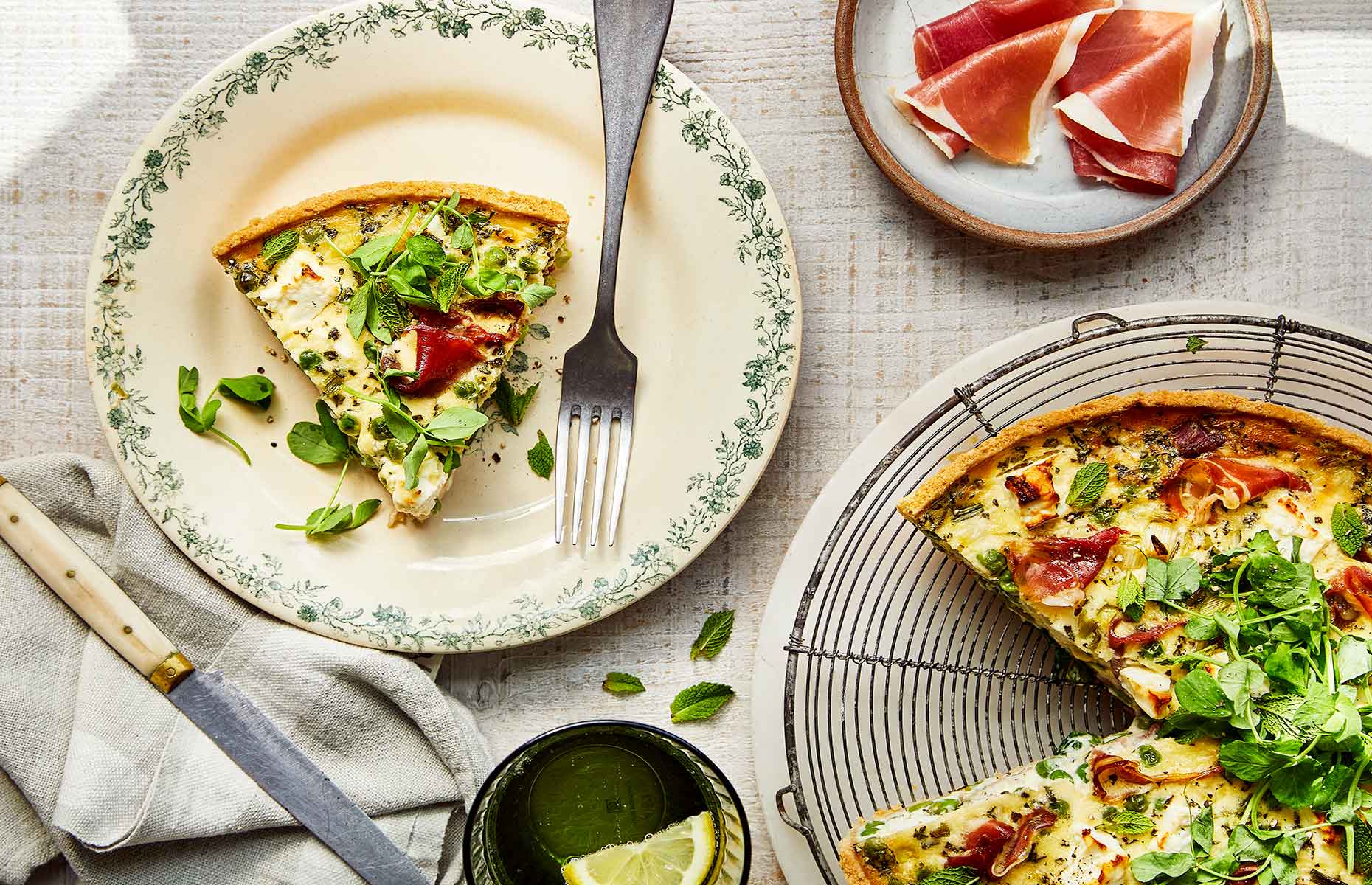 Tim Atkins/Prosciutto di Parma
For something more hearty, mix slices of Parma Ham into a creamy pasta bake. We also love the salty, meaty accent that Prosciutto di Parma crumbs bring to this Brussels sprouts recipe, perfect for the festive season and beyond.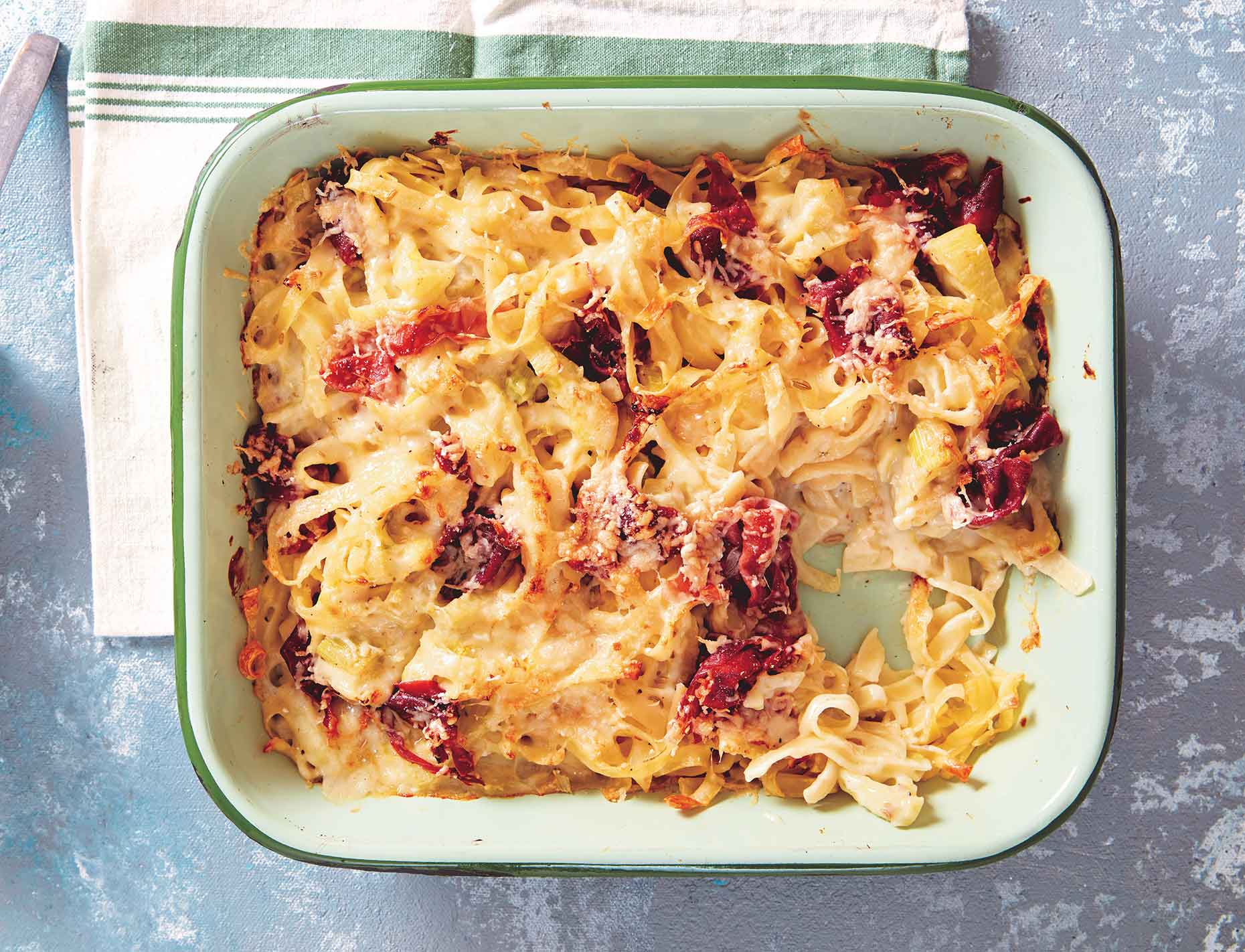 Image courtesy of Consorzio del Prosciutto di Parma
Lead image: Courtesy of Consorzio del Prosciutto di Parma
Be the first to comment
Do you want to comment on this article? You need to be signed in for this feature