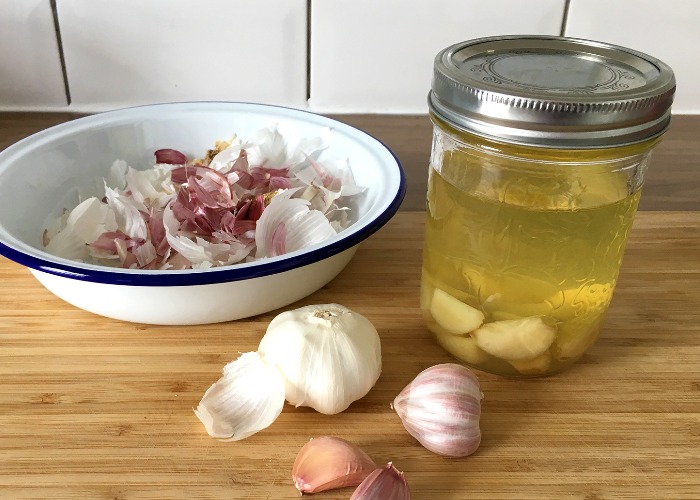 Raw or fried, garlic is an intense and often dominating flavour, whereas roasted or slow-cooked, it becomes soft, sweet and much more rounded. Garlic oil is a way of adding those latter, more subtle flavours in just a drizzle – and it's incredibly versatile.
What can I use it for?
Almost anything savoury. Garlic oil is a great base for salad dressings and pasta sauces, and can be dotted over cooked vegetables for a bit of instant pep. It can be used to finish soups and stews (just a little splash before serving adds richness and brings things to life), and it's fantastic with eggs of all sorts – my favourite has to be drizzled over shakshuka, or stirred into scrambled eggs with lots of black pepper and a little parmesan.
It makes gorgeous garlicky mayo (I tend to use a blend of garlic oil and sunflower), and I genuinely never make hummus with anything else. A few big glugs of garlic oil and a couple of the soft, gooey confit cloves that have been steeping in it beats adding raw garlic any day.
Garlic oil also makes unbeatable focaccia. Try this recipe and use garlic oil instead of the usual olive oil, topping with plenty of rosemary and salt before baking.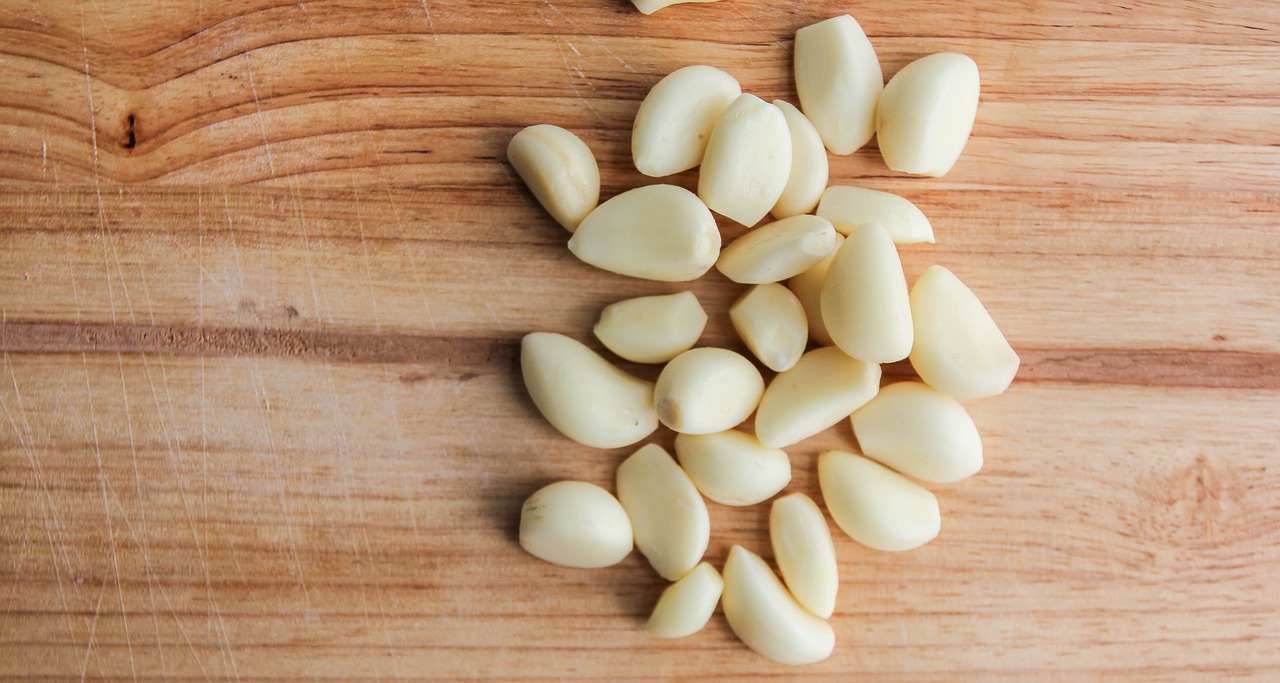 Pixabay/CC0
What about variations?
If you make the oil over a very low heat and avoid colour on the garlic you'll create something relatively light, sweet and clean. You can introduce some colour by cooking the garlic at a slightly higher temperature for a few minutes, which will produce stronger and more complex flavours.
You can add any woody herbs; rosemary and thyme work really well, and oregano produces an oil that makes everything taste like pizza – delicious! Dried chillies and peppercorns can be used for heat, and lemon peel adds a little zestiness – just be careful to add the peel rather than the bitter pith.
A word of warning on additions; the more flavours you add, the less versatile the finished oil can be.
What kind of oil should I use?
Don't waste anything fancy. A reasonably cheap, mild olive oil works well, or go for rapeseed oil if you want something with a higher smoke point.
How should it be stored?
Store your garlic oil in a sterilised glass bottle or jar; with anything plastic you may find it hard to get rid of the garlicky smell afterwards.
Homemade garlic oil is best kept in the fridge and used within two weeks. You can leave the deliciously soft garlic cloves in the oil. They're great for mashing into potatoes or onto hot toast.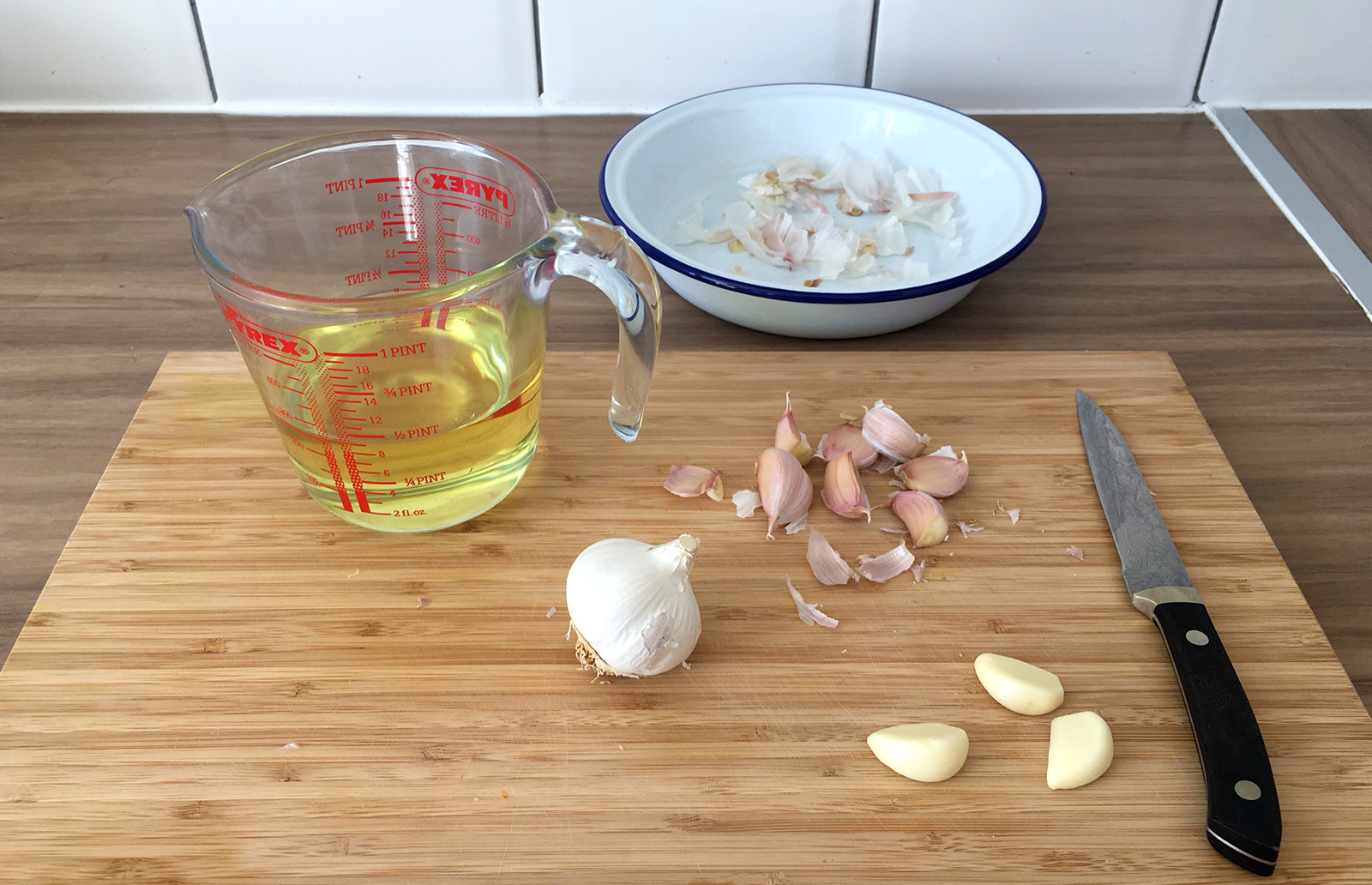 What about wild garlic?
Wild garlic needs to be treated in a slightly different way, and can be made into an oil with a fresher, more astringent flavour.
To make wild garlic oil, wash the leaves, blanch in boiling water for one minute, drain and plunge into a bath of iced water. Squeeze out as much moisture as you can, then blend with oil and pass through a fine sieve. Once made, use within a few days. It's perfect for brightening up fish dishes or a potato salad.
Our garlic oil recipe
Before you start, it's important to be mindful of safety. Garlic oil has to be made by cooking garlic in oil rather than just steeping raw cloves. Doing the latter runs the risk of producing a particularly nasty toxin that thrives in oil – the type that causes botulism (and also happens to be used to make muscle-freezing Botox).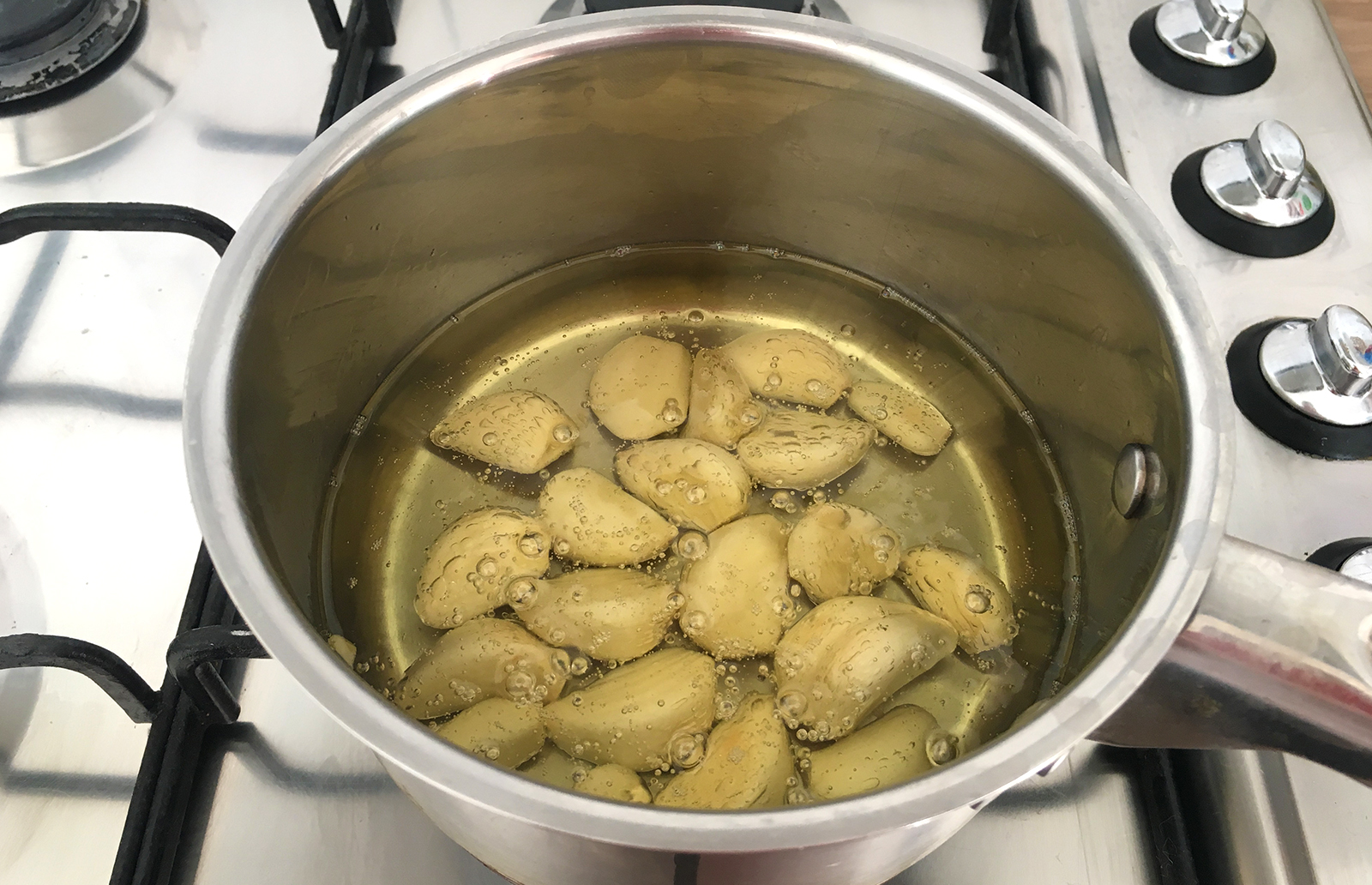 Ingredients
1 or 2 bulbs of garlic
250 ml oil
1 or 2 bulbs of garlic
8.8 fl oz oil
1 or 2 bulbs of garlic
1.1 cups oil
Optional
1 tsp chilli flakes
1 tsp crushed black peppercorns
3 sprigs of fresh rosemary, thyme or oregano
1 tsp chilli flakes
1 tsp crushed black peppercorns
3 sprigs of fresh rosemary, thyme or oregano
1 tsp chilli flakes
1 tsp crushed black peppercorns
3 sprigs of fresh rosemary, thyme or oregano
Details
Cuisine: British
Recipe Type: Oil
Difficulty: Easy
Preparation Time: 20 mins
Cooking Time: 10 mins
Serves: 10
Step-by-step
First, sterilise a glass bottle or jar. An easy way to do this is to simmer both the lid and jar/bottle in clean boiling water for 5 minutes, then dry in a 120°C (250°F) oven for around 10 minutes (if using a Kilner jar, don't oven-dry the rubber seal).
Separate and peel the garlic cloves, discarding all of the skins and papery debris. Give the peeled cloves a little sniff, and discard any that smell stale.
Pour the oil into a small saucepan and add the peeled garlic cloves. Place over your lowest heat, ideally on a heat diffuser; you want to gently warm the oil, creating nothing but a slow, gentle bubble. Cook for 15 minutes, or until the garlic is soft and slightly translucent. If you'd like a more robust, roasted flavour, nudge the heat up a little for a couple of minutes to develop a little colour.
Allow to cool then transfer to a sterilised bottle or jar, store in the fridge for up to two weeks.
You might also like:
Roasted tomato pasta with chilli and garlic
How to make your own chilli oil
All photos in this piece by Nicola Swift unless otherwise credited.
Be the first to comment
Do you want to comment on this article? You need to be signed in for this feature