An interview with Niklas Ekstedt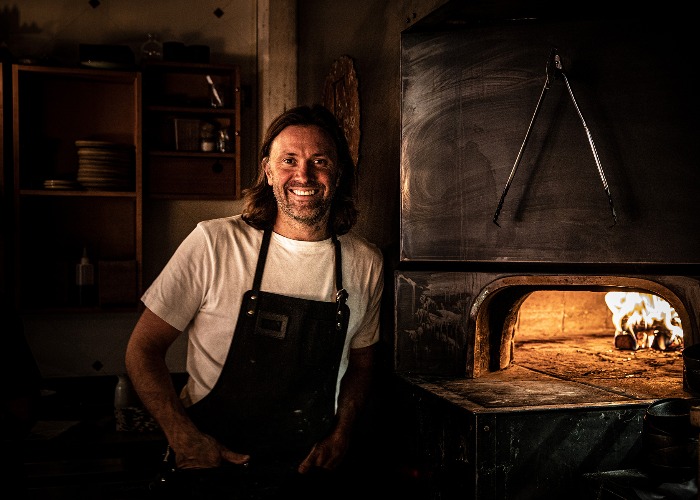 Swedish chef Niklas Ekstedt famously gave up the foams and frills of molecular gastronomy to open a back-to-basics restaurant where everything is cooked over fire. We find out what ignited the change and why he's gone back to his molecular roots for new Netflix and Channel 4 show Crazy Delicious.
When I call Swedish chef Niklas Ekstedt, he's had a varied day. The morning has been spent prepping in his Stockholm restaurant and doing interviews. In the afternoon he'll pick his son up from school and a spot of skiing might be on the cards. He's also currently gracing TV screens as a judge on Crazy Delicious, a new Netflix and Channel 4 experimental cooking show, alongside Heston Blumenthal and Carla Hall. In short, Niklas is busy but he's never been one to do things by halves.
Niklas opened his first restaurant at just 21 years-old and quickly rose to fame in his native Sweden, as the wave of New Nordic cuisine was sweeping Scandinavia's food scene. He became just as known for his cooking as his regular appearances on Swedish TV.
In 2011, though, the chef ditched the gadgets, gizmos and electricity (yes, really) in the kitchen and opened Ekstedt, a restaurant where everything is cooked over an open fire. The now Michelin-starred spot is highly respected for evolving New Nordic food while still keeping the principles of showcasing local, seasonal, high-quality produce.
Niklas reveals why he decided to go back to basics, the challenges of cooking with fire on a restaurant scale and what it was like set working on the edible set of Crazy Delicious.
You started cooking professionally at a young age – did you always want to open your own restaurant?
I've always been very dedicated to the thing that I like and love. I used to snowboard a lot but when I was 16 or 17, I injured myself. Cooking then came naturally to me and I progressed from there.
I wasn't thinking that much of the profession or the job itself, I just loved cooking. My parents sold vegetables when I was very young so produce has always been very important in the house.
It was something that they talked a lot about and taught me about. That importance of great produce has always been there. My dad always cooked really good food and never cheated and did it properly. I guess that's where it all started.
READ MORE: An interview with Selin Kiazim
It was at the peak of the whole New Nordic trend. People were talking about Scandinavian cooking and Nordic food all over the world. People were travelling here to eat at different restaurants and I wanted to be part of that.
Why did you decide to ditch electricity in the kitchen and cook over fire?
It was places like Etxebarri and the Basque Country, and I spent summers in San Sebastián and in France, in Biarritz. The cooking trend there was going more old-school in the techniques. When I was there, I thought there must be a Scandinavian way of doing this as well.
We've only been cooking for a short time with electricity so there must be Swedish and Scandinavian techniques similar to what they do in the Basque countries.
READ MORE: An interview with Tom Aikens
When I came home, I started researching in the library and talking to older people who were cooking before the boom of all the gadgets in the kitchen – what they did, if they had come across some of these old Scandinavian techniques. There were just so many and very early, it was easily a restaurant concept.
What's really fascinating is that most of the dishes and foods that are still really popular today were invented before electricity. Almost all of the famous dishes that we have in our culture were invented because of the need for preservation, or the lack of heat or cooling facilities – smoking, curing, fermentation.
What are the main challenges of cooking over fire on a restaurant scale?
It's hard to rescue something if you go wrong, you just need to start again. It's also difficult to train staff because it takes a while before they get used to the style of cooking we do here. If you're comfortable with cooking in a regular kitchen, when you come here, I think it's difficult for the first couple of weeks.
It's like working on a motor yacht and just starting the engines, then suddenly you're on this big sailing yacht and you need to pull up the sail and the rig and the ropes, and deal with the wind.
On one hand, it makes it easier because you need to be focused all the time. But on the other hand, it's a little more intense and a heavy burden on you because it's tougher work.
Do you have a favourite thing to cook over fire?
I think everything works really well over fire. It's a matter of technique and patience, which you need to have. I do really enjoy vegetables a lot. I think the flavour and taste is completely different from regular cooking.
Do you have an open fire at home?
I don't have an open fire kitchen at home. It's just a regular induction and electric oven. After cooking here, coming home and cooking on an electric stove is boring, it's not the same! It's a bit like if you've been on holiday on the ocean and then the next time you go to a lake.
If I'm completely frank, though, I prefer a regular electric stove at home. I'm a bit tired of the smoke and the fire! It's more comfortable to come home and do pasta bolognese or a stew for the kids.
READ MORE: An interview with Vivek Singh
What was it like working on Crazy Delicious?
It was really surreal. It's quite far from my everyday job. I do quite a lot of TV in Sweden but it's more focused on me and me showing the viewers what I'm cooking or where I'm travelling. I had a lot of fun and it was great working with Heston and Carla. The whole team who did the edible set were very inspiring.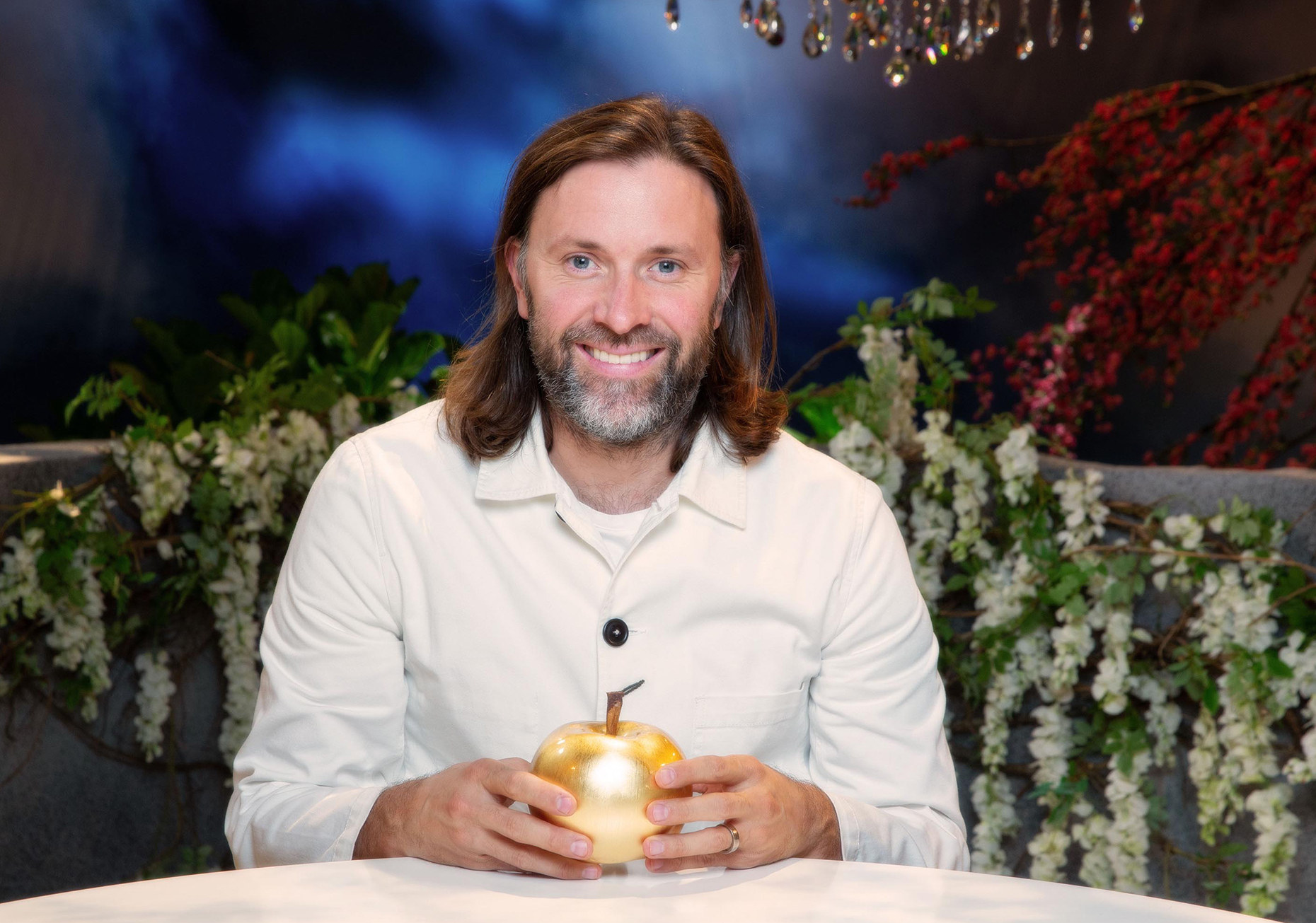 Courtesy of Crazy Delicious
Doing a big production for Netflix was a dream come true. It's fun to see how it's produced and how the show has come along. It's going to be interesting to see how it'll do.
How was it going back to more molecular cooking?
It was interesting because there were so many techniques that I had forgotten about and that I was re-introduced to.
But I was very pleased and happy because [it confirmed] what I'm doing is still on the right track. I think what we're doing [at Ekstedt] is like a leather Louis Vuitton bag – it's never going to go out of fashion. People will try to copy it and there'll be plastic versions on the high street. But the real thing will be here in the restaurant. I feel that maybe what we do isn't contemporary but at least it's never-ending.
Lead image by David Back.
Be the first to comment
Do you want to comment on this article? You need to be signed in for this feature