My life in food: Thomasina Miers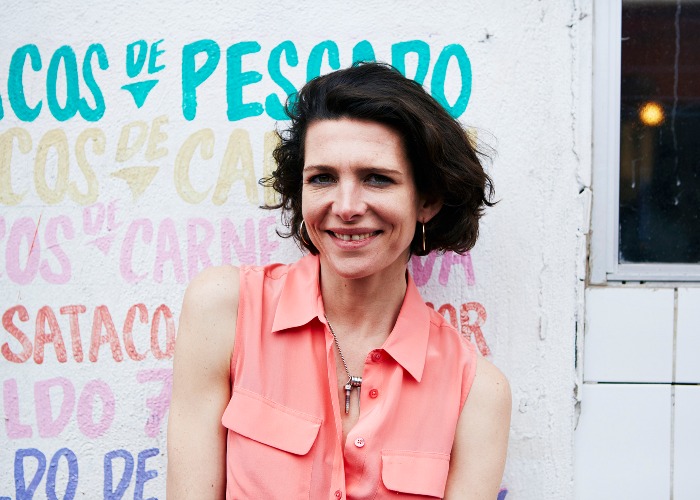 MasterChef winner Thomasina Miers reveals all about why she got hooked on Mexican food, running Wahaca and how we can all save the world
In 2005, Thomasina Miers won the first rebooted UK series of MasterChef and hasn't looked back since. She's written several cookbooks, launched Mexican restaurant chain Wahaca, appeared on the cooking show that launched her career as a judge, and this year received an OBE for services to the food industry. We caught up with Miers to find out more about how it all began and why sustainability is what drives her today.
What drew you to a career in food?
It was hard to avoid. As a child, my brother and sister would be happy spending hours playing with dolls and I would get bored and start causing trouble. But my mother and I had a really close relationship and what I did find interesting was being in the kitchen next to her, watching what she was doing.
She taught me stuff and showed me how to make a white sauce or sweat an onion so all the sweet flavour comes out. She cooked really simple, seasonal food because we didn't have that much money but she was brilliant at getting the maximum flavour out of it.
And what got you into a restaurant kitchen?
I never thought I'd go into food as a career because I went to a really academic school and then I couldn't really find a proper job that stuck. It wasn't until I met Clarissa Dickson Wright who said to me, "If you like cooking and food so much, why haven't you considered a career in that?" That was a real lightbulb moment for me.
I went off to a cookery school in Ireland called Ballymaloe. That really changed me and set me off on a new path. A few years after that, having just come back from a year living in Mexico, I applied for MasterChef.
Did you ever think winning would lead to running a restaurant chain and an OBE for services to the food industry?
I think I was lucky because it was the first year [of the revived series] and there were no expectations. In a soppy way, from leaving school and messing up my A-levels to getting sacked and made redundant from jobs, it was the first time in quite a long time that someone had said to me, well done, you're brilliant at this. Just having someone say, we believe in you, was powerful.
What was it about Mexican food that hooked you and inspired opening Wahaca?
I went to Mexico for the first time when I was about 18 and thought that Tex-Mex was the kind of food I was going to get. The kind of food that I actually ate (and I ate everything, everywhere) was fascinating. The food changed as we travelled around the different regions, everything was fresh. The biodiversity is amazing – 200 varieties of chillies, amazing shapes and sizes of tomatoes, corn in colours of red, blue, black and white. I was completely blown away by it.
Food is intrinsic to Mexican culture. People are obsessed with food – they talk about food, they do business deals over food, they go out for lunch, they go out for breakfast, they eat with the family. I love that, growing up as I did, without much money but with really good food. I loved seeing that people eating this incredible street food which doesn't cost much but was made with incredible ingredients.
Coming back to England, I wanted to keep eating Mexican food all the time but there wasn't any anywhere. There was Tex-Mex everywhere but Tex-Mex is from Texas.
Was it daunting representing Mexican cuisine in the UK?
We got quite a lot of pushback from Americans who came in and asked for nachos and fajitas. And then other more snobby foodies asked why we had feta or Lancashire cheese on the menu. I'd say that when you go to Mexico, there are fresh curd cheeses and the milk is thinner so you get these very fresh, young cheeses, and their queso fresco is quite like feta. This is me trying to get the flavour of Mexico but I'm not going to start shipping fresh cheese over for my menus.
I don't mind standing by what I do because I love Mexico and I've been every year for 12 years. I try and give back too because I've gained so much from Mexico. One of our key charities is an amazing street charity in Mexico City.
In the last couple of years, there have been some great [Mexican] restaurants which has been really exciting because you want a bit of competition to keep you on your toes. I think the lack of knowledge and the ingredients not being available was a big thing. That was a real obstacle. Also there isn't a big Mexican population here.
Is there a reason why Wahaca is spelled phonetically after the region Oaxaca?
The region of Oaxaca is the place that I love the most. The food is incredible and I spent a lot of time there but our food was not just Oaxacan. We spent months trying to think of our name but kept coming back to it because it's so evocative. No one would be able to spell Oaxaca. I remember even in Mexico City, waiting for a flight and them saying "The next flight to o-hax-aca leaves at…" We just kind of fell into it.
Sustainability has always been a big part of Wahaca. What are the challenges of putting that into practice?
When we started Wahaca, it was a must that we had to have a light tread on the environment and lead the way. The production and transportation of food accounts for more energy use and more water use than any other industry. Governments are so slow to legislate and when you start your own business, you can practice what you preach and show that you can still make money and weave sustainability through your business.
I would love to have only organic food on our menu but I spotted early on that it would be tricky. My organic pork supplier started finding it tough when I opened our second site. Sourcing has been hard. We've been working with the Marine Stewardship Council for 11 years now so we've never had tuna or octopus on our menu. You see our competitors doing that and it's trendy and it's cool and people want it. But you have to make compromises.
It was always important that Wahaca was affordable and vegetarian dishes are more affordable. Between 40 and 45% of the menu has always been vegetarian and I'm so proud of that because that's the way we should all be eating.
Which other chefs are you inspired by and why?
I'm always hugely inspired by chefs who are governed by the seasons and where their ingredients come from. Brett Graham at The Ledbury is incredible for the level of his cuisine. Then there's Skye Gyngell who is one of my mentors. Joseph Trivelli and Stevie Parle: Joseph is the head chef at The River Café and Stevie has got his own group of restaurants. They were both flatmates of mine and we have the same outlook on food – the ingredients and where they come from, the seasons. Merlin Labron-Johnson is amazing.
Three times a day we have the ability to improve the health of the planet and therefore the future of our children, just by buying a bit more locally, buying from farmers who look after the soil and buying in season. It's the chefs who are doing that and cooking that way, that I have a lot of time for.

Wahaca's new summer menu is available now. To view the full menu and make a reservation visit www.wahaca.co.uk, or just walk in.
Lead image by Tara Fisher.
You might also enjoy reading:
A dinner with... MasterChef semi-finalist Liz Cottam
An interview with... Jean-Christophe Novelli
Be the first to comment
Do you want to comment on this article? You need to be signed in for this feature