Dave Coulson: meet Newcastle's MasterChef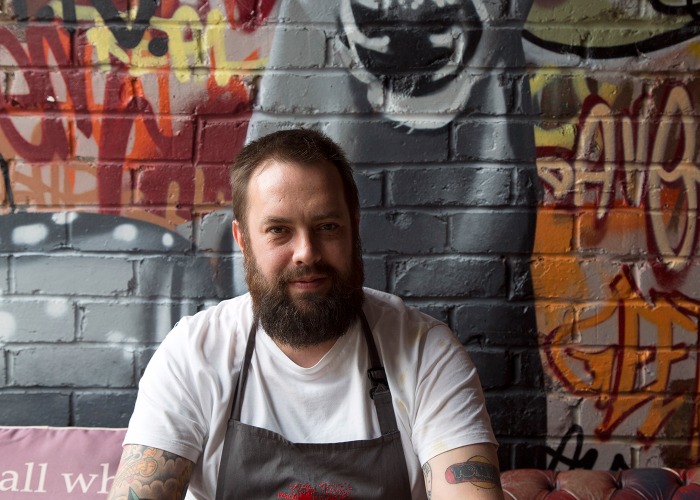 Chef-patron of Newcastle's Peace & Loaf restaurant and MasterChef: The Professionals finalist, Dave Coulson tells us about foraging for ingredients, his signature chicken pie and cooking for Michel Roux Jr.
Dave Coulson is the chef and co-owner of Peace & Loaf, a restaurant in the Jesmond area of Newcastle-upon-Tyne that offers "fine dining without the fuss". Born and bread in northeast England, he's known for his seasonal and local approach to food. In 2010 he was a finalist on TV cooking show MasterChef: The Professionals.
We caught up with Coulson and spoke to him about how he got into the industry, why he loves foraging, his signature dish and where he eats on his days off.
Why did you want to become a chef?
When I left school I didn't have any GCSEs so I started cooking in kitchens as a part-time thing. I just fell in love with it. After about three or four shifts, I knew it was what I wanted to do. My first ever job was at the Castle Eden Inn, right next to where I'm from.
What's your vision for Peace & Loaf?
We've done a lot of what we wanted to achieve. We have a full restaurant every day. We've got nine chefs, twenty-odd staff and everybody's living off the people who eat here. A couple more awards would be nice.
What's your signature dish?
It's my chicken pie. I cooked it on MasterChef and wish I'd cooked it then, how I cook it now. Nowadays it's lush.
We also have a steak tartare which I'm really proud of – we call it the raw steak pie. It's raw beef with pickled onions, pickled mushrooms, crispy pastry and grated cured egg yolk.
You were a MasterChef: The Professionals finalist. What was that like?
It was brilliant. I'm from a council estate and my parents were not in a position to pay for my training. I did MasterChef and got to go to nice restaurants. It was a dream come true. Michel Roux is one of the nicest men I've ever met and he gave me a job.
What is key to developing a dish?
If you make a mistake, learn from it and move on. I like modern food so I look at pictures of food any time I can.
What are some of the stand-out local ingredients from the northeast?
Vegetable supplier North Country Ken is three miles away and supplies to the likes of Sat Bains and Tom Kitchin. We've also got Steve Ramshaw producing wagyu beef up in Northumberland. It's delicious, the best beef I've ever tasted. And there's fresh fish from the North Sea.
You forage for some of your ingredients. What do you regularly pick and how do you use them?
We like foraging but I don't have much time to do it anymore. A lady called Vanessa Dow brings us loads of amazing stuff. Yesterday she brought in long-leaf sorrel and sea buckthorn is coming through at the minute. We've been curing salmon with it, instead of using lemon and lime.
If you're foraging, only take what you need. It's Mother Nature's, not yours.
Are there any traditional dishes from the northeast of England that you particularly enjoy?
Last week I made panackelty (a stew with potatoes and meat) for my family. We were all brought up on that.
What are your favourite local places to eat and drink?
I like visiting The Staith House at North Shields which is great for Sunday lunch and Lezzet, a Turkish restaurant. On a Sunday, I might go down to the Quayside Market and have a burger from The Grind.
I don't really drink but people go crazy for beers from the Wylam Brewery.
What do you hope to be doing five years from now?
I'd like to open a Geordie pie and mash shop called Peace of Pie. We would make brown ale gravy and instead of peas, we'd serve pease pudding.
Header image by Stuart Forster.
You might also like:
Will Bowlby: from pop-up pioneer to rising star of the London food scene
Sabrina Ghayour: the new superstar of Middle Eastern cuisine
Be the first to comment
Do you want to comment on this article? You need to be signed in for this feature