Sabrina Ghayour: the new superstar of Middle Eastern cuisine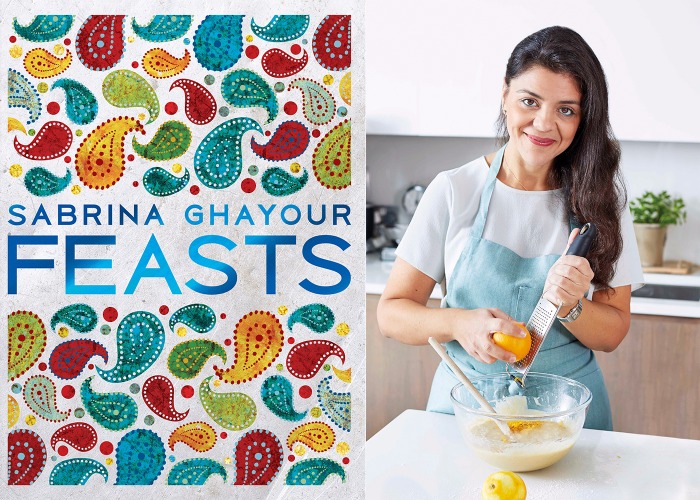 Chef, food writer and supper-club host Sabrina Ghayour has just published her new book, Feasts. Alex Larman caught up with her.
Sabrina Ghayour released her first book, Persiana, in 2014 to great acclaim, garnering widespread praise including the Observer's coveted award for the cookbook of the year. She's become renowned for her approachable Persian and Middle-Eastern recipes, appearing on shows such as Saturday Kitchen and Sunday Brunch.
On the release of her new book, Feasts, Alex Larman spoke to her about her about cooking, teaching and why she'll never open a restaurant.
Your new book, Feasts, is a glorious celebration of food for friends and family. What gave you the idea to write it?
In my culture, we often make several different plates of food for a normal family meal. Every time I cooked for people, they said "Gosh, what a feast" and it made me think that every meal I've ever made for friends or loved ones is a mini feast.
I wanted to help people with ideas for different recipes at different times of need, from celebrations to midweek suppers, when you have a little less time on your hands.
What is your own favourite large-scale dish, and when do you usually cook it?
I love roasts of any kind and I usually double up in quantity and then use the extra meat in another way the next day.
Does Feasts draw on your background in cooking at supper clubs?
No, it's more how I cook at home and what I find useful at different times. I'm a home cook and what I may find useful at home usually resonates with other home cooks.
You made your name with the bestseller Persiana, which won acclaim, awards and fantastic sales. Was its success a surprise?
Absolutely. You never think that you, as an unknown, are going to write a book that people deem a classic. People have taken Persiana into their homes and found great success with its ease and accessibility. It's hugely flattering.
When did you know that you wanted to have a career in food?
I didn't! I worked in the restaurant & hospitality industry for about 16 years. One day in 2011, I lost my job. The only thing I knew how to do, and loved doing, was to cook.
The rest, as they say, is history.
Growing up, was your family a big influence on you when it came to appreciating cooking?
Yes, in that they didn't cook at all. I don't have a lovely story about learning to cook from my mother or grandmother. Their absence of cooking is what made me who I am today but my mother's love of food really drove me to experiment and enjoy cooking in the kitchen.
Just as well, or else I wouldn't have this career.
You also teach people about Middle Eastern cuisine. What are the challenges that you face with that?
I think most people are nervous of that which they don't know, regardless of whether it's food or cooking.
We are all just human and get a little edgy when we aren't sure about something. It's important to show people that home-cooking principles remain the same no matter the culture.
Whether it's pies, stews and meatballs, or breads, roasts and pickles, we all have them, we just call them different things.
When you explain that to people, there is always a sigh of relief and an element of calm that breaks through their fears and gets them excited to experiment with new flavours.
You've become something of an ambassador for Persian and Middle Eastern food. Do you think people know more about it than they did a decade before?
Definitely so. Since Persiana was released in 2014, I have seen our supermarket shelves transform completely.
There is pretty much nothing in my books that isn't available in supermarkets.
Even non-Middle Eastern chefs are using Persian and Middle Eastern ingredients and flavours to make inspired dishes.
It really does make me smile. Persian and Middle Eastern food is no longer 'a trend', it's now a British staple.
Does more need to be done before there's greater understanding of its traditions and ingredients?
Not really. I'm not one to push tradition down people's gullets.
You take what you want, learn what you like, and embrace that which you choose.
If I was forcing traditional recipes onto people, I don't think I would sell many copies of my books. My recipes are accessible and came about because despite being Iranian, I grew up here in England so I can combine the best of both worlds without feeling I need to label it.
Would you like one day to open your own restaurant?
God no! I'm too tired, too old (most chefs are half my age) and value freedom and variety in my work life to ever want to be tied down to just one business.
Which contemporary chefs, in Britain and elsewhere, do you admire?
I adore Anna Hansen, Angela Hartnett, Tom Kerridge, Yotam Ottolenghi, Nigella Lawson and so many more besides.
I love learning and I think everyone has something to teach you that is valuable. We all inspire each other and it's best to be a student, then a master.
Who have been your influences?
I try not to be influenced by others and instead stick to doing my own thing. That way, you know you remain original.
Also what you do remains true to your own ethos, and you don't feel the need to keep up with the Joneses. Teaching connects me to my readers and I learn so much from the people who cook from my books, so I find that that is really the best influence and indeed, education.
Where do you like going out to eat, in London and around Britain?
I love Soho for eating. I live in West London, which isn't great for its food scene although it's getting a little better.
To be honest, I just love eating, no matter where it is. I can always find a good meal, a good cheese or some great bread or cake.
You might also like:
Meet the baker behind London's best cakes
Clare Smyth: the only female chef with three Michelin stars
Be the first to comment
Do you want to comment on this article? You need to be signed in for this feature