Will Bowlby: from pop-up pioneer to rising star of the London food scene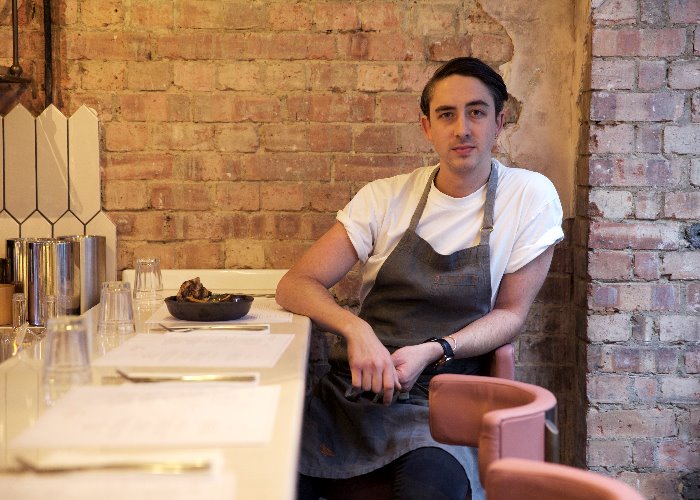 Owner and chef at London's Kricket restaurant, Will Bowlby talks late night brainwaves, samphire pakoras and the revival of Britain's love for Indian food.
Before his cooking idol Jamie Oliver burst onto the scene, Will wanted to be a footballer. Aged ten (and thanks to The Naked Chef), he realised cooking was his true calling. With several stints at prestigious restaurants under his belt, Will channelled his passion for Indian cuisine into Kricket, a casual contemporary Indian that lit up the London food scene.
Fresh from a three-week trip to Goa, his first holiday in years, he speaks to Megan Carnegie about how Kricket was born and what's next on this hardworking chef's to-do list.
When did your cooking career begin?
When I was 16, I set up my own private catering company called will2cook, which paid for my degree and travels afterwards.
After university, I worked at Le Café Anglais in Bayswater under Rowley Leigh, which was hugely valuable. He threw me in at the deep end – on the vegetable section for six months, which is much more difficult than it sounds!
With each of my jobs, I set myself a goal and when I reach that goal I move on, which is what I think most chefs should do. I wanted to work in every section of the restaurant and then move on, which took two years, starting as a commis chef and leaving as a chef de partie.
How did Kricket come about?
When I was 24, I took a job as head chef at a European restaurant called Cheval in Mumbai. I had never been to India before and knew nothing about it. The restaurant was a building site when I arrived and there were twenty Indian chefs waiting for me, none of who spoke English.
My two-year stint there took a lot out of me, but it was where I first got interested in Indian food. It got me thinking how much more we could do with Indian food in Britain, which is where the concept of Kricket's food came from.
When I got back, I met with Rik Campbell, my business partner and university friend, and it went from there.
I quickly realised I couldn't cook any of the dishes I'd written the recipes for – so I worked for The Cinnamon Kitchen in London for nine months, by which point we had Kricket ready to launch.
The space at Pop Brixton came up and the pop-up opened in June 2015. We actually had no pop-up restaurant experience – relying on only one tasting with my friends at my flat in Brixton. We had no idea how it would go down and we couldn't believe it was so popular.
How do you get inspiration for new dishes?
I'm full of ideas whenever I come back from India. But really, the inspiration comes from what is available, good quality and in season. I'm always trying to work with primary ingredients to elevate them and create an even better dish.
In India, the meat and fish isn't great quality and I realised the dishes could be made better here because of all the natural produce we have to play with. Ideas come from everywhere – most annoyingly when I'm lying in bed trying to sleep.
How do you think Britain's relationship with Indian food has evolved?
Part of the reason I wanted to set up Kricket is that I knew there would be a resurgence of Indian food in the UK. It was only a matter of time and it's properly happened now. The possibilities with Indian cooking are endless – it's an ever-evolving cuisine, spanning a vast area and with different food in each region.
I got frustrated in Mumbai trying to alter European cuisine for the Indian palette: it made me realise we're doing exactly that, in reverse, here.
In London though, you can give people food as it's meant to be, without dulling down flavours. We knew there was a movement happening and we wanted to be a part of it. I think Kricket was the first restaurant to offer affordable, accessible modern Indian food in London.
What advice would you give readers who want to give contemporary Indian a whirl at home?
You should definitely learn how to treat your spices – that is vital. For Indian curry bases for example, onions should always be cooked through consistently.
Every spice has a different cooking temperature so it's important to find out what and how to cook with the basics. Once you've learned that, you can really play around.
What's your favourite dish on the menu?
The most popular dishes at Kricket are the samphire pakoras, Keralan fried chicken, pumpkin with makhani sauce and the bhel puri. But I would say the samphire pakoras (deep fried samphire fritters with wild garlic mayonnaise and date and tamarind chutney) are most relevant to what we're trying to do.
What's your Indian cooking bible?
I'm really interested in the history of Indian cooking and how that allows you to evolve it even further. "Eating India" by Chitrita Banerji is my favourite; it charts the evolution of food in all the regions of India and how colonial history has influenced it.
Where are your favourite restaurants?
I've always love Barrafina, A Wong in Pimlico for Chinese food and Naughty Piglets, a lovely neighbourhood restaurant in Brixton.
After the success of Kricket at Pop Brixton and the larger restaurant in Soho, what are you planning now?
My cookbook will be released in the spring of next year – 100 unique recipes, either from the restaurant or new ones I've written, but all are accessible for the home cook.
We'll be opening another restaurant around the same time too. I'm not sure how much I should say but we should be opening one, if not two restaurants next year, along the same lines as Kricket.
Header image © Hugh Johnson.
Be the first to comment
Do you want to comment on this article? You need to be signed in for this feature