How to cook with chickpeas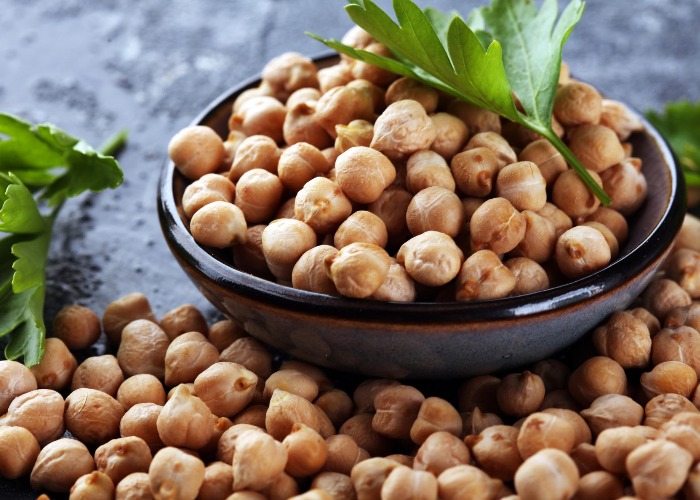 We take a closer look at this wonder legume, from where it originated and its health benefits to what to buy and how to cook with it
Chickpeas are incredibly useful to have in your store cupboard. They're healthy, versatile and great for bulking out meals on the cheap. You can use them in a multitude of dishes, from salads and dips to stews and desserts – after reading this you're going to want to stock up.
Where did they originate?
Chickpeas, sometimes known as garbanzos, are thought to be one of the earliest cultivated vegetables. They can be traced back to the Middle East some 10,000 years ago, although India is now the world's biggest producer.
They grow on small bushy plants with pink, purple or white flowers and the pods take around 100 days before they can be harvested. Despite their name, they're regarded as beans and have their feet firmly in the legume family.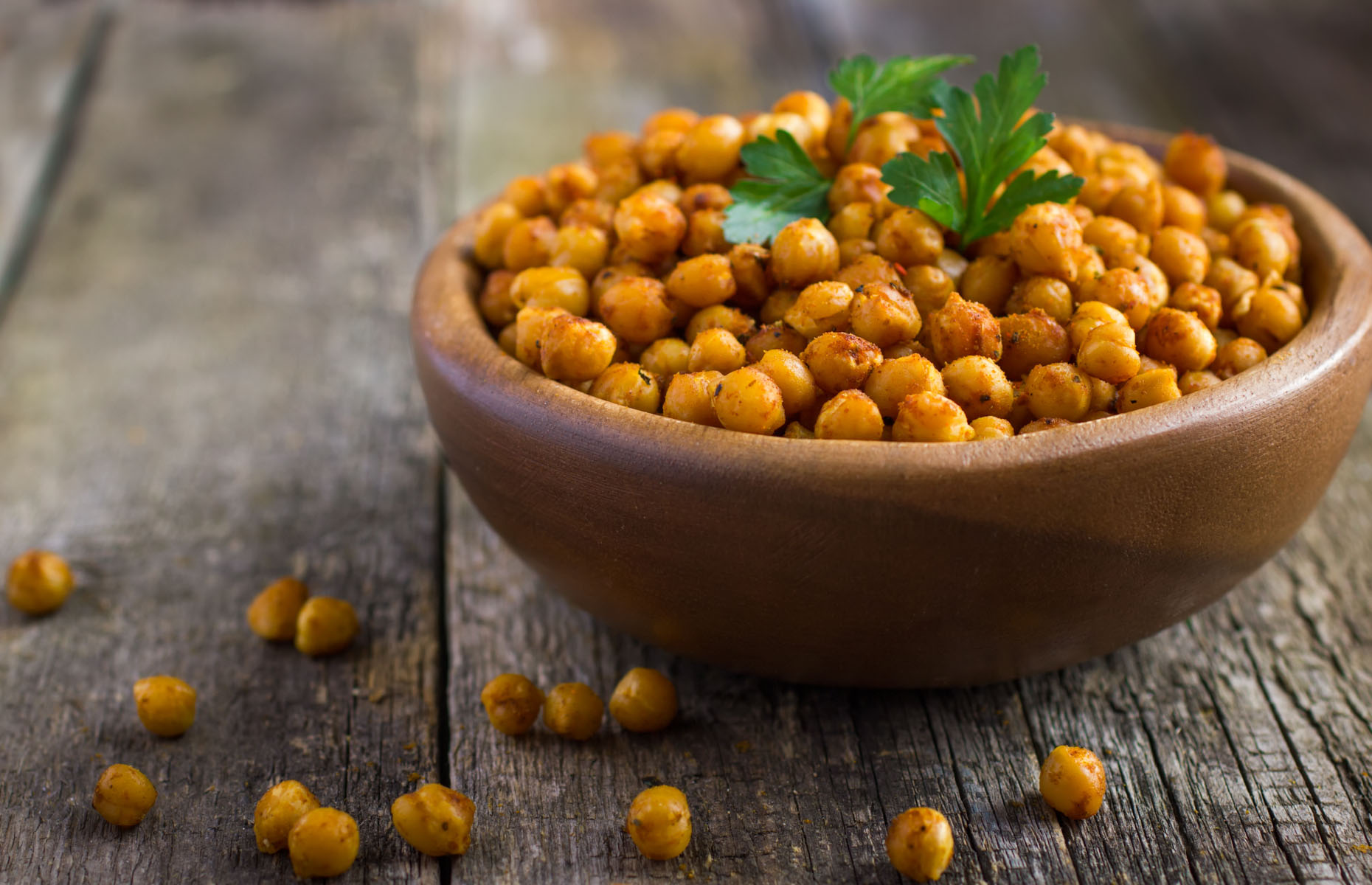 Anna Shepulova/Shutterstock
Are chickpeas good for you?
Not only are chickpeas delicious, they're packed with protein, fibre, vitamins and minerals, which are all essential to good health. Great news if you want to carry on eating hummus like it's going out of fashion.
READ MORE: Make your own chilli oil
Are dried chickpeas better than tinned?
There's nothing stopping you from using dried chickpeas: they definitely taste better than tinned and cost less, but they're time-consuming to prepare. Before you've even decided what you're cooking, they'll need soaking in water overnight (add garlic and herbs for extra flavour).
If you've got the time and you're making a dish where chickpeas are the star of the show, give it a try. Otherwise, a tin will do the job just fine and they're just as healthy as dried.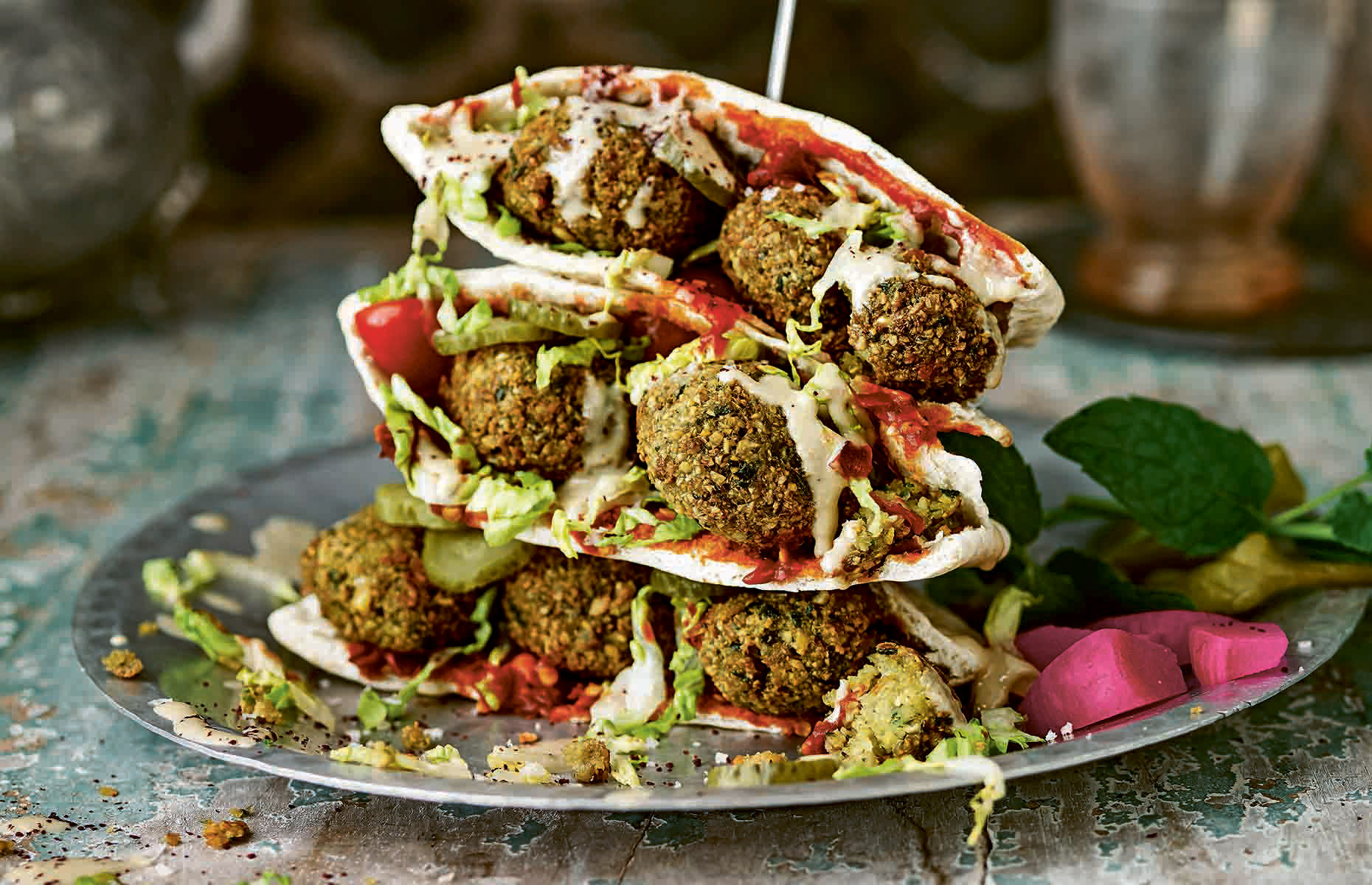 Saffron in the Souks/Kyle Books
Where dried chickpeas also come in handy, is you can use them in place of baking beans for blind baking.
What can you do with chickpeas quickly?
It's possible you've already got a bowl of hummus on the go as you're reading this, but if not, try this five-minute recipe.
Falafels are also speedier to make than you might think, you could have falafels with garlic tahini sauce or a falafel sandwich ready in just over half an hour.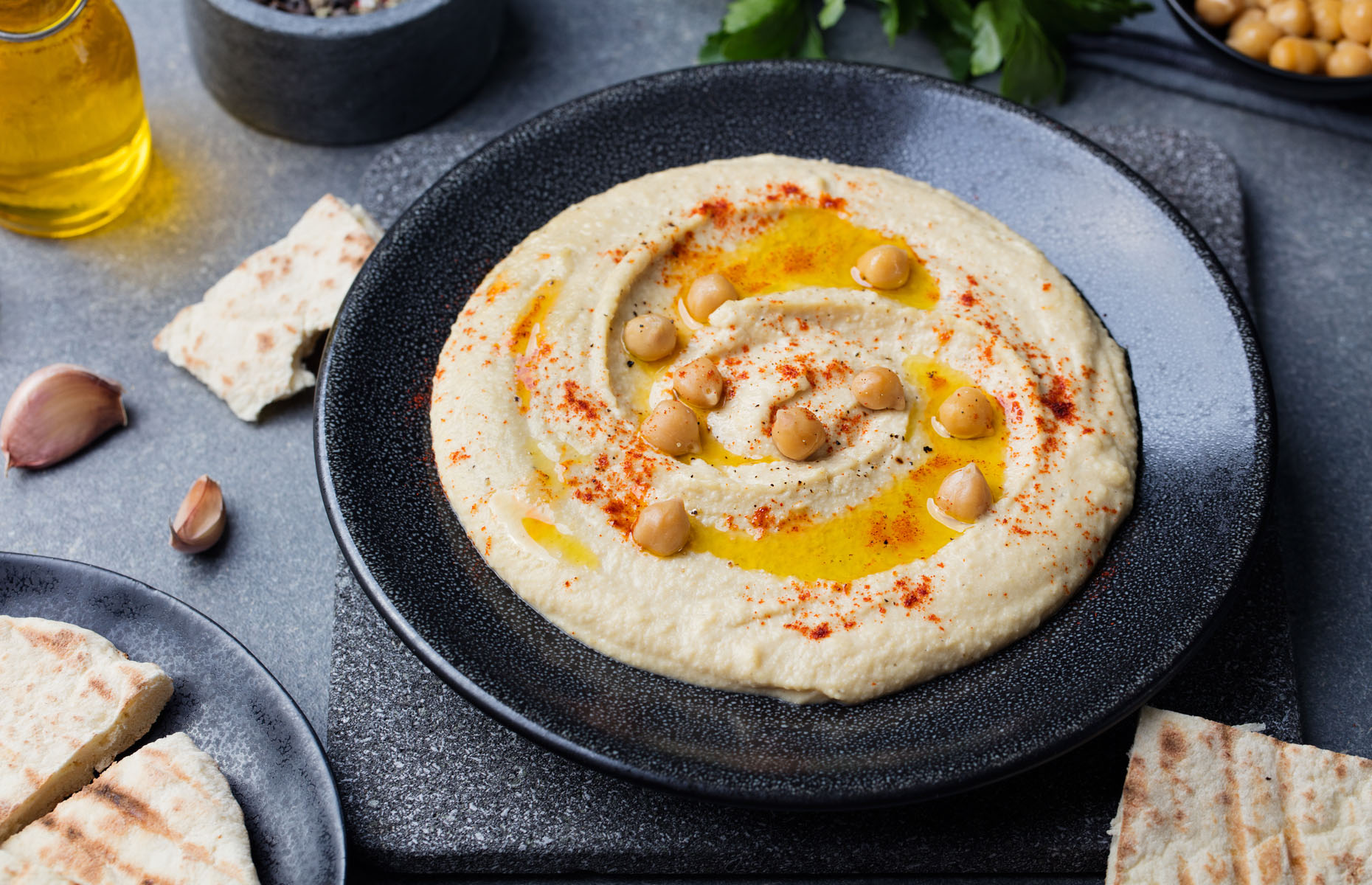 Anna_Pustynnikova/Shutterstock
You can eat roasted chickpeas as a delicious alternative to crisps. Just toss them in a bowl with a little oil and salt and your favourite spices (chilli, paprika, harissa and cumin all work well) and pop them in a hot oven for 20 minutes until they're crispy.
Chickpeas make a brilliant addition to fresh salads, such as this simple broccoli, chickpea and pepper combination, beautiful griddled courgette with chickpea salsa or a high-flavour chickpea, pomegranate, red onion, tomato, potato and lemon medley.
READ MORE: A complete guide to lemons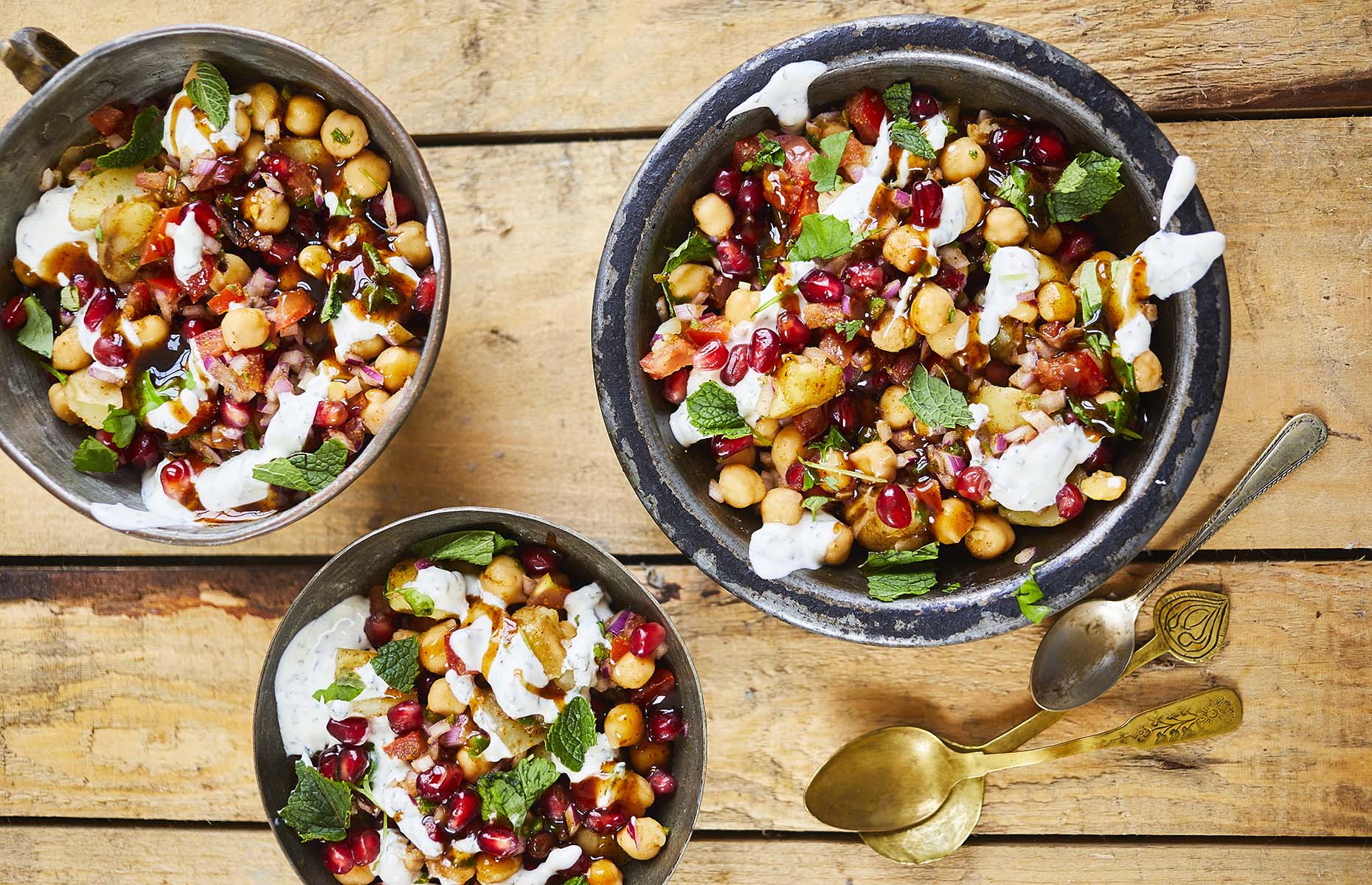 India: The World Vegetarian/Bloomsbury
What can you do with chickpeas if you've got more time?
Chickpeas and thick, rich sauces are the best of friends. Especially if that sauce has a tomato base. They'll soak up the flavour of whatever you put them in and add a different texture to your dish without making it stodgy.
They are particularly excellent in curries, not just because of how pally they get with spicy sauces but because they look good too.
For something indulgent and a little bit special try potato, paneer and chickpea curry or this chicken, spinach and chickpea dish.
There are also plenty of excellent vegan options such as a plantain and chickpea one-pot, this creamy and fragrant Sri Lankan dish or this cinnamon chickpea curry.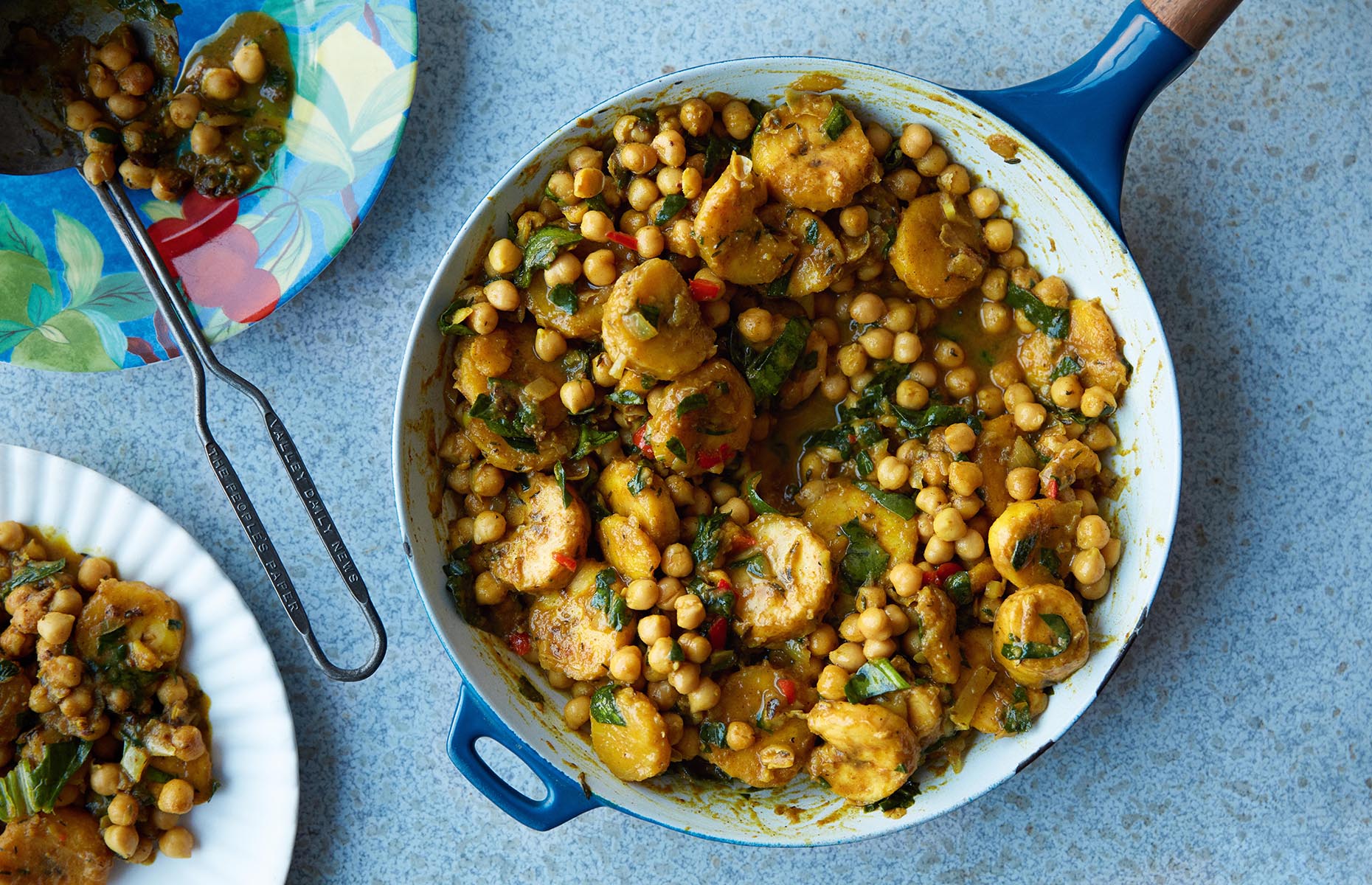 Original Flava: Caribbean Recipes from Home/Bloomsbury
Mediterranean flavours are also good to chickpeas. You'll often see them paired with paprika, in fish stews or added to spicy soups. Have a go at this wonderful chickpea and chorizo recipe from Spanish chef Jose Pizarro – it goes very well with a bottle of red wine.
Basically, it's all about flavour. Your little tin of garbanzos always need to be well seasoned and make sure you add them around half an hour before the end of your cooking time, otherwise they'll go mushy.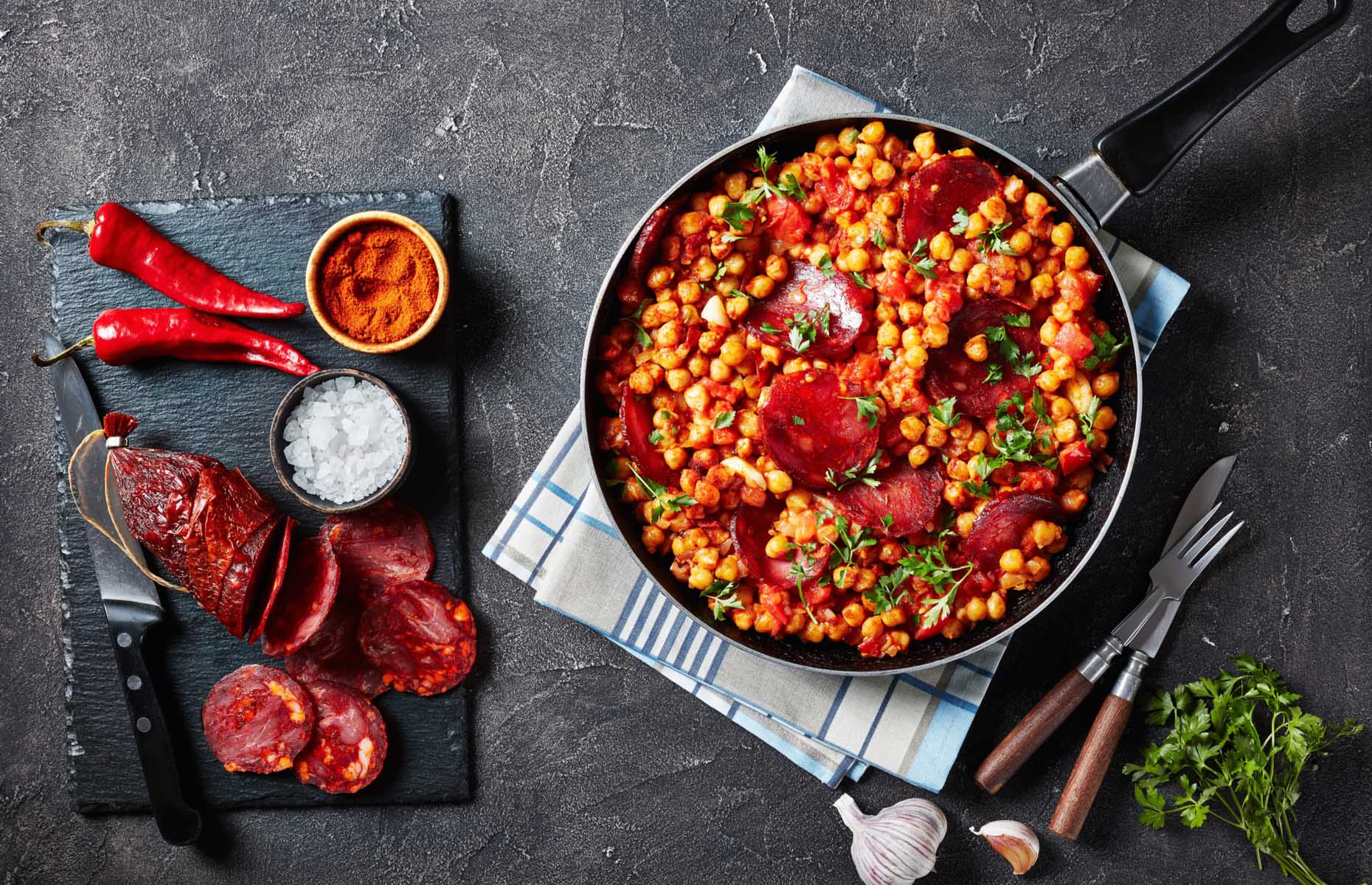 from my point of view/Shutterstock
What's chickpea flour used for?
Chickpea flour, or gram flour, as it's more commonly known has the benefit of being gluten-free.
Gram flour is particularly common in Indian cuisine, as it's key to making your own pakoras (how about deep-fried okra), fritters (try spiced chickpea fritters) and onion bhajis (you can try courgette bhajis too).
You can even use it in baking, such as this recipe for a savoury chickpea cake, these crispy tikka masala breadsticks or these sweet cardamom butter biscuits.
READ MORE: What is harissa?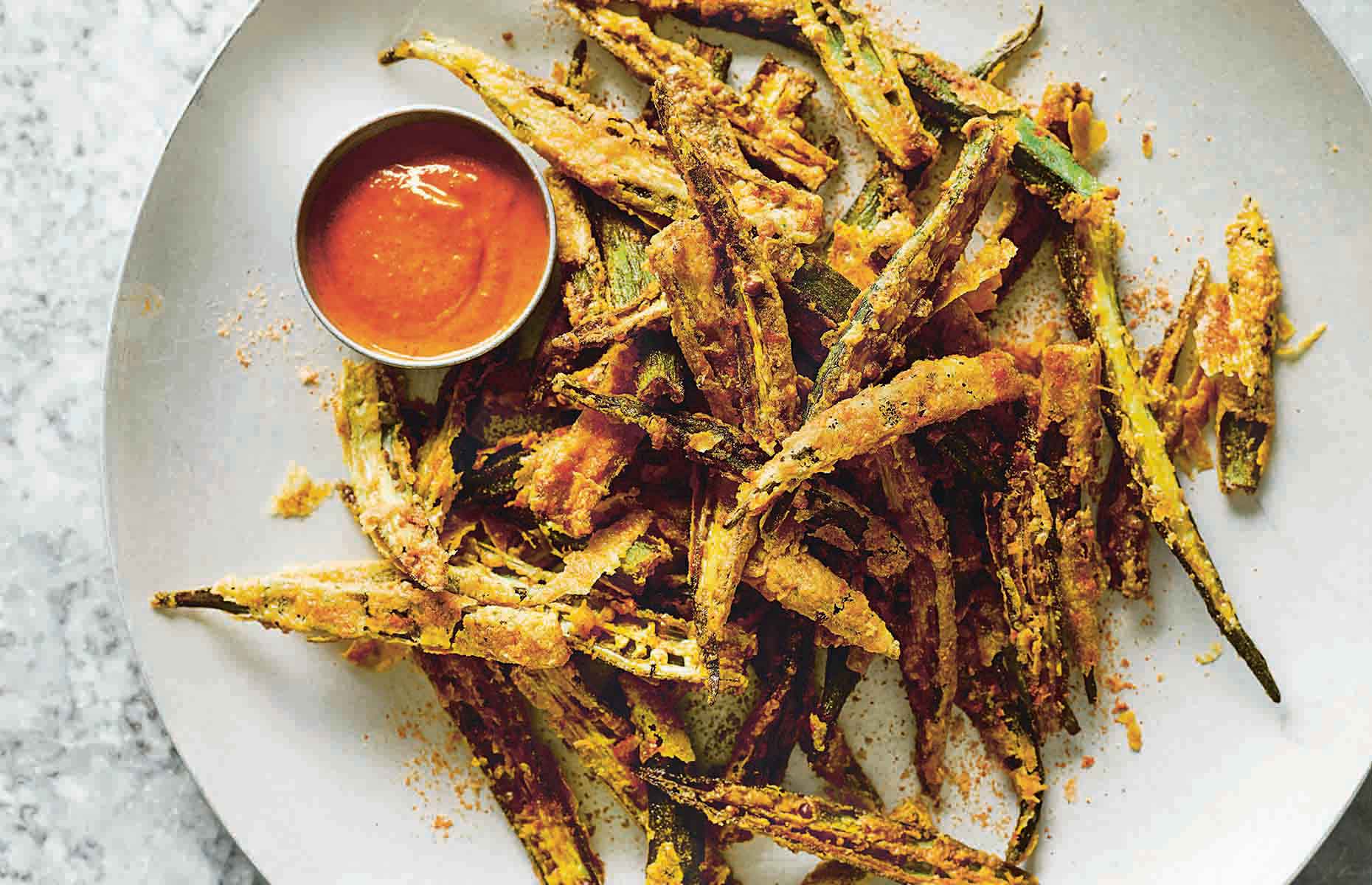 Dishoom: From Bombay with Love by/Bloomsbury
How do you use chickpea water?
It's hard to imagine that the humble chickpea could make its way into patisserie too, but you'd be surprised what this wonder legume can do.
Macarons, meringues and puddings can be made vegan if the eggs are replaced with the water from a tin of chickpeas. The starch and protein-filled liquid, known as aqua faba, replaces the need for eggs and holds your bake in shape.
Fancy giving it a go? Try this impressive tropical fruit pavlova or these comforting peanut butter puddings.
Lead image: beats1/Shutterstock
Be the first to comment
Do you want to comment on this article? You need to be signed in for this feature