A beginner's guide to English wine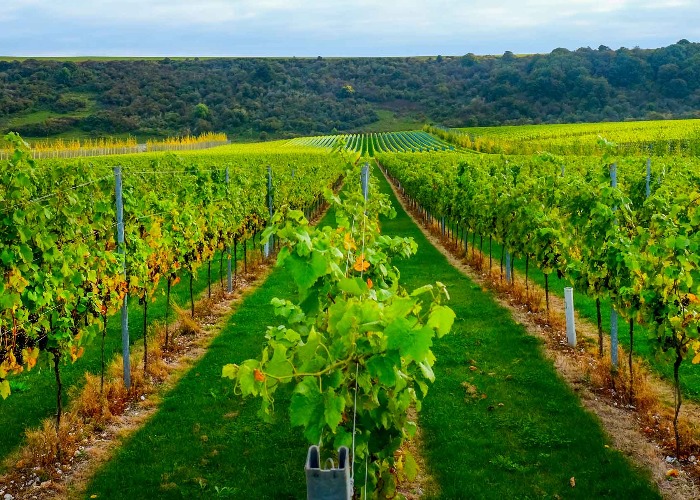 Buying from local producers is a sustainable and delicious way to top up your larder. We're all used to supporting bakers, cheesemakers and farmers on our doorstep, but do you get your wine from UK makers too?
Buying from local producers is a sustainable and delicious way to top up your larder. We're all used to supporting bakers, cheesemakers and farmers on our doorstep, but do you get your wine from UK makers too?
The renaissance in English wine is well and truly underway. The Brits have been comfortably beating the French in blind taste tests of sparkling wine for over a decade. And now English-grown grapes are also being used by experienced winemakers to make delicious still wines.
It's not just a few people having a go either. There are over 800 vineyards in Britain, producing more than 15 million bottles every year and they vary massively in size. The single-site vineyard of the Rathfinny Estate in Sussex covers an incredible 230 acres. If it was a car park, you could park 34,500 cars there (but we're glad they're growing wine instead!). And the smallest has just six vines, so don't expect to see their products on the shelves of Waitrose any time soon.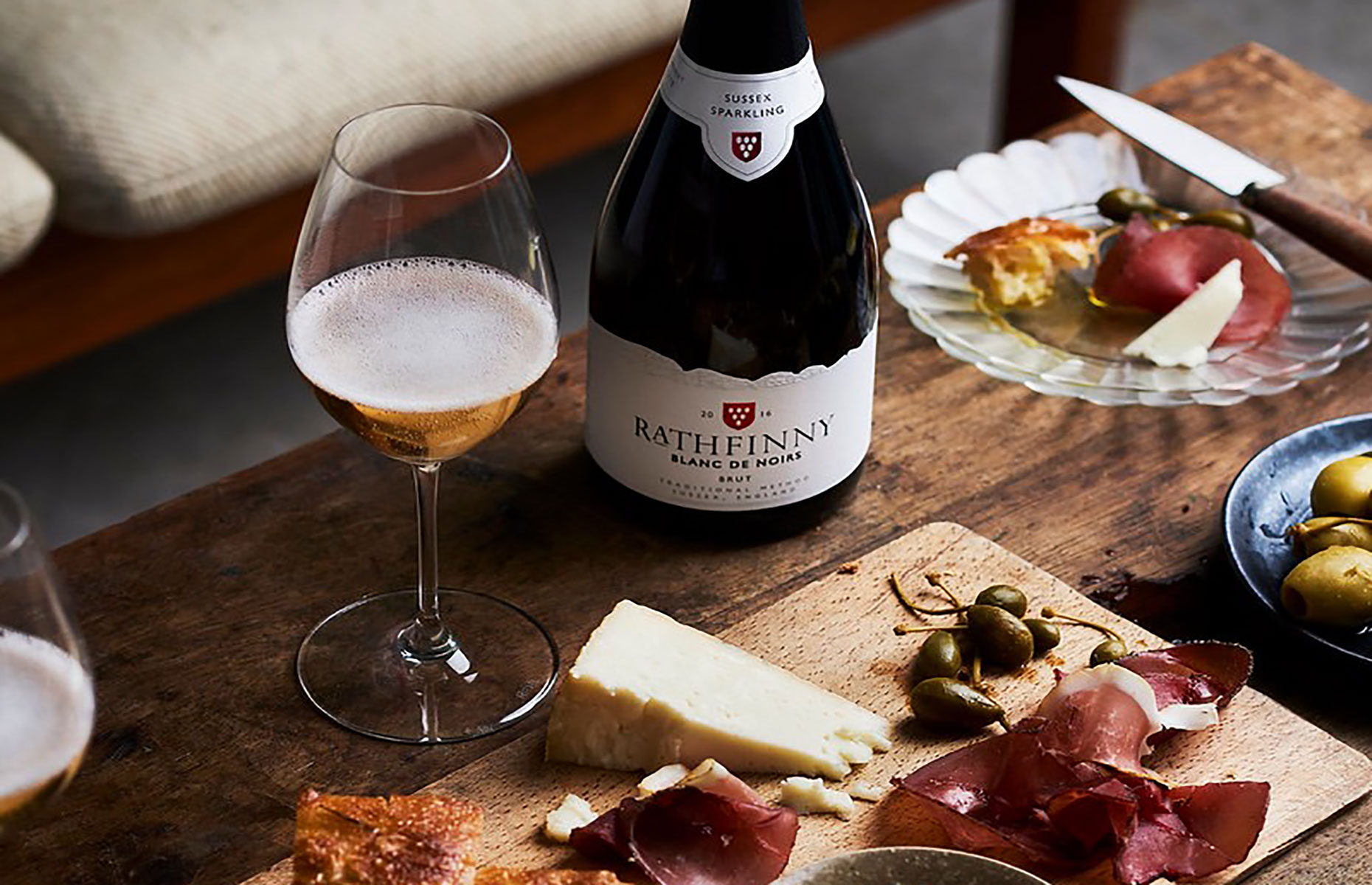 Rathfinny Estate/Facebook
It's not all about English sparkling wine
Up until recently, the paragon of the English wine industry had been the bubbles. Thanks to developments in winemaking experience and technique, still wines are starting to catch up to the fizz in terms of quality and reputation.
Award-winning drinks writer Kate Hawkings agrees that still wines are becoming the ones to watch (well, quaff). She says, "English sparkling wine has been on roll for quite a while but it's the still wines that I now find most exciting. The 2018 vintage seems to have been a turning point. Until then they so often seemed too lean and mean but the warm weather that year, along with vines reaching more maturity, show that the potential of English wine goes well beyond the fizz."
Veteran English winemaker and editor of Vineyard Magazine Jo Cowderoy also acknowledges the impact of good growing seasons in recent years. "Grapes with higher sugar levels lend themselves more to still wine production than sparkling" she explains. "And by making some really good still wines recently we've opened up the market."
READ MORE: Everything you need to know about wine
The improving conditions can be partially attributed to climate change. Jo says that the data shows "we've got a warmer growing season, which helps the vines to be more fruitful." The UK wine industry is maturing too. Winemakers are simply getting better as the years go by, plus still wines are quicker and easier to produce than sparkling, so there are commercial incentives to make them too.
Where to buy English wine
English wine's popularity is doubtless down to it being delicious but happily nowadays it's also more widely available. Many of the major supermarkets stock a small selection and the success of initiatives like English Wine Week each year has alerted consumers to what is out there.
Wine merchant Majestic reported a huge rise in sales of English wine as people's patriotism took hold during the Euro 2020 competition (in summer 2021). Even the UK government is jumping on the trend. They spent £73,091 on English wine in the year before the pandemic, nearly three-quarters of their total spend on the parliamentary wine cellar.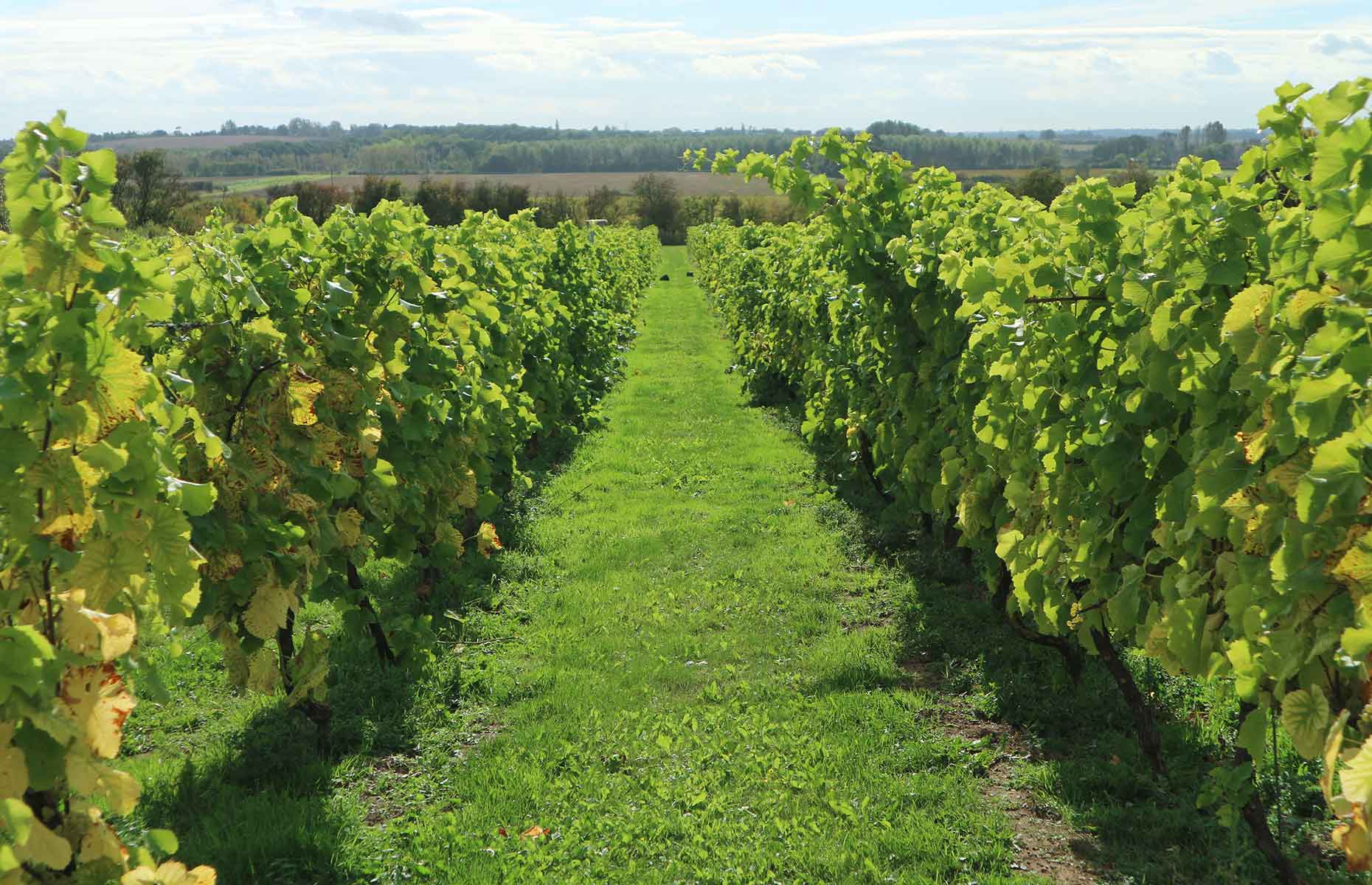 AlCam/Shutterstock
There are also so many vineyards around the country that it can be surprisingly easy to pop along and pick up a tasty vintage in person. Use the Wine Cellar Door directory to find out which wineries offer tours and tastings for a fantastic day out: winecellardoor.co.uk/directory/map
READ MORE: How to spend a corking weekend in Kent's wine country
Where is English wine grown and made?
Southern counties like Kent, Sussex and Cornwall are all renowned for making great wines. Areas of chalky soil coupled with cool conditions make for fantastically crisp and refreshing sparkling wines. Some of the most famous are Nyetimber, Chapel Down and Gusbourne.
However, wine-making isn't restricted to the south. Many fine vineyards are making award-winning wines north of Watford Gap. Look out for Somerby Vineyards just outside of Scunthorpe and Rodington Vineyard in Shropshire.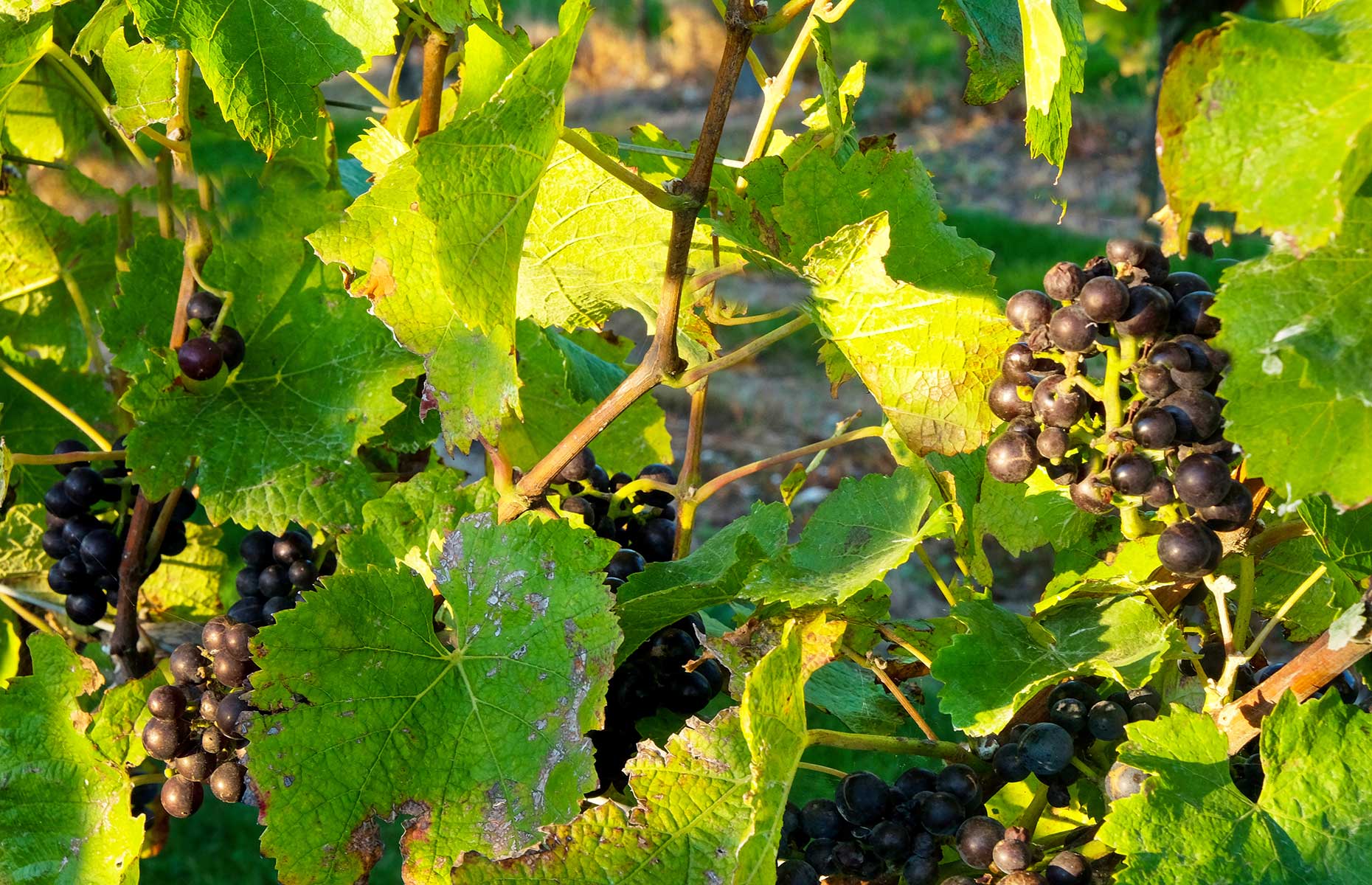 Gill Copeland/Shutterstock
Top grapes for English wine
Generally speaking, still English wine is made from grape varieties that we're less familiar with as consumers. That's because winemakers have to grow varieties that can ripen in our cold climate. Developed in places like Germany, they flower late to avoid the ravages of spring frosts, or ripen early to protect against rot as the grapes ripen in autumn.
READ MORE: A guide to Kent wines
High-quality English wines are being made from Bacchus, Madeleine Angevine and Solaris for white wine, and Regent, Rondo and Dornfelder for red.
Some of our most highly-prized bubbles can be referred to as 'Champagne clones.' That's because they are made from the same grape varieties as those used in the Champagne region of France: Chardonnay, Pinot Noir and Pinot Meunier.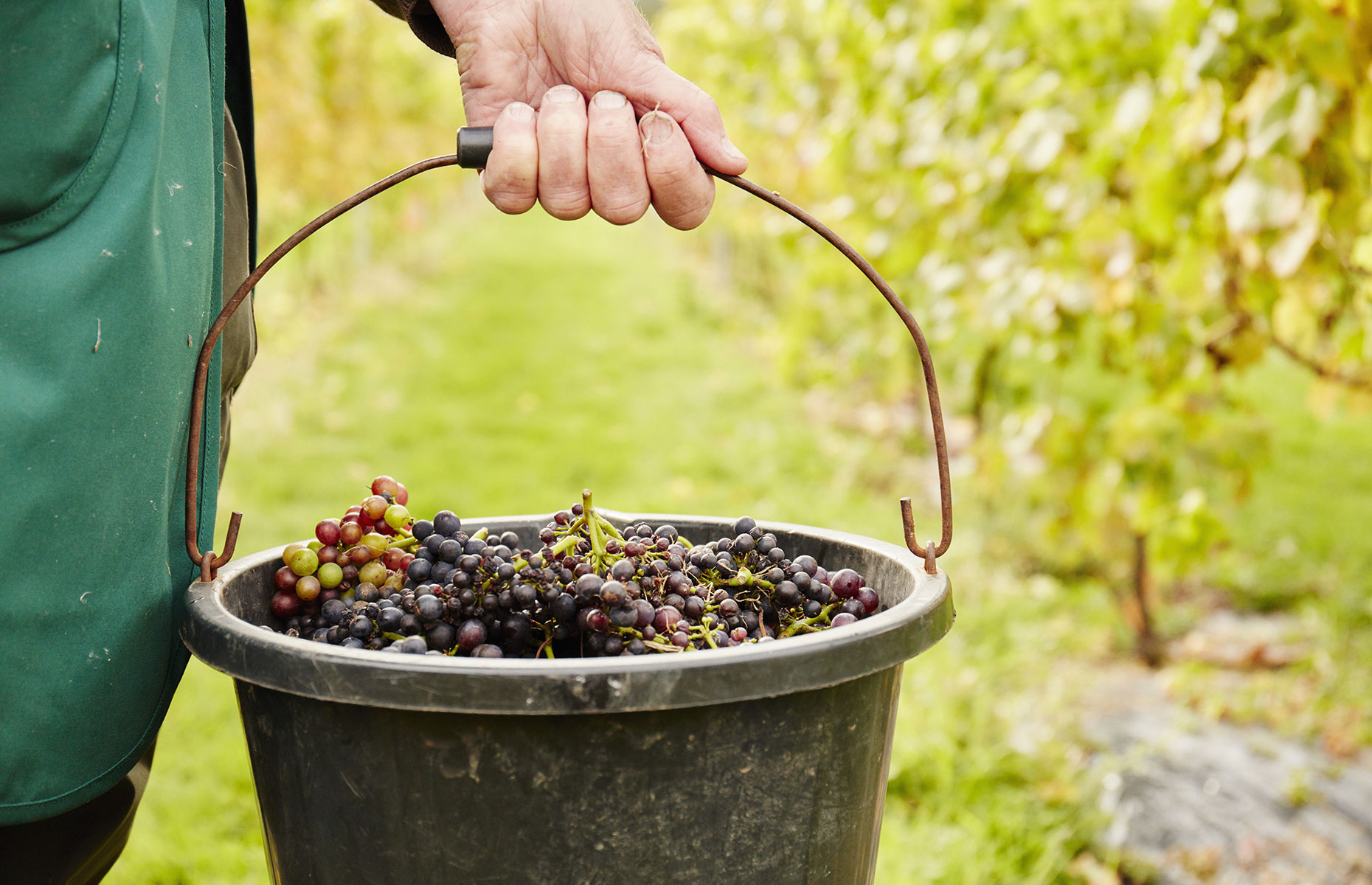 MintImages/Shutterstock
As with Champagne, these grapes are being grown on chalky soils in cool climates, so they can grow the same quality of raw material prized by the French.
Ruth Simpson, of Simpsons Wine Estate in Kent told us about their land: "Our intensely lime-rich chalk soil, forming part of the same chalk ridge that stretches from southern England to the French Champagne region and on to Burgundy, is without doubt the most desirable for the cultivation of the time-honoured trio of grapes renowned for producing the world's finest sparkling wines."
Although England is at the northerly extreme of where wine can be produced, Ruth says the cold climate "is ideally suited to creating sparkling wines with pure varietal flavours, elegant acidity and superb ageing potential."
READ MORE: Fizzy facts about the history of Champagne
What to look for when buying English wine
When buying wine, look for quality-assured 'varietal' wines – those with a named grape variety on the label. Higher quality still are those with Protected Geographical Indication (PGI) status. Finally Protected Designation of Origin (PDO) is the highest standard. PDO wines will be marked as Wine of England. There is also a specific regional hallmark, Sussex Wine, which is also a PDO.
These are all legally-assured grades. They guarantee where the grapes have been grown as well as the standards to which the wines have been produced. Winemakers have to apply for accreditation individually for each wine in every season.
In terms of vintages (the year on the bottle which indicates when the grapes were picked), the incredibly long hot summer of 2018 has been described as the "vintage of the century".
To create a truly great season, Jo Cowderoy explains, a whole series of factors need to come together. The best grapes grow by "avoiding the spring frosts, then missing rain at flowering time, followed by a nice long ripening season." All of those boxes were ticked during 2018.
Some believe that 2020's wines will prove to be even more outstanding in quality, but we will just have to wait for the 2020 sparkling wines to be released to find out!
READ MORE: How to make mulled wine
Our favourite still English wines and English sparkling wines
1. Rothley Wine Estate, Leicestershire
Battle Royal rosé
A well-balanced wine with high acidity and a medium finish. It is full of red fruit – think slightly astringent berries, like redcurrant and cranberry. This wine epitomises a balmy English summer.
£11.50 direct from the vineyard at rothleywine.com or £12.49 for delivery from georgehill.co.uk
2. Somerby Vineyards, Lincolnshire
Magna Carta 1215 Reserve Rondo
A deliciously full-bodied and silky red wine with smooth tannins. Expect flavours of blackcurrant and a touch of spice on the finish.
£12.99 from waitrosecellar.com
3. Squerryes, Kent
Brut 2017 Vintage Reserve
Squerryes' sparkling wines have been consistently winning the highest accolades at the biggest international wine competitions for a number of years now. This dry sparkling wine offers excellent value and has delicious ripe fruit with biscuity notes.
£32 direct from the vineyard at squerryes.co.uk or from waitrosecellar.com
4. Denbies Wine Estate, Surrey
Chalk Valley Sparkling Wine
This Chardonnay-based sparkling wine has been extremely successful in consumer taste tests. It combines some pear notes with high acidity and a hint of brioche.
£16 from groceries.morrisons.com
5. Gusbourne, Kent
Chardonnay Guinevere
Enjoy a medium-bodied white wine that features slightly cooked tree fruit flavours. It holds the honour of being one of the most highly decorated still wines at this year's WineGB awards.
£29 direct from the vineyard at gusbourne.com or £28.45 from thewhiskyexchange.com
6. Offbeat Wines, Wiltshire
Full Circle Pet Nat
A pet nat made from red Rondo grapes and white Madeleine Angevine grapes grown on a small biodynamic vineyard. Less than 400 bottles are usually made each year. Expect a fruity wine with plum and pear flavours and some herbaceous aromas.
£31.95 from hopburnsblack.co.uk
Lead image: Gill Copeland/Shutterstock
Be the first to comment
Do you want to comment on this article? You need to be signed in for this feature