A guide to Kent wines
For a while Kent was something of a one-trick wine pony, known for its standout fizzes that put many Champagnes to shame. But as Laura Jackson finds out on a day-long tour of three vineyards, whites and rosés are also bursting to the fore in the Garden of England.
What's the buzz?
Ashford International train station in Kent seems an unlikely place to kick off a wine tour. Usually, I'm most likely to be found whizzing through on the Eurostar, heading for the food and drink delights of France.
But you don't have to go to the continent to taste some innovative wines – turn right out of the station and head 20-minutes to the southwest and you'll find yourself in the epicentre of English winemaking, no passport needed.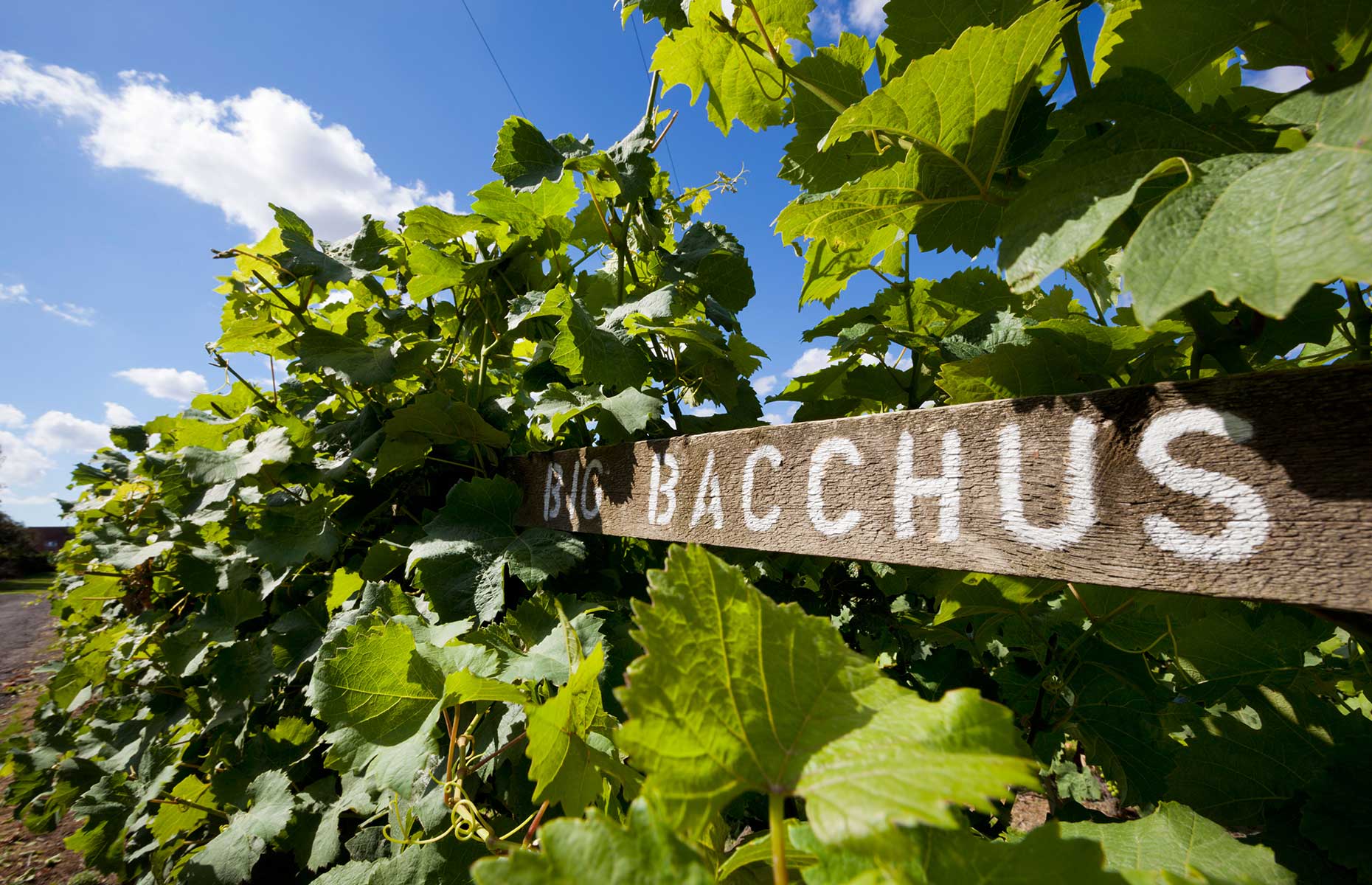 Stuart Black/Alamy Stock Photo
The wine scene in Kent really started back in 1969 at Biddenden Vineyards and has expanded at a pace in the past decade. Today there are over 50 wine-growing sites across the county. During the 2000s it was sparkling wines that garnered the most attention, winning awards both at home and internationally, and still wines were something of an afterthought. These days small, boutique winemakers are stepping up to generate unique still whites and rosés, brimming with the earthiness that makes this corner of England such an exciting, and at times perilous, place to grow grapes.
While the soil composition in Kent is similar to Northern France, some of the most common grapes grown here are German in origin, including Ortega and Bacchus, named after the Roman god of wine and considered England's sauvignon blanc.
READ MORE: How Champagne took over the world
Wine tours and how to visit
Modelled on escorted tours available in American and Australian wine regions, Wine Tours of Kent have solved the problem of who draws the short straw as the designated driver.
Its full-day guided vineyard tours are led by an expert who drives a luxury 16-seater minibus, with pick-ups available from local stations.
You wend your way along country roads, passing oast houses, thatched cottages and the sheer density of scenery that surrounds Ashford, stopping at three vineyards and sampling fives wines at each.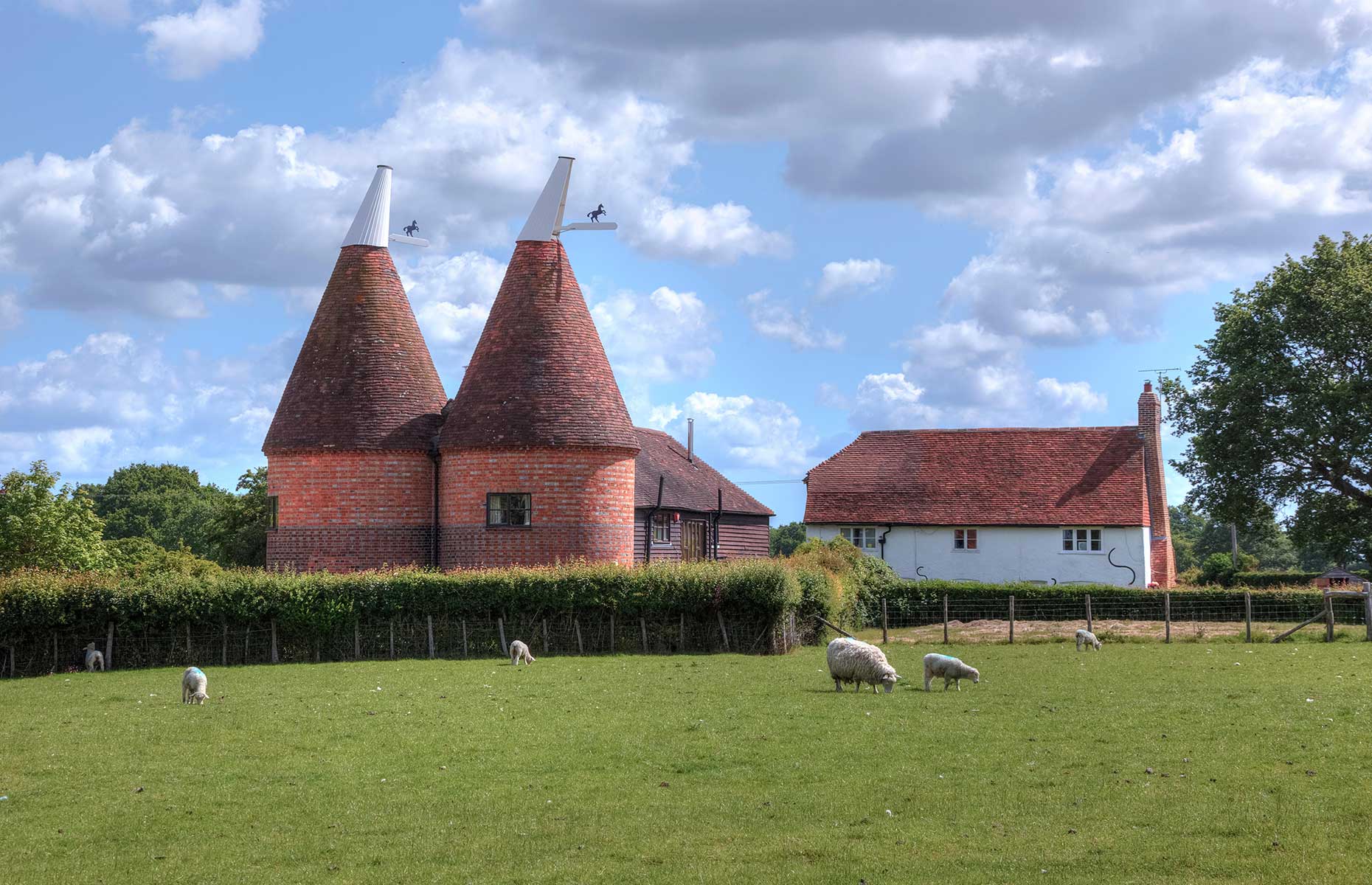 Joana Kruse/Alamy Stock Photo
My guide, Betty, lives locally and was brimming with knowledge about the area's traditions and winemaking heritage.
Plus Wine Tours of Kent has exclusive access to selected vineyards, so it's a great way to tick off several spots in one day – all with a fantastic lunch included too.
Wayfarer Wines
Our first stop of the day, just after 11am, is Wayfarer Wines in Woodchurch. After spotting a gap in the market, it exclusively produces still wines, one of the few Kentish vineyards to do so. It's a small family enterprise, explains Emma Ashford, one of the owners: "My dad started by using the two acres of land at the back of my parent's house to plant a small vineyard and it's just grown from there." The first vines were put in during 2016 and Wayfarer now has 12,000 vines, making 7,000 bottles a year on two sites that span around seven acres. The vineyards currently grow two types of pinot, as well as Bacchus and Ortega grapes, with the first vintage released in 2019.
Happily, their vineyard, around 20-minutes' drive from Ashford, is flanked by woodland which means the vines escaped the worst of the late-May frosts that have hampered production across Europe during 2021. When the weather does take a turn, the vineyards use candles to fend off the frosts.
Wayfarer have only recently started tastings and public access is only available via Wine Tours of Kent. On fine days tastings take place in a wood arbour in the heart of the vines, meaning you're sampling wines seconds away from where they're grown – the ultimate way to cut down on those wine miles.
Top picks:
Wandering Wayfarer Bacchus 2019, 12%, £16
A juicy note of elderflower hits your nose before you've taken a sip of this complex wine. Crisp, and with some white peach tones, it showcases the bold flavours English wines can offer.
Hedgerow Pinot Noir Rosé, 2020, 12%, £16
The colour of a pink grapefruit, this rosé is all about the summer berry fruits, as its name suggests: expect strawberry and blackberries without it erring into being overly sweet.
READ MORE: The best alternatives to Prosecco
Woodchurch Wine
If you didn't have Betty and Wine Tours of Kent's van to transport you, it would be possible to walk the 30 or so minutes between Wayfarer and its north-easterly neighbours, Woodchurch Wine. The proximity of the two vineyards is a superb example of the hyper-local flavours produced by grapes in Kent – just a mile separates these vineyards but the wines are worlds apart.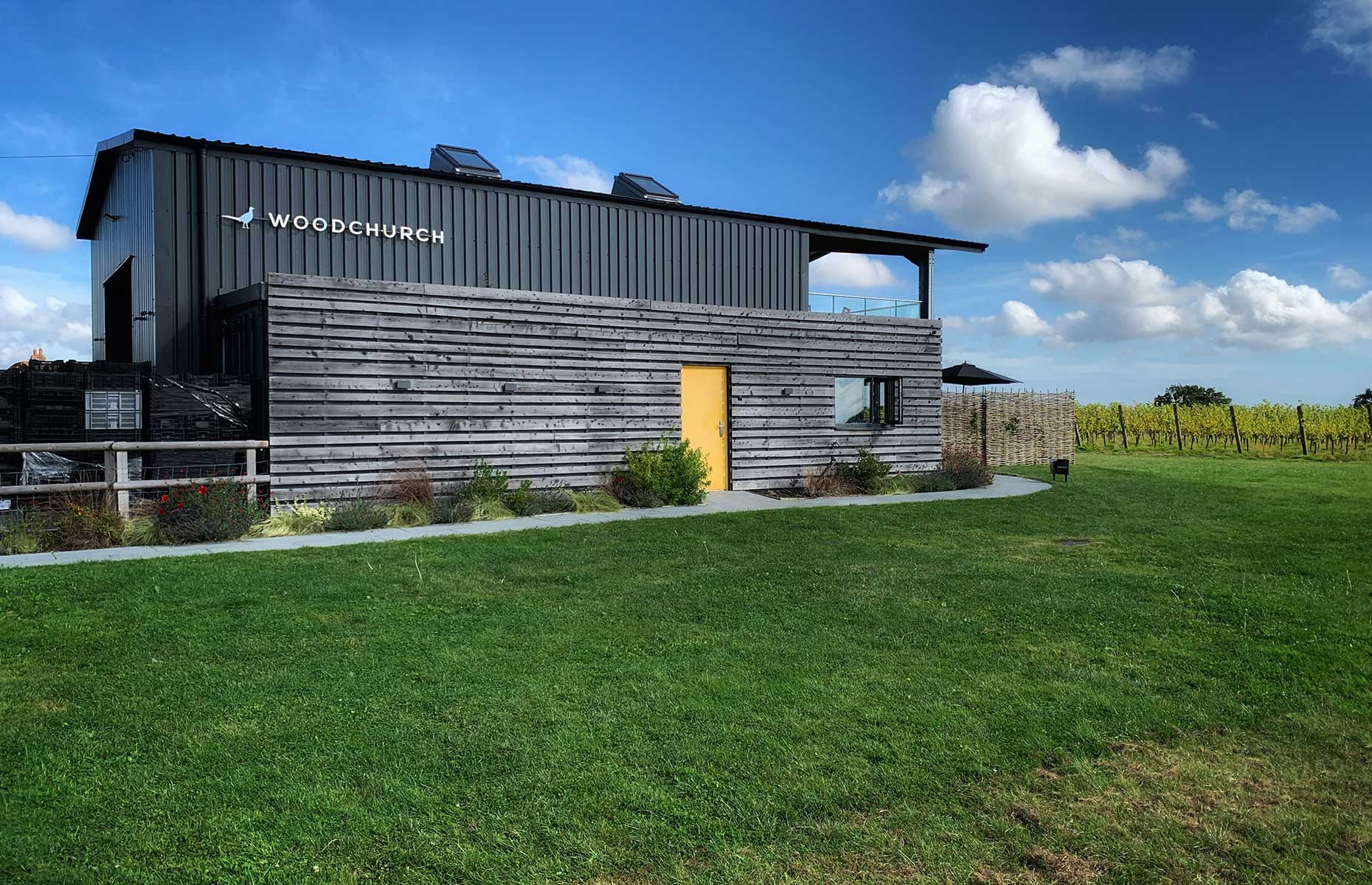 Laura Jackson/loveFOOD
Like Wayfarer, Graham Barbour, who owns and runs the vineyard with his wife Donna, aims to produce wines with as few chemicals and human interference as possible. "My weed management policy is not to have a weed management policy," he says. The results are mature vines with wildflowers curling underneath, all in a spectacular spot where, if the wind is blowing the right way, you can smell salty wafts of the English Channel.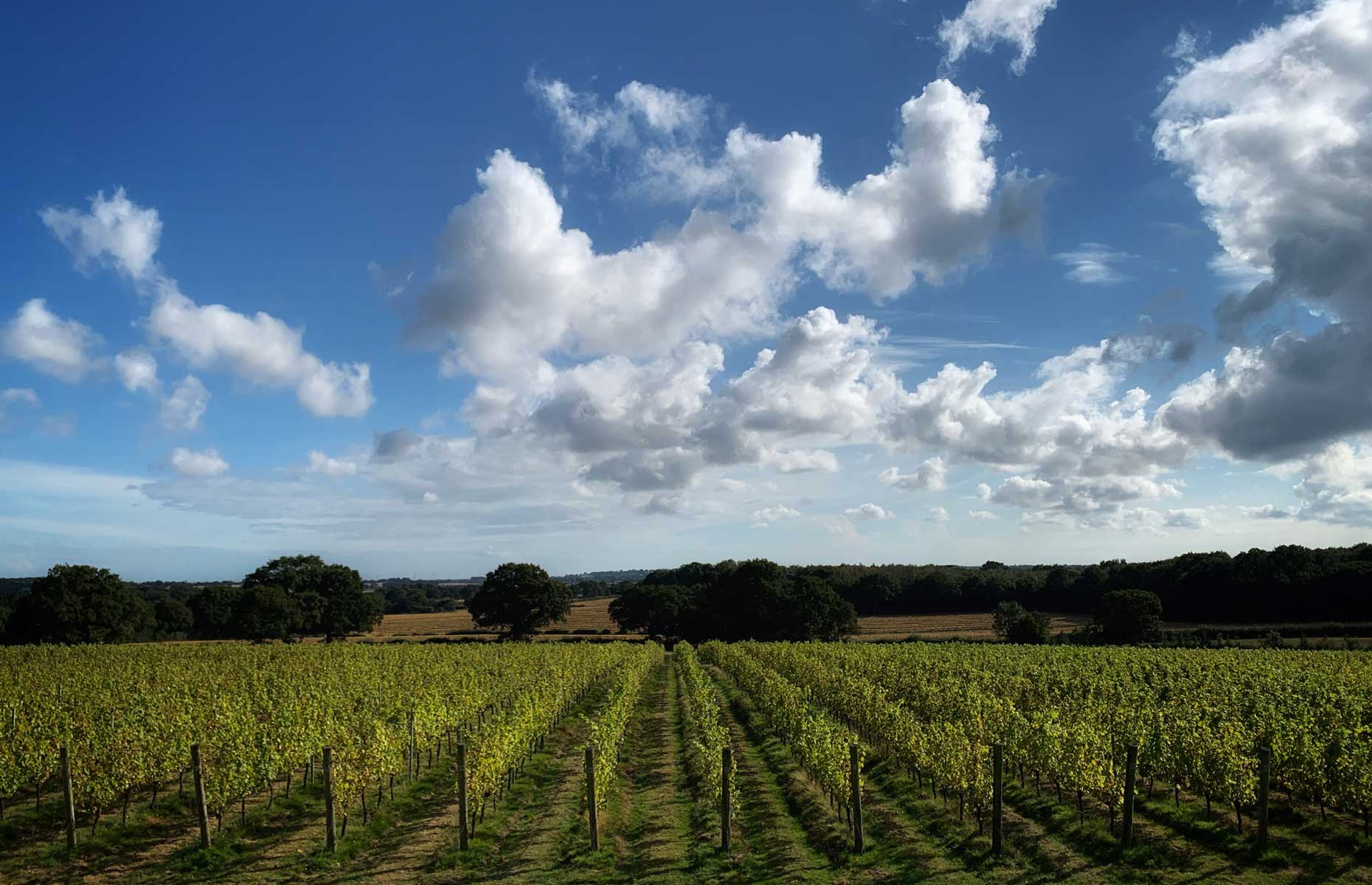 Laura Jackson/loveFOOD
Planted in 2010, the vineyard is well established, but Graham takes learnings from every year that passes. "You're always asking yourself what you can do differently," he says. "2018 saw the best conditions for the highest yield but 2021 hasn't been the best for grapes and we'll be looking for quality rather than quantity this year."
Although Woodchurch isn't formally recognised as an organic producer, Graham's production technique uses the organic model and his wines are vegan-friendly too.
Top picks:
Natural Bacchus 2019, 9%, £20
"I might not ever make another wine like this one," Graham says. "It was an experiment in natural winemaking techniques". Fermented in concrete tanks without any added yeast or agents, it hasn't been filtered leaving a cloudy, elemental and frankly way-out wine with notes of grapefruit. Just 750 bottles are available.
This is the second vintage of Woodchurch's still rosé. Made with two-thirds chardonnay and a third of pinot meunier it's an elegant, zesty wine with flavours of apple, strawberry and rose petals. Not just for summer, it pairs with pork or duck dishes year-round.
Chapel Down
After a pizza lunch at Chequers on the Green in the idyllic village of High Halden, it's on to the largest site of the day, Chapel Down. Probably the most famous vineyard in the area, its wines were served at Duke and Duchess of Cambridge's wedding in 2011. It has several vineyards around the county and the site I visited at Tenterden houses a winery, tasting rooms and 25 acres of vines.
Betty from Wine Tours of Kent is our guide here, showing us around the vines and leading the tasting that takes place in the walled herb garden, next to Chapel Down's first Bacchus grapes planted in 1987.
While Kate and Wills opted for the sparkling Rosé Brut for their wedding, some of Chapel Down's most interesting wines are the still whites and rosés, although they've recently expanded into gin production too.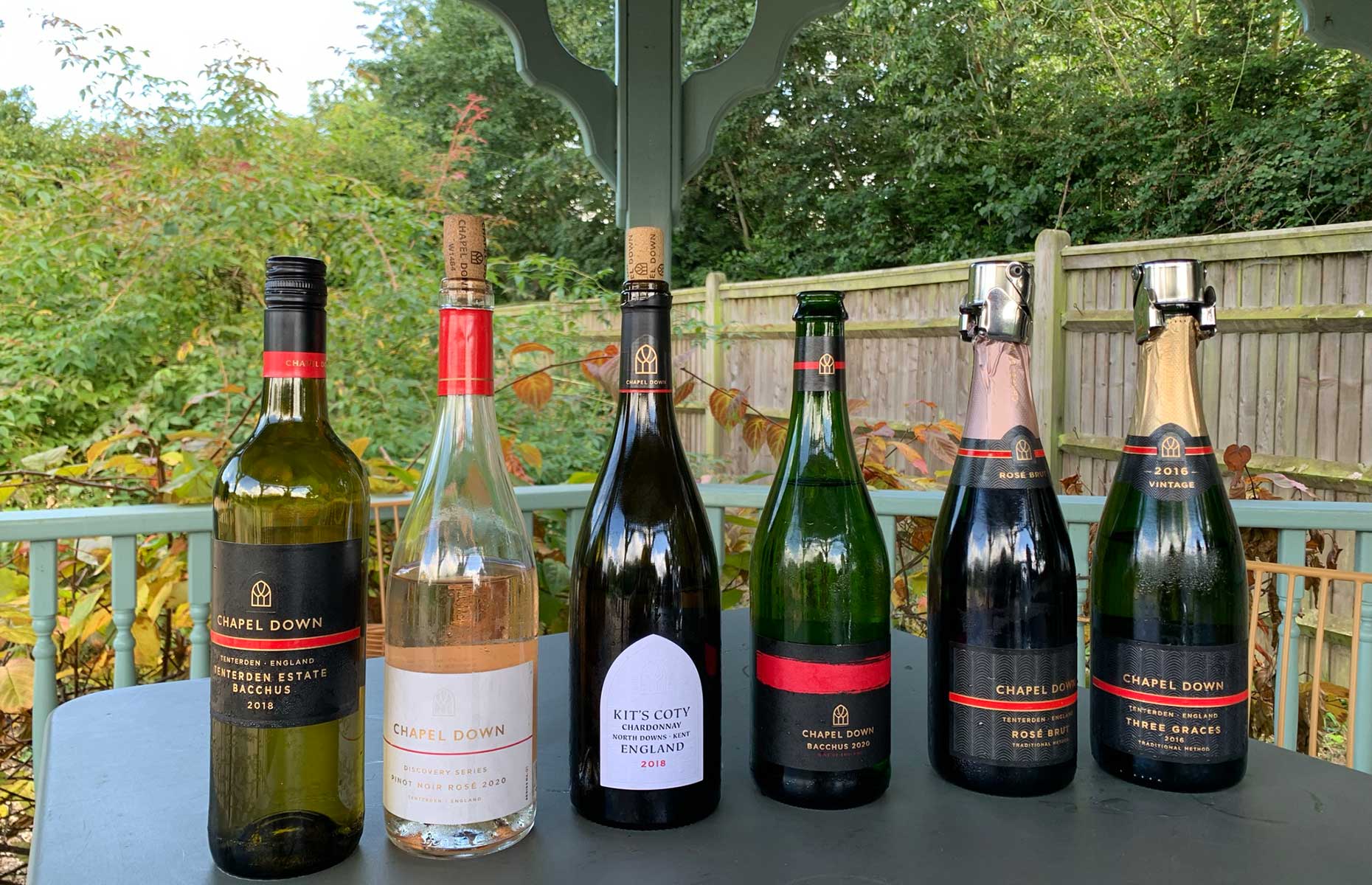 Laura Jackson/loveFOOD
Top picks:
Bacchus, 2018, 12%, £14.99
Another Kentish vineyard, and another recommendation for a 100% Bacchus wine. This one comes from the grapes at the Tenterden vineyard – although Chapel Down also produces a Bacchus at Lamberhurst around 18 miles (29km) to the west – where the oldest but lower-yielding vines are. More traditional than the Woodchurch or Wayfarer in style it's comparable to a Sancerre, with a citrus heart and a mineral finish.
Kit's Coty Chardonnay, 2018, 13.5%, £30
"The Chardonnay grapes used here are grown in the North Downs of Kent about 25 miles from Tenterden," explains Betty. "And the soil structure is totally different to the south of the county". There's a gentle oakiness from the barrel-aging but this is a nutty and fruity option that scooped a Gold Medal at the Wine GB Awards in 2021. Only available online or from the Chapel Down shop directly.
READ MORE: Everything you've ever wanted to know about wine
Map & more info
Wine Tours of Kent offers full-day tailor-made wine tasting tours of leading vineyards dotted around the picturesque Kent countryside. Vineyards visited include Wayfarer, Chapel Down, Woodchurch, Gusbourne, Hush Heath and Biddenden. Available year-round, the private day trip wine tours are priced from £99 per person (based on a group size of 4-11; £93 for group size of 12+; £396 for 1-4 guests).
Guests can be collected from any location in Kent (journeys within 20 miles of Tenterden are included in the price, a small extra fee is charged for those located further afield).
To find out more about Wine Tours of Kent and book a tour, visit www.winetoursofkent.co.uk.
Main image: Stuart Black/Alamy Stock Photo
Be the first to comment
Do you want to comment on this article? You need to be signed in for this feature