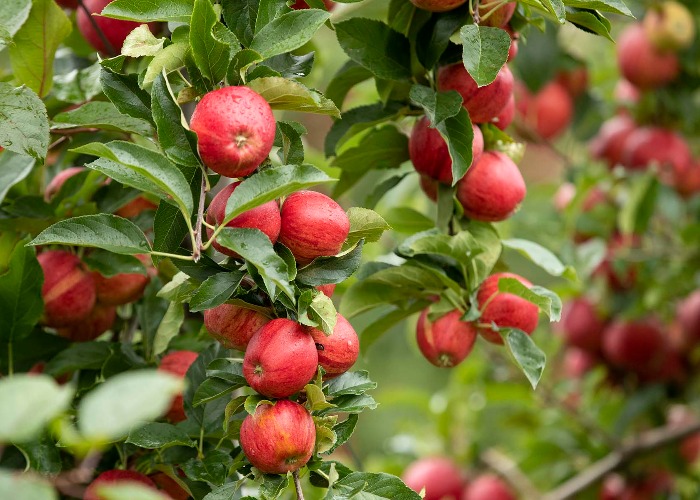 Everything you need to know about buying, eating and cooking with British apples.
Did you know just 40% of apples and pears on our supermarket shelves are British? But with more than 2,000 varieties grown here, from tart Cox to sweet and juicy Gala, we have access to buy, eat and cook with some of the best apples around.
As the annual apple season kicks off, we take a look at why buying British apples is better for the environment, how to choose the best apples and what to cook with them.
Rod Kirkpatrick
READ MORE: Amazing apple recipes everyone will love
How are apples grown and harvested?
While apples were first introduced to Britain by the Romans, it's thought that some apple varieties could've been growing in the wild as early as the Neolithic period. However, it was the Victorians that really brought the apple into the forefront and cultivated varieties of all shapes, sizes, colours, textures and flavours.
Chef Raymond Blanc, ambassador for British Apples and Pears (BAPL) adds: "Britain produces some of the finest apple and pear varieties in the world and it is hugely important to me that we support our homegrown produce. With so many wonderful varieties available, there really is a British apple to delight everyone."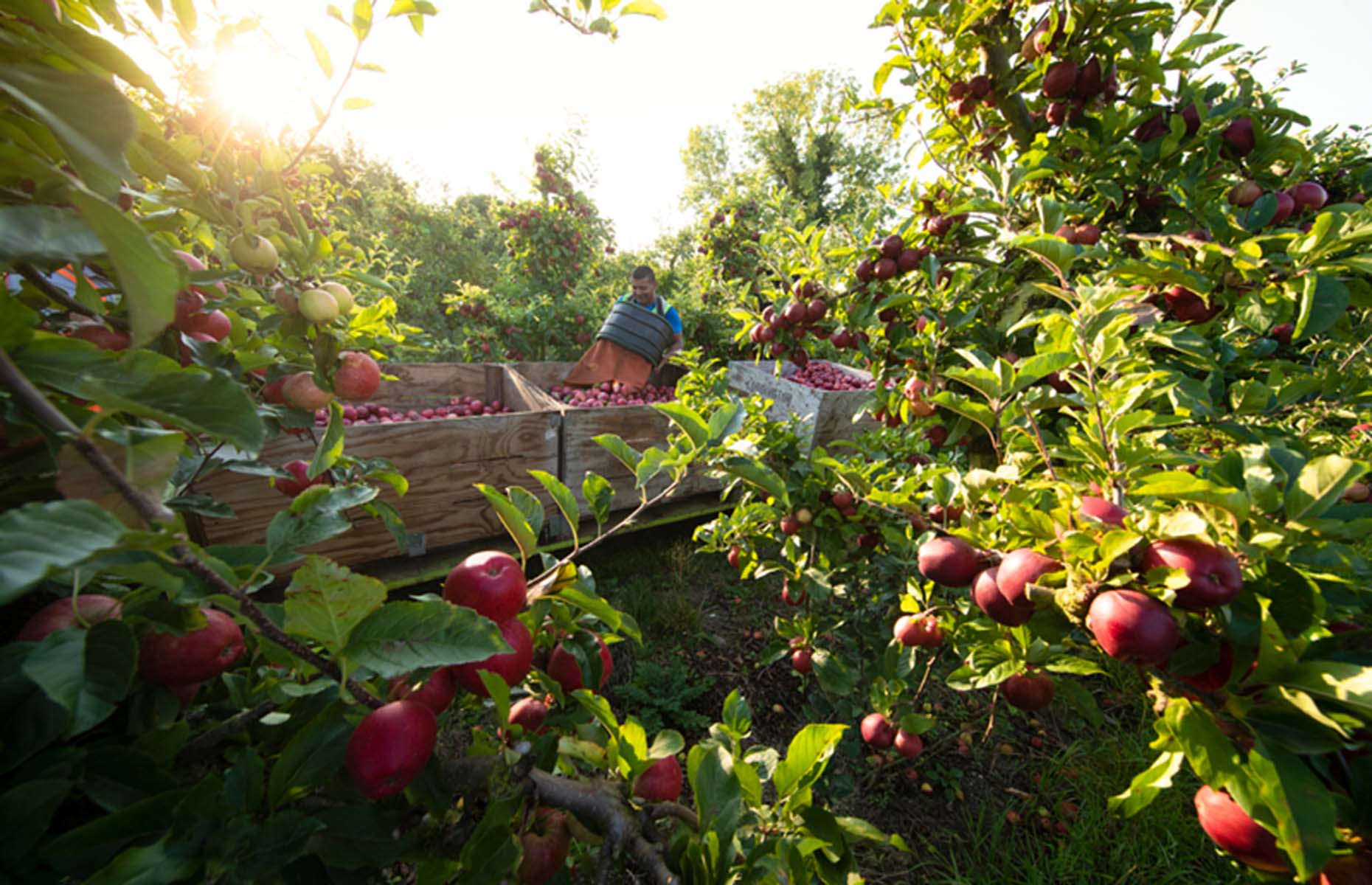 British Apples & Pears Ltd.
These days most of Britain's commercial orchards are still part of family-owned, multi-generational farms where the highest level of care is given to every single tree, branch and apple to make sure only the best produce hits supermarket shelves.
Before picking, apples are tested for their starch and sugar content as well as pressure to make sure only fruit at their prime ripeness are picked. This not only improves the quality of the product but also ensures they keep for longer.
Every apple is harvested by hand with a gentle twisting wrist and palm movement so the spur branch stays on the tree to produce fruit next year and the apple itself isn't bruised. Each apple is then carefully placed in a crate and either sent to a packhouse from where it begins its journey onto supermarket shelves or is placed in storage to be sold later.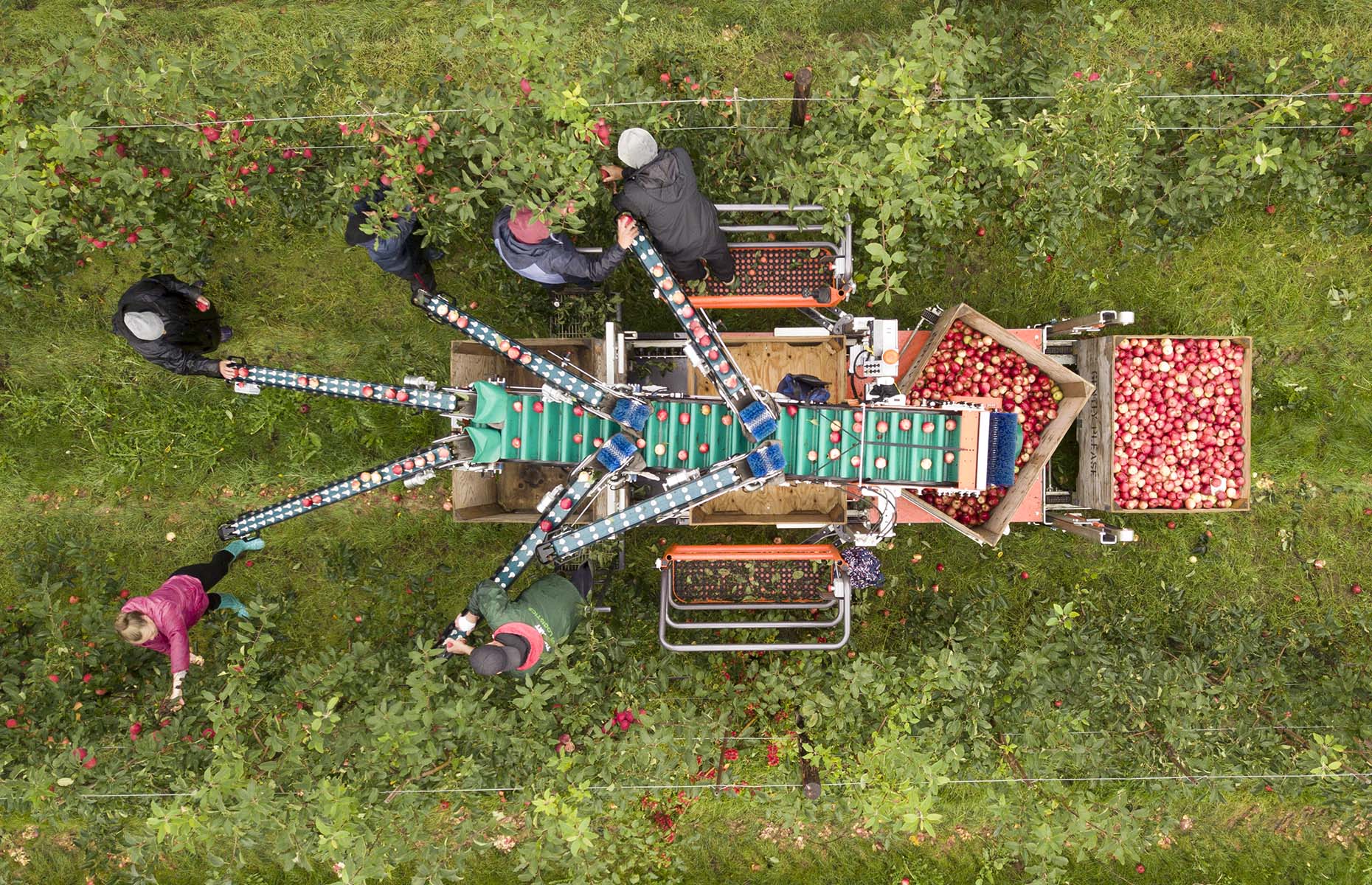 Rod Kirkpatrick
As there is no way to make the process automated, British orchards rely heavily on the availability of harvesting hands when the time comes – something that's been heavily impacted by changes in immigration rules due to Brexit.
Ali Capper, executive chair of BAPL and apple grower explains: "There are individual picking windows for each variety of apple. Gala, our number one eating apple, has a picking window of about 10–12 days." This means the orchards need the right amount of workers at the right time. "Growers are having to choose what to pick," she continues, "It means there's unprecedented food waste going on in our farms."
READ MORE: How to cook with cauliflower
British apple and pear sustainability credentials
Other issues aside, British apples and pears have the lowest carbon footprint in the world and we all know buying local is much better for the environment. A new report from the Royal Agricultural University has revealed that most British apple and pear growers are at the forefront of addressing the industry's climate change and environmental responsibilities.
The report found that 93% of growers use biodiversity measures, such as varied grasses and wildflowers to encourage insects, leaving windfall fruit for wildlife to eat, and creating beetle banks and bee hotels. Just over 80% of growers also work with local beekeepers, with 70% producing honey from their orchards.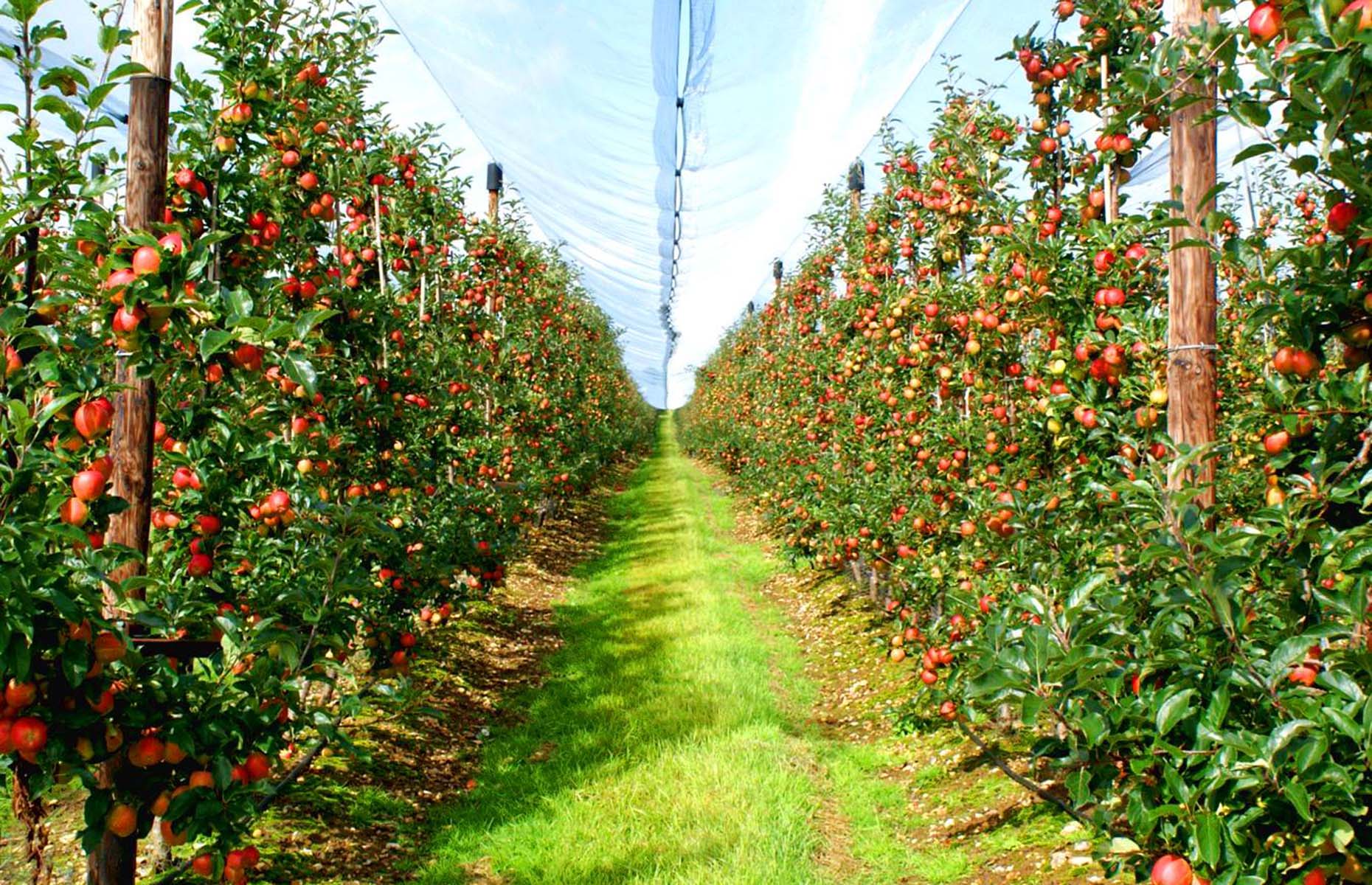 Boxford Farms/Facebook
Many growers, like Boxford Farms in Suffolk are focusing on maximum production with minimal waste and environmental impact. Here, the apples that don't meet supermarket requirements are juiced at the on-site press for Copella apple juice. The apple pomace – dry matter left after juicing – together with any apples not suitable for juicing are sent to the on-farm anaerobic digester plant to produce renewable green energy. The farm also collects rainwater and wastewater for irrigation and uses solar panels to help further reduce the carbon footprint of the farm.
READ MORE: Discover the wines of Kent
Do apples have any health benefits?
We've all heard that an apple a day keeps the doctor away but in reality apples really are excellent when it comes to feeling full for longer and adding fibre and essential nutrients to our diets. They are also rich in polyphenols – compounds with antioxidant and other health promoting properties – and are important for our gut health. Simply swapping a sugar-laden snack for an apple has both an immediate and long-term impact on feeling better as they're a source of slow-release energy.
And when it comes to peeling an apple, simply don't do it. According to BAPL, an apple eaten with its peel provides an incredible 13% more vitamin C, 10% more vitamin B6, 27% more vitamin K, 16% more potassium and 46% more fibre than when it's peeled.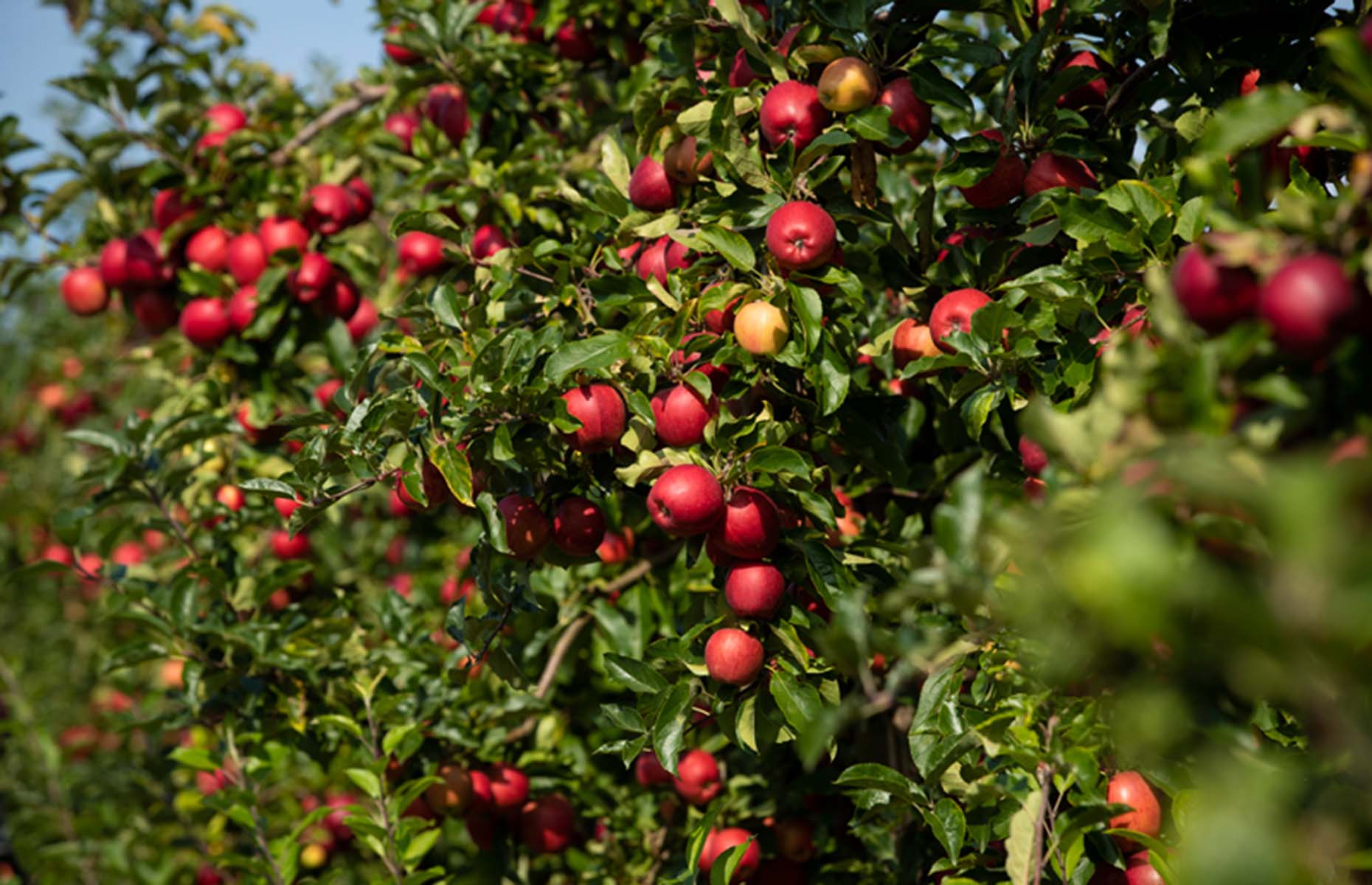 British Apples & Pears Ltd.
How to choose the best apples?
Driven by longer shelf life, excellent environmental credentials and fantastic health benefits, British apples have grown in popularity over the recent years. Capper adds that due to the UK's maritime climate fruit here ripens slower than on the continent or in other popular apple-growing regions, like Washington State in the US. "Most British apples have a beautiful red tone to their skin that is created, in part, by our fantastic climate. This also means better flavour," she says.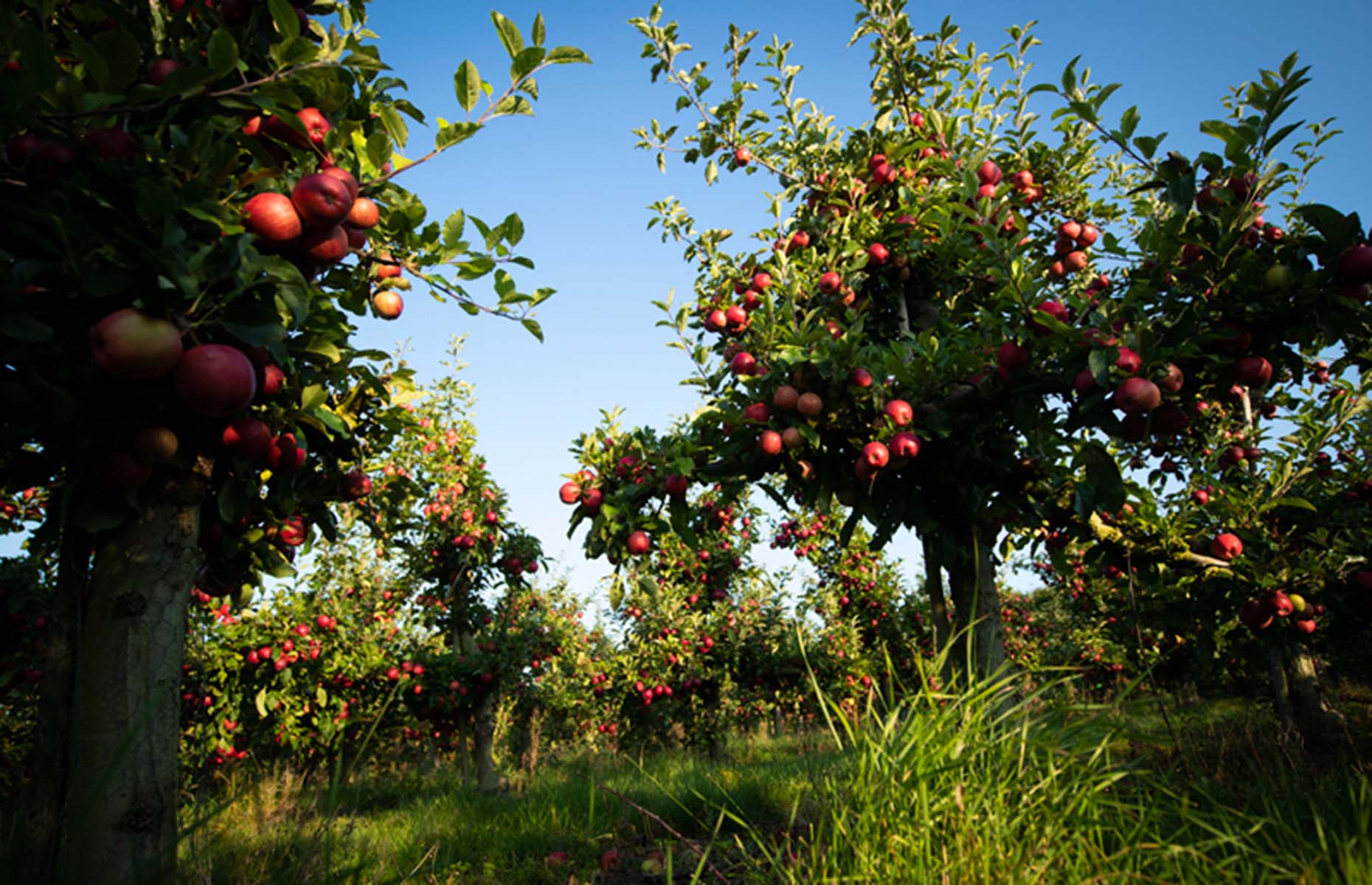 British Apples & Pears Ltd.
Historically, supermarket shelves have offered very limited choice when it comes to British apples outside of the traditional harvest season in autumn, but the situation has dramatically improved in the recent years, in part thanks to technological advancements but also due to consumer demand.
Raymond insists that even as a Frenchman, he has the responsibility to promote what's available right on our doorstep. "Seasonality to me is everything," he says, "To buy British makes so much sense. It's local, it's close to home and it's exceptional quality."
So which British apples should you look out for in supermarkets?
Bramley
A quintessential cooking apple, it's available year-round. Not suitable for eating raw, it's the only apple grown exclusively in the UK and has a distinctive sharp flavour and firm texture – great for stewing in savoury dishes and perfect for pies and crumbles where the added sugar balances the sharpness.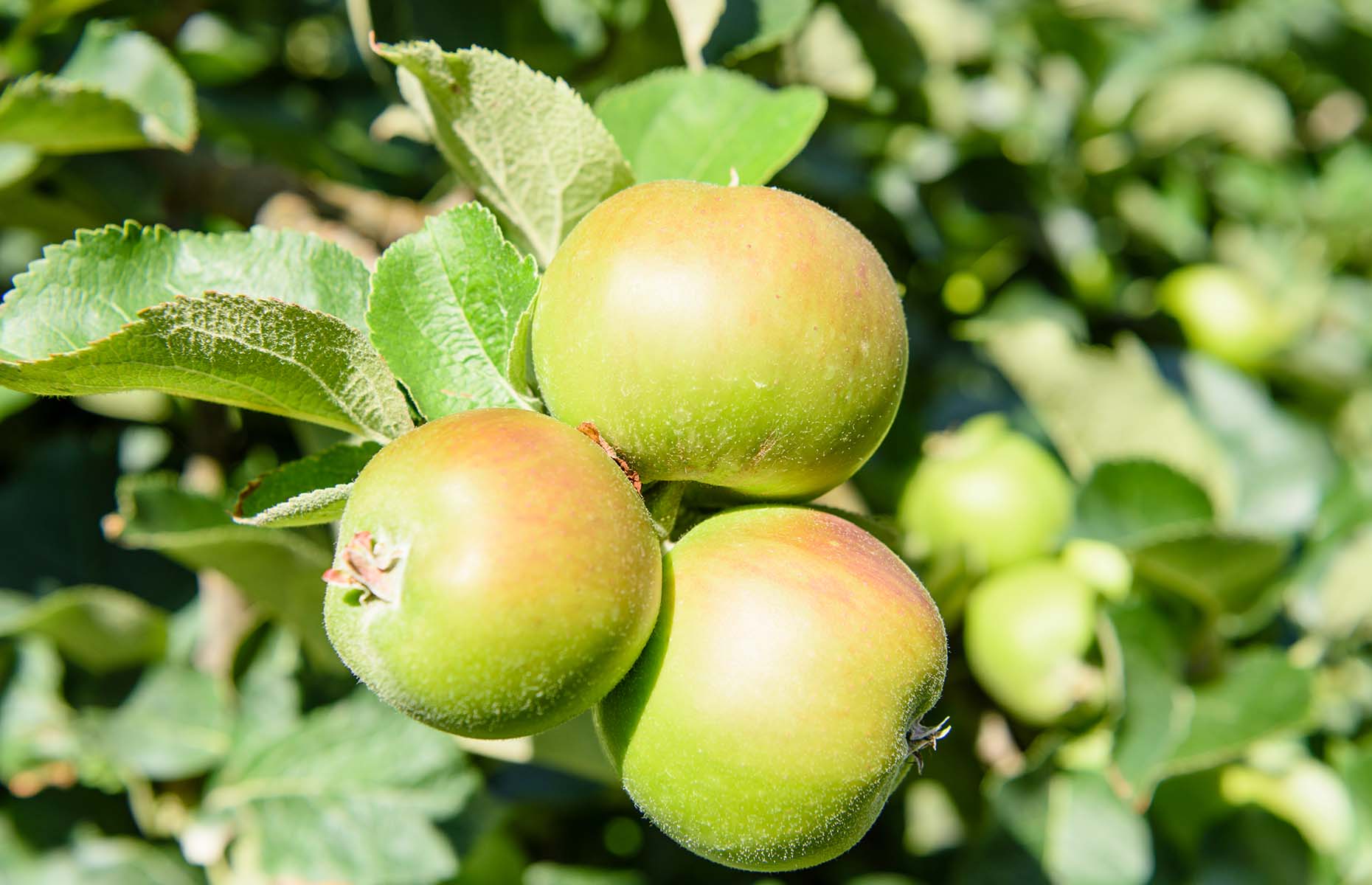 Stephen Barnes/Shutterstock
Cox
An intensely flavoured apple that's tart and sweet at the same time, it's in season from mid-September to early April and is a truly British apple, first grown as early as 1825. It's tasty to eat but the firm texture means it's also well-suited for cooking as it'll retain its shape. In desserts it'll need much less additional sugar than Bramley.
Braeburn
One of the most popular apples, Braeburn is a jack of all trades. Best from late December to May, it's crisp and juicy so good for snacking but it also has a firm flesh which is great for cooking. Braeburns pair exceptionally well with cheese so are a fab addition to savoury breads, rolls and galettes.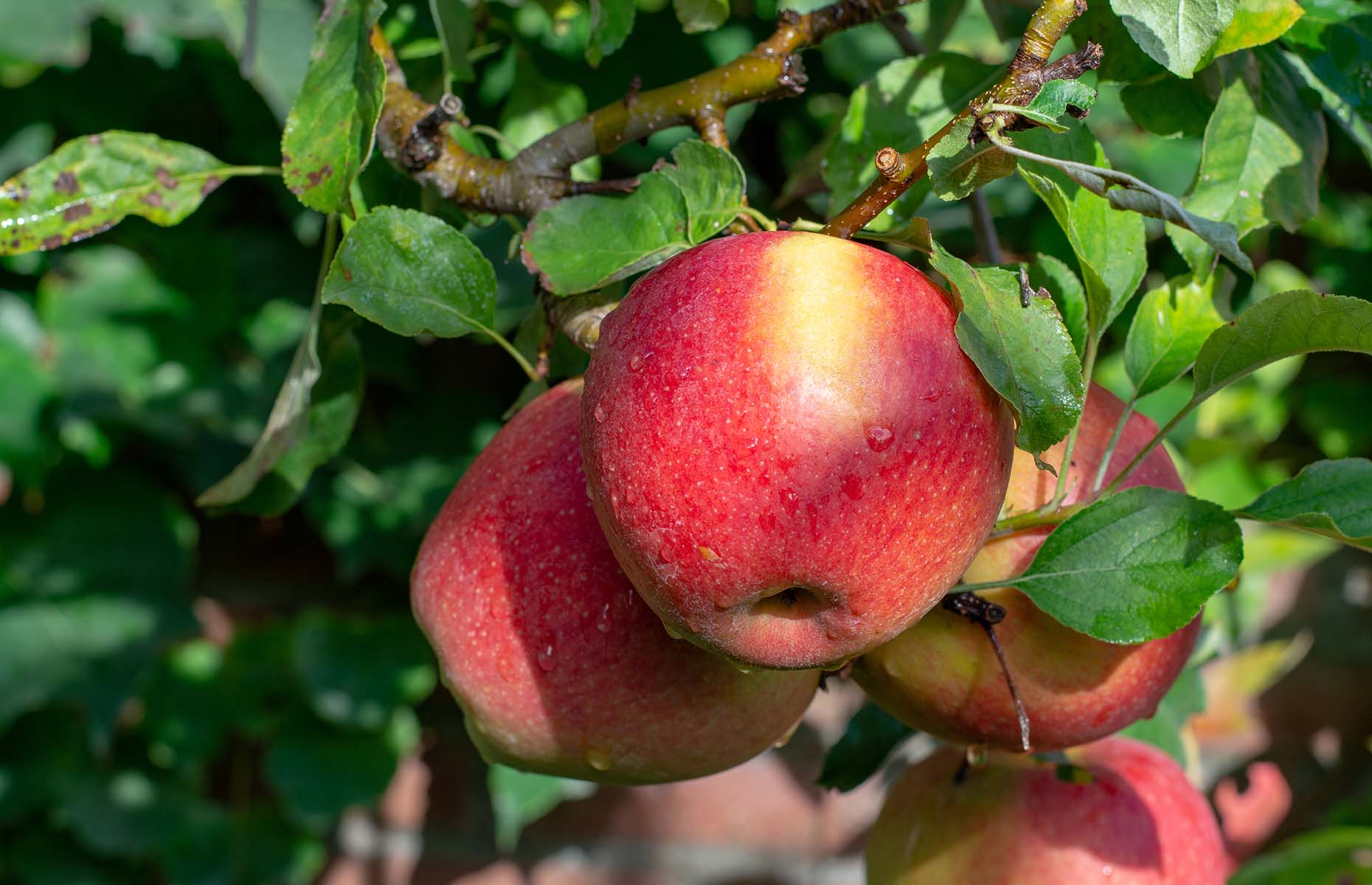 barmalini/Shutterstock
Gala and Royal Gala
Originally, from New Zealand, it's now the most popular eating apple in the UK that's available from late September to early May. It's sweet, delicate and full of juice, perfect for snacking or adding raw to dishes, like salads, slaws and sandwiches.
Other excellent varieties to try if you spot them at farmers' markets include Spartan (a crisp, refreshing apple), Junami (slightly perfumed with a light, crunchy and juicy texture), Red Prince (with a beautiful deep-red skin and crisp and juicy flesh) and Red Windsor (aromatic and sweet with a touch of sharpness).
READ MORE: Britain's 50 most beloved food brands
Best apple recipes to try
Thanks to the wide range of flavour profiles and textures different apple varieties have, there's an apple suited for pretty much any type of sweet or savoury recipe. When it comes to choosing the best apple for your recipe, think about how the apple will be used – whether it'll be grated or sliced raw, braised, baked or cooked – and the flavour and texture you want it to bring to the dish.
In savoury dishes apples will impart a certain level of brightness and freshness. The tartness of an apple is an excellent addition to zingy salads like this carrot and apple combo or a light apple and pear salad with feta and walnuts. You could also give the classic flavours of ploughman's an update with crisp apples in this delicious toastie.

Waitrose & Partners/loveFOOD
Turn apples into a punchy chutney with peas perfect to serve with poultry or try in this superb autumn dish of chicken thighs with red onion, apple and chestnuts. Tart, firm apples will also help lift up the flavours of braised red cabbage with sausages or add interest to a filling ham pie.
When it comes to baking, apples are excellent in a range of savoury baked goods. Tasty treats like an apple, Cheddar and clove galette or apple and cheese spelt buns combine mature cheese with the zingy flavours of apple while a blue cheese and apple pairing is magical in this scone bread.

Simple Comforts/BBC Books
For those with a sweet tooth, there are plenty of classics to enjoy, from plum and apple crumble to apple pie and even a sophisticated tarte tatin. A beautiful apple and cinnamon tart is also a winner and don't forget grated apples make fantastic pancakes.
If you'd rather try new takes on old favourites, give a traditional Victoria sponge an autumnal update with apples or add a salted caramel twist to your apple pie. Want a quick dessert? Try this four-minute mug apple crumble, but when the time allows, impress family and friends with a showstopping brioche frangipane apple pudding.
READ MORE: Quick and easy autumn recipes
Lead image: Rod Kirkpatrick
Be the first to comment
Do you want to comment on this article? You need to be signed in for this feature