How to cook with halloumi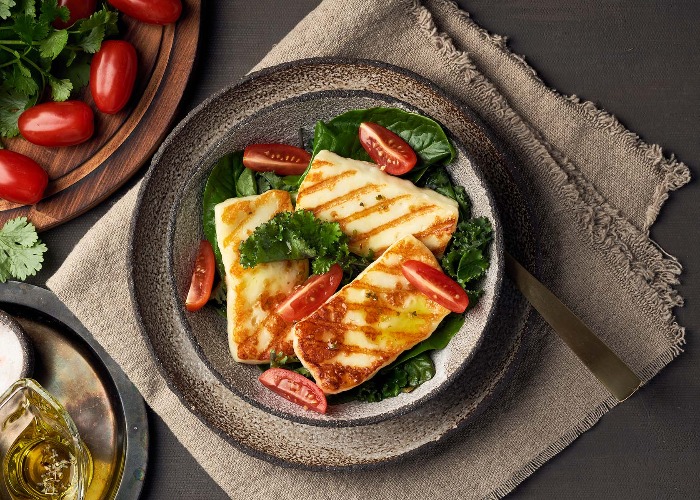 A fairly recent addition to supermarket shelves, halloumi's popularity has skyrocketed in the last decade. Here are our top tips on how to cook with it and our best-ever halloumi recipes.
Until about 10 years ago, halloumi was a niche product not widely available in the UK, but now it's a barbecue staple found on supermarket shelves up and down the country. In fact, halloumi is so popular in Britain, only Cyprus, its homeland, consumes more of this squeaky cheese. So what makes halloumi so special, where does it actually come from and is grilling the only thing you can do with it? We find out.
What is halloumi?
A white, semi-hard layered cheese, halloumi is traditionally prepared from goats' or sheep's milk, or a mixture of both, and has a slightly stretchy texture that's somewhat similar to mozzarella. The tradition of making a halloumi-like cheese can be traced back to the medieval Byzantine period, but it's most commonly associated with Cyprus, although halloumi is popular throughout eastern Mediterranean countries.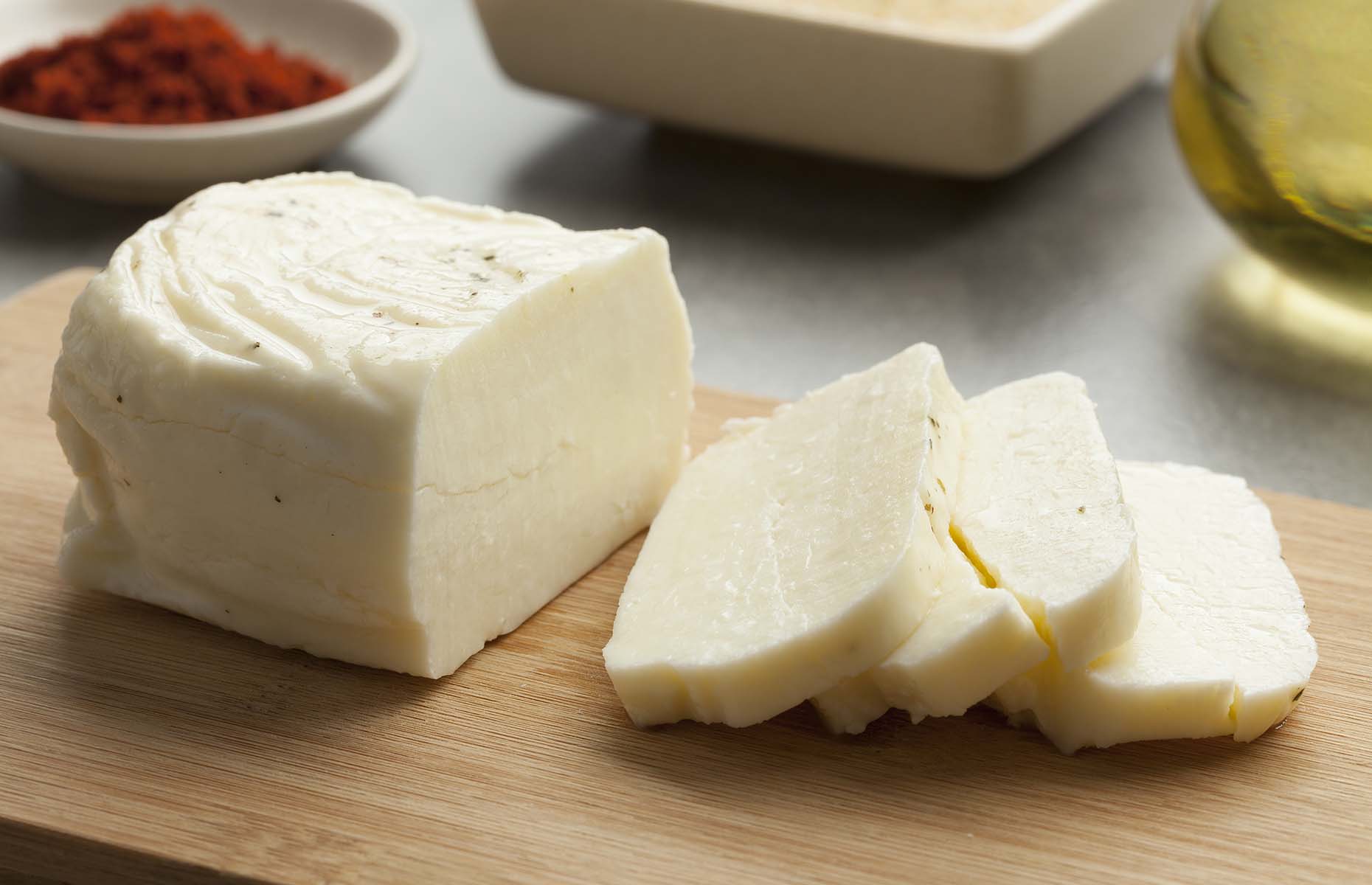 Picture Partners/Shutterstock
How is halloumi made?
Milk is first heated and rennet is added so curds start to form. They're then cut, the whey is drained and the curds are pressed into moulds and left to firm up. The cheese is then poached in water or whey – this is what makes halloumi so resistant to melting. It's then lightly salted and sprinkled with mint, and can be eaten within three to five days or preserved in brine and aged for several months. Unlike many other cheeses, there is no acid or acid-producing bacteria used to make halloumi.
READ MORE: A complete guide to Parmesan
How to buy and prep halloumi
When choosing halloumi, Selin Kiazim, owner and chef at Oklava in London, suggests looking for halloumi that's made from a blend of different milks. "Avoid ones that are pure cows' milk as these have the least flavour," she says. "Pure sheep's milk halloumi is top-tier stuff, but can be hard to find. If you can get your hands on the cheese from Kupros Dairy then you are onto a winner."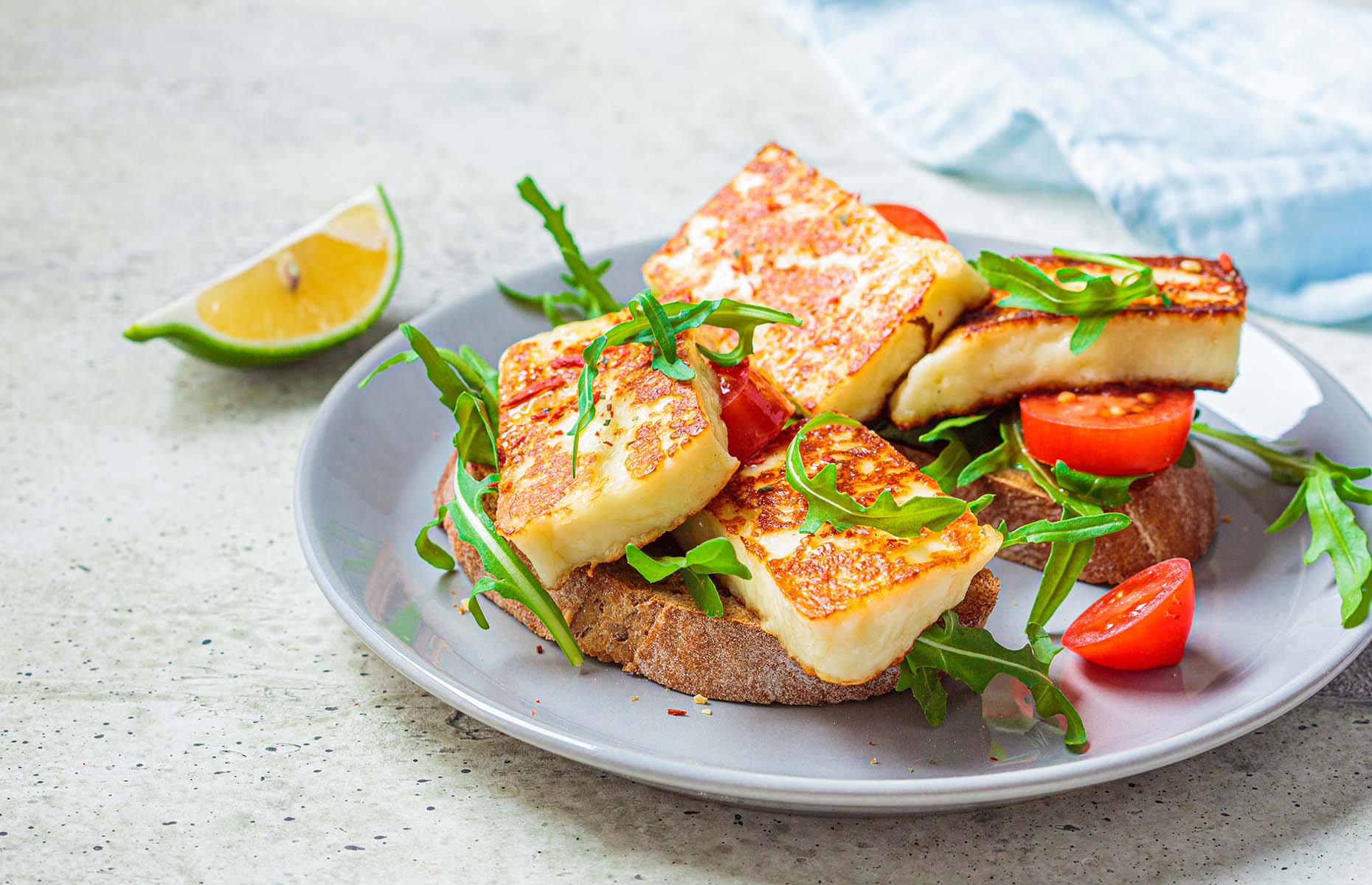 Nina Firsova/Shutterstock
Panos Manuelides, founder of Odysea, the Mediterranean fine food producer, agrees that a mixture of sheep and goats' milk contributes to a richer, fuller taste. He also suggests checking the label for country of origin: "Halloumi has recently been awarded with PDO status, meaning that authentic cheese can only be produced in Cyprus with milk supplied from local dairies." He also notes that more premium halloumi will be less squeaky when it cools down. "In fact, when it comes to choosing a tasty halloumi, the less squeaky, the better," he says.
Not only can you slice halloumi, you can dice it into cubes to use as croutons in soups and salads, like Selin suggests, or try it grated in a pie, which is traditional in Cyprus, according to Panos. Lately, more modern takes on halloumi have appeared in shops, including halloumi kebabs, burger slices and halloumi sticks. Panos suggests dipping these in egg and breadcrumbs, and frying to make halloumi fries.
READ MORE: An interview with Selin Kiazim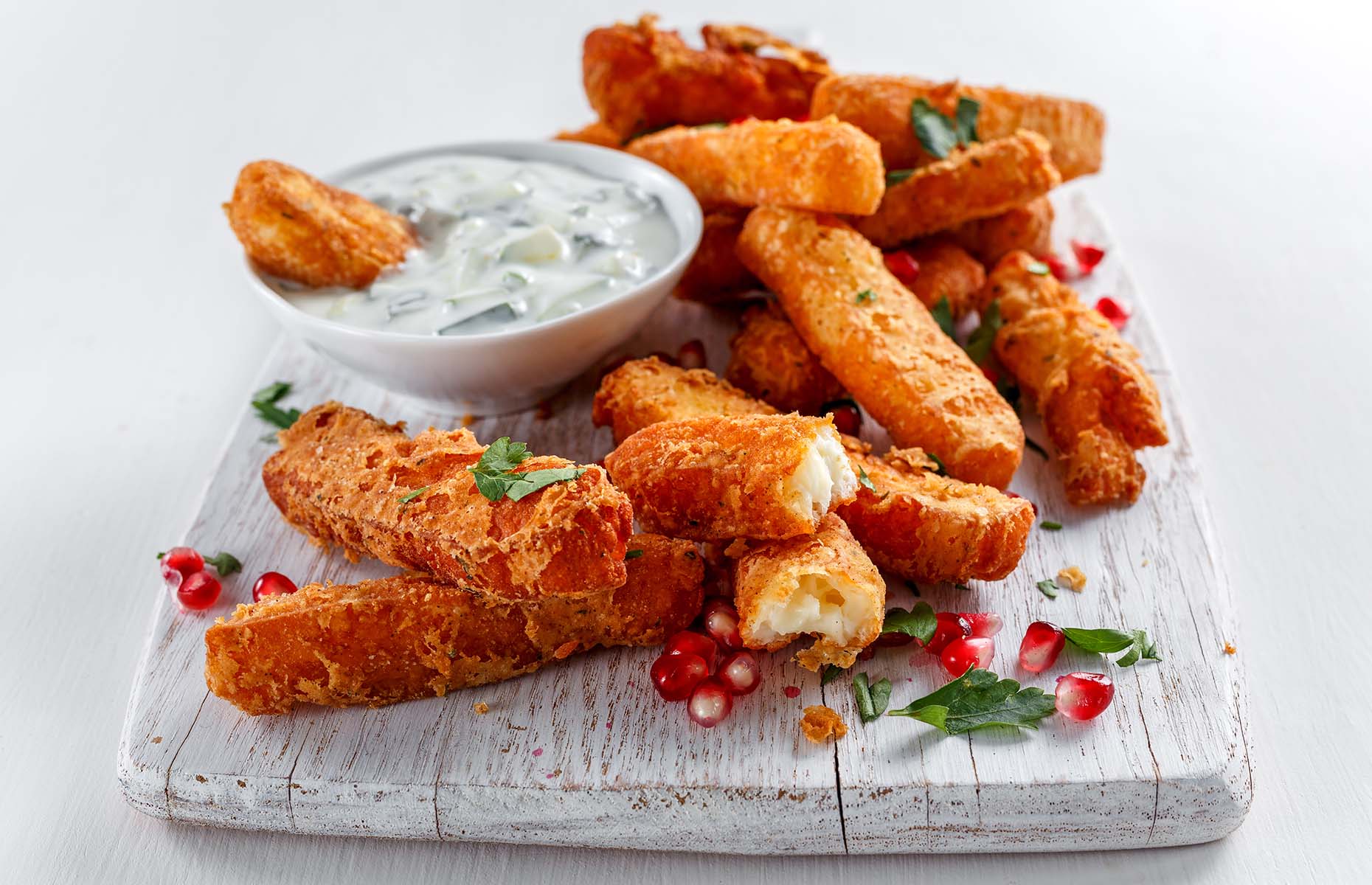 DronG/Shutterstock
How to cook with halloumi
Halloumi's greatest benefit is its high melting point, which means it can withstand high cooking temperatures, like on a barbecue or in an oven. It's usually sold brined so doesn't need any seasoning and most of the time you won't need any oil either (especially if you're using a non-stick pan). But do lightly brush it with cooking oil if grilling, so it doesn't stick to the bars. It's the salty brine that helps achieve its signature texture – crispy and golden on the outside and soft and chewy in the middle.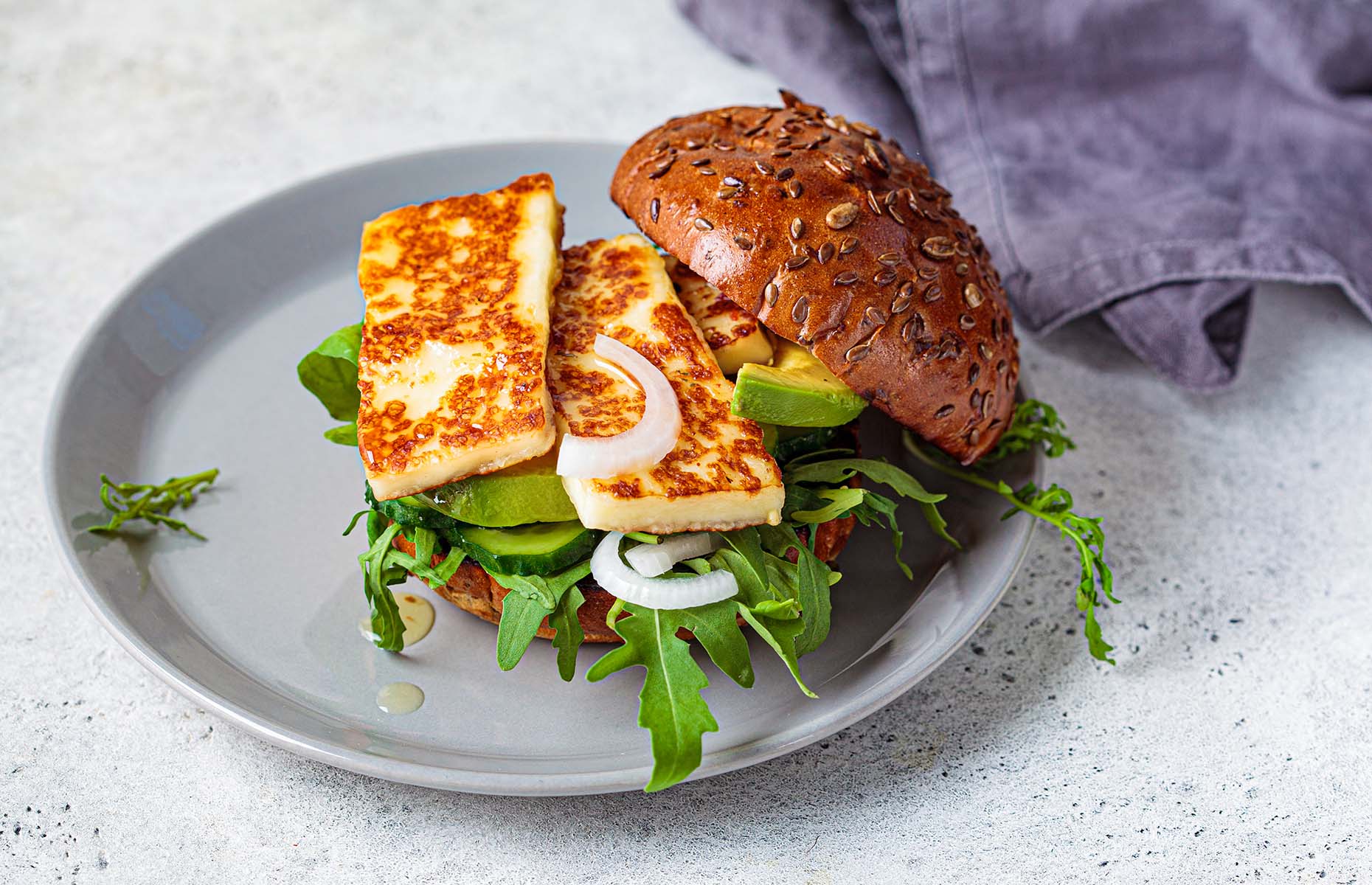 Nina Firsova/Shutterstock
Because of its natural saltiness, both Selin and Panos advise pairing it with contrasting flavours. "Sweet or acidic, or a combination of both these flavour profiles works very well. Think along the lines of chutneys, compotes, fresh seasonal fruit and pickles," says Selin. Panos loves a squeeze of fresh lemon and a light drizzle of pomegranate molasses.
What most don't realise is that you can also have halloumi raw. "It's delicious in sandwiches with lots of salad in there," Selin says. "Or one of my favourites is thin slices on hot buttered toast." Panos suggests a more traditional approach. "A very common way to serve halloumi in Cyprus is raw, cut in small cubes in a watermelon and mint salad. It's usually offered at the end of meals as dessert," he says.
READ MORE: A complete guide to lemons
Best halloumi recipes to try
Grilling halloumi slices, either in a pan or on a barbecue, is the most common way of cooking this tasty cheese. Crunchy halloumi bites make for the perfect addition to a big bowl of salad while grilled slices will add substance to a refreshing carrot and courgette salad. It's also fab when grilled on skewers as veggie kebabs with courgettes and a refreshing dressing.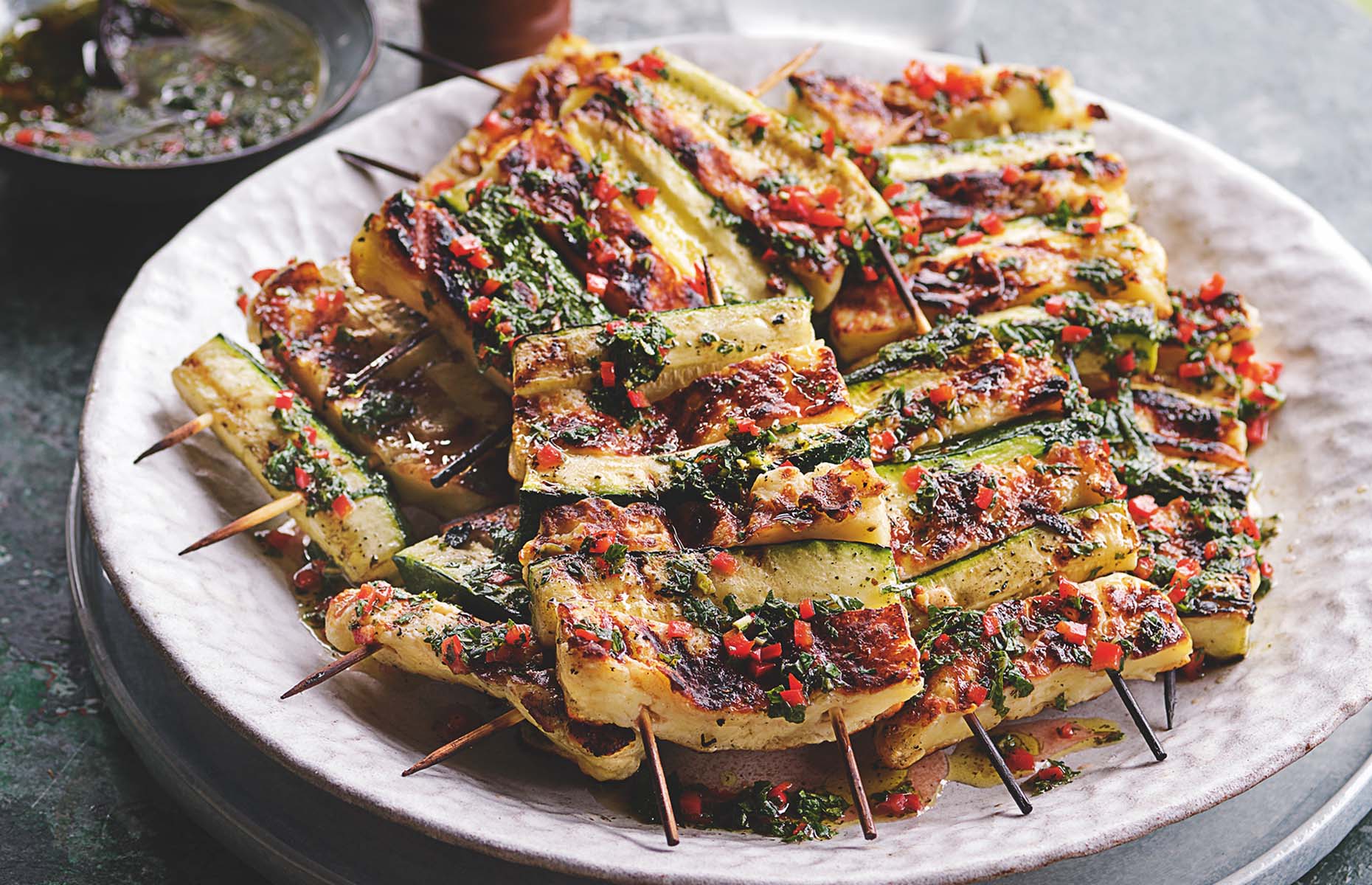 Tom Kerridge's Outdoor Cooking/Bloomsbury Absolute
Thanks to its meaty texture, halloumi is a great addition to veggie traybakes like this Mediterranean-inspired recipe or to bulk up and add flavour to a roasted beetroot salad that can be served on its own or as a side.
While halloumi might seem like a food better suited to summery salads and grilled dishes, don't discount it in winter. It's an excellent addition to a roasted winter vegetable traybake with warming flavours like cinnamon and cumin, while this lamb and halloumi pasta bake is the ultimate cold weather comfort food. What's more, you can even add halloumi to curries just like you would paneer.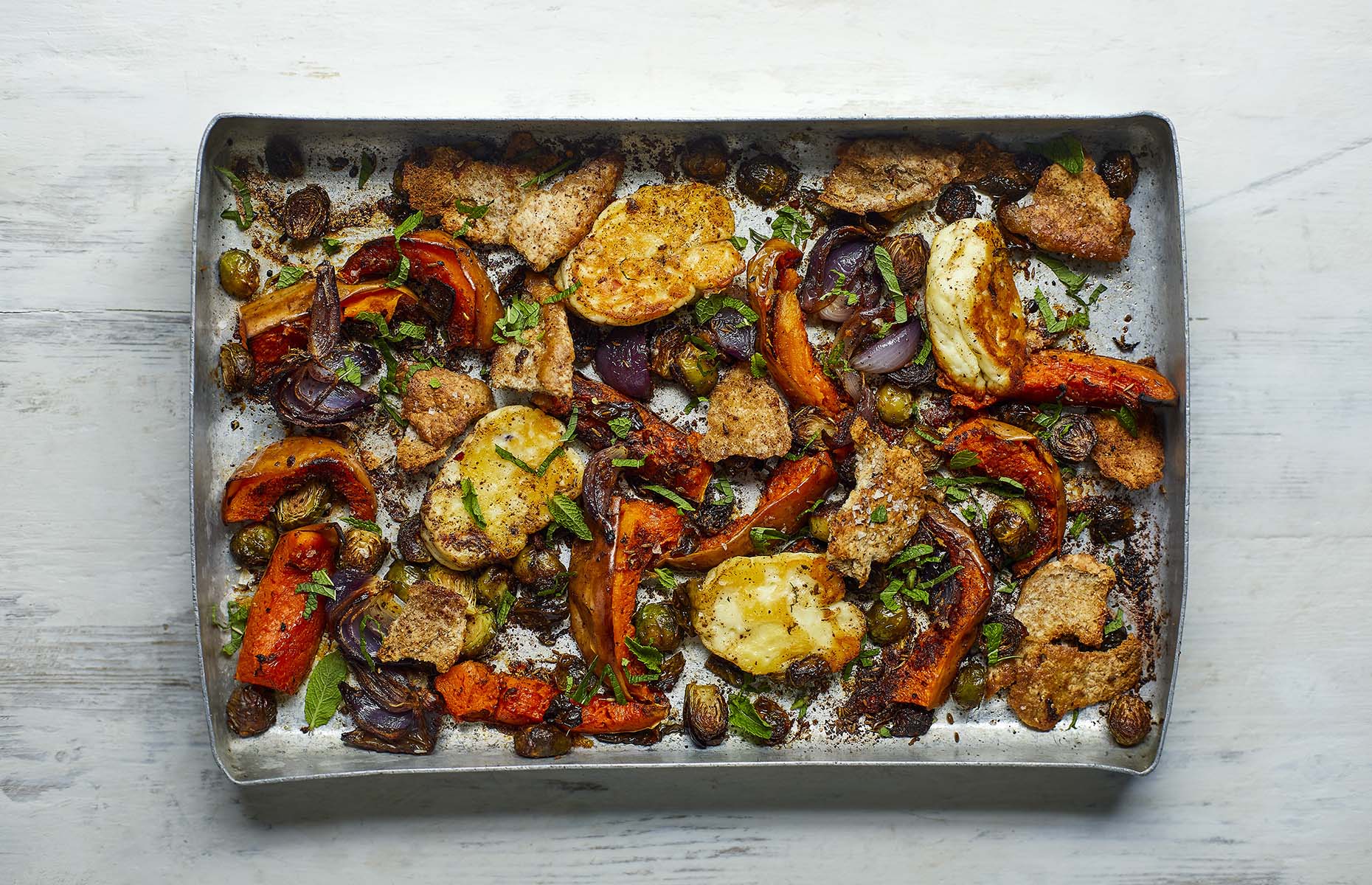 Doctor's Kitchen 3-2-1/HarperNonFiction
When it comes to entertaining, halloumi is well-suited to finger foods too. Crispy deep-fried halloumi fries will be a hit at parties or as a barbecue side; these aubergine and halloumi wraps work well in any season; and the luxuriously sweet and salty flavours of baked figs and prosciutto with halloumi are perfect for the festive season.
READ MORE: Comforting cheese recipes everyone will love
Lead image: Nata Bene/Shutterstock
Be the first to comment
Do you want to comment on this article? You need to be signed in for this feature