An interview with Irini Tzortzoglou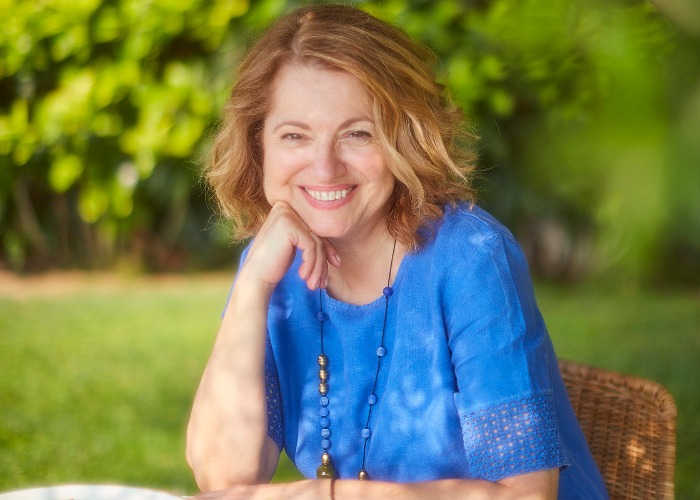 Last year's MasterChef winner Irini Tzortzoglou tells us what it's like to be put through your paces on the competitive cooking show, growing up in Greece and who should read her new cookbook Under the Olive Tree
Having gone from, in her own words, "a very sedate boring life, retired in Cumbria" to winning the famously demanding BBC cooking programme MasterChef, writing a book and filming Instagram Lives with the other MasterChef finalists and a Michelin-star chef over lockdown, it's safe to say the last year has been a whirlwind for Greek-born Irini Tzortzoglou.
Not that her early life wasn't filled with adventure too. Irini grew up in a large family of farmers on the island of Crete, moved to London in her 20s and experienced city life as a banker, then finally settled in the Lake District where she enjoys the foodie scene and fresh produce grown in gardens, allotments and fields, much like in her childhood.
So you'd be fair for thinking Irini might be exhausted by all of this, however when I phone her one evening she's friendly, chatty and keen to share everything she's learnt along the way, from how to cook her version of Greek food to choosing olive oil.
What age did you start cooking? Who taught you to cook?
My grandmothers. My mother's mum was busy cooking all the time and I was hovering around her skirt helping her do things. But I wasn't cooking myself until I came to London, a married woman, and had to feed my husband.
So, although I lived and breathed food in a busy household, I didn't cook until I was 22.
What dishes do you particularly remember from your childhood?
I was a greedy little child. I was living constantly with hope my grandmother would make something sweet with fresh cheese and honey. My favourite thing was a runny dough she would work in her hands, put in fresh cheese, close expertly and drop in hot olive oil. It made a fantastic doughnut. The only things that would go on top are honey and cinnamon. The cheese was sour and the combination with the sweetness has been imprinted in my mind.
My grandmother also had animals to feed so many people and the workmen that came to help. She would take a rabbit, hold its head and neck and strangle it. She was a big lady and my grandfather was a priest. In my little head I couldn't reconcile the fact my grandfather would go to church and preach love and the Greek orthodox religion and my grandmother would strangle animals.
But in those days it was survival, people didn't have the luxury we have now to care for animals – their purpose was to be eaten. They had come out of war and people were hungry. Today we have the luxury, but people don't care.
My mum was a fantastic forager. She taught me the love of eating fresh things from the field and hedges. We would have them as a salad with olive oil and lemon juice or she would make pies and put them in the pastry.
READ MORE: Irini Tzortzoglou's runner bean and tomato casserole recipe
When you moved to London how did cooking and eating change?
I became quite depressed with the quality of food. In 1980, if you wanted to eat well in London you needed to pay good money to eat in French restaurants.
I only went to the supermarket a few times before I realised the aubergines and tomatoes don't taste the same as back home. I didn't want to cook Greek food as I realised I'd only be disappointed. So I bought cookbooks and cooked spicy food. My first cookbook I bought was Moroccan. Then I moved onto Indian. We're lucky in this country to be exposed to so many different cuisines.
Did you watch MasterChef before you went on? Could you imagine that you would win it?
I watched it for years and totally loved it, but it didn't feature at all in my mind. I don't think any applicant applies thinking they're going to win. All I wanted was to survive a few tasks, so I could pick up knowledge and learn things.
READ MORE: An interview with Thomasina Miers, the first winner of the re-booted MasterChef UK series
I had it in my head that on MasterChef they give you master classes before you start the competition. When I went on and they said you'll go in and cook, I thought what do you mean we'll go in and cook, aren't you going to show us the equipment and space? I was horrified.
What were your favourite tasks?
One of them was the scraps challenge, which I thought I'd fail miserably because until I went on MasterChef I was a slave to recipes. It showed me very quickly, actually I love surprises. I was able to see two or three meals straight away among the scraps. I knew more than I thought I knew.
The other was the day Raymond Blanc came into the studio with his executive chef Gary Jones and we spent the day cooking together. He was down to earth, respectful and encouraging. We all fell in love with him that day.
Has the way you cook changed since going on MasterChef?
Yes. Once I decide what I'm cooking I immediately think what other elements I can add and what I can substitute. I go to my books Flavour Thesaurus and Culinary Artistry – they're my bibles – then I try to make a dish that's representative of me or helps me talk about a specific ingredient.
READ MORE: Irini Tzortzoglou's beetroot, orange and fennel salad recipe
Who have you written Under the Olive Tree for?
As soon as the publishers approached me, I said I know the book I need to write. I will show Greek food the way I cooked it on MasterChef.
It will take people away from their concept of Greek food, the traditional taverna, run-of-the-mill, delicious but rough and ready kind. It will be modern interpretations of classics like mezze, dips, omelettes or soup.
I wanted it to appeal to teenagers, young people in their first home inviting friends over and middle-aged people who want to entertain. I wanted to communicate with them on a level that represents the food we eat now: presentable on the plate, playful, healthy and light. It's for everybody who loves Greek food and wants to try something new.
Why is olive oil such an important component in Greek cooking?
As a cook, a huge benefit is the flavour. You can use olive oil from one variety of olives and it has a totally different profile from an olive oil that comes from a different variety. You can try one and pick out the flavours of bitter almonds, artichoke leaves and herbs. You could use another reminiscent of ripe tomatoes and sweet almonds. It's just fascinating.
There are people who pair food with olive oils. I will not use a bitter and pungent variety in sweet bakes, I'll use a mild and sweeter oil. When I cook fish I'll use a mild oil to not overpower the fish.
Most consumers don't know how to choose oil or protect it. It's susceptible to strong light and must not be near heat.
People pay money thinking they're buying extra-virgin as it's on the label. Be careful and choosey as there's a lot of bad oil with clear defects. Stop, think and take your time to smell it and test it. You will know if it tastes fresh or rancid. You will know if it's very good as you'll love the taste.
READ MORE: An interview with Great British Menu winner Selin Kiazim
What cooking advice can you give?
At the end of the day it's food, we must not lose perspective. It doesn't matter if something goes a little wrong or you don't have a herb or spice. Take the recipe, not as gospel but as inspiration.
If you don't like walnuts, use almonds instead. Be relaxed and play with the recipes. If you do that when you're cooking, I'm convinced people will love it too as they'll get your positivity, energy and love.
Main image: courtesy of David Loftus
Be the first to comment
Do you want to comment on this article? You need to be signed in for this feature