The chocolate fudge cake taste test
It's chocolate week this week, hurrah! We've tested six shop-bought chocolate fudge cakes so that you know which one to buy when it comes to celebrating, Bruce Bogtrotter style.
19 chocoholic colleagues took part in the blind taste taste, which asked for a mark out of 10 for each of six shop-bought chocolate fudge cakes. Standards ranged from Raymond Blanc's 'Maison Blanc' bakery to Aldi's frozen food section, and we've worked out the price per slice for each cake, to give you even more to judge it on.
So without further ado, and starting from the worst performer working upwards, here are the results…
Quelle dommage! What a shocker. The fanciest looking cake at 50p a slice, Raymond Blanc's 'delicious moist chocolate sponge covered in a rich chocolate fudge sauce' only scored 55%. Most found the sponge to be too 'wet' or 'soggy', with comments ranging from 'very odd taste – not pleasant' to 'too moist and fudgy' and 'not chocolatey enough'. It was praised for its lightness of texture, though.
A handmade 'moist, dark sponge decorated with rich fudge topping and Belgium milk curls', produced by a family run bakery based in Sussex Downs. There was no serving amount on the box, but we estimate it at 67p per slice. Personally, this came top for me – but the 19 hard-to-please testers gave it only 60%, complaining of a 'heavy texture', 'overly sweet topping' and 'all-round cheap taste'. But some agreed with me – one tester wrote, 'nice and gooey, with a generous topping of chocolate'.
How do they do it! Aldi always performs well in our taste tests, and it's pretty impressive to think that an 18p slice of defrosted chocolate fudge cake can beat both Raymond Blanc and an artisan English bakery. This one scored 62% overall, and was complemented for its 'ample chocolate sauce', 'creamy topping', 'great sponge texture' and 'homemade feel', believe it or not. But some did pick up on its secret – 'it tastes too processed' and 'is this from frozen?' were two complaints.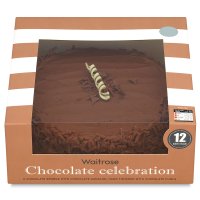 It was oh-so-close between the two Waitrose entries, but the more expensive Chocolate Celebration cake just lost out to silver medal with a score of 63%. At 67p per slice, it's far fancier than its supermarket sister, with a hand finished chocolate curl crust and white chocolate straw on top. Tasters praised its 'light chocolate filling', 'sophisticated flavour' and 'perfect sponge to topping ratio', but it was criticised for being a little too dry. We think it deserved a slightly higher spot, because of how pretty it looked on the plate.
It just goes to show that the more chocolatey the cake, the better. Despite being cheaper at 54p per slice, and having half the fancy chocolate curls, this Waitrose option scored 65% and received more compliments that the Celebration Cake. 'Lovely moist texture', 'much more depth of flavour than the rest' and 'the taste lingers wonderfully' were among the positives; 'poor consistency' and 'a little dry' were the only negatives.
Our only three-tiered cake in the competition, and a clear winner with 70% overall. It's an absolute beast of a chocolate cake – the kind you might see demolished at a kid's birthday party. It comes in at 63p per slice (it's a £10 cake which feeds 16 people), and is described as 'the ultimate chocolate indulgence with three layers of chocolate sponge all wrapped up in chocolate buttercream ganache and hand decorated with chocolate curls.' Our lot loved it, commenting on the 'smooth texture', 'sophisticated flavour', 'creamy smooth filling', 'awesome taste' and 'good fudge in between layers'. But, as ever, not everyone was happy – some said it was 'somewhat dry', whilst others criticised it for being too sweet and 'nothing special'.
Do you buy or bake your chocolate fudge cake? Which brand do you trust for shop-bought cakes? And how are you celebrating Chocolate Week? Talk to us in the comments box below…
You might also like
Top five small-scale British chocolate producers
Be the first to comment
Do you want to comment on this article? You need to be signed in for this feature