Top five small-scale British chocolate producers
by Charlotte Morgan | 05 October 2012 | 1 comment
Tweet
We give five of our favourite small-scale British chocolate producers the limelight, in the hopes that more people will start to recognise their names.
These pretty handmade chocolates from husband and wife team Sun and Stephen have won numerous awards, and their sea salted caramel chocolates have guaranteed Lauden a ticket to the world championships of the International Chocolate Awards this October.
Flavours range from passion fruit to raspberry & rose (two of their current best-sellers), and it is Sun who actually makes them. With her love of chocolates coming from living in Belgium for 10 years and her Singaporean heritage, she set up shop in 2007 with the intention of creating flavours that would surprise the British palate.
Sun and Stephen soon evolved from creating chocolates in their Leeds flat, and recently opened a factory in the city centre. Also with a growing international presence, Lauden Chocolates can be found in some of the best hotels in the world, as well as on board some of the most exclusive airlines. You'll also find them at farmers' market across Yorkshire.
£9.19 for a box of 12 mixed chocolates.
Organic dairy free chocolate made in Norfolk, sold as being 'guilt-free and gloriously scrumptious'.
11 years on from the launch of their original truffle range, Booja-Booja has won 51 awards and flourished into a small company made up of only the most passionate chocolatiers. They liken themselves to a tortoise – 'we hope to continue to grow slowly' – and the aim of launching their own website was to expand the presence of Booja-Booja chocolate.
They only use the finest organic, gluten free, and vegan ingredients in their products (which also includes ice cream), and their truffle flavours range from 'hazelnut crunch' to 'rum sizzled sultana', 'dark Ecuadorian' and 'around midnight espresso'. Booja-Booja strongly recommends adding chopped up 'banoffee chocolate truffles' into a banana smoothie for the ultimate (albeit vegan) experience.
It's also worth trying their raw organic cacao beans, eaten whole as a crunchy snack or cracked open for a superfood salad or muesli.
Around £7 for a box of nine truffles.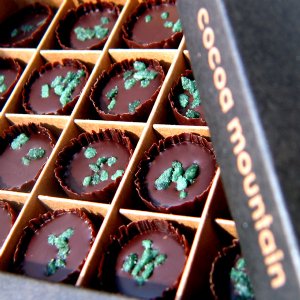 Nestled in Lairg, Sutherland, the Scottish Cocoa Mountain was founded by Paul and James in 2006 with the aim of producing '…the most delicious, fresh and innovative chocolate on the planet'. Pretty ambitious!
They're probably the most geographically remote chocolate producer in Europe, and, as they say on their website, they feel that 'the beauty of our surroundings should be reflected in the quality of our products'.
All their chocolates are vegetarian and gluten free, and they even make a range of products suitable for vegans and those who are lactose-intolerant.
The amount of truffles they produce is staggering; included in the range are after-dinner peppermint chocolate, a whisky toffee collection, classic French truffles, chilli and lemongrass truffles, and pralines. Our favourite flavour is the chunky orange dark chocolate truffle, or perhaps the blueberry Cointreau truffle…
A lovely little perk to their website: you can create your own box of truffles online, putting whatever flavours you want in. You can even add a ribbon and a gift card!
Around £14 for a box of 16 truffles.
Everything's hand made here, and Chocolala takes pride in the fact that no two of their chocolates look the same. Most notably, everything is Fairtrade (still quite a rare quality for handmade chocolates) and owners Lorraine and Jim, who took over in 2009, are registered with the Fair Trade association.
Interestingly, they don't add any sugar to their chocolate – 'it's already sweet enough' – so Chocolala will appeal to those slightly less sweet-toothed folk. The chocolates come in cigar-like metal tins and flavours include 'lala lemon chocolates' (a centre made from fresh lemon curd, cream cheese and white chocolate); 'chocolate mango sticks' (succulent soft dried mango, sliced into ribbons and dipped into dark chocolate); 'dark chocolate truffles' (with a hint of chilli and coconut); and 'light praline chocolates' (a middle made from almonds and white chocolate, encased in a milk chocolate shell).
Either head to The Little Chocolate Shop in Leyburn, North Yorkshrie to buy their choccies, or order online.
£20 for a 270g tin of chocolates.
When lawyers-turned-chocolatiers Helen and Simon founded Montezuma's in 2000, they only sold their luxury handmade chocolate bars, truffles and gifts from one shop in Brighton, using one little machine to make them. Just over a decade later, and they have seven shops across the country, including a high profile one on the edge of Spitalfields market.
Rick Stein describes Montezuma's chocolate as "food obsession at its best", and they have recently decided to emphasis the British-ness of their background by releasing a new patriotic range, including a 'Great British pudding truffle collection', which comes filled with apple crumble, Eton Mess, black forest, and lemon meringue truffles.
They manufacture all of their own products in a West Sussex factory, which currently employs around 70 people. Helen and husband Simon have direct control over what they are making because, as Helen says herself, 'we think it's cheating to simply put your name on the packaging while contracting another company to make all of your products.'
The chocolate options are endless at Montezuma's… check out their online shop to see for yourself. But as a starting point, perhaps try lovefood's favourite bar – the 'shake and shiver', a dark chocolate 'Monkey Bar' which comes flecked with peppermint and cocoa nibs.
Around £2.49 for a 100g bar of chocolate.
Handmade single origin chocolate bars, cubes, miniature bars, bundles, truffles and chocolate-dipped flora, all of which focus on "quality, taste, purity and indulgence". Amelia Rope appeared on the BBC's MasterChef series for two years running, before being invited to join Tana Ramsay on Market Kitchen in 2007 to coat and dip truffles together. It was a commission by a friend to make 1000 packaged chocolate bars in just six weeks that set the ball rolling, and before long Amelia was spotted by Selfridges who began stocking her range.
Her chocolate is among the creamiest we've ever tasted, and the flavours among the most inventive... she blends aromatherapy oils with either a Madagascan (67%) or Ecuadorian (39%) couverture, producing bars such as Pale Rose and Pale Lemon and Sea Salt, both winners of the Academy of Chocolate Gold Award. Plus each beautifully presented 100g bar is part of an edition made in small batches, complete with a handwritten edition number. Buy a 'bundle' (three bars neatly wrapped together, as shown in the picture) for the ultimate treat - we like the Dark Citrus & Spice combo, and The Mandarin Duo.
£5.60 for a 100g bar (pricey, but worth it).
You might also like
Elizabeth David's chocolate mousse