Great British Bake Off: where are they now?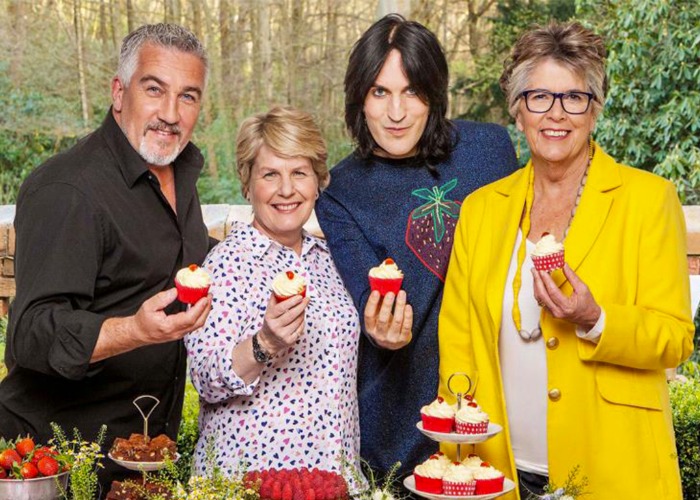 We take a look at the star bakers' next steps.
Concerns that the current series of Great British Bake Off would flop after moving from BBC1 to Channel 4 (losing Mary Berry, Mel and Sue en route) have proved unfounded – the show has quickly become the channel's most watched programme. The reason for the show's ongoing success? In all likelihood it's the winning format, which has remained the same. While this year's participants battle it out we take a look at what happened to some of the previous contestants.
Candice Brown
Candice Brown – whose cheeky attitude and creative cakes (remember her marzipan peacock?) often left Paul Hollywood speechless – won series 7 after wowing with a "humdinger of a showstopper" royal picnic. Since the 2016 final, watched by a record 15 million viewers, the former special needs teacher has appeared at food festivals and on TV, brought out a cookbook Comfort: Delicious Bakes and Family Treats and reportedly expressed a desire to launch her own lipstick range.
Ellis Parrinder/Ebury Press
Andrew Smyth
2016 finalist Andrew Smyth was loved for his lilting Irish accent and precise bakes. After the competition ended the Cambridge graduate returned to his job at Rolls Royce designing jet engines – where he created an edible jet engine for Prince William – though he now works a shorter week so he can continue baking. As well as appearing at several festivals, Andrew's spoken of his love of combining engineering and baking, and is a STEM ambassador with ambitions to become a science TV presenter.
Andrew Smyth
Jane Beedle
Another 2016 finalist, garden designer Jane Beedle was regularly complimented by the judges for her technical expertise. Jane, whose grandfather owned a bakery, has since appeared on TV, including a spot making muffins on ITV's Lorraine. Follow Jane on Twitter.
Jane Beedle
Nadiya Hussain
Nadiya Hussain's career took off when she won the 2015 final. She's appeared on numerous TV shows, penned four cookbooks – Nadiya's British Food Adventure, Nadiya's Kitchen, Nadiya's Bake Me a Story and Nadiya's Festive Bake Me a Story – and written for The Times magazine. She served an orange drizzle cake at the Queen's 90th birthday and is a published novelist. No surprise she was named the fifth most influential Asian in Britain.
Try Nadiya's recipes here
.
Anthony Devlin / PA Wire/Press Association Images
Tamal Ray
Tamal Ray
came close to achieving the crown in the 6th series but was pipped at the post by Nadiya Hussain. Since the show ended in 2015, Tamal has continued to work as an anaesthetist and co-presented the Channel 4 series Be Your Own Doctor.
Richard Gray/ EMPICS Entertainment
Ian Cumming
Stay-at-home dad Ian was a runner-up in 2015. Before his success on GBBO the three-time star baker travelled the world as a travel photographer. Since the show aired he's developed recipes for food brands, visited Thailand to create a classic green Thai curry with a British twist for Cambridge News, and wrote about baking bread in an Icelandic volcano for the Telegraph.
Richard Gray/ EMPICS Entertainment
Nancy Birtwhistle
Nancy Birtwhistle is best remembered for her stunning windmill cake. Since winning series five in 2014 the Hull-born retiree has demonstrated at food festivals, taught in schools, appeared as an after-dinner speaker and been on the other side of the fence as a cake judge. Nancy also baked a cake for Eastenders' 30th birthday and continues to showcase recipes on her website.
BBC/Love Productions
Luis Troyano
Luis Troyano made it to the final of the 5th series of GBBO. A graphic designer by trade, he displayed great skill with visually stunning bakes. In 2015, he released the cookbook Bake it Great and in 2016 opened The Hive Bakery in his hometown of Poynton, Stockport, which has since closed so Luis can concentrate on other projects. Try one of his recipes.
Pavilion Books
Frances Quinn
In 2013, Frances Quinn beat Kimberley Wilson and Ruby Tandoh to win series 4. She's known for her creativity and attention to detail, fashioning edible masterpieces such as these Barbara Hepworth shortbread sculptures, chocolate charcoal briquettes and a world-record-breaking giant Jaffa cake. In 2015 her book, Quintessential Baking, was published and she's worked for big name brands such as Tate & Lyle and judged a Bake Off for Miss Vogue. See her recipes here.
Dave Smith
Ruby Tandoh
Being runner up to Frances Quinn on series 4 didn't stop Ruby Tandoh from carving out one of the most successful careers of all GBBO contestants. As well as Crumb: The Baking Book (2014) and Flavour: Eat What You Love (2016), Ruby writes for the Guardian and co-founded Do What You Want. She also writes about body image, sexuality and feminism and her new book Eat Up: Appetite and Eating What You Want is out in 2018.
Ruby Tandoh
John Whaite
John Whaite won the GBBO trophy in 2012 and published his first book, John Whaite Bakes: Recipes for Every Day and Every Mood, in 2013. His second book, John Whaite Bakes at Home, was released in 2014 and his third, Perfect Plates in 5 Ingredients, in 2016. His fourth book, Comfort: Food to Soothe the Soul, will be available this October. Whaite runs the Kitchen Cookery School in rural Lancashire and has featured on numerous TV shows including ITV's Lorraine and Chopping Block. See John's recipes here.
John Whaite
James Morton
Although 2012 finalist James Morton stuck to his original plans to go into medicine (he currently works as a doctor) he's achieved fame as a baker and food writer. James' first book Brilliant Bread (2013), which won the 2014 Guild of Food Writers Award, was followed by How Baking Works (2015) and Brew: The Foolproof Guide to Making World-Class Beer at Home (2016). He's written a column for the Sunday Mail and blogs at Baking James.
Image: Ebury Press
Jo Wheatley
After winning series 2 in 2011 Jo Wheatley went on to pen two books – A Passion for Baking (2012) and Home Baking (2014). Jo's also written for national publications including The Mirror, Sainsbury's magazine and Hello, and featured on The One Show and This Morning. Her recipes and class dates can be found on her Jo's Blue Aga blog. See her recipes here.
Martin Poole
Edd Kimber
Edd Kimber won the very first series of GBBO, which aired in 2010. He promptly ditched his job and has since gone on to forge a successful career as a food writer and TV personality, writing three cookbooks along the way: The Boy Who Bakes (2011), Say it with Cake (2012), and Patisserie Made Simple (2014). Ed's worked at Raymond Blanc's prestigious restaurant Le Manoir and had a stint as the resident baker on The Alan Titchmarsh Show. Catch his blog or try some of Edd's recipes.
Edd Kimber
Miranda Gore Browne
A runner-up in the first series, Miranda Gore Browne was named the 'iced biscuit queen' by Mary Berry. Miranda went on to write two cookbooks: Biscuit (2012), and Bake Me a Cake as Fast as You Can (2014). Her website hosts recipes, classes and online tutorials. See some of Miranda's recipes here.
Lizzie Patterson
Johnny Shepherd
Johnny Shepherd may not have reached the final in series 1 but that hasn't stopped his success as Mr Pudding. As well as penning Puddings: Over 100 Classic Puddings (2016) he runs The Pudding Stop bakery and cafe in St Albans, has a Pudmobile based at the local station to serve weary commuters and a vintage Pudmobile located at Harpenden town centre on Fridays and Saturdays.
Andrew Burton/Orion Publishing
Mary Berry's vanilla cupcakes with swirly icing
Mary Berry's carrot and walnut cake
Be the first to comment
Do you want to comment on this article? You need to be signed in for this feature