Spicy chicken and cashew traybake recipe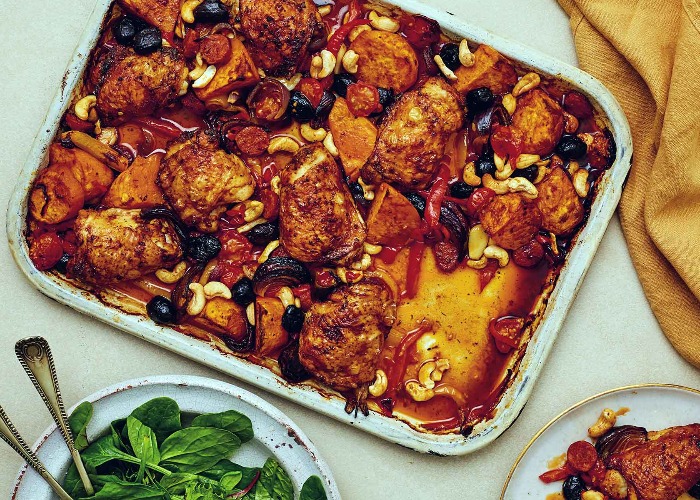 One of those wonderful one-tray, bang-it-in meals. You get so much lovely flavour from chicken thighs and they don't dry out. If you prefer, skip the potatoes and serve with rice or couscous instead or shred it all up and whack in a flour tortilla for a little fajita vibe. Lazy cooking at its best for when you really can't be bothered. (You can even skip the making your own seasoning bit if you want – just get a ready-made one and sprinkle to your heart's content.)
Ingredients
For the Cajun spice mix
2 tbsp smoked paprika
0.5 tbsp cayenne pepper
0.5 tsp salt
1 tsp chilli flakes
1 tbsp garlic salt
1 tbsp freshly ground black pepper
0.5 tbsp onion powder
0.5 tbsp dried oregano
0.5 tbsp dried thyme
0.5 tbsp cumin seeds
2 tbsp smoked paprika
0.5 tbsp cayenne pepper
0.5 tsp salt
1 tsp chilli flakes
1 tbsp garlic salt
1 tbsp freshly ground black pepper
0.5 tbsp onion powder
0.5 tbsp dried oregano
0.5 tbsp dried thyme
0.5 tbsp cumin seeds
2 tbsp smoked paprika
0.5 tbsp cayenne pepper
0.5 tsp salt
1 tsp chilli flakes
1 tbsp garlic salt
1 tbsp freshly ground black pepper
0.5 tbsp onion powder
0.5 tbsp dried oregano
0.5 tbsp dried thyme
0.5 tbsp cumin seeds
For the traybake
1 glug of olive oil
8 chicken thighs (either skinless and deboned or with bones in and skin on)
1 yellow pepper, deseeded and sliced
1 red pepper, deseeded and sliced
1 red onion, chopped
2 red chillies, finely chopped
10 cherry tomatoes, halved
6 garlic cloves, peeled
3 sweet potatoes, scrubbed and cut into wedges
150 g chorizo, skin removed and cut into 3mm slices
1 drizzle of honey
150 g green or black olives, pitted
200 g cashew nuts
4 dollops of soured cream, to serve
1 glug of olive oil
8 chicken thighs (either skinless and deboned or with bones in and skin on)
1 yellow pepper, deseeded and sliced
1 red pepper, deseeded and sliced
1 red onion, chopped
2 red chillies, finely chopped
10 cherry tomatoes, halved
6 garlic cloves, peeled
3 sweet potatoes, scrubbed and cut into wedges
5.3 oz chorizo, skin removed and cut into 3mm slices
1 drizzle of honey
5.3 oz green or black olives, pitted
7.1 oz cashew nuts
4 dollops of soured cream, to serve
1 glug of olive oil
8 chicken thighs (either skinless and deboned or with bones in and skin on)
1 yellow pepper, deseeded and sliced
1 red pepper, deseeded and sliced
1 red onion, chopped
2 red chillies, finely chopped
10 cherry tomatoes, halved
6 garlic cloves, peeled
3 sweet potatoes, scrubbed and cut into wedges
5.3 oz chorizo, skin removed and cut into 3mm slices
1 drizzle of honey
5.3 oz green or black olives, pitted
7.1 oz cashew nuts
4 dollops of soured cream, to serve
Details
Cuisine: British
Recipe Type: Chicken
Difficulty: Easy
Preparation Time: 10 mins
Cooking Time: 40 mins
Serves: 4
Step-by-step
Preheat the oven to 160°C fan (180°C/350°F/gas mark 4).
Add all the Cajun spice mix ingredients to a clean, dry jar, put on the lid and give it a really good shake. You will have more seasoning than you need for this recipe, but it will keep for about 6 months.
Drizzle some olive oil over a large baking tray and swirl it around to coat the tray.
Put the peppers, onion, chillies, tomatoes, garlic, sweet potatoes and chorizo into a large bowl. Drizzle over a little oil and give it a good rub and mix. Sprinkle over ½ tablespoon of the Cajun spice mix and give it another good mix.
Tip the spiced veg on to the prepared tray and spread out evenly across the tray.
Add the chicken to the bowl and rub in another 1 tablespoon of Cajun spice mix, really massaging it into the chicken. Place the chicken on top of the prepared veg and cook for 15 minutes.
Remove the tray from the oven and, using a fish slice or spatula, give everything a good mix. Return to the oven for a further 15 minutes.
Remove the tray from the oven, drizzle over the honey, sprinkle over the olives and cashews and mix lightly. Check the chicken and return to the oven for a further 10 minutes. Cooking the chicken skin-side up will give crispy skin if you're using chicken with the skin on. Check the chicken is cooked, especially if you are using thighs with the bones in, there should be no pink flesh visible.
Serve the traybake as it is with a bit of everything, and a dollop of soured cream.
This recipe is from Happy Cooking by Candice Brown (Ebury Press, £22). Photography by Ellis Parrinder.
You might also like:
Indian-spiced chicken traybake
Chicken thighs with red onion, apple and chestnuts
Be the first to comment
Do you want to comment on this article? You need to be signed in for this feature