An interview with Benjamina Ebuehi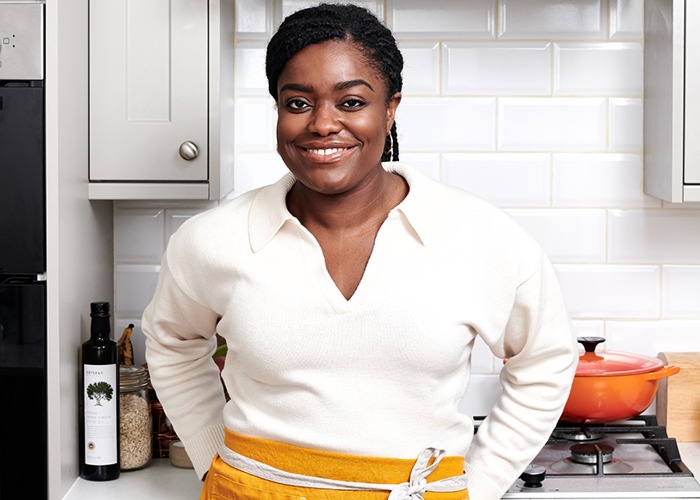 We catch up with former Great British Bake Off contestant Benjamina Ebuehi about her latest cookbook and baking her way through tough times.
For Benjamina Ebuehi, baking is about more than a slice of cake cloaked in silky chocolate ganache, or even a gloriously chewy cookie that's still warm from the oven. It's about the sheer joy these things can bring, from the cooking to (of course) the eating. It's a joy many people discovered or rediscovered during the recent lockdowns, when even the most oven-shy among us suddenly developed a hankering to bake banana bread or feed sourdough starter like a favourite pet.
It's this slowing down, taking stock and getting stuck into the process of stirring, folding, whisking and glazing that Benjamina – a quarter-finalist on the 2016 series of The Great British Bake Off – hopes to preserve with her second cookbook, A Good Day to Bake. (Her first, The New Way to Cake, was published in 2019).
From rosemary and honey scones to a tearable nectarine, rosemary and ricotta focaccia, these are recipes meant to be savoured and devoured – and they're all about holding on to "those moments of pause" that comforted many people through tricky times.
We spoke to Benjamina about finding happiness in desserts, being on the final BBC series of The Great British Bake Off and what Paul Hollywood and Mary Berry are really like.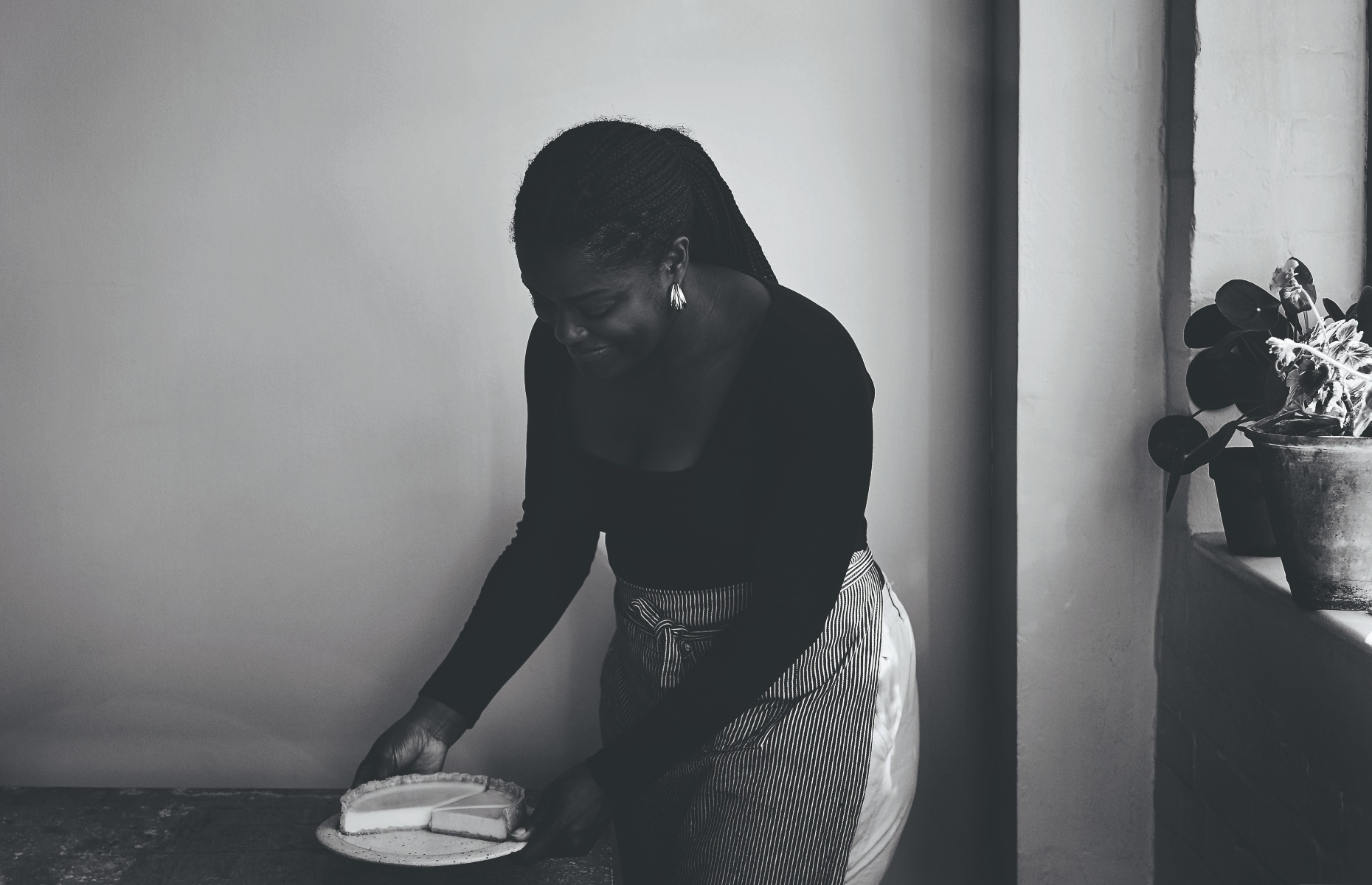 Laura Edwards/Quadrille
What inspired your latest cookbook?
I wrote this mostly during lockdown. Just seeing how many people turned to baking for the first time, or picked it up again, was really encouraging and so comforting to me. Things were slow and we had time to bake. I'm inspired by showcasing recipes that are simple and help you to slow down in that way again.
Tell us about your favourite recipes in the book
I think the plantain and fennel quiche. Plantain is such a staple ingredient in Nigerian culture, which is my heritage, so being able to sneak that into a cookbook – and a quiche – is lovely. It's a way it wouldn't usually be used. The chamomile and lemon buns are another favourite. They're so fragrant and floral, and soft, sticky bread is always a good idea. Then there's the miso and white chocolate cookies, and the everyday cake. It's a one-bowl cake, so you don't need a stand mixer or any other fancy equipment.
READ MORE: Benjamina's recipe for peanut butter cookies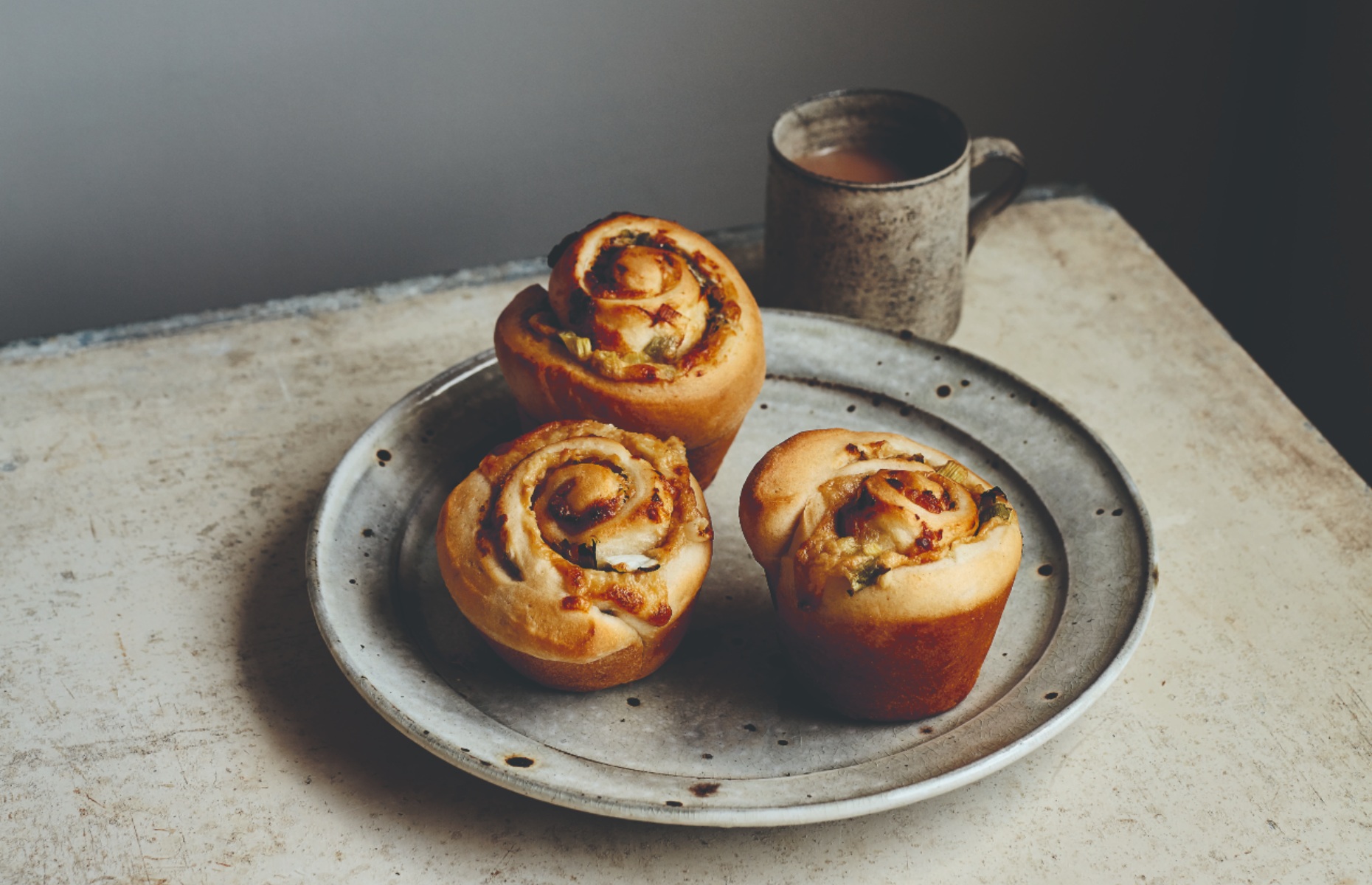 Laura Edwards/Quadrille
Are there any family recipes in there?
No, they're all original recipes. There are no other bakers in my family!
How did you discover your love of baking?
I was always interested in food and my family all cooked a lot. I spent a lot of time with my mum in the kitchen but it was always savoury dishes. Mum would make a crumble sometimes – I grew up with a mix of traditional Nigerian cooking and very British things like shepherd's pie – but that's about it. I had a very sweet tooth and loved desserts and cakes. I wanted to make them myself and started out with fairy cakes and cookies and basic things like that. Mum bought me a kids' cookbook but otherwise she left me to it.
READ MORE: Great British Bake Off star Nadiya Hussain's best recipes
How does cooking or baking affect your mood?
Baking is one of the things that does really help. It's such a good way to switch off, especially a recipe using your hands quite a lot, with a lot of stirring or different steps. It's nice to focus. Your mind has to be completely in the processes.
Lockdown was the most recent time baking helped me, and it's on my mind a lot. There was nothing to do except watch the news. It was great to connect with people baking online, doing cook-alongs and baking with others in the community. I put out recipes people could try and did some stuff on Instagram. All events and classes were cancelled so everything shifted online.
It's nice to tune out sometimes, turn my phone off, just put some music on and bake. Being able to create something with your hands at a time when that isn't as common as it used to be.
READ MORE: An interview with James Martin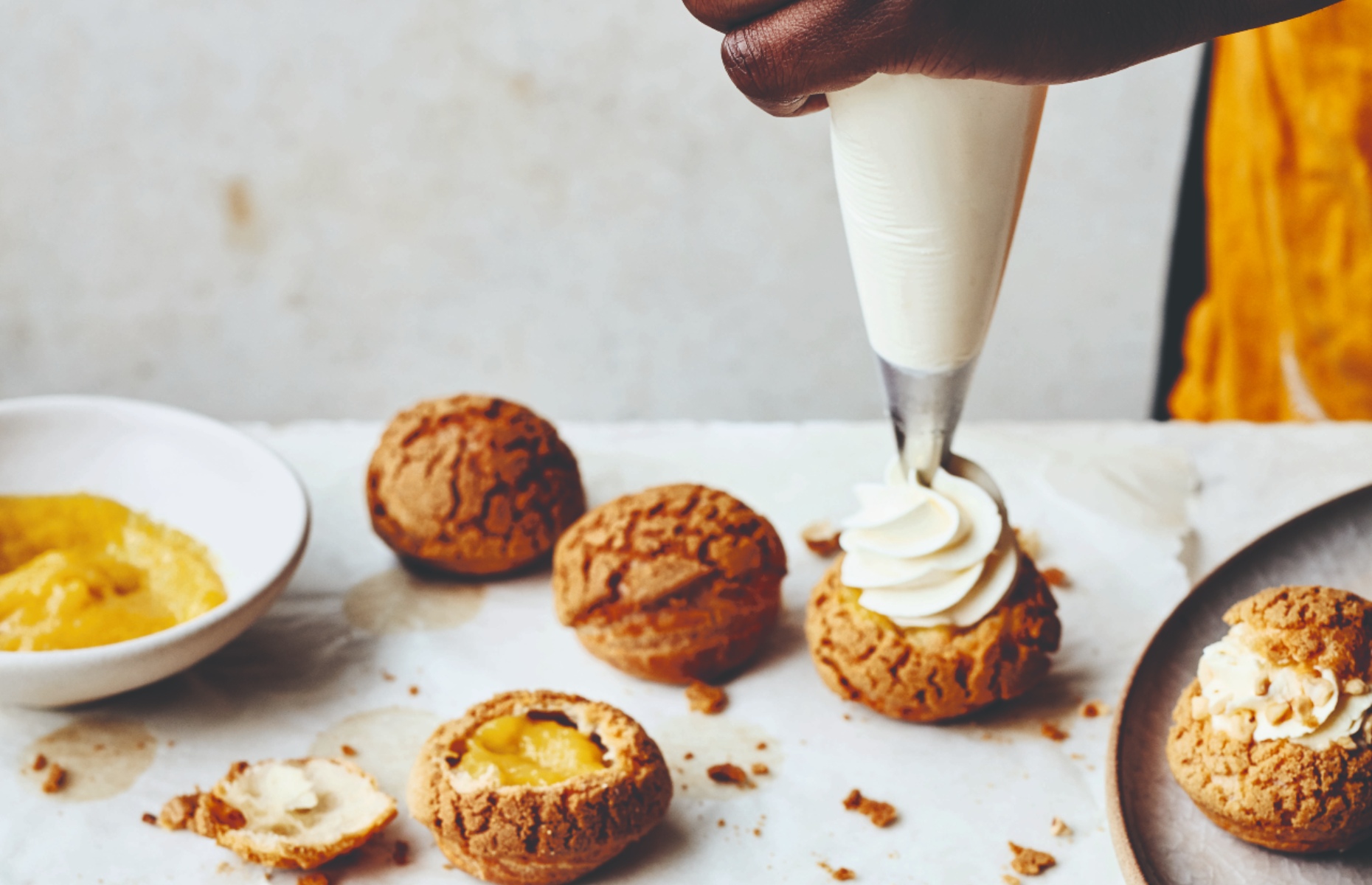 Laura Edwards/Quadrille
Is there one recipe guaranteed to cheer you up?
It changes with the seasons but if I ever make a pavlova, it makes me happy. To make and to eat. It's my favourite dessert of all time. You can fill it with whatever fruit is in season. It doesn't have to look perfect; it can be a little rustic. Cream and fruit can hide a lot! Honestly, I can't look at a pavlova without smiling.
That can be quite a tricky recipe. Do you ever get it wrong?
Pavlova probably looks trickier than it is. By breaking it down step by step and giving clear instructions, it's possible. Things do go wrong sometimes, but really it's only if I rush.
READ MORE: Try our strawberry pavlova cake recipe
What are your favourite food memories?
It's impossible to pick one, because all my memories are food memories! I'm always eating or cooking – or thinking about what I'm going to eat or cook next.
How did appearing on The Great British Bake Off change your life?
It was an incredible opportunity. I don't think I would be writing cookbooks or working in food full-time if it hadn't been for that show, and I learned so much in such a short time. It was one of my favourite shows and I loved watching it. I'd think, 'Ooh, I can make that'. None of my friends of family watched it before I was on it. I just applied, thinking I wouldn't get on but I should give it a go.
READ MORE: Benjamina's recipe for sage sour cream doughnuts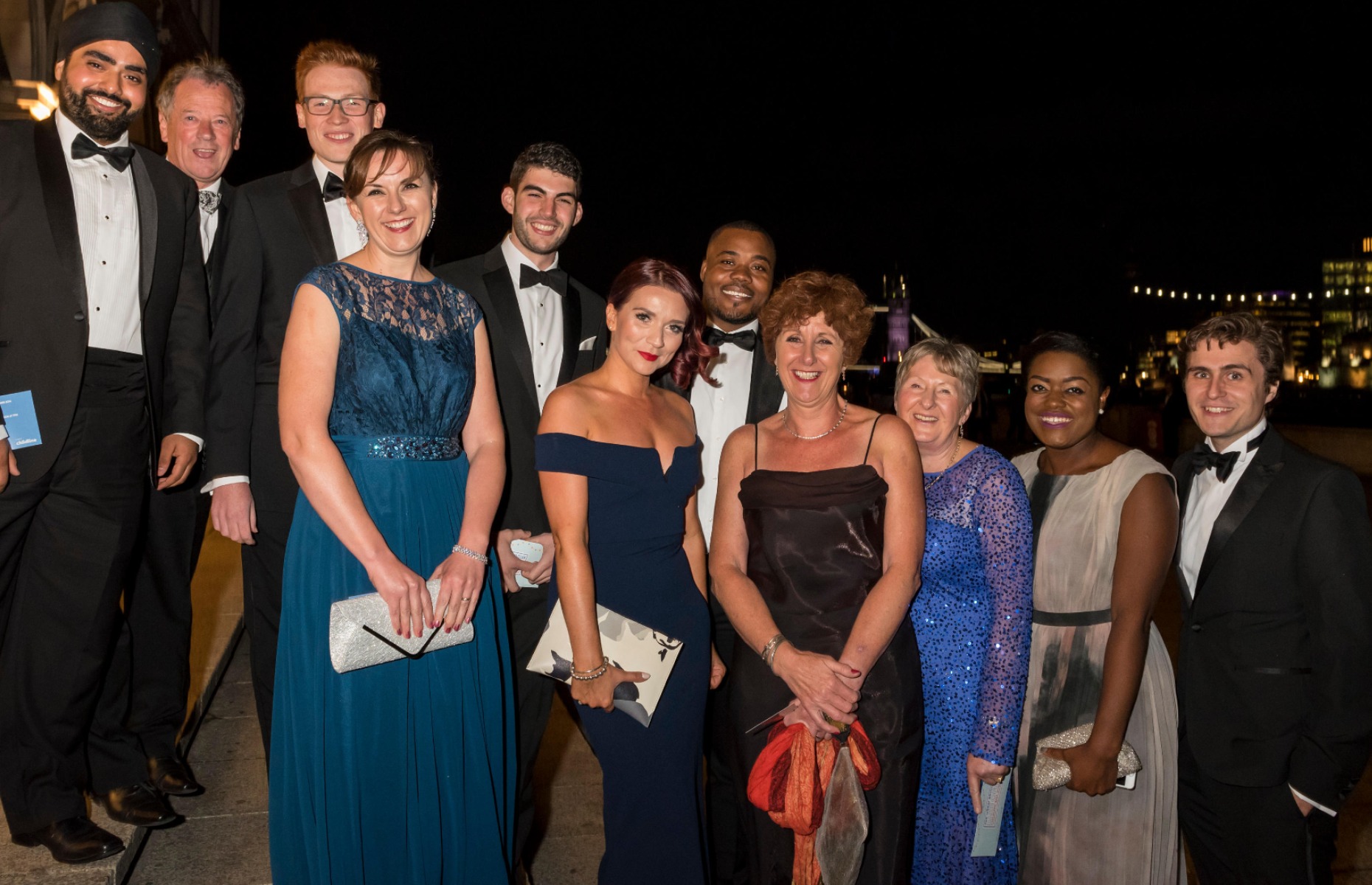 Stephen Chung/Alamy Stock Photo
What memories have stayed with you from the show?
It's very intense. The first time I walked into the tent and saw the cameras and work benches, and met the other bakers… it was very surreal. I psyched myself out thinking, 'I'll be the first one out'. Once I got past week one I relaxed a bit and thought, 'I can do this'. All the other bakers were amazing and we got on really well too.
When you're there it feels like it goes on forever. It consumes your whole life all over again, week in, week out. Once it's over, you want to do it all again.
READ MORE: The Great British Bake Off: where are they now?
Are you still in touch with your fellow contestants?
Yes, we've still got our WhatsApp group, started back when we were on the show, and we all support each other in our various projects.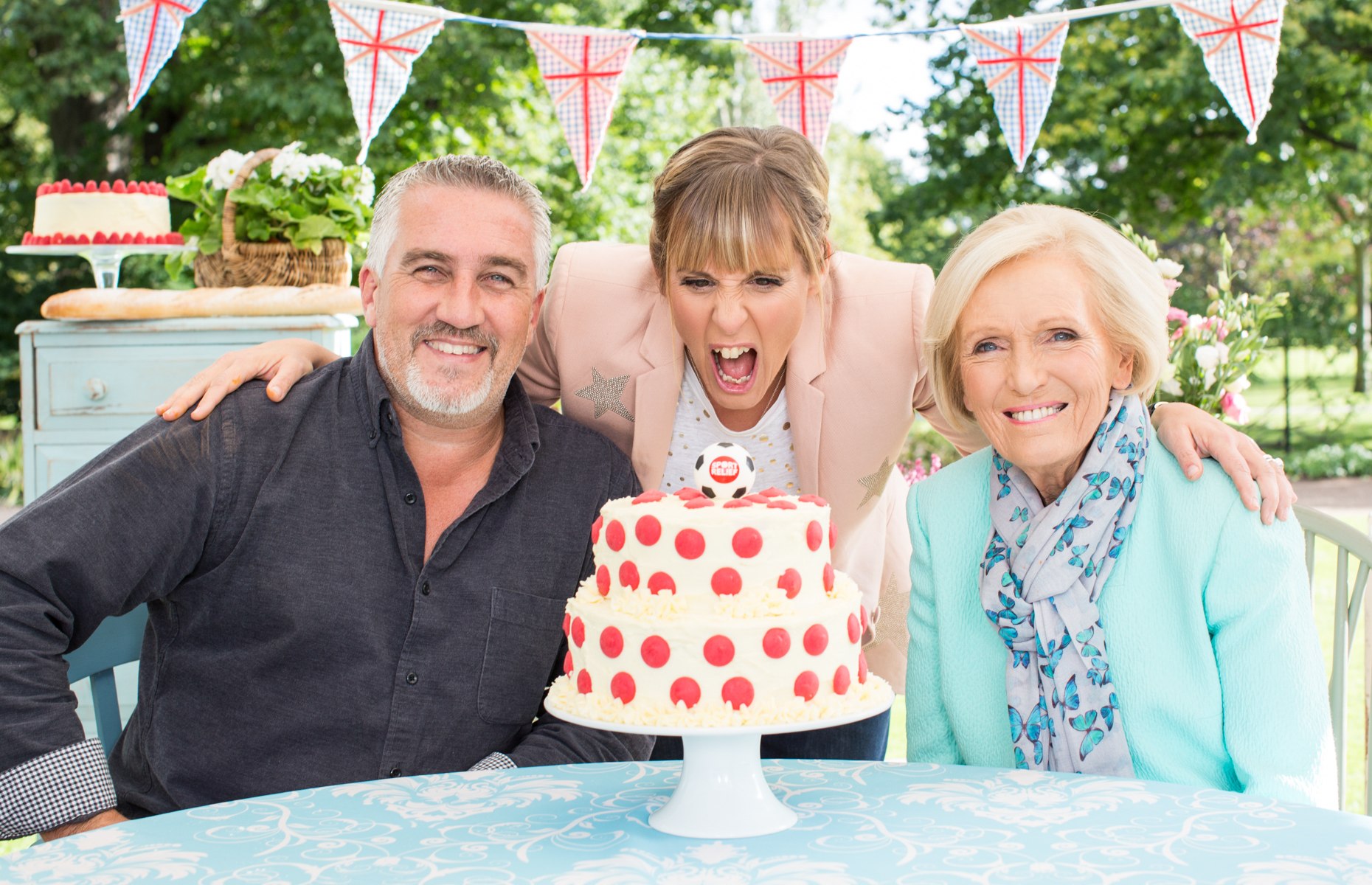 Victoria Dawe/Comic Relief/Getty Images
How about the judges, Mary Berry and Paul Hollywood?
We didn't really see them much. It was funny. They'd come out when it was time to judge and then go away again. Mel and Sue [Giedroyc and Perkins, the presenters until the show moved from the BBC to Channel 4 in 2017] were so much more than you see on television, though. Really supportive and lovely at calming everyone.
You also work as a food stylist. How did that come about?
I had never heard of a food stylist. I didn't know it was a job! I was on a shoot after Bake Off doing video stuff to camera and there was a food stylist who prepared everything. I asked her: "Is this your job? Tell me about what you do." She told me how she got into it.
I started by assisting on the job to understand how shoots work and what goes into it. It's a great way of building a network too.
I was always really intrigued by the behind-the-scenes stuff and more drawn to that than the facing the camera. The aesthetic and styling was something I always shared on Instagram. I like the look to be unfussy and minimal yet still quite warm, rather than cluttered with lots of props.
READ MORE: Benjamina's almond apricot loaf
Would people be surprised by how much goes in to achieving the perfect shot?
I was surprised by just how much goes into it! From the outside it looks like you've just cooked and put something on the plate. But so much attention to detail goes into creating just one image. There are none of the tricks you might find in advertising. With editorial, it's more natural – it just takes a lot of time.
What would you like to do next?
I'd love to write more cookbooks, as much as it's a stressful, long process! I just really enjoy it when people share what they have made. I'm definitely more open to TV now, though. Initially I just wanted the focus to be more on the food than on me, but I've grown in confidence in myself and what I do. So I would be more open to TV. Only food stuff though – not Strictly!
A Good Day to Bake by Benjamina Ebuehi (Quadrille, £22) is out now.
Main image: courtesy of Quadrille Publishing
Be the first to comment
Do you want to comment on this article? You need to be signed in for this feature