A guide to food and drink in Slovenia
Slovenia is home to a culinary tradition which spans the Alpine and Mediterranean worlds, and offers some fantastic wines. Food and travel writer Rudolf Abraham, a frequent visitor to Slovenia for nearly 25 years, takes us through some of the country's many culinary highlights.
What's so special about Slovenian food?
Slovenian cuisine is a wonderful blend of influences, which reflect its different landscapes – from lush alpine pastures to agricultural lowlands, the Adriatic coastline, sprawling forests and the Karst plateau. You'll find dishes ranging from simple peasant stews to glistening fresh seafood; fruit and vegetables are plentiful (meaning there's usually a good choice for vegetarians), and you can choose to eat in traditional village inns or Michelin starred restaurants – and pretty much every setting in between. One thing they all have in common is a huge emphasis on locally sourced, seasonal ingredients. Slovenia is only around 155 miles (250km) from one side to the other, and so an array of excellent ingredients are never far away.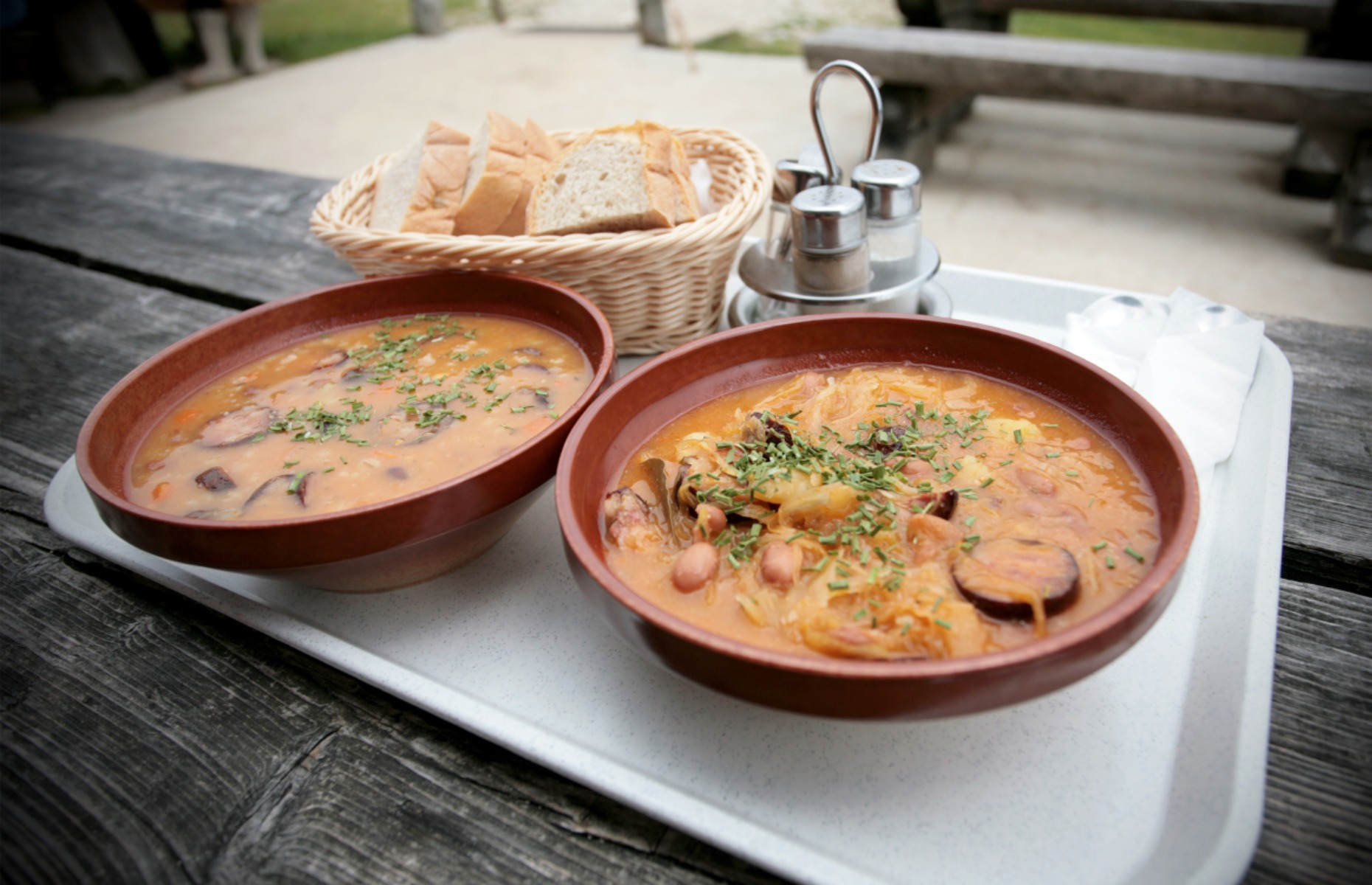 JRP Studio/Shutterstock
Top 4 ingredients in Slovenian food
1. Pork
Pork appears widely on Slovenian menus, whether it's pršut (dry-cured ham) from the Kras region on a charcuterie platter, or crackling sprinkled over žganci (potato and/or corn flour dish).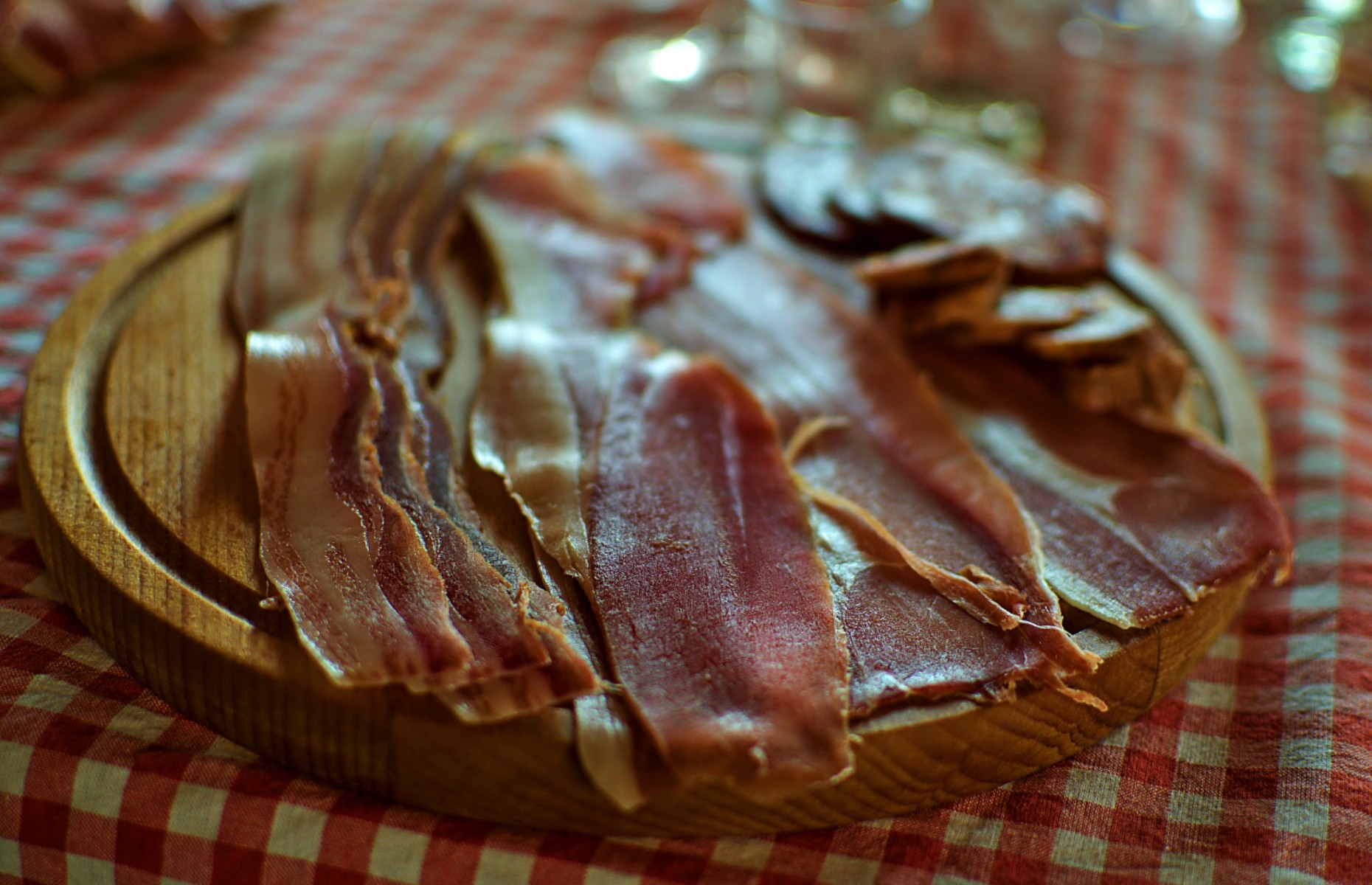 Andrija Ivanovic/Shutterstock
2. Skuta
Skuta is fermented curd cheese, which goes into a lot of traditional Slovenian dishes such as štruklji (traditional filled dumplings) and is also delicious eaten on its own.
3. Grains
Grains including buckwheat, barley and millet are a key ingredient in many traditional soups and stews in Slovenia – such as ričet, a stew made from vegetables, barley and cured pork.
4. Honey
Beekeeping has a long tradition in Slovenia, and it has more beekeepers per capita than pretty much anywhere else in Europe, and this – combined with its wonderfully unspoilt forests and flower-filled mountain pastures – means that there's plenty of extremely good quality local honey available throughout the country.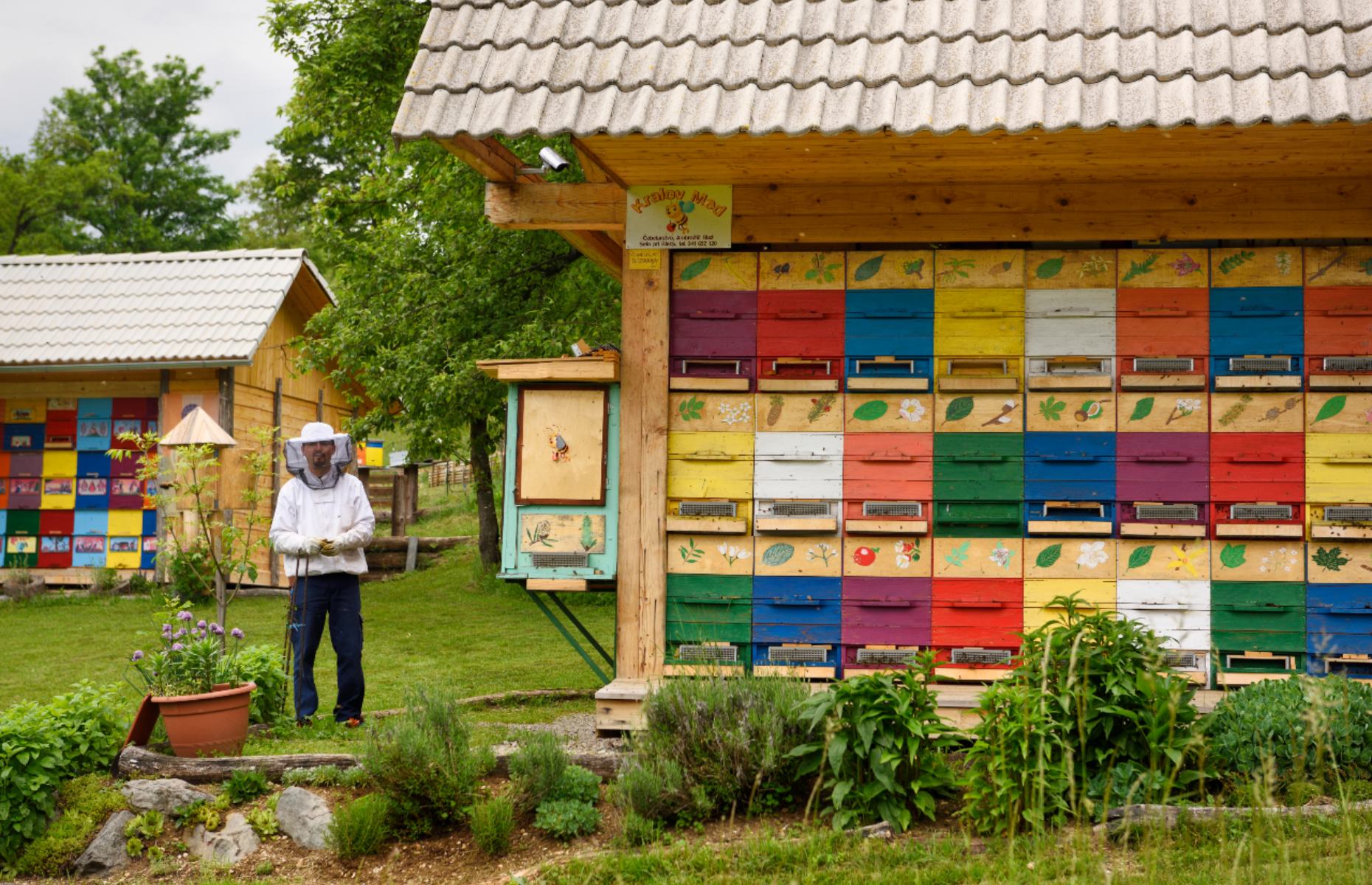 Reimar/Shutterstock
READ MORE: A local's guide to Croatia
What dishes to try in Slovenia
Frika
Cooked in a frying pan, frika is made of thinly sliced potatoes and Tolminc cheese – it looks like an omelette, but it's made without eggs. It's a specialty of the Soča Valley, in particular the area around Tolmin.
Kranjska klobasa
Slovenia's most famous sausage, made according to a recipe from the 19th century, and containing only pork and bacon, seasoned with salt, garlic and black pepper. The production of Kranjska klobasa is strictly controlled – only 13 producers have a certificate to make it.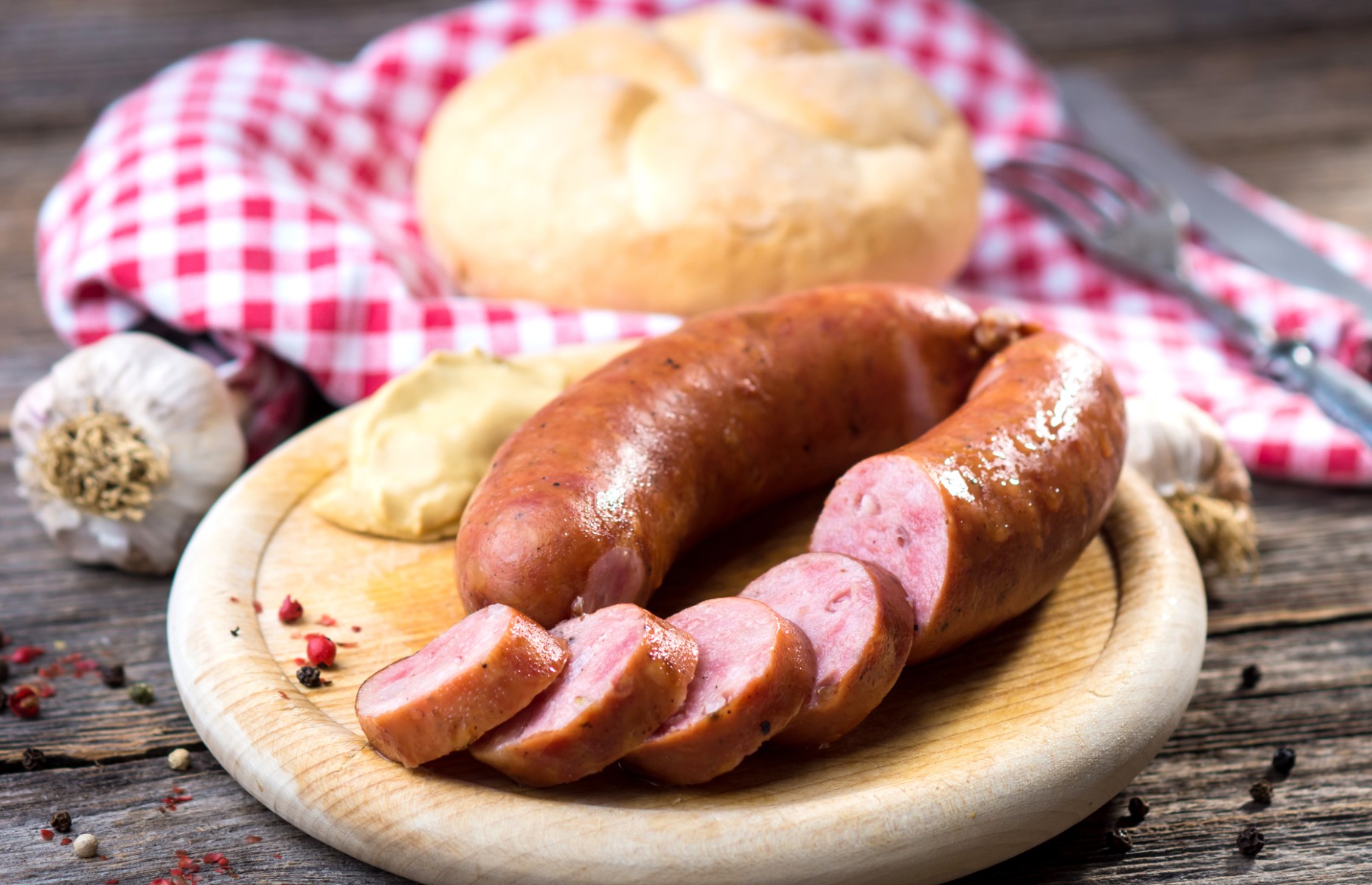 Dani Vincek/Shutterstock
Jota
Made with sour turnip, beans, pork and potatoes, jota is a simple but extremely tasty, earthy stew which you'll find on menus across Slovenia. Perfect after a hike in the Julian Alps.
Potica
Potica is one of the dishes traditionally eaten at Christmas, but also on other festive occasions, made from yeast-risen dough rolled with a layer of filling (and don't worry, it's popular enough that you can find it throughout the year!). The most common filling is walnuts, but there's a seemingly infinite variety of others, among them poppy seeds, cheese and tarragon. For the truly picturesque potica-tasting experience, take a boat over to the much-photographed island on Lake Bled, where they're served at the small café there.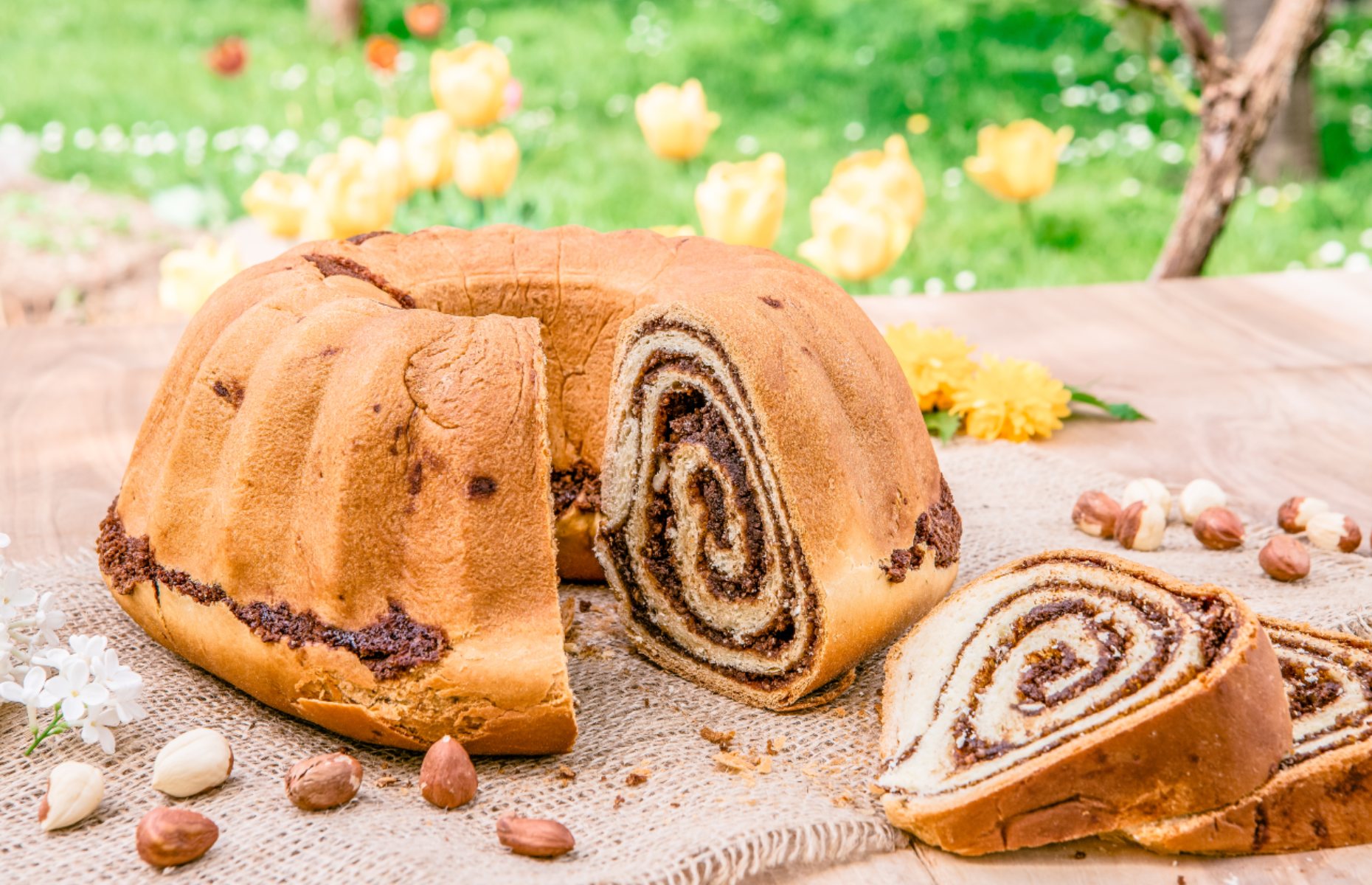 Journalist/Shutterstock
Štruklji
Traditional filled dumplings or parcels usually made from stretched, filo or other dough, with skuta, walnuts or a range of other fillings, topped with buttery breadcrumbs. First recorded in the 16th cetury, they are one of the most beloved dishes in Slovenian cuisine, and you'll find them throughout the country – both as a delicious savoury side dish and as a mouthwatering sweet dessert.
What to drink in Slovenia
Wine
Slovenia has three main wine regions – Primorska in the southwest, Podravska and Posavska in the northeast and southeast respectively. Within these there are a number of sub-regions; in the case of Primorska, that would be Goriška brda (just across the border from Italy's Collio wine region), Kras, Vipava Valley and Slovenian Istria.
Wines from indigenous grape varieties ,which you should definitely seek out, include Malvazija from Slovenian Istria and the Vipava Valley, Zelén and Pinela also in the Vipava Valley, and Rebula in Goriška brda. Look out for sparkling wines and fantastically rich dessert wines from Prekmurje and Štajerska, which make up the Podravska region. Cviček is a unique, light, refreshing and slightly sharp-tasting wine, made from a blend of red and white grapes grown in Posavska.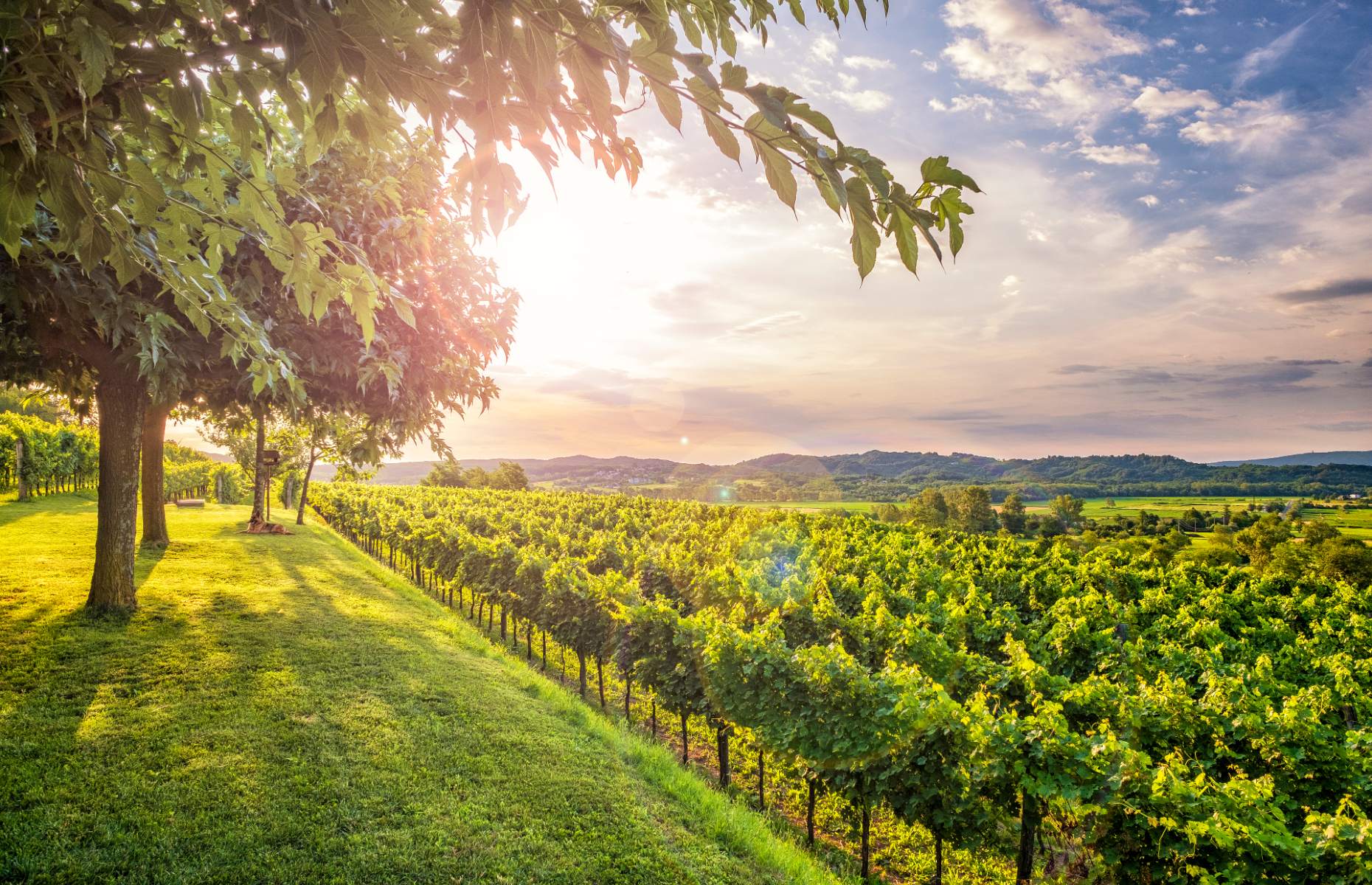 Mny-Jhee/Shutterstock
Beer
Slovenia has a long tradition of brewing, and as well as the two big breweries, Laško and Union, there are a whole slew of smaller craft breweries which have sprung up in recent years. Pelicon is one of these, a small brewery in the Vipava Valley with some excellent (and often wittily-named) beers, ranging from pale ales ('Yes Boss!') to wheat beers ('Walter Wheat') to a very good stout ('Black Aurora').
READ MORE: A guide to beer and food pairing
Where to eat in Slovenia
Traditional
Excellent, good value restaurant in the centre of Ljubljana serving traditional Slovenian dishes in a relaxed, contemporary setting.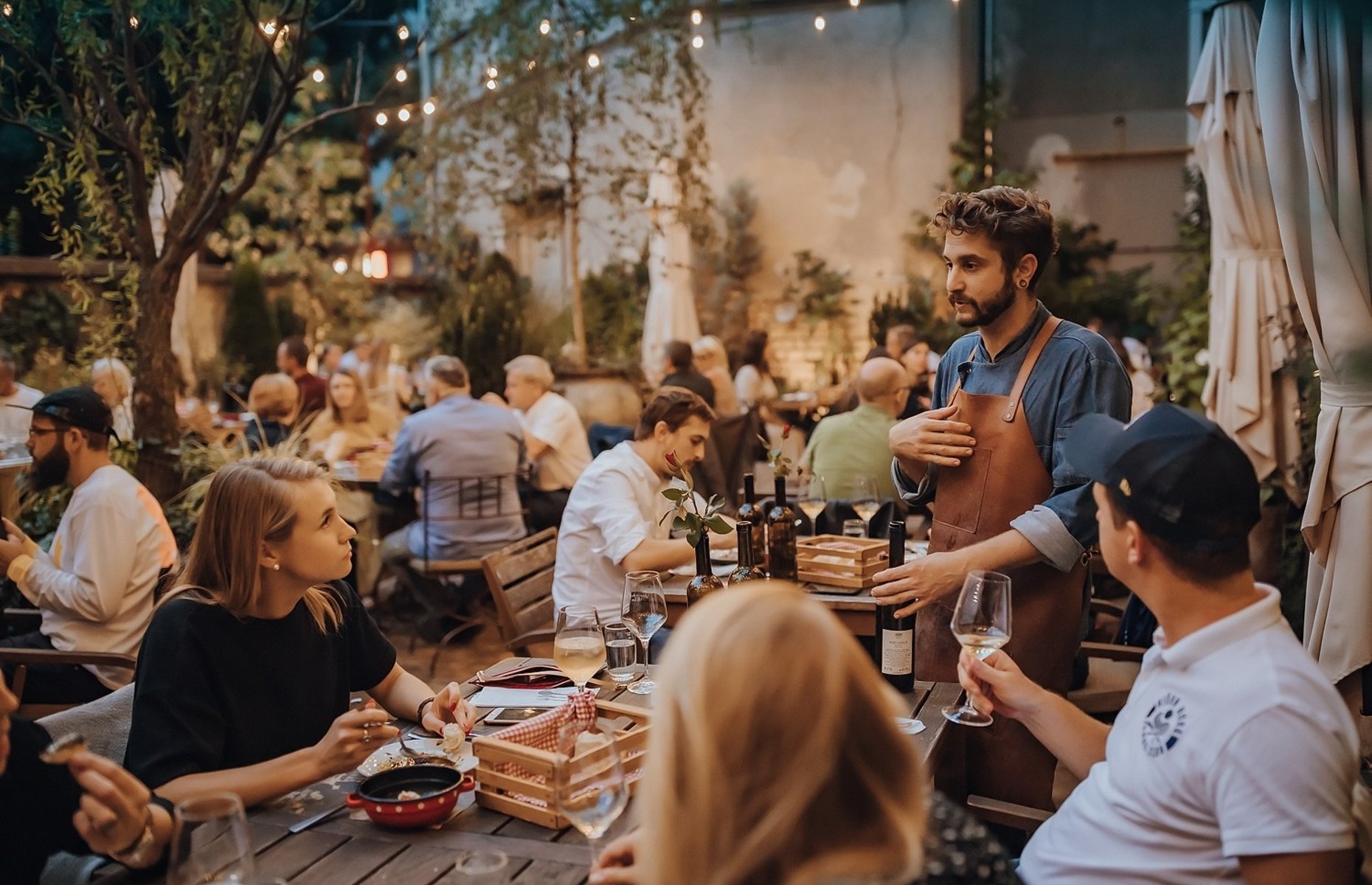 Slovenska Hiša Figovec/Facebook
Along with its award-winning wines this small family-run place in the Vipava Valley serves delicious food, with many of the things on the table coming from their own farm, including their own melt-in-the-mouth pršut.
Of the many wonderful places to taste wine in the Goriška brda region, I'm a particular fan of this one – where you can enjoy some lovely wines and good food on a terrace with a view stretching from the Alps to the Adriatic.
Fine dining
Gostilna pri Lojzetu is an outstanding restaurant in the Vipava Valley, where Michelin-starred chef Tomaž Kavčič prepares fabulous-tasting dishes which are rooted in the flavours of the Vipava Valley, and often come with a deconstructionist twist.
At this two Michelin-starred restaurant, chef Ana Roš creates sublimely beautiful dishes with an emphasis on locally sourced, seasonal ingredients. Hiša Franko is located in a small village near the gorgeous Soča Valley.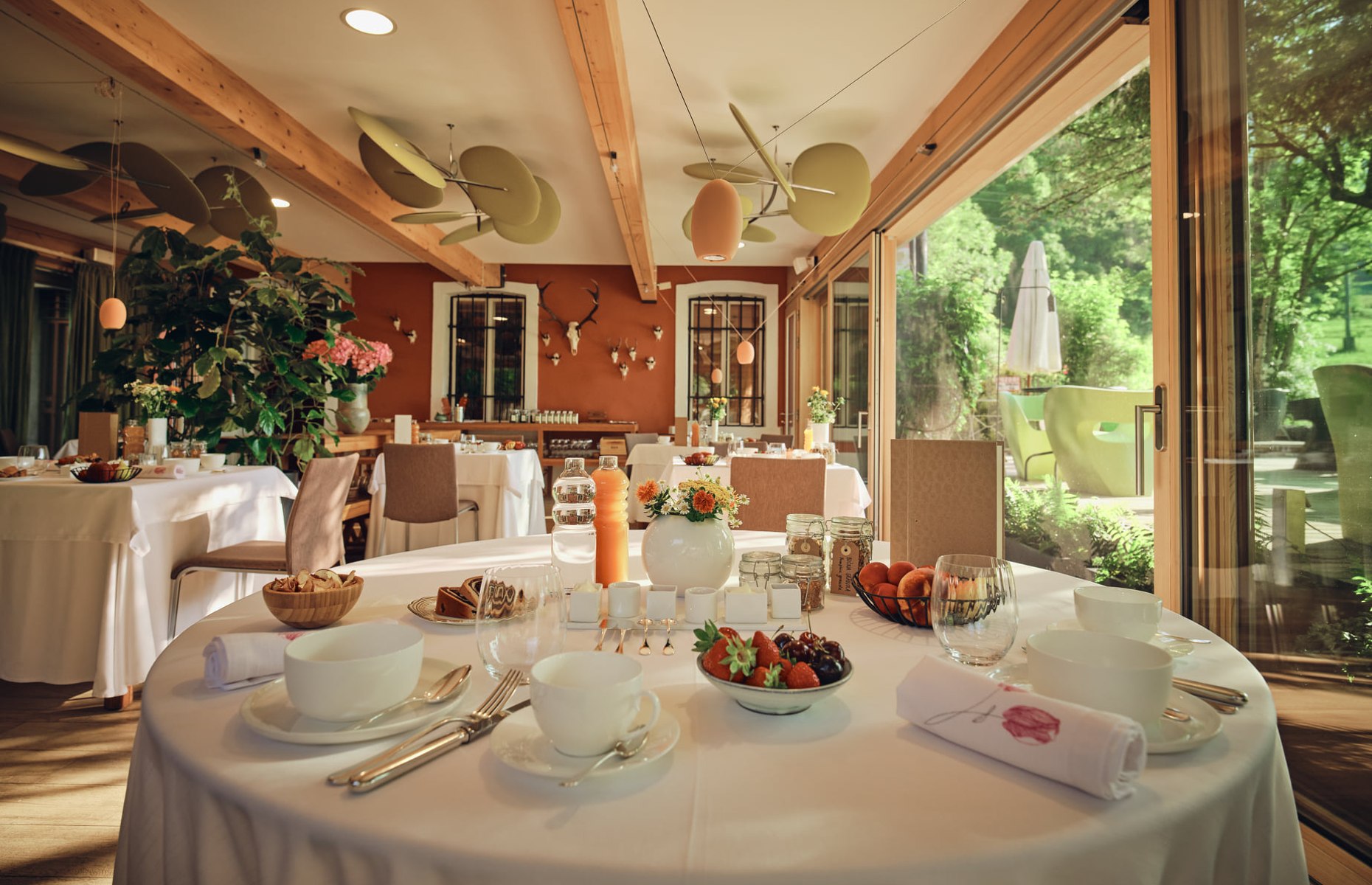 Hiša Franko/Facebook
What to bring home from Slovenia
There are plenty of foodie souvenirs to bring home from Slovenia, many of which you can buy direct from vineyards, markets and artisan producers (or failing that, there's a decent selection at Ljubljana Airport).
Wine
Need some suggestions for a few stunning, and in many cases award-winning, Slovenian wines to fill your suitcase with before heading home? Look no further.
One of the top winemakers in Goriška brda is Marjan Simčič, with a top-notch Rebula (Ribolla) as well as a wonderful Chardonnay, while Bjana, also in Goriška brda, makes some show-stopping sparkling wines.
In the Vipava Valley, wines from the excellent Burja include Burja White, one of a pair of field blends, and from Krapež, an absolutely superb Malvazija. Wines from Steyer, northeast of Maribor, include a lovely semi-sweet Gewürztraminer, while Prus in Bela Krajina is a good place to look for distinctive orange wines. Wines made by Gordia on the coast near Koper include an amazing dessert wine, Damigiana.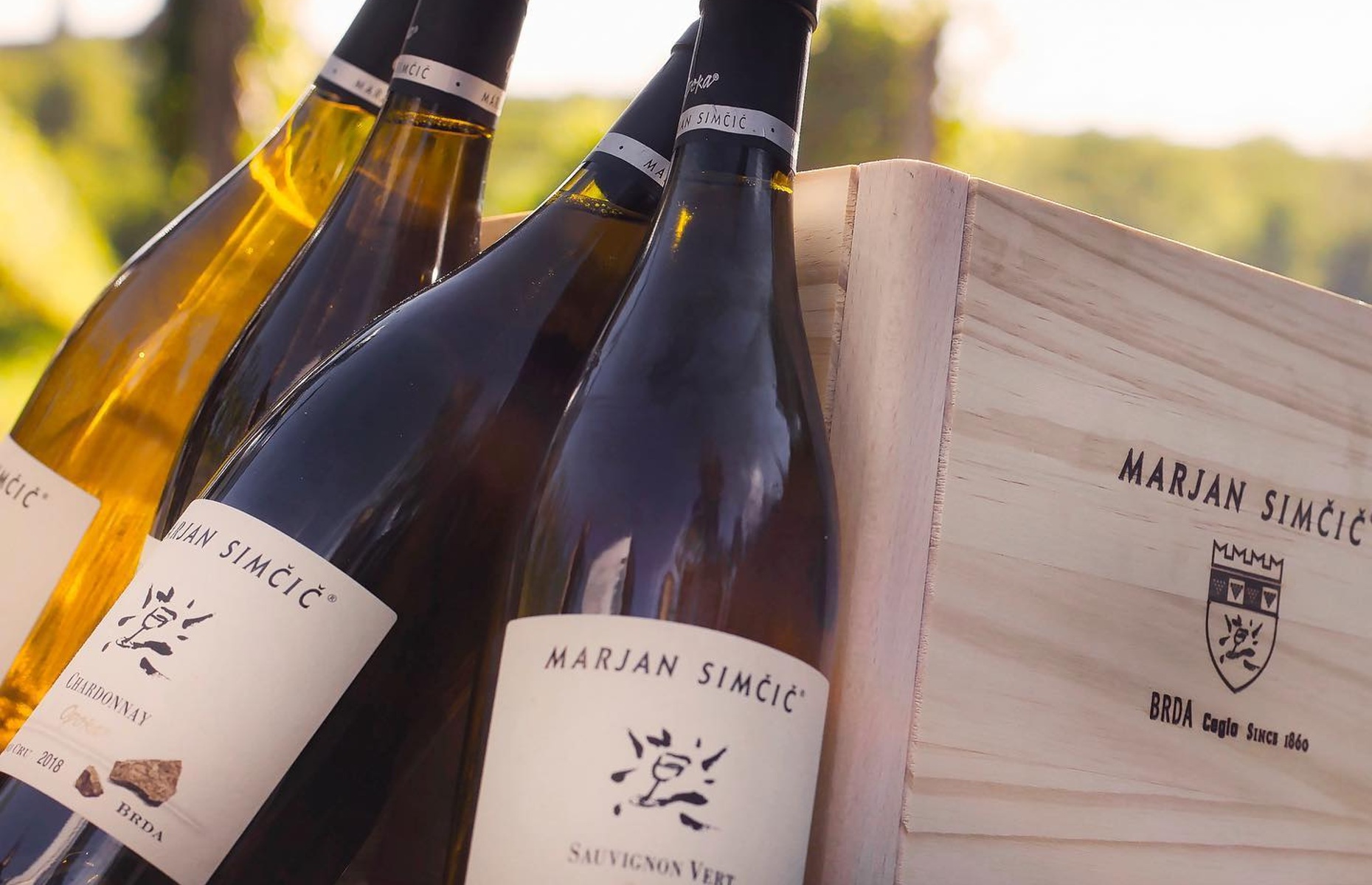 Marjan Simčič/Facebook
Honey
Being a nation of beekeepers, Slovenia is as good a place as any to buy excellent, locally produced honey – for example, from Čebelarstvo Lužar. Forest honey (gozdni med), chestnut honey (kostanjev med) and Karst honey (Kraški med) are just some of the types to look out for.
READ MORE: Sweet facts about honey
Cheese
Slovenia produces some excellent cheeses, some with protected designation of origin status – including Bovški sir from the area around Bovec (made from sheep's milk), Tolminc from the area around Tolmin (made from cow's milk), and Bohinjski mohant (a famously stinky one from the area around Lake Bohinj).
Fleur de sel
The delicate solni svet (fleur de sel) from the historic saltpans near Piran makes for a perfect culinary souvenir from the Slovenian coast.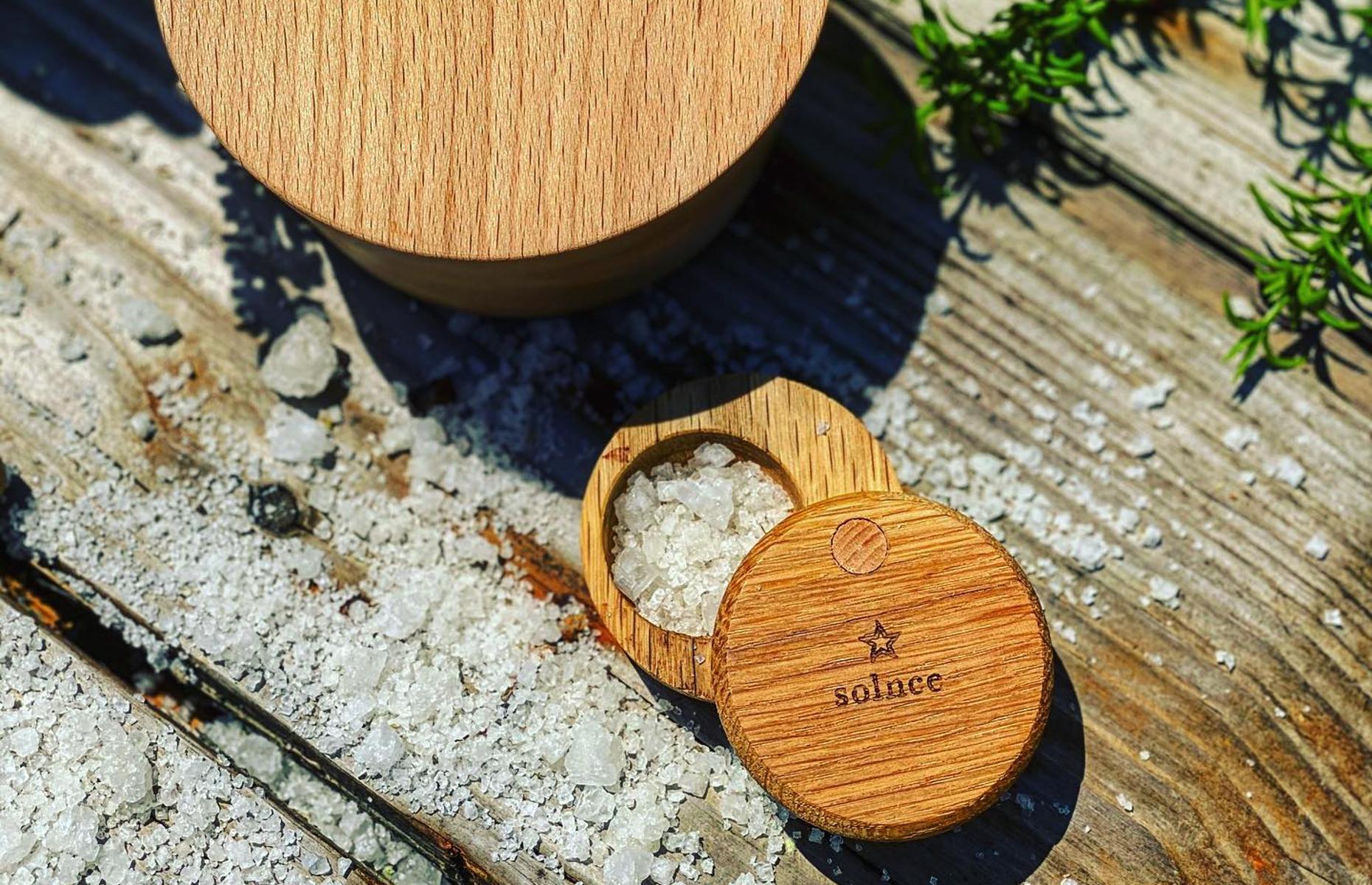 Soline/Facebook
Pumpkin seed oil
This lovely, rich oil owes its flavour to the seeds being lightly toasted before they are pressed. The best comes from the Prekmurje region.
Lead image: Anrephoto/Shutterstock
Be the first to comment
Do you want to comment on this article? You need to be signed in for this feature