Turkey, chorizo and avocado hash recipe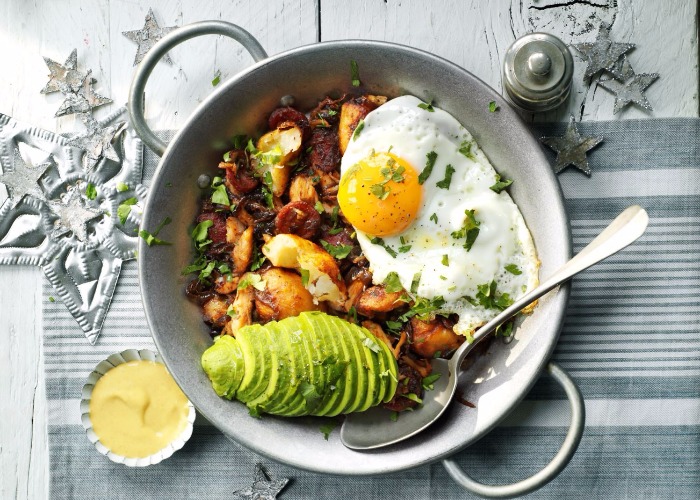 After a festive few days, something comforting can be just the ticket. This turkey hash recipe is a great way to use up Christmas leftovers, combining the heartiness of potatoes and chorizo with the fresh flavours of avocado and chopped coriander (cilantro)
Ingredients
3 onions, sliced
2 cloves of garlic, crushed
1 pinch thyme, finely chopped
70 g chorizo
200 g roast turkey, shredded
250 g leftover roast potatoes
1 egg
1 avocado
1 tbsp vegetable oil
1 handful coriander (cilantro), roughly chopped
3 onions, sliced
2 cloves of garlic, crushed
1 pinch thyme, finely chopped
2.5 oz chorizo
7.1 oz roast turkey, shredded
8.8 oz leftover roast potatoes
1 egg
1 avocado
1 tbsp vegetable oil
1 handful coriander (cilantro), roughly chopped
3 onions, sliced
2 cloves of garlic, crushed
1 pinch thyme, finely chopped
2.5 oz chorizo
7.1 oz roast turkey, shredded
8.8 oz leftover roast potatoes
1 egg
1 avocado
1 tbsp vegetable oil
1 handful coriander (cilantro), roughly chopped
Details
Cuisine: American
Recipe Type: Breakfast
Difficulty: Easy
Preparation Time: 0 mins
Cooking Time: 20 mins
Serves: 2
Step-by-step
Preheat the oven to 180°C (355°F/gas mark 4).
Lay the leftover roast potatoes on a baking tray and roast for 5 minutes so the potatoes are crisp.
Place the chorizo in a frying pan and fry until crisp, set to one side.
In the same frying pan, add the sliced onions, garlic and thyme and slowly sauté until soft and slightly caramelised. Season with salt and pepper.
Add the roast turkey and the cooked chorizo and cook for a further 5–6 mins stirring continuously.
Add the roasted potatoes and gently mix through, ensuring you do not break the potatoes up too much.
Plate the hash and serve with a fried egg, sliced avocado and a garnish of chopped coriander.
This recipe is courtesy of Sainsbury's. Find more ways to waste less this Christmas with their recipe collection.
You might also like:
Turkey bubble and squeak cakes
Christmas mac 'n' cheese recipe
Be the first to comment
Do you want to comment on this article? You need to be signed in for this feature