Five simple chicken dishes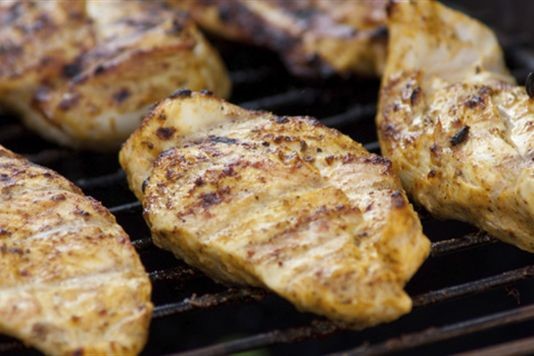 Five super simple and quick dishes you can make with a pack of chicken.
We've all been there. At the end of a long day, often the last thing you feel like doing is slaving over your evening meal. As our lives get busier, it stands to reason that cooking with chicken has become increasingly popular.
Why? Because chicken cooks quickly, especially chicken breast, which can be sliced up and thrown into a wok or frying pan along with some veg and more often than not a packet sauce. The truth, however, is that stir-fried chicken something-or-other can easily become tiresome.
A myth has grown up that chicken is a particularly tasteless form of meat. While intensively-reared chicken may lack flavour, a well-reared bird can be delicious. Of course, what also matters is the way you cook it and it is worth remembering that chicken breast will always have less flavour than legs or thighs, which benefit from being cooked on the bone.
Below is a range of methods and recipes for cooking chicken fast, but still retaining lots of flavour. I have gleaned top-tips from some of the greats: Anna del Conte, Nigel Slater and Jamie Oliver.
There is also a selection of chicken, from more expensive breast to thighs and legs. Hopefully, this means that whatever your budget you should still be able to afford high-welfare meat.
Crispy chicken (chicken thighs)
Forget soggy skin or chicken thighs that seem to take most of the evening to cook. I have often been put-off cooking chicken thighs, simply because they take so long to cook.
But, I'm taking my cue here from Jamie Oliver, who uses a slightly unorthodox, but fantastic method to cook them. It is the shortened version of crispy chicken in his Green Curry, Crispy Chicken, Kimchee Slaw & Rice Noodles recipe taken from Jamie's 30 Minute Meals.
Put one large and one smaller frying pan on a high heat. Tip your chicken thighs into the largest frying pan, skin side down. Drizzle some olive oil over the top, season and cook, turning every minute or so for about 18-20 minutes. Then, put a piece of greaseproof paper on top of the chicken, covering it.
Place the (very hot) smaller frying pan on top and weight it down with something heavy (and heatproof!). Kitchen weights are a good idea. Leave for five to ten minutes, until crispy. Remove the paper and top pan, drain away the fat and glaze with honey. Serve with toasted sesame seeds.
If you're a fan of that, you might also enjoy Ching-He Huang's fried chilli chicken!
Pan-roast chicken with pasta (chicken breasts)
A beautiful way to serve chicken with pasta is not to stir-fry, but pan-roast it. For this you will need an oven-proof frying-pan. Preheat your oven to Gas Mark 6 (200 degrees C). Place chicken skin-side up in the pan with garlic and shallots. Add a generous glug of white wine to the side of the pan (keeping the skin dry), season and drizzle olive oil over the skin.
Roast until the chicken is cooked (between 25-30 minutes). The skin will be golden. Remove the chicken, garlic and shallots and cover to keep warm.
Place the pan on the hob and simmer the remaining chicken juices over a medium-high heat, adding a dash of cream first. Cook tagliatelle or pappardelle in boiling water then toss in the hot sauce. Slice the chicken breast and serve on top with garlic and shallots.
Pollo a cotoletta or breaded chicken (chicken breast)
Breaded chicken works well for chicken breast, because the crispy coating and/or use of butter helps nudge the flavour up a gear.
Anna del Conte has written about the pollo a cotoletta of her youth. From the Lombardy region of Italy, it is basically breaded chicken breast.
Firstly, lightly pound your chicken breasts, then coat in beaten and seasoned egg (allowing excess egg to fall away). Next, coat both sides with dried white breadcrumbs.
Grease the cold base of a heavy frying-pan with oil then add little knobs of butter. Now add the chicken before putting the whole lot onto the hob. Put the pan on a moderate to low heat and cook on both sides until done.
If you fancy trying something a little different, you could try using a cinnamon coating instead – take a look at Simon Rimmer's Cinnamon Chicken for some tips.
Chicken salad (chicken thighs)
This recipe heads into less-calorific territory! The inspiration comes from Leon, but you could also take a few hints from Ed Baines' Smoked Chicken Salad.
The secret here is to be prepared and get your chicken thighs ready the night or morning before, then leave in the fridge, ready to quickly grill for supper. Cut the bone away from the thighs and slice into strips, then marinate in a simple olive oil, lemon and garlic dressing.
In the evening, simply blanche whatever veg are in season. (At this time of year you could lightly fry off slices of courgette or even use uncooked peas.) Toast yourself a handful of seeds and chop avocado, tomato, fresh mint and whatever lettuce leaves you prefer. Then throw the whole lot together, add a dollop of good quality mayonnaise and toasted bread or new potatoes on the side.
Spicy chicken (breasts or thighs)
Rather than getting fed-up with toasting and measuring out various spices then reverting to shop-bought curry sauce, try this. Nigel Slater recommends boning chicken legs (or asking a butcher to do it for you – you could also bone thighs).
Roll the chicken meat in a seasoned and lightly beaten mixture of harissa paste, yoghurt and olive oil (Nigel uses roughly two teaspoons of harissa to two tablespoons of yoghurt and three tablespoons of olive oil). Grill then scatter with mint leaves before eating.
(You could substitute the harissa with another spice mix and try a different middle-eastern herb, like coriander.)
Also worth your attention:
Marco Pierre White's Chicken with Lemon and Thyme
Henry Dimbleby's Spanish chicken pot roast
Be the first to comment
Do you want to comment on this article? You need to be signed in for this feature