Will the real sticky toffee pudding please stand up?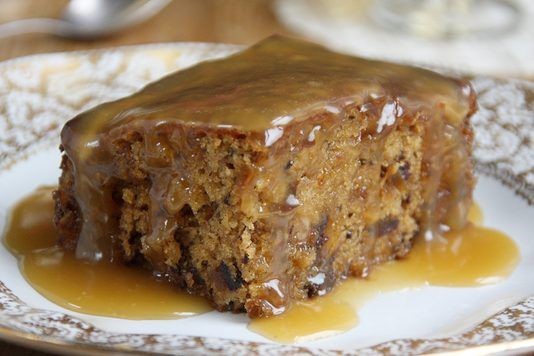 A slab of moist, date-stuffed sponge topped with a creamy toffee sauce may be a staple on pub menus, but there's more than one sticky toffee pudding claiming to be the original dish
Gastropub classic and fluffy sponge weapon in the war on cold weather, sticky toffee pudding is the most modern of all the Great British nursery puds. It's not hard to see its appeal for restaurants. Sticky toffee pudding has all the stomach-slaying punch of a traditional British pud, but being baked rather than steamed, and then slicked with a sweet sauce, it's much more good-natured than a suet-heavy spotted dick or jam roly poly.
Here, there, everywhere
So sticky toffee has leapfrogged over more venerable puddings to appear on menus across the country, guaranteeing diners leave the table with a satisfied sigh and waddle. But where there is success, there's always a scrap.
The Scottish connection
There are three competing claims to the invention of sticky toffee pudding. The Scots, on the grounds that no one loves sugar better than they do, insist it was first served in the Udny Arms Hotel in Newburgh-on-Ythan, Aberdeenshire, in 1967. It still appears on the menu, served with clotted cream ice cream, and the recipe is given to guests who can't leave the hotel without knowing the secret.
Or could it be a Yorkshire dish?
Yorkshire, never being shy of a fight, boldly claims that sticky toffee pudding was invented in 1907 by the landlady of the Gait Inn in Millington. Current landlord Stuart Stephenson, however, is having none of it: "We still serve sticky toffee pudding here but don't know the origins. Many people drop in to try it and we don't know whether there's a bogus story linking us to the pudding on the web."
Cumbrian claim
The final claimant is Cumbria. In 1948 Francis Coulson opened the Sharrow Bay Hotel in Ullswater and in 1960 an "icky sticky toffee sponge" appeared on the menu. Coulson is said to have got the idea from a recipe by Mrs Martin of The Old Rectory in Claughton, Lancashire, who in turn had got the recipe from a Canadian friend, making sticky toffee pudding about as British as maple syrup and poutine.
Sharrow bay
However, its Coulson's version that the majority proclaim as the original and the Sharrow Bay Hotel keep his recipe safely locked away in a vault. Staff have to sign confidentiality agreements, as do guests taking part in cookery demonstrations after one bold couple tried to film the demo and posted the video on YouTube.
The Sharrow Bay Hotel sell their puddings online if you want a taste of the original without a trip to the Lake District, but recreating it at home isn't too hard, in spite of the secrecy. Chefs and food writers such as Simon Hopkinson, Gary Rhodes and Jane Grigson have reverse-engineered the dish and my version takes its cues from them. The sponge is light and rippled with squidgy chopped dates – a delicate foil to the rich toffee sauce. Click here for my recipe.
Still got room for seconds?
Gary Rhodes' bread and butter pudding
The first rule of pudding club is...
Simon Rimmer's chocolate fudge pudding
Bruce Poole's hot chocolate pudding
Be the first to comment
Do you want to comment on this article? You need to be signed in for this feature