'How to cook like Heston' challenge: Erik Jensen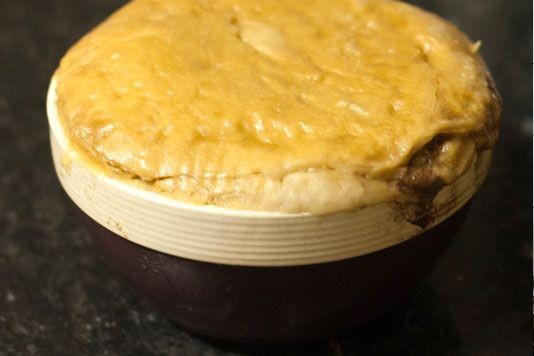 We're three weeks into our `How to cook like Heston' challenge (where you can win a tour of Heston's lab!) and your results just keep on coming
So who watched 'How to cook like Heston' on Channel 4? Well we did, and found ourselves thinking 'would anyone actually try to cook these recipes?' So we put the challenge out to our Twitter followers to see if the delightful Mr B's techniques are achievable in a normal domestic kitchen by an average person.
Fiona Maclean bravely accepted the challenge to cook chilli con carne with cornbread muffins 'like Heston' which you can read about here. Qin Xie attempted Heston's steak technique, as did Neil-Hennessy-Vass, which you can read about here. Erik Jensen, however, opted for the oxtail pudding, here's how he got on.
Erik Jensen
I'd completely missed the new Heston Blumentahl cooking show until I saw the challenge on Lovefood.com. I've always admired Heston and longed to try his food, so what better, cheaper way than by cooking it myself. I was dying to try the Oxtail and Kidney pudding. I've always been a fan of a good meaty pie, so when the challenge was set I couldn't resist. Having studied the recipe I realised this wasn't going to be a quick supper, so I had to set aside a good few hours, this couldn't be a midweek dinner.
Sweat the veg
The ingredients are simple enough: carrots, leek, onion celery, your basic casserole base, and nothing too fancy going on with the seasoning and herbs. Chuck 'em in a pan, let them sweat a bit before getting to the main attraction.
Tail time
I've only ever cooked with Oxtail once, and that was to make soup; on that occasion the old jar of Heinz won the battle. I was really impressed at how cheap it was and I knew it would pack a punchy flavour, so I was pleased to find a recipe that could do something more substantial with a great underused cut of meat.
Browning off the oxtail was simple enough although the oil does splash quite a bit. The bit I was looking forward to though was deglazing the pan with brandy and red wine lit with a match. Nothing says showmanship like playing with fire in a domestic kitchen.
After returning all the key players back to the pan things start to come together, the smell of the star anise, red wine and brandy fill the kitchen and start the taste buds tingling, pity I have to wait almost four hours before I can eat it.
After much effort...
Three hours in the pan and it's time to let out the inner Viking in me, stripping the cooked meat from the bone with my bare hands. There's something quite therapeutic about it and feeling the meat fall off the bone reassures you that you're creating something good.
Perfect pastry
The problem I have here though is all that chopping, sweating, simmering, deglazing and all I have to show for it is a little pile of meat and a bowl of gravy. It seems like an awful lot of effort to get that extra bit of flavour into the dish, but with any luck it's going to be worth it.
I've never made suet pastry before, but the recipe was easy to follow, I just found the dough a bit too stiff to achieve the 3mm thickness, but I've never been one to complain about a lack of pie crust. I had to alter the recipe a bit here as I was going for a big family size pudding rather than individual portions. Firstly it's just a bit chefy, and secondly my wife would have killed me if I'd dirtied any more pots.
In with the kidneys
Trimming the kidney was easy but I was a bit unsure about slinging raw offal into the cooked meat. I personally would have liked to see it browned off first, but life's dull if you don't take chances. As I had a bigger pudding I upped the steaming time, I figured a good hour would do it, so it steamed away while we put the kids to bed.
Nearly there...
Things were looking good, a moist golden crust firm to the touch. Being unsure about the cooking time I stuck a thermometer into the centre to make sure it was cooked through, and we were good to go. Just one last job... the sauce injection
Luckily for me my line of work means I have a few syringes lying around, otherwise I may have been raiding the kids' Calpol box. I'm not sure this achieved any more than pouring it over the served dish would have done, but it wouldn't be Heston without a bit of laboratory equipment in the kitchen.
The result
They say the proof of the pudding is in the eating. I was pleased with the results. It was good methodical cooking and produced a great dish, but a little disappointing, the flavour was there, the texture everything but it didn't have that Heston magic that I wanted to recreate, that little bit of the wizard stepping out from behind the curtain. I guess I'll have to keep dreaming of that trip to the Fat Duck to experience that.
Want to join in?
Thank you Erik. If you want to join in and potentially win a tour of Heston's lab!, just register with lovefood, pick a recipe from the show, attempt it properly, and let us know how you got on by sending some pics and a few hundred words by email to contactus@lovefood.com
Terms
Our standard competition terms are here. You must be a registered user of Lovefood.com to enter. The editor's decision is final.
More Heston heroes
'How to cook like Heston' challenge: Qin Xie
'How to cook like Heston' challenge: Fiona Maclean
Be the first to comment
Do you want to comment on this article? You need to be signed in for this feature