Top 10 eye-catching Easter eggs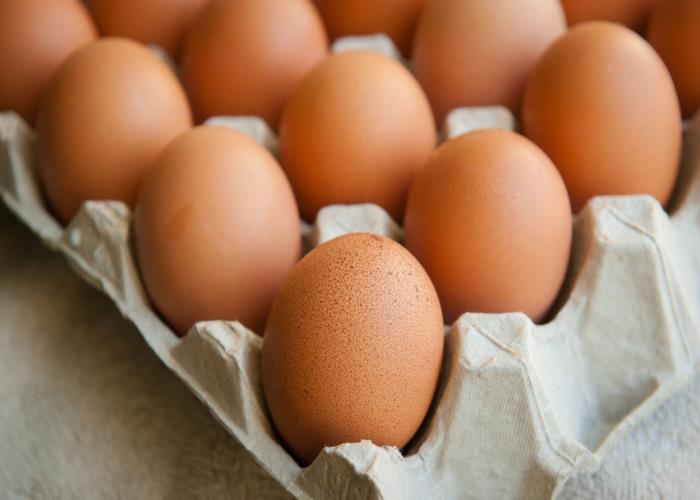 Long gone are the days of Mini Eggs or Cadbury Caramel. now we're overwhelmed with Easter egg choices. So how are you supposed to decide? We've narrowed it down to 10 favourites.
The Queen, the Queen Mother and Prince William have all tried chocolatey creations from master chocolatier Barry Colenso, whose Luxury Artisan Origin Egg had us drooling over our keyboards. It's freshly made just days before ordering (free delivery as standard) and hidden inside the 40% cocoa milk origin chocolate shell are eight award-winning truffles, including pink Champagne, salted caramel and encrusted hazelnut truffles. You can even add a bow and a message, written in white chocolate, on your egg if so desired.
Price: £19, available online only.
We're a sucker for anything made by Bettys in Yorkshire, and think their farm animal Easter eggs are a hoot. The Milk Chocolate Gloucester Old Spot Pig egg is made from Swiss chocolate, stippled with dark Grand Cru chocolate, and hand-decorated with a jolly white and dark chocolate Gloucester Old Spot pig, sitting among spring flowers. You can also buy a trio of Gloucester Old Spot pigs by themselves, or opt for the White Chocolate Swaledale Sheep option.
Price: £13.95 for an Easter egg, available at Bettys shops and online.
I love Freddos – they're the perfect amount of chocolate if you need a fix but want to leave room for dinner. I've been buying the odd one here and there since I was a whippersnapper, so I shall be asking for the Cadbury's Freddo Egg this Easter. You get a Cadbury egg (we've all been given one of those over the years), a Freddo bar, and a Freddo soft toy – 'a cute and tasty Easter treat for the little ones'… and for twenty-something journalists too, of course.
Price: £3.49, available from most supermarkets.
Sea Salted Caramel Filled Egg – a picture-perfect creation by master chocolatier Paul A Young, made from 64% Madagascan chocolate and filled with Paul's famous buttery, award-winning sea salted caramel. We love how it comes served in a porcelain egg cup, complete with spoon, and the Jackson Pollock-esque yellow, green and orange 'splat' decoration on the front is pretty groovy. Paul is also selling a Hot Cross Bun Brownie and an Easter Egg Hunt Kit this year, among other delights.
Price: £19.95, available from Paul A Young shops across London.
Any chocolate aficionado will tell you that Valrhona chocolate (a luxurious French brand) is probably the best chocolate in the world. The Easter eggs made by The Chocolate Society are all made from Valrhona and are produced in small batches by their head chocolatier, who hand decorates each dark, milk, white or 'blonde' chocolate egg. Our favourite is the Swirled Easter Egg, which is made by layering thin stripes of different coloured chocolate over each other on a marble table, by hand.
Price: £12.95, available online only.
Not a fan of chocolate eggs? You can celebrate Easter with biscuits instead, thanks to Millie's Cookies. You could share one of their Iced Giant Cookies with the whole family on Easter Sunday… pick either a 'chick' or 'bunny' cookie, made from their famous chocolate or choc chip cookie dough, and finished with a hand-piped Easter message. They also do a range of Easter Cookie Cupcakes, which come topped with a nest of miniature chocolate eggs.
Price: £13.99, for an iced giant. Available at stores nationwide.
DIY Easter eggs were fashionable last year, and this Stas Chocolatier Easter Egg Head has survived the test of time. It's the perfect Easter gift for kids, who will love getting their hands messy when decorating the egg. Stick on the milk chocolate moustache, nose, eyes, ears, eyebrows and teeth with the 'chocolate goo' (it will stay soft for some time, while you wiggle the moustache into position), and then demolish with all the family.
Price: £9.99, available from Waitrose.
We couldn't help but smile when we saw Hotel Chocolat's You Crack Me Up Extra Thick Easter egg. The chunky shell is made from 40% cocoa house milk chocolate, and inside hides piped smiley faces filled with chocolate brownie, pralines with cookies, fried eggs with melt-away hazelnut paste, solid bunnies, and chicks cast in milk and caramel chocolate. Definitely the happiest egg we've seen this year.
Price: £27, available from Hotel Chocolat stores and online.
Phew, there's enough chocolate on this page to sink a ship. But there's room for more, I think... because this year Lindt has released their 'thickest, most decadent Easter Egg yet'. The Lindt Heavenly Hazelnut Egg, which I first spotted while on holiday in Venice, is made from smooth milk chocolate rolled in roasted Piedmont hazelnuts, which is then generously coated in a final chocolate layer for extra oomph. It comes wrapped in a pretty yellow bow, and should be nibbled over a very long period indeed.
Price: £19.99, available online and from most supermarkets.
Go on, be brave! All you need is chocolate and a balloon to make your own Easter egg… I tried it in the lovefood kitchen, and it worked a treat (with a few hiccups along the way). It's the only way to give a truly unique Easter egg, and would be a great project to do with the kids in the run up to Easter Sunday. Just be prepared for messy fingers, and lots of licking the bowl clean.
Price: depending on what chocolate you use, it will cost you between £5 and £12 to make your own Easter egg.
Perhaps the prettiest Easter gift one could wish for. You may have seen these 'Sweet Trees' about last Christmas... it's a mother and daughter team who make the 'trees' out of different chocolates and sweeties, which are then displayed in either a terracota pot or glass vase, complete with edible stem for certain varieties. For Easter they've made everything from Mini Egg to Malteser, Smarties, Rolo and Fried Egg Haribo trees, starting from £9.99 each. Our favourite is the Malteser Nest... although it won't last for long in this office.
Price: £12 for a Malteser Nest tree, available online and in selected Waitrose stores.
You might also like
Be the first to comment
Do you want to comment on this article? You need to be signed in for this feature