A local's guide to food and drink in Latvia
Perched on the Baltic coast, Latvia might be small and too often overlooked as a holiday destination but its cuisine is as diverse as its past. From smoked, cured and grilled riches of the sea to hearty, meaty numbers with origins in the Caucasus region, Latvian native and writer Karlina Valeiko takes you through what this compact country has to offer.
What's so special about Latvian food?
Any Latvian will tell you that we've forged a very special relationship with nature – we pick, hunt, forage, smoke, cure, pickle and ferment everything we can get our hands on. With four distinct seasons, it's seasonality that dictates what's on our plates. Spring brings mountains of baby vegetables, almost nothing but freshly-picked berries are eaten in summer and apple harvest in autumn marks the start of winter food prep. Once a thick layer of snow covers the ground and temperatures fall to -20°C, we raid our pantries and dig into jars of pickled veg, chutneys and jams. Latvian food is all about comforting, soul-soothing and caring home cooking with every bite resembling a warm hug.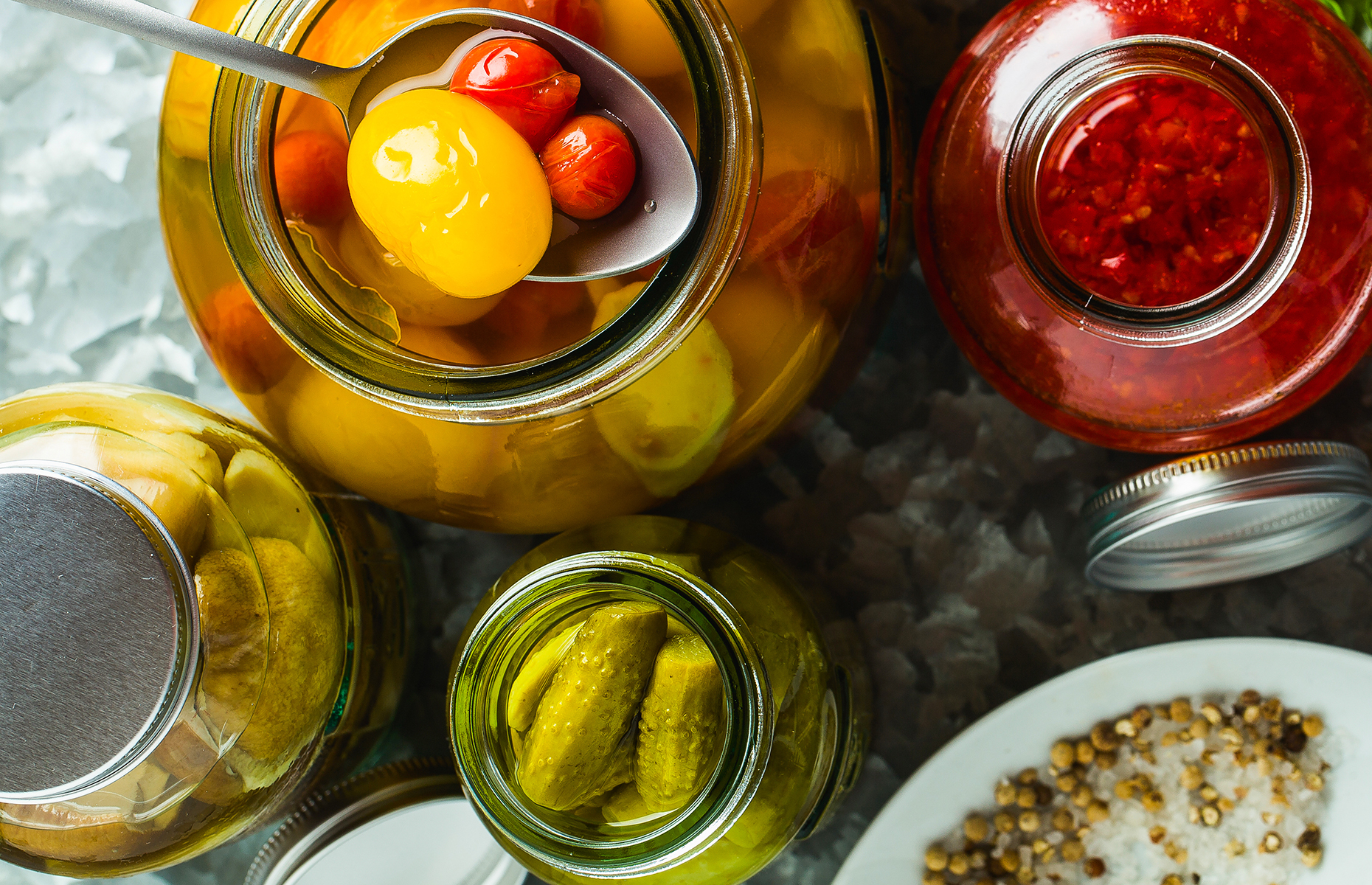 IriGri/Shutterstock
Top 5 ingredients in Latvia
Potatoes
A humble ingredient, you'll find potatoes as a side to most mains throughout the year. In summer, new potatoes are parboiled, then sauteed in butter with chopped dill or wrapped in foil and roasted skin-on in the coals of a fire pit. The end of summer is defined by potato harvest when city dwellers flock to the countryside to help relatives pick the last of summer's offering, returning home with bags of spuds enough to last them until spring. During winter, potatoes are boiled, pan-fried, turned into a creamy mash or grated into rostis.
Pork
Pork is the most eaten protein in the region by a mile, largely due to the fact that other meats historically have been more expensive. Plus Latvians have certainly found a way to diversify their cuisine using the same ingredient – I can easily think of at least 20 different pork dishes that each taste differently. A childhood favourite includes a cream sauce with pork mince and pork schnitzel. These days, whenever I visit Latvia, I'm on the lookout for pork kotletes – a cross between a burger and a meatball. Every cook in Latvia has their own secret mix recipe and I love to add finely chopped dill for a herby flavour and a dollop of sour cream and milk-soaked white bread to keep the patty soft and juicy.
READ MORE: A local's guide to exploring Riga.
Dry-curd cottage cheese
Quite possibly one of the most versatile ingredients in any Latvian fridge, this unique type of cheese can be used in both sweet and savoury dishes. A popular breakfast food, it can be mixed with jam or sour cream and eaten with various toppings like seeds or finely sliced radishes. It's a classic side to a Swedish-inspired marinated herring and boiled potato dish and can also be used to make pancakes or dumplings. This type of cottage cheese is often used in a variety of desserts too, especially cakes and traybakes. In one of the most popular sweet treats, biezpienmaize, cottage cheese is mixed with double cream, eggs and raisins and baked in a square tin with a shortbread-like base. The final result resembles a type of a cheesecake.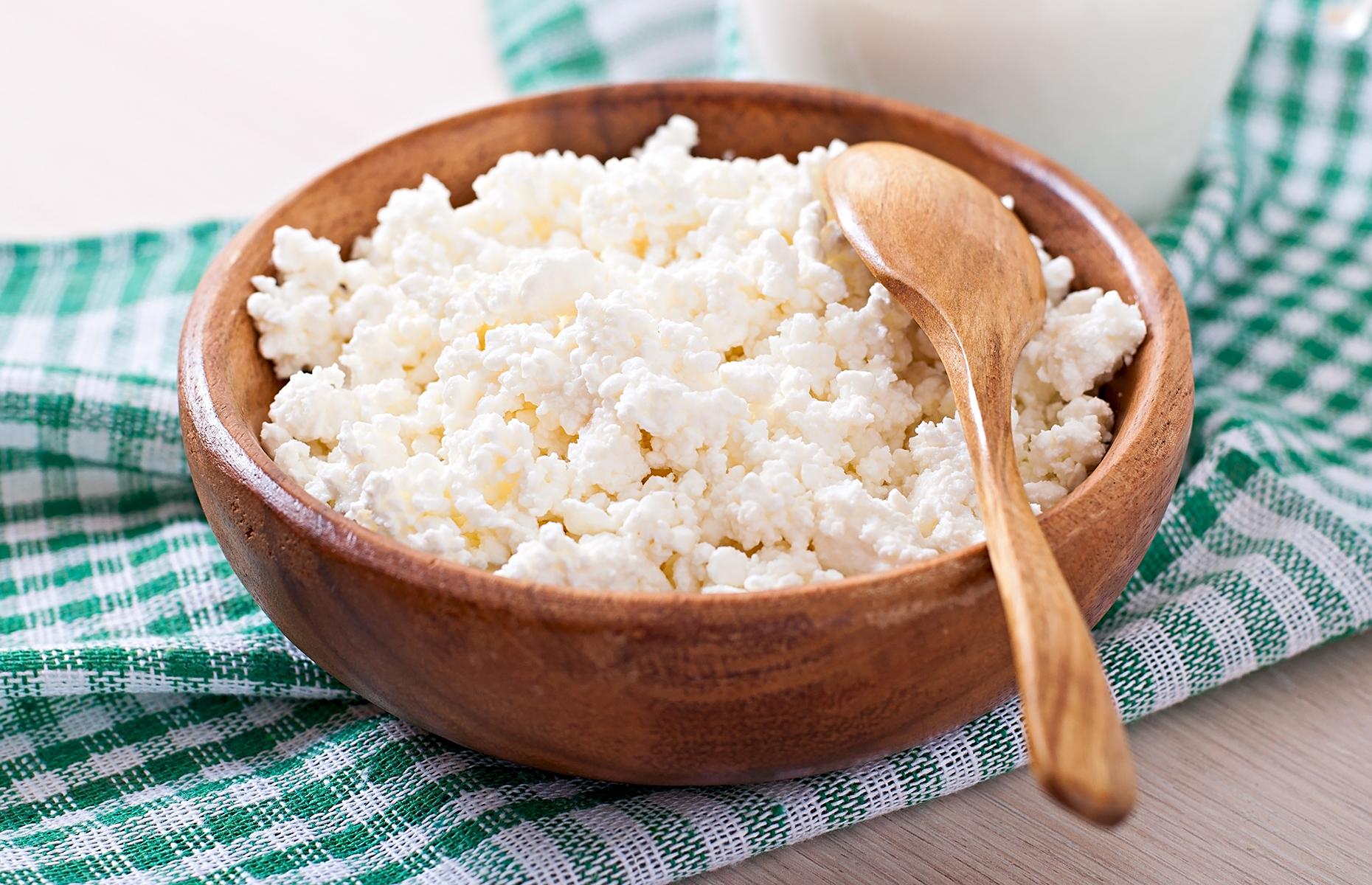 Timolina/Shutterstock
Tomatoes and cucumbers
It's not a Latvian allotment if there isn't a mini greenhouse with tomatoes and cucumbers. The quintessential taste of Latvian summer is a garden salad made with finely chopped cucumbers and tomatoes, dill and sour cream. Come end of summer, Latvian kitchens are turned into pickling factories, preserving as much of the summer's bounty for winter as possible. Tomatoes are sliced and stacked in jars with white onions rings, pickled or turned into a variety of chutneys and relishes, while cucumbers are pickled or cut into fermented slaws.
Summer berries
Latvian summers might be short, usually the weather's at its best between end of June and late August, but they're definitely sweet with a generous offering of summer berries. Strawberries, raspberries, blackberries, blueberries, redcurrants, blackcurrants and gooseberries all make an appearance in a variety of summer desserts and are later made into a variety of jams and jellies for winter. For me, nothing beats a bowl of berries with fresh milk and a light sprinkling of sugar.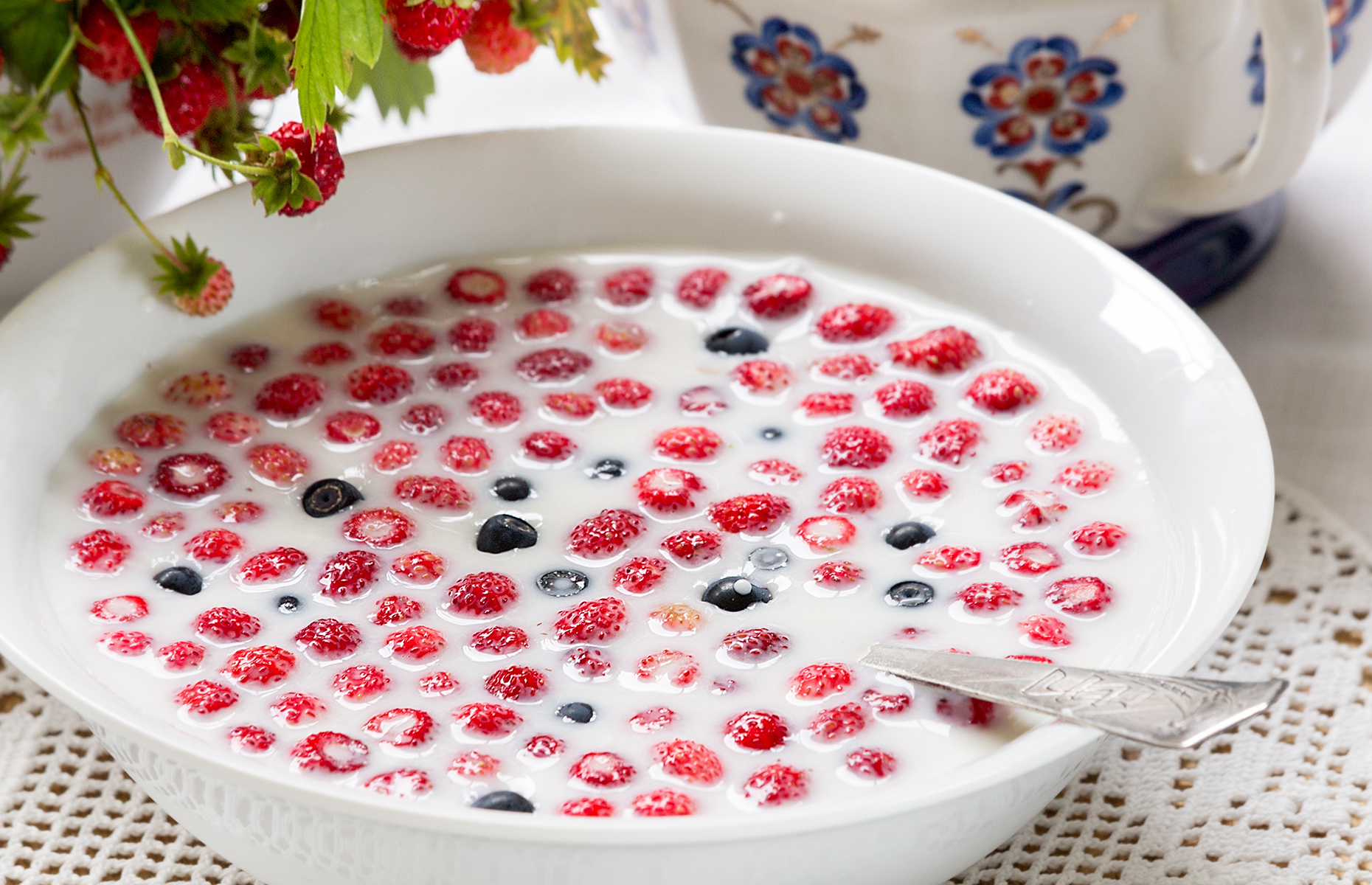 Vo - Yggdrasill/Shutterstock
What dishes to try in Latvia
Stewed sauerkraut
Hot stewed sauerkraut is a winter staple, especially around Christmas. Unlike German sauerkraut, Latvians have different types of pickle used to ferment the cabbage – the dominating flavour in the pickle can be sweet, salty or sour. When stewing sauerkraut, it's most important to fry off a base of onions and cubed pork belly that'll help develop a rich, comforting flavour. Other common additions include caraway seeds and grated carrot. A classic sauerkraut meal includes soft-boiled potatoes and a fried smoked sausage or an oven- or pit-roasted meat – order a roasted pig's snout if you see one.
Rye bread pudding
A beloved dessert, this unusual pudding combines tangy, sweet and savoury flavours. This layered dish is made with thick cranberry or lingonberry sauce, sugary whipped cream and crunchy fine black rye bread crumble and is unique to Latvia. Often served at family gatherings, this is another recipe that has as many variations as home cooks who make it.
Smoked fish
With the Baltic Sea on our doorstep, several large rivers snaking their way through the country and countless lakes peppered across the land, there's an abundance of fish in Latvia. Fishermen in villages along the Baltic Sea coast have been hot- or cold-smoking their catch of the day for centuries. Particular attention is paid to the wood used to create the smoke as it has a big impact on flavour – most popular types include alder, birch and maple.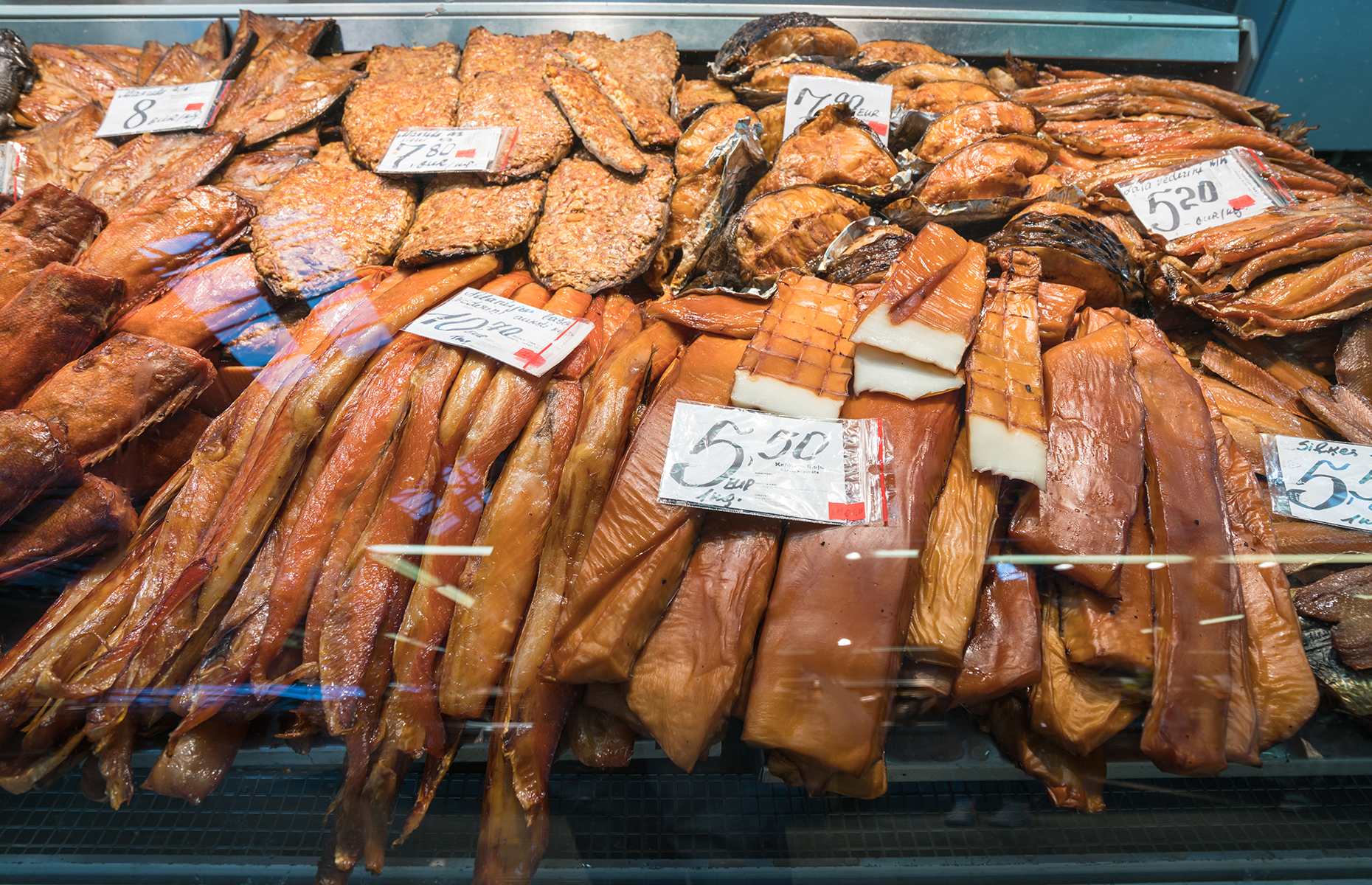 EvijaF/Shutterstock
Shashlik
These succulent meat skewers that originate from the area of modern Armenia and Azerbaijan are now much loved across the Baltics as well. No summer barbecue is complete without shashlik and lots of casual cafes now serve it as a permanent part of their menu. Marinated in vinegar with lots of onions, black pepper and herbs, the cubed meat is then skewered and grilled over hot coals. For the best experience, go to an Armenian restaurant that serve theirs wrapped in a thin bread called lavash that soaks up all of the juices seeping out of the meat.
Grey peas with speck
An indispensable part of any Christmas or New Year's fest, this dish has been around for centuries and is one of the fair few recipes that's not borrowed or adapted from a different nation. Historically, Latvians were peasants ruled by foreign powers and during this time, a typical diet was mostly vegetarian with small amounts of meat eaten only on special occasions. Similar to chickpeas, grey peas are soaked and then boiled before a stew with fried onions and cubed speck (a type of smoked fatty bacon made from pork belly) is made. It's a very hearty meal and a much loved comfort food during the cold, gloomy winters.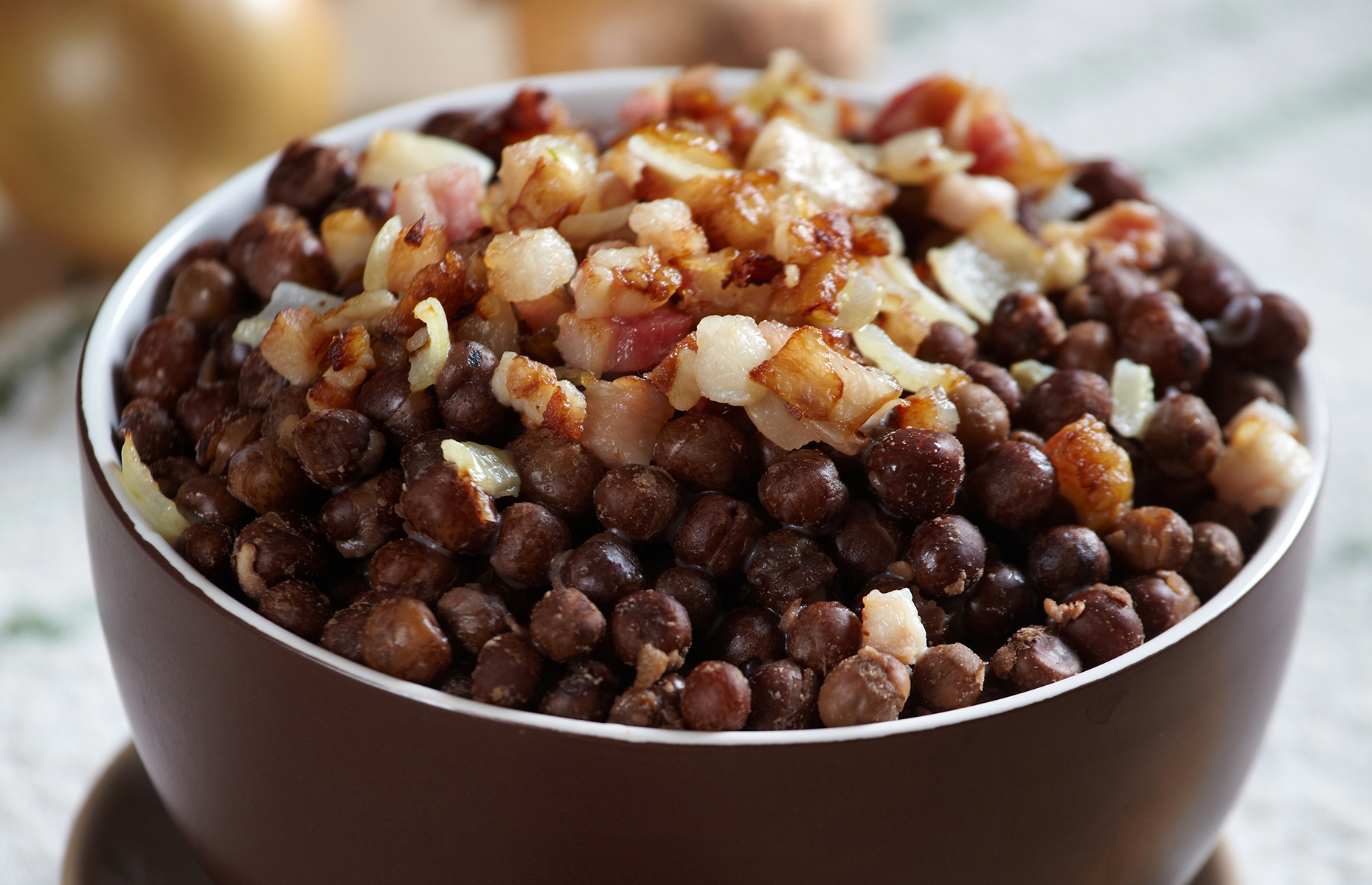 MaraZe/Shutterstock
What to drink in Latvia
Beer
The abundance of grains grown in the flat farmlands of Latvia means that every city, mid-sized town and country house has its own brewery. Many types of beer are produced all across Latvia, from a pale lager to a German-style dunkel. However, the most popular and, frankly, the best beer is 'live beer' – unfiltered and unpasteurised lager. It has grown in popularity in the last decade, meaning Riga's coolest bars will have a selection of 'live beer' on tap.
Riga Black Balsam
Something reminiscent of Jägermeister, Riga Black Balsam is a herbal bitters liqueur made from mixing vodka and natural ingredients, like herbs, flowers and berries. It can be enjoyed on the rocks, even though it has a serious kick (it has an alcohol concentration of 45%) or, ideally, with blackcurrant juice. It can also be made into a warming wintery cocktail with the bitters boiled with apple juice and cinnamon or lemon peel – something reminiscent of a hot toddy.
Herbal tea
Most Latvians can pride themselves on owning a tea box with a rather extensive selection of herbal teas. Part of our connection with nature means we believe in the natural properties of the various plants so lots of these herbal teas are used as natural remedies for a variety of ailments. Chamomile and peppermint are among the more popular, however, dried linden flowers, rose hip and echinacea plants are common as well.
All about preserving
Historically, the long and harsh winters meant the food was scarce and people had to find ways to preserve enough of the summer's harvest to last them throughout the colder months. This tradition of fermenting, preserving, curing and pickling still lives on. When it comes to vegetables, fruit and berries, there isn't much produce that a Latvian doesn't know how to preserve. One of the top things to try, that's quite unique to Latvia, are cucumbers cured in salted water. The cucumbers are submerged in boiling salted water with garlic cloves, black peppercorns and lots of dill stems and then left to chill for a few hours. The cured cucumber still retains its bright green colour and crunchiness but has a deliciously salty flavour.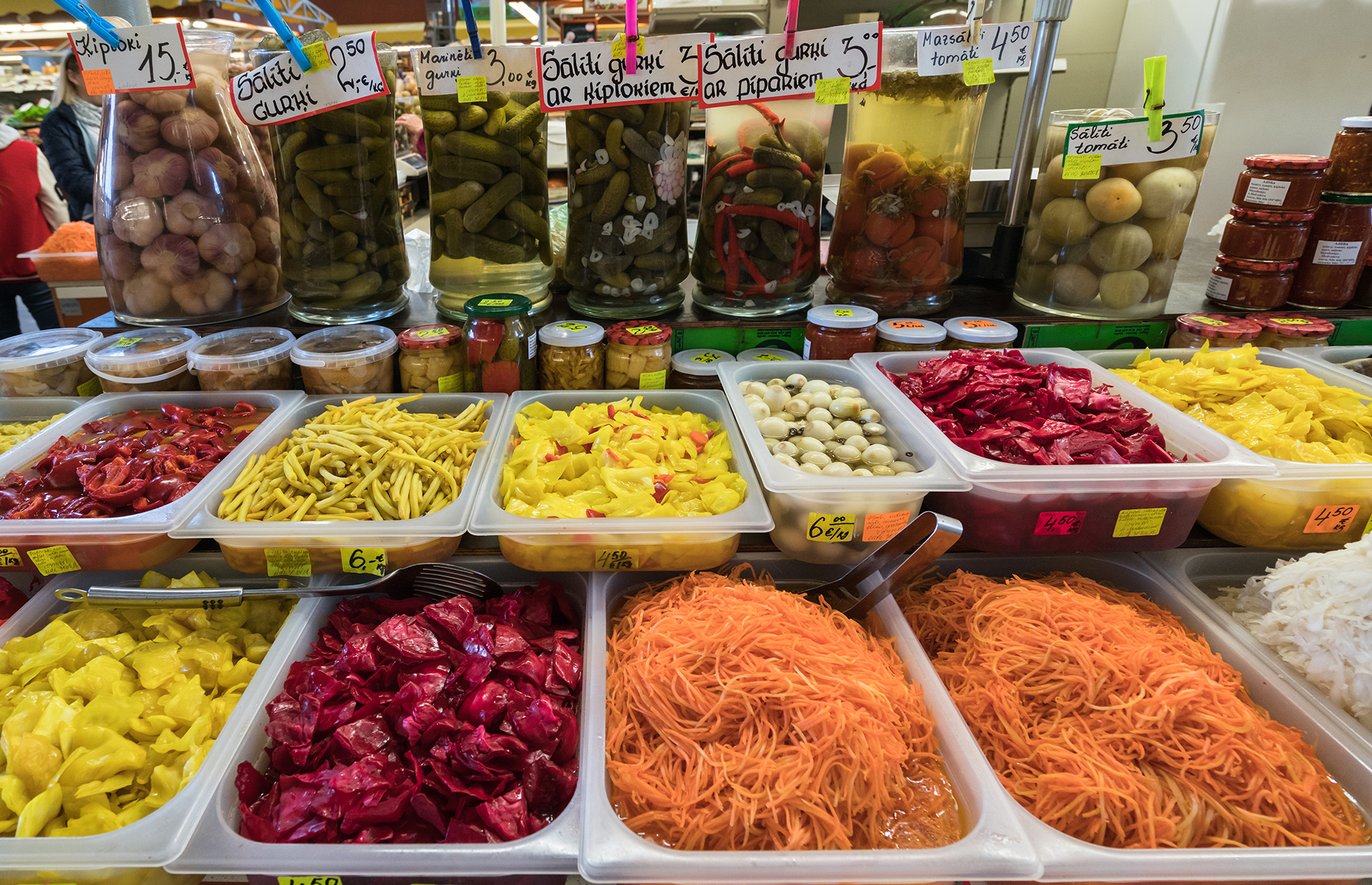 EvijaF/Shutterstock
Where to eat in Latvia
Traditional
Lido: A homely and friendly bistro-style eatery, Lido is a popular lunch and dinner destination among locals and visitors alike. Expect rustic wooden tables, servers dressed in traditional Latvian dress and lots of beige, carby and incredibly delicious food (£3.50 for a two-course lunch set menu).
Armenia: Sample a taste of Armenia and Caucasus cooking at this brilliant restaurant in the heart of Riga. Start with a Georgian classic gaining popularity in the West – khachapuri, then go for a pork or chicken shashlik and don't forget to ask for lavash (mains £8 – £15).
Key to Riga: A traditional restaurant set to the medieval backdrop of Old Riga, it serves big, hearty meals that have been eaten in this region for centuries. If you're ever going to go all out and have a whole roasted pork shank with potatoes and hot stewed sauerkraut, this where to do it (mains £8.90 – £35.60).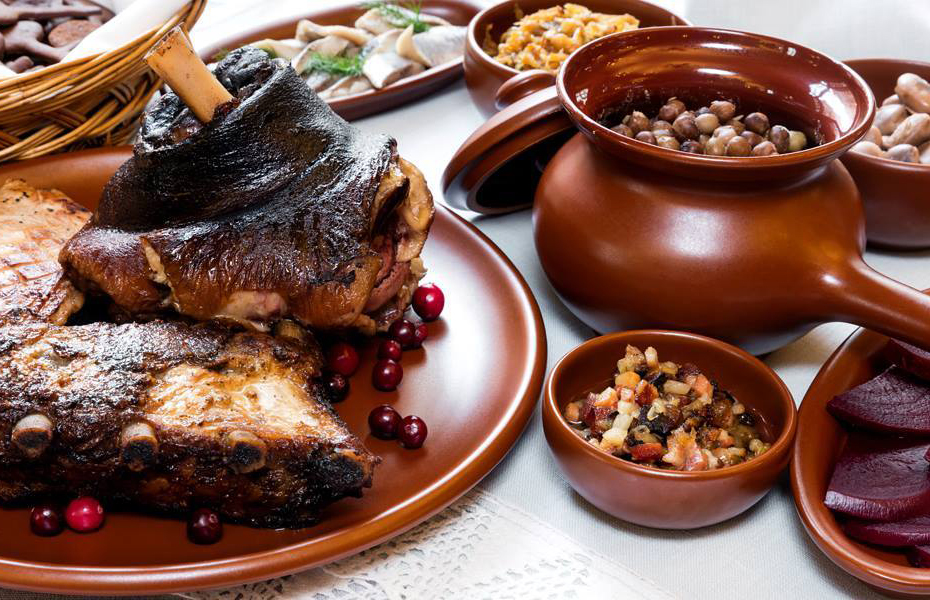 Rīgas Atslēga/Facebook
Fine dining
Valmiermuiza's Beer Embassy: Located slightly off Riga's well-trodden tourist path, the beer embassy is an extension of one of the country's best beer breweries that pairs modern Latvian food with excellent pints. Pick your protein (we love the blood sausage or the pork belly), pair it with a selection of pickles and ask your waiter to help you with the beer pairings (£13 for main, pickles and dessert).
Ferma: When strolling around the Art Noveau district of Riga, stop by this restaurant for a truly excellent meal. The menu features a myriad of local ingredients made into modern and beautiful plates of food (mains £8.90 – £23).
Biblioteka No1: One of the country's best contemporary restaurants, the chefs here plate up unusual dishes that combine local produce with classical cooking, resulting in a Latvian take on haute cuisine. Overlooking one of Riga's most beautiful parks, it's a fitting setting for a celebratory meal (£54 for a seven-course tasting menu, £121 with wine pairings).
What to bring home from Latvia
You'll find everything you need in the Riga Central Market – one of Europe's largest food markets housed in five First Word War Zeppelin aircraft hangars plus a vast outdoor trading space. Although it's unlikely you'll be able to bring foods like sauerkraut or smoked fish home, the vendors are extremely friendly and will let you try a little bit of their produce (most foods are sold by weight here).
Black rye bread: A typical Latvian supposedly eats around 50kg of rye bread a year so a visit to Latvia wouldn't be complete without trying this staple. Try a classic black rye, a sourdough rye and one of the seeded varieties – my favourite is a sourdough rye with grated carrot and seeds.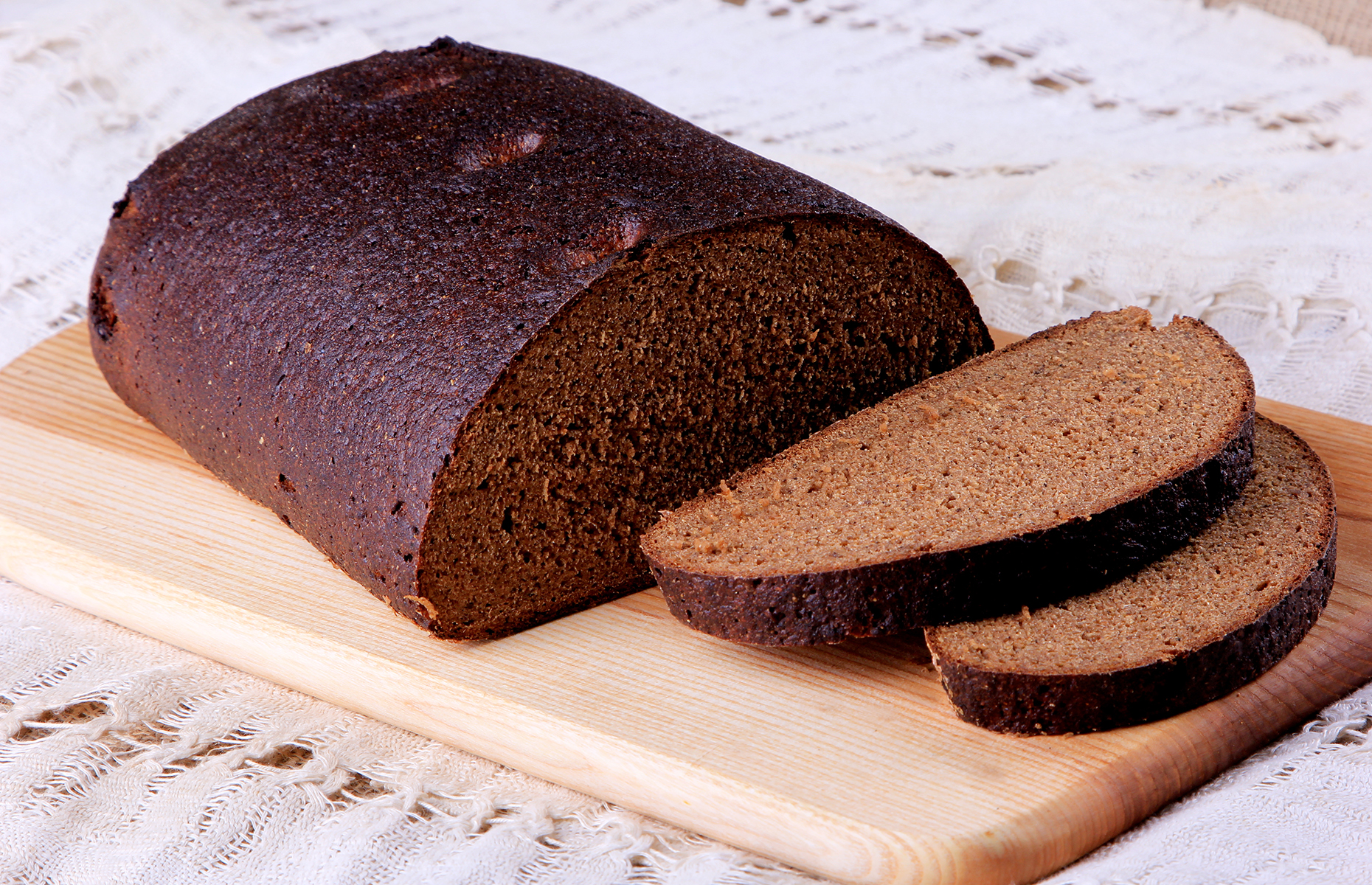 Aigars Muiznieks/Shutterstock
Wildflower honey: There are countless varieties of honey available and it's one of the best places to buy it straight from the beekeepers and taste a little sample to choose what you like best. If you're after something more unusual, go for buckwheat honey. It's a lot darker and thicker than some of the other honeys and has a very particular flavour – it's less sweet with a slightly bitter tang. If you've got a serious sweet tooth, order a honey cake as soon as you see it on the menu. Honey-infused layers of spongy pastry are stacked with sweetened sour cream frosting in between and topped with a fine crumble.
Herbal tea: The variety of herbal teas sold here is sometimes hard to comprehend but if you have to pick one, go for dried linden flower tea. It has a fruity and slightly sweet aroma that matches its flavour. Linden flower tea is said to have calming properties that help to relieve stress, high blood pressure and migraines.
Riga Gold sprats in oil: Produced in Latvia since the 19th century, these tiny smoked sprat fillets in oil have always been extremely popular east of the border. The sardine-like fish are abundant in the Baltic Sea and taste brilliant when eaten with a slice of rye bread.
Be the first to comment
Do you want to comment on this article? You need to be signed in for this feature