James Martin's tagliatelle with salmon recipe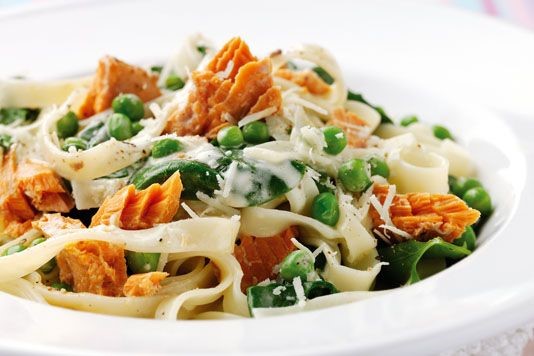 James says, "Salmon is incredibly nutritious, bursting with protein and Omega 3. It's full of flavour and extremely adaptable, making it perfect for a variety of simple family suppers. Add to your store cupboard essentials and you'll never be stuck for choice."
Ingredients
300 g dried tagliatelle
360 g tinned red salmon, drained
25 g unsalted butter
150 g fresh peas (frozen if not available)
100 g washed spinach leaves
200 g low-fat crème fraiche
10 g chopped flat leaf parsley
25 g grated fresh Parmesan
1 drizzle of olive oil to serve (optional)
10.6 oz dried tagliatelle
12.7 oz tinned red salmon, drained
0.9 oz unsalted butter
5.3 oz fresh peas (frozen if not available)
3.5 oz washed spinach leaves
7.1 oz low-fat crème fraiche
0.4 oz chopped flat leaf parsley
0.9 oz grated fresh Parmesan
1 drizzle of olive oil to serve (optional)
10.6 oz dried tagliatelle
12.7 oz tinned red salmon, drained
0.9 oz unsalted butter
5.3 oz fresh peas (frozen if not available)
3.5 oz washed spinach leaves
7.1 oz low-fat crème fraiche
0.4 oz chopped flat leaf parsley
0.9 oz grated fresh Parmesan
1 drizzle of olive oil to serve (optional)
Details
Cuisine: Italian
Recipe Type: Main
Difficulty: Easy
Preparation Time: 2 mins
Cooking Time: 15 mins
Serves: 4
Step-by-step
Place a pan of salted water on the stove, bring to the boil and cook the pasta according to packet instructions.
Melt the butter in a large sauté pan over a medium heat. Add the peas and John West Salmon and cook for 1 minute.
Add the spinach to the pan and allow to cook slowly for 1-2 minutes.
Drain the cooked pasta and add to the salmon sauce along with the crème fraiche, gently warm, but do not allow to boil. Season to taste.
Remove from the heat, place into serving bowl(s) and sprinkle with the parsley and Parmesan cheese. Serve with a drizzle of olive oil (optional).
Thanks to John West red salmon for the recipe.
Also worth your attention:
Uig Lodge - Award-winning smoked salmon
Be the first to comment
Do you want to comment on this article? You need to be signed in for this feature