Chocolate chip and walnut cookies recipe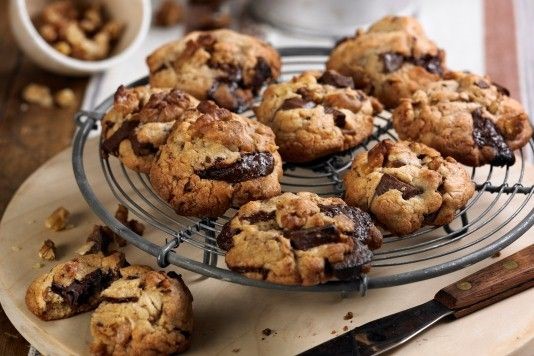 Michael Caines' favourite cookies come studded with dark chocolate chunks and walnuts
Ingredients
220 g Unsalted butter
255 g Caster sugar
115 g Soft brown sugar
2 tsp Vanilla extract
2 Eggs
315 g Plain flour
1 tsp Baking powder
1 tsp Salt
450 g Dark chocolate pieces, 70% cocoa solids
290 g Walnuts, chopped
7.8 oz Unsalted butter
9 oz Caster sugar
4.1 oz Soft brown sugar
2 tsp Vanilla extract
2 Eggs
11.1 oz Plain flour
1 tsp Baking powder
1 tsp Salt
15.9 oz Dark chocolate pieces, 70% cocoa solids
10.2 oz Walnuts, chopped
7.8 oz Unsalted butter
9 oz Caster sugar
4.1 oz Soft brown sugar
2 tsp Vanilla extract
2 Eggs
11.1 oz Plain flour
1 tsp Baking powder
1 tsp Salt
15.9 oz Dark chocolate pieces, 70% cocoa solids
10.2 oz Walnuts, chopped
Details
Cuisine: British
Recipe Type: Snack
Difficulty: Easy
Preparation Time: 75 mins
Cooking Time: 15 mins
Serves: 12
Step-by-step
Preheat the oven to 160C/140C fan/gas 3.
Cream together the butter, caster sugar, brown sugar and vanilla extract.
Gradually add the eggs and mix until the mixture is fluffy.
In a separate bowl, sieve the flour, salt and baking powder together, then fold into the wet mixture gently.
Finally, add the chocolate and walnut pieces and bring the mixture together in your hands.
Rest the mixture for 1 hour in the fridge, then roll into small balls and place onto a baking tray with a 5 cm gap between each ball.
Bake for 12 - 15 minutes.
Cool on a cooling rack and store any that you don't eat right away in an airtight container.
Also worth your attention:
More recipes from Michael Caines
TV Show: Perfect… is new and exclusive to Good Food, Monday to Wednesday at 7pm from 16th January 2012.
Eric Lanlard's chocolate chip cookies
Be the first to comment
Do you want to comment on this article? You need to be signed in for this feature