Make it don't buy it: piccalilli
Piccalilli isn't one of those foods we give much thought to these days. Perhaps you have a jar of this yellow pickle lurking at the back of the cupboard, or enjoy it as part of an occasional Ploughman's or with cold meats.
Shop-bought versions of piccalilli can err on the sweet or synthetic-tasting side, and have alarmingly lurid sauces, so making your own is well worth the effort. But what exactly goes into the traditional recipe, where did the dish come from and how do you make piccalilli at home?
What is piccalilli?
Piccalilli is an anglicised version of traditional pickles from India and South Asia. Pickles are "a milder version of the achars of Madras and Mumbai," says Larousse Gastronomique. Hannah Glasse included a recipe for "Paco-Lilla or India Pickle" in her 1758 tome Art of Cookery, but the first mention of 'piccalillo' was in a 1769 book called The Experienced English Housekeeper.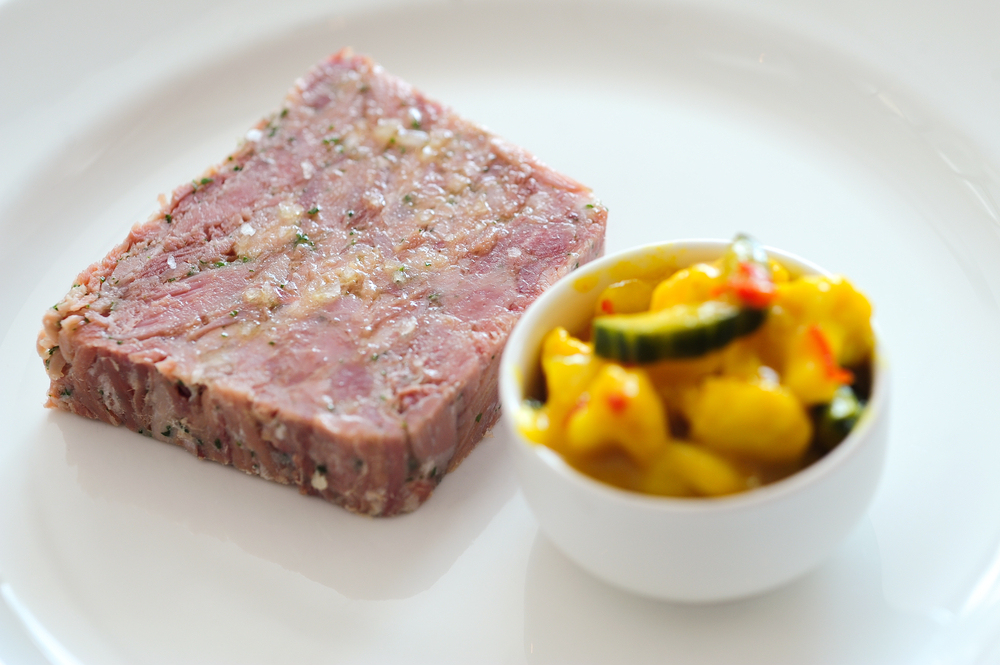 Stanjoman/Shutterstock
How do you make piccalilli?
According to Larousse, piccalilli consists of "small florets of cauliflower, sliced gherkins, shallots and other vegetables." You'll also find the triumvirate of cauliflower, gherkins and onions in Hayward's Piccalilli, which is probably Britain's best-known brand. Homemade versions typically make the most of gluts of vegetables including courgettes and marrows.
Piccalilli's distinctive yellow hue comes from the addition of turmeric. Mustard gives it a kick, with English mustard powder now a common addition instead of mustard seeds, and also contributing to its bright colour.
In the US, red peppers are a popular addition. Many American types of piccalilli are sweeter than their British counterparts, and tend to be red or green instead of yellow. Sweet piccalilli is also gaining popularity, with both traditional and sweet versions on sale.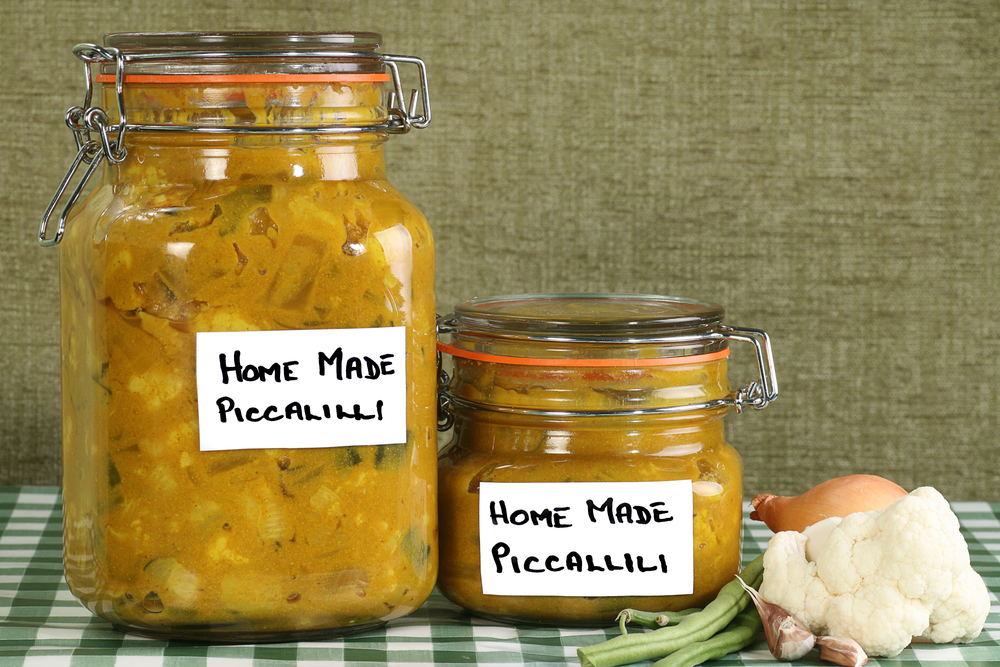 Jamie Rogers/Shutterstock
Our easy piccalilli recipe
Homemade piccalilli will never compete with store-bought on time, and probably not on price either, though if you have a glut of vegetables from the garden and most of the other ingredients in your storecupboard it can work out very cheaply to make your own.
It's a great way of preserving vegetables for winter, and makes for a charming food gift. As well as cauliflower and onions, we've used courgettes and green beans here, both common additions.
Makes enough for two 500g jars – the original Kilner jars are among the most reliable.
Ingredients
1 small cauliflower
100 g green beans, trimmed
1 courgette
1 onion
6 tsp salt
4 tsp English mustard powder
1 tsp ground ginger
1 tsp turmeric
600 ml cider vinegar
3 tbsp sugar
300 ml water
3 tbsp cornflour
1 small cauliflower
3.5 oz green beans, trimmed
1 courgette
1 onion
6 tsp salt
4 tsp English mustard powder
1 tsp ground ginger
1 tsp turmeric
21.1 fl oz cider vinegar
3 tbsp sugar
10.6 fl oz water
3 tbsp cornflour
1 small cauliflower
3.5 oz green beans, trimmed
1 courgette
1 onion
6 tsp salt
4 tsp English mustard powder
1 tsp ground ginger
1 tsp turmeric
2.5 cups cider vinegar
3 tbsp sugar
1.3 cups water
3 tbsp cornflour
Details
Cuisine: English
Recipe Type: Condiment
Difficulty: Easy
Preparation Time: 20 mins
Cooking Time: 15 mins
Serves: 8
Step-by-step
Chop cauliflower into small florets, discarding the stalk. Dice the courgette into 1cm chunks and cut the beans into 1cm lengths, and the onion into 1cm dice so all the vegetable chunks are a similar size. Toss the vegetables together in a large bowl, sprinkle with the salt, cover with a tea towel and leave overnight/12 hours.
The next day, rinse and drain the vegetables and place in a large, heavy-bottomed or preserving pan. Pour in the vinegar and water and add the ground ginger and turmeric. Bring to the boil and then simmer for five minutes until the vegetables are tender but still firm. Pour through a sieve into a bowl, reserving the liquid. Put the vegetables to one side.
Pour the liquid back into the pan, add the sugar. Bring to the boil then mix together the cornflour and mustard powder with a little water to form a paste and add to the liquid to thicken, repeating with more cornflour if necessary. Reduce the heat and simmer for around 5 minutes until you have a thick, dark yellow sauce. Add the vegetables to the pan and stir everything together well.
Leave to cool completely before spooning the piccalilli into sterilised jars and seal. Tastes best left in a cool dark place for 4–6 weeks before eating.
Five great dishes to serve with piccalilli
Raymond Blanc's ham hock terrine
Veggie scotch eggs with piccalilli
Heston Blumenthal's gourmet hot dogs
Gorgonzola and red onion chutney scone loaf
Paul Hollywood's Irish rarebit
This feature was originally published in 2013 and updated in January 2018.
Be the first to comment
Do you want to comment on this article? You need to be signed in for this feature