Mozambique chicken peri peri recipe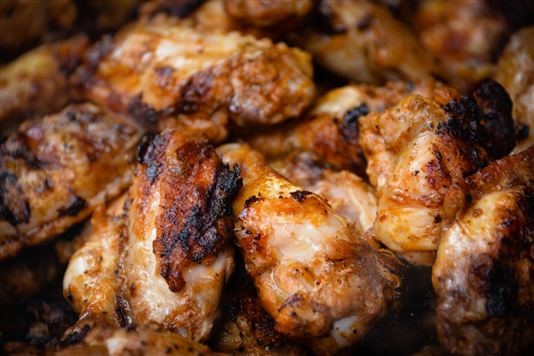 Spicy peri peri chicken with lemon butter. Cuts straight to your tastebuds (and heart) with its comforting tastes.
This recipe calls for 150ml peri peri marinade. Make this marinade by following the first two steps of this African volcano burger recipe. Note that the ingredient quantities supplied by this recipe will far surpass the needs of this one; reduce them roughly fourfold if you don't want leftover marinade. If you end up with some though, Grant says it works well with all meat products.
You can buy clarified butter from a supermarket, but you can also make your own. Follow steps 1 and 2 if you are doing so, otherwise, skip them and simply mix the pre-bought clarified butter with the lemon juice. Clarified butter has a higher smoke point which means you can cook meats and fish at a higher temperature without it burning. It will keep, tightly covered in the refrigerator for about 1 month.
Ingredients
Chicken wings
3 kg jumbo chicken wings
150 ml peri peri marinade
100 ml olive oil
6.6 lbs jumbo chicken wings
5.3 fl oz peri peri marinade
3.5 fl oz olive oil
6.6 lbs jumbo chicken wings
0.6 cup peri peri marinade
0.4 cup olive oil
For the lemon butter
50 ml clarified butter
50 ml freshly squeezed lemon juice
1.8 fl oz clarified butter
1.8 fl oz freshly squeezed lemon juice
0.2 cup clarified butter
0.2 cup freshly squeezed lemon juice
For dipping
5.3 fl oz peri peri sauce
Details
Cuisine: South African
Recipe Type: Main
Difficulty: Easy
Preparation Time: 360 mins
Cooking Time: 20 mins
Serves: 8
Step-by-step
Take a block of unsalted butter, place it in a heavy saucepan, and melt slowly over a low heat. Remove the pan from the heat and let stand for 5 minutes.
Skim the foam from the top, and slowly pour the melted butter into a container, discarding the milky solids in the bottom of pan. Pour in the lemon juice and mix thoroughly. Pour into a ramekin to serve.
Butterfly the chicken wings by making a slit to the bone down the middle of each and spreading the meat out from there.
Mix the peri peri marinade with the olive oil and pour liberally over the chicken. Marinate for 6 to 36 hours in a sealed container. Keep chilled in the fridge.
Heat the oven to 200C/gas mark 6. Drain the chicken portions, reserving the marinade. Place on a baking tray, presentation side down. Brush the chicken with the marinade, ensuring that all pieces are well coated. Place in the oven and cook for approx 15-20 minutes.
Serve with savoury rice, a dipping bowl of peri peri sauce, lemon butter and fresh lemon wedges.
This recipe was devised by Grant Hawthorne for use with his African Volcano sauce range
You might also like:
Jerk roast chicken with spicy chips recipe
Be the first to comment
Do you want to comment on this article? You need to be signed in for this feature