Spanish potato and egg hash recipe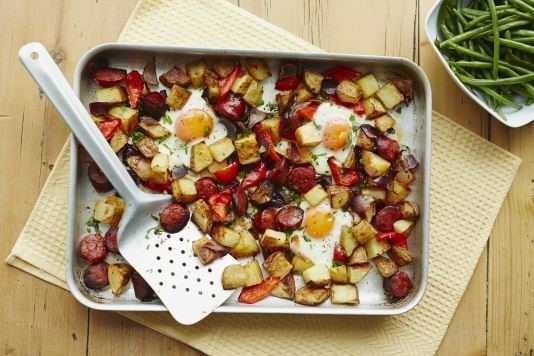 "This simple one-pan tray bake is a doddle to make and full of flavour. As the chorizo cooks, the potatoes become golden and crisp from the smoky oil released from the chorizo, which also gives a delicious flavour to the rest of the ingredients. Serve this dish as it is for a lighter meal, or with a generous serving of green vegetables for a really satisfying and balanced meal."
Ingredients
750 g Maris Piper potatoes, cut into 2cm chunks
1 tbsp olive oil
1 large red onion, peeled and chopped
200 g chorizo sausage, cut into small chunks
2 red peppers, deseeded and diced
4 eggs
1 handful fresh parsley or coriander (optional)
26.5 oz Maris Piper potatoes, cut into 2cm chunks
1 tbsp olive oil
1 large red onion, peeled and chopped
7.1 oz chorizo sausage, cut into small chunks
2 red peppers, deseeded and diced
4 eggs
1 handful fresh parsley or coriander (optional)
26.5 oz Maris Piper potatoes, cut into 2cm chunks
1 tbsp olive oil
1 large red onion, peeled and chopped
7.1 oz chorizo sausage, cut into small chunks
2 red peppers, deseeded and diced
4 eggs
1 handful fresh parsley or coriander (optional)
Details
Cuisine: Spanish
Recipe Type: Main
Difficulty: Easy
Preparation Time: 10 mins
Cooking Time: 35 mins
Serves: 4
Step-by-step
Pre-heat the oven to 220C.
Put the potatoes, in a large non-stick roasting tray. Add the olive oil and stir well to coat the potatoes in the oil. Season with salt and pepper oven to cook for 10 minutes.
Add the red onion, chorizo and red peppers to the roasting tray and stir to coat in the oil. Return to the oven for 20 minutes, stirring around a couple of times to ensure even cooking.
Remove the tray from the oven and make 4 gaps in the roasted vegetables for the eggs to be broken into. Crack in one at a time and the return the tray back to the oven for 4-5 minutes, or until the egg whites are cooked and the yolks still a little soft.
Remove from the oven and carefully transfer to plates. Finish by scattering with parsley or coriander if using.
Potato Week runs from 6th-12th October 2014
You might also like:
One pan Mediterranean roast chicken, potatoes and peppers recipe
Be the first to comment
Do you want to comment on this article? You need to be signed in for this feature