Aldo Zilli's basic pancake recipe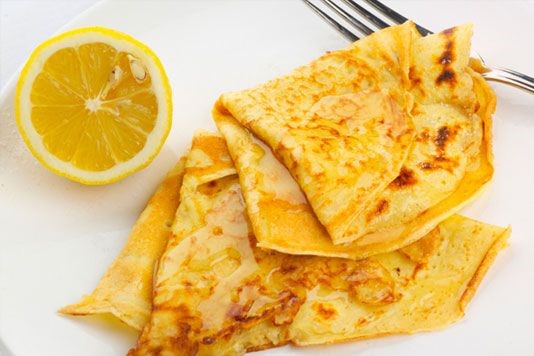 A classic recipe to make basic pancakes. To make them a bit more interesting you can add the following twists.
Coconut milk pancakes
Use coconut milk instead of normal milk when making pancakes. This is one for those with a sweet tooth! Top with sliced banana, toasted sesame seeds and a drizzle of honey.
Gorgonzola and pear pancakes
Cook the pears in a pan for a couple of minutes before filling a hot pancake with them. Sprinkle the fruit with crumbled blue cheese - the savoury cheese and the sweet pears make an unexpectedly tasty combination.
Pancake tagliolini
Make pancakes and then slice so that they resemble tagliatelle. Deep fry and serve on top of ice cream dusted with icing sugar and a sprinkle of chocolate. I sell this in my restaurant Zilli Fish with a Grand Marnier and orange sauce which also works well.
Chocolate pancakes with ricotta
Add shaved chocolate or cocoa powder and sugar to your pancake mix. Then stuff the pancakes with ricotta - making sure you flavour the ricotta with something sweet, such as sugar, or savoury, like grated cheese, as on its own it has little flavour. If you go for the sweet option, a good thing to dress the ricotta mix with is candied fruits.
Open pancake ravioli with tiger prawns
Pan fry tiger prawns with cherry tomatoes and a dash of white wine. Then lay a pancake down, add the filling and cover with another pancake to make a sandwich. You don't need to save this for pancake day - it's a great alternative supper dish if you don't like pasta.
Smoked salmon and cream cheese with dill
Chop some dill and combine with cream cheese and strips of smoked salmon for a delicious pancake filling with a difference. Alternatively, why not swap the smoked salmon for some smoked trout or mackerel?
Ingredients
120 g Plain flour
2 Eggs
300 ml Milk
1 Drop of vegetable oil (for frying)
4.2 oz Plain flour
2 Eggs
10.6 fl oz Milk
1 Drop of vegetable oil (for frying)
4.2 oz Plain flour
2 Eggs
1.3 cups Milk
1 Drop of vegetable oil (for frying)
Details
Cuisine: British
Recipe Type: Dessert
Difficulty: Easy
Preparation Time: 30 mins
Cooking Time: 2 mins
Serves: 8
Step-by-step
Sift the flour into a bowl and make a well in the centre. Add the eggs and beat with a whisk or fork. Gradually beat in the milk, drawing in the flour from around the edge, until you have a very smooth batter.
Cover and leave to stand in the fridge for at least 30 minutes.
Heat a little oil in an 18cm frying pan.
Pour in just enough batter to thinly coat the base of the pan. Cook each pancake for 1-2 minutes on each side until golden.
Also worth your attention
Be the first to comment
Do you want to comment on this article? You need to be signed in for this feature