Edible cookie dough recipe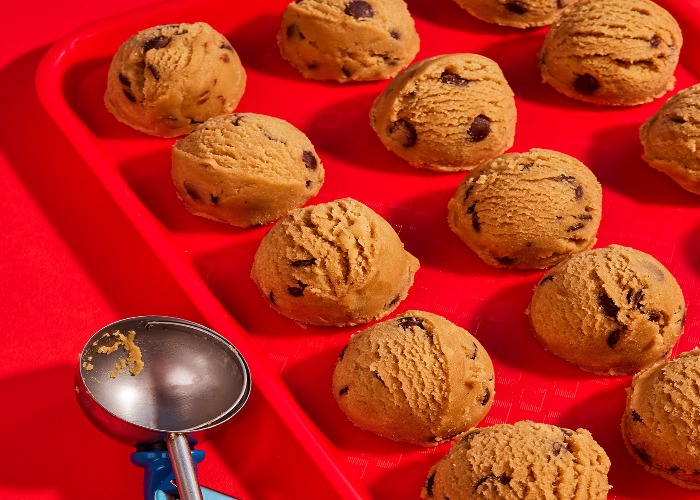 Sometimes, licking the dough off the spoon is the best part of making a cake, or a batch of cookies or biscuits. But, when it comes to food safety, scoffing raw dough or batter isn't really recommended.
The good news is you can indulge in a large batch of cookie dough, or use it to make cookie dough ice cream, if you follow this recipe. Created by Rich Myers – the genius behind Leeds bakery GET BAKED and its Matilda-inspired Bruce chocolate cake – this makes 24 discs of deliciousness that are soft, indulgent and totally safe to eat.
It's also really easy to make this recipe your own. "You can have some fun with this one and add something else as well as (or instead of) the chocolate," says Rich. "Roasted peanuts are a nice addition, although I particularly enjoy replacing the chocolate with a bit of cinnamon and a handful of raisins."
For US ingredients and measurements, use the drop-down menu and select 'Cups'.
Ingredients
320 g plain flour
300 g dark chocolate, chopped up if in bar form
420 g unsalted butter, softened
230 g caster sugar
5 g sea salt
70 g double cream
10 g vanilla extract
11.3 oz plain flour
10.6 oz dark chocolate, chopped up if in bar form
14.8 oz unsalted butter, softened
8.1 oz caster sugar
0.2 oz sea salt
2.5 oz double cream
0.4 oz vanilla extract
11.3 oz all-purpose flour
10.6 oz dark chocolate, chopped up if in bar form
14.8 oz unsalted butter, softened
8.1 oz superfine sugar
0.2 oz sea salt
2.5 oz heavy cream
0.4 oz vanilla extract
Details
Cuisine: American-inspired
Recipe Type: Baking
Difficulty: Easy
Preparation Time: 20 mins
Cooking Time: 15 mins
Serves: 24
Step-by-step
Preheat your oven to 180°C/160°C fan/350°F/gas mark 4.
Start by baking the flour for 15 minutes (bang it all onto a baking tray as evenly as possible). This step is really important because raw flour can contain some harmful bacteria that you don't want to eat. When baked, leave to cool at room temperature.
If you've got dark chocolate chips then you're good to go. If your chocolate is in bar form, chop it up into small chunks. Cream the softened butter, sugars and salt in the bowl of a stand mixer, fitted with the beater attachment, until light and fluffy.
Scrape down the base and sides of the bowl, then add the cream, vanilla and chocolate and continue to beat for another minute or until incorporated.
Once the flour has cooled, add it to the cookie mixture and beat until mixed thoroughly. Your cookie dough is now ready. You can do whatever you want with it. Try it with some good-quality vanilla ice cream, or just eat it with a spoon.
Keep refrigerated and eat within 3 days. The cookie dough will also keep in the freezer for up to a month.
Recipe extracted from GET BAKED: Sensational cakes, bakes & desserts by Rich Myers. (RRP £14.99, hardback). Images © Ellis Parrinder. White Lion Publishing.
You might also like:

Pistachio pie with raspberry meringue topping
Be the first to comment
Do you want to comment on this article? You need to be signed in for this feature