Scottish coffee creme cocktail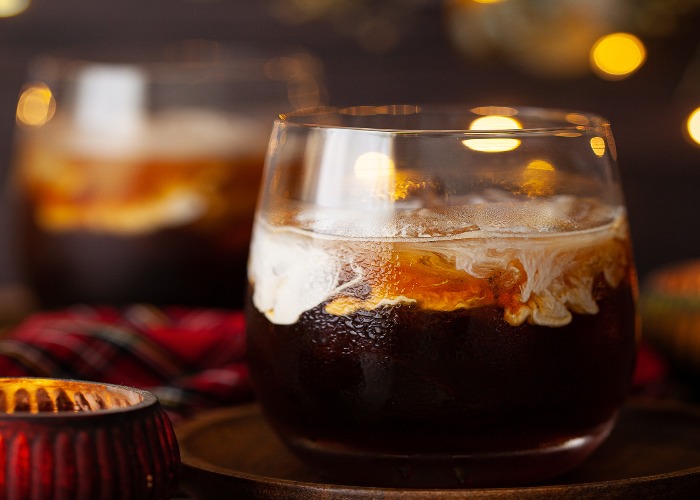 This celebratory Burns Night cocktail combines Drambuie liqueur with fresh coffee and Scotch whisky, making it the ideal sipper to end your feast.
Drambuie's blend of whisky, honey, herbs and spices pairs beautifully with the coffee, and this twist on amn Espresso Martini will go well with creamy desserts, chocolate or cheese – or just mix one up and enjoy it on its own.
Ingredients
30 ml Drambuie liqueur
20 ml freshly brewed espresso coffee
20 ml Scottish whisky
10 ml Crème de Cacao
15 ml single cream
1.1 fl oz Drambuie liqueur
0.7 fl oz freshly brewed espresso coffee
0.7 fl oz Scottish whisky
0.4 fl oz Crème de Cacao
0.5 fl oz single cream
0.1 cup Drambuie liqueur
0.1 cup freshly brewed espresso coffee
0.1 cup Scottish whisky
0 cup Crème de Cacao
0.1 cup single cream
Details
Cuisine: Scottish
Recipe Type: Cocktail
Difficulty: Easy
Preparation Time: 5 mins
Cooking Time: 0 mins
Serves: 1
Step-by-step
Put a large handful of ice into a mixing jug and pour in the alcohol and coffee.
Stir briskly for 30 seconds to chill, blend and dilute the ingredients.
Strain into an empty rocks glass or short tumbler.
Fill the glass up with ice.
Slowly pour the cream over the ice cubes, and serve.
This recipe is courtesy of Drambuie. For more information visit www.drambuie.com.
You might also like:
Be the first to comment
Do you want to comment on this article? You need to be signed in for this feature