9 of the best supermarket Christmas puddings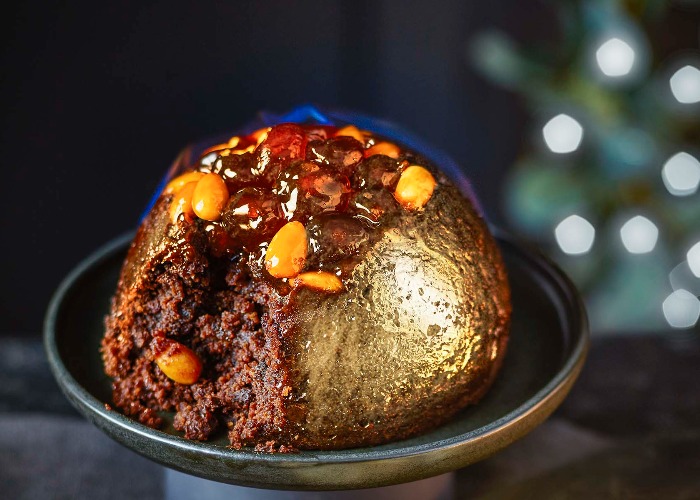 Boozy, fruity, nutty and spiced – these are the best Christmas puddings in the supermarkets this year.
We've done a supermarket sweep of this year's Christmas puddings to find the very best. These are our winners which include a showstopping traditional pud, a value family option that doesn't compromise on flavour and a Christmas pudding for people who don't like Christmas puddings.
If you like a traditional pudding that balances booze, fruit and spice, Asda's Extra Special 9 Month Matured is a great option for the whole family. It's not the most moist one we tried, but you can always add brandy butter, cream, custard or ice cream – your choice. It's also a great size and price.
Asda
There's nothing worse than hearing "it's good... for a gluten-free or vegan option". But M&S deserves a shout-out because it has made a traditional Christmas pudding that is great in its own right. It has a good fruit content, a nice level of booze and a soft, moist texture. It got the stamp of approval from the vegan taste-tester on our team.
Marks & Spencer
This tiny pudding is the perfect size for one person. It's a good all-rounder with a traditional taste and nice fruit but could do with a few more nuts for texture. It's a great option for households without many fans of Christmas pudding to avoid leftovers going to waste.
Courtesy of Sainsbury's
Alternative: Aldi Specially Selected Damson Plum and Pink Gin Pudding, £8.99 (800g)
Finished with edible gold glitter, this is a fun and festive pudding that's great if you want something different from a standard Christmas pudding. This one is bursting with juicy vine fruit and crunchy almonds and has a pleasant sweet plum flavour, plus there's a hidden Victoria plum and gin sauce centre to discover. It may upset the traditionalists at the table but when it tastes this good, they may be converted.
Aldi
Two luxurious desserts smashed into one, this Christmas pudding incorporates the decadent flavours of a Black Forest gateaux. Packed with vine fruits, chocolate chunks and glacé cherries, it's a lot more moist than you'd expect from a Christmas pudding. Finished with a shot of lip-smacking kirsch, the pudding is topped with whole red glacé cherries and crunchy blanched almonds, and is coated in a golden syrup sauce. Some might find it a touch too sweet.
Tesco
This might cost more than most are willing to spend but be assured you can taste the quality. This 800g pudding is enough to feed a family of Christmas pudding lovers and still have some for leftovers too. It's a traditional Christmas pudding with plenty of nuts and isn't super sweet like some puds can be.
Waitrose & Partners
This pudding ticks all the right boxes: it's packed with nuts and big pieces of fruit. It may be a tad on the dry side for some, but nothing a bit of brandy cream won't fix. It's the perfect size for a family of four and at £4, you can't really go wrong.
Iceland
If you think the boozier the better, the Tesco Finest 12 Month Matured pudding is for you. This fruity number comes with a pleasant alcoholic hit from the Courvoisier VS Cognac. This pud will certainly appeal to Christmas pudding traditionalists who are also impartial to a festive tipple this time of year.
Lidl
A regal pudding fit for your best guests, buy this pudding if you're out to impress. Crowned with juicy glacé cherries, candied figs and walnuts, it looks exciting and adds loads of crunch and sweetness. The pudding itself is fruity, nicely spiced and has a pleasant soft texture. It's finished with a luxurious coating of a fig, honey and port sauce.
Waitrose & Partners
Lead image: Tesco Finest Black Forest Christmas Pudding
You might also like:
6 of the best supermarket Christmas desserts
6 of the best supermarket mince pies
Christmas recipes: the best baking, leftover, side dish and main course ideas
Be the first to comment
Do you want to comment on this article? You need to be signed in for this feature