My life in food: Yasmin Khan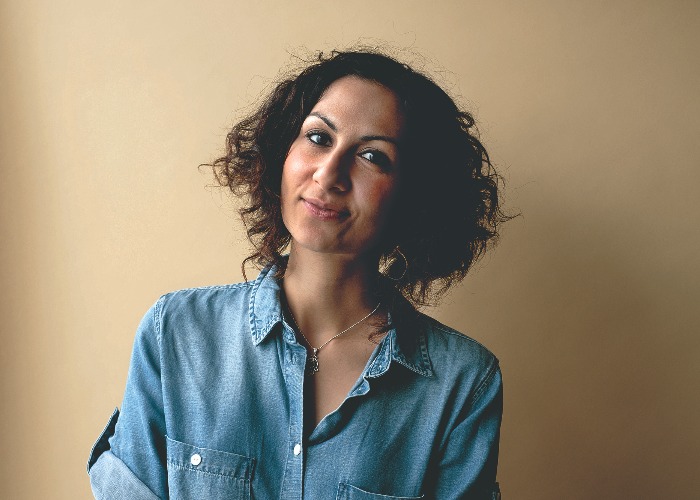 We spoke to the food writer Yasmin Khan about churning butter on her grandparents' farm in Iran, travelling in Palestine for her latest book and her top cooking advice.
Human rights campaigner turned food writer Yasmin Khan released her first best-selling cookbook, The Saffron Tales: Recipes from the Persian Kitchen, in 2016, which explored her culinary adventures through Iran. Now she's back with Zaitoun: Recipes and Stories from the Palestinian Kitchen which celebrates Palestinian flavours, dishes and culture. Khan tells us about the challenges of writing the book, using food to tell stories and her favourite cookbook.
My favourite childhood memory is being on my grandparents' farm in northern Iran
My grandparents lived in the province of Gilan. My grandmother made pretty much everything from scratch, making her own yogurt and pickles. We were on a farm so we had rice from the farm, vegetables from the farm, chickens from the farm. Everything was very fresh.
My favourite memory was sitting cross-legged in my grandmother's kitchen. I have a funny memory of churning butter. They had 12 cows so we'd get the milk, skim off the fat and then churn it into butter. It was all done by hand.
I was really lucky to be surrounded by fresh produce at a really early age and it gave me a love of nature. There's a sense of magic when you see the complete barrenness of winter, then in spring you have all these little shoots and greens, and then the abundance of summer with incredible fruits and aubergines, tomatoes, peppers. It gives you such a sense of life.
Palestinian food and food from the Levant is what I prefer to cook most often...
To be a good recipe writer, you first have to start with what you're passionate about and this is the food I cook on a weekly basis. I love the vibrancy of the salads, I love that it's mainly plant-based, all the herbs and the citrus.
Also, since I transitioned from being a human rights campaigner to a food writer, the main principle that has guided my work is to challenge stereotypes of the Middle East and show people what ordinary life is like there. Too often the Middle East is just seen through a prism of conflict or refugees and yet, there's so much normal, wonderful everyday life that happens there.
I also feel that the issue of Palestine is one of the key justice issues of our time and it was important to me to share some stories from the place to connect people to ordinary Palestinians.
Palestinian food is very vegetable-focused, with lots of fresh herbs and salads...
The cuisine uses herbs such as cumin and allspice in savoury cooking which was quite a discovery for me because we're used to cooking with allspice in things like Christmas cake. Here, they put it on things like roasted meat and roasted vegetables.
Za'atar is used quite a lot – it's a really aromatic spice mix with dried thyme, sumac and sesame seeds. You start a lot of meals by tearing off some bread, dipping it in olive oil and then dipping it in za'atar. Sumac is another flavour that's quite important. It's a powder made from a dried berry and is used any time that you want a bit of sharpness.
There are regional differences
When I was in the Galilee, I found that the food has more affinity to traditional Levantine cuisine so lots of stuffed peppers, aubergines and kibbeh – stuffed meatballs filled with pine nuts, lamb and pomegranate molasses.
As you move to the West Bank, the food is drier, more meat and bread based, influenced by the desert culture. You might, for example, have mussakhan: a roast chicken with sumac and red onions, layered over flatbreads.
The food of Gaza is the most distinctive. There's lots of seafood and the flavour palate is really punchy. The holy trinity of Gazan cuisine is dill, garlic and green chillis. However, when you live in a place where 80% of the people depend on food aid to survive and most of the water is undrinkable, traditional food culture is obviously under threat. Gaza has been under an Israeli blockade for 11 years now and nothing can get in or out. Unfortunately this means that I am only able to visit Gazan kitchens through Skype and through the Gazans now living in the diaspora, cooking in people's kitchens in London and New York.
There were so many standout moments from my travels
It was so hot when I was travelling, especially when I went in the summer. I remember we went to Taybeh, to this brewery which was making Palestine's first artisan beer. The car didn't have a lot of air conditioning, we were boiling.
We were driving through the desert for what felt like hours, increasingly growing hotter and hotter. We got to the other side and it was so refreshing to have this ice-cold beer. They showed us a brew which had orange peel and local spices. This idea of a really crisp and slightly aromatic IPA while the sun is beating down on you in the West Bank. It was a lovely moment.
Writing the book was a creative challenge
I wanted to celebrate Palestinian culture and also not gloss over the realities of everyday life. I think as a writer, it's those kinds of challenges that force you to up your game. How do I bring these two things together? For me, getting the tone of the book right was the most critical element in conveying the message.
I think too often, people get scared of talking about the Middle East or think it's too complicated. I wanted to make sure that this was friendly and accessible – just like we were having a chat in my kitchen.
I think food, like all forms of culture (music, art, theatre) is a great place to start talking about people and a place. By exploring a country's cuisine, you find out about its history, its agriculture, its climate. When you learn about how people cook, you learn about gender relations, economy, modernity.
Five final questions
Favourite snack: Pomegranates, which in Iran we have with a pinch of salt and a spice called golpar. We always have sour fruit with it.
Essential kitchen kit: A mini food processor. I use it every day, either making smoothies or pestos, or grinding nuts for nut butters. A lot of Iranian food uses nuts as a base so if I'm making a Persian stew, I'll just put the walnuts in there.
Most well-thumbed cookbook: Claudia Roden's Arabesque. I think I've cooked everything in there!
Go-to midweek meal: Brown rice noodles, tempeh and then loads of greens like spinach, chard or kale, some mushrooms and a really basic sauce of chilli, garlic, ginger, rice vinegar and soy sauce.
Pearl of wisdom cooking advice: Season your food properly. I think people are really afraid of salt these days but salt makes or breaks a dish. If you're making your food from scratch anyway, you're not going to eat too much salt. Always season your food at the beginning, the middle and then taste it for seasoning at the end. Don't be afraid of it!
Yasmin Khan's new book Zaitoun: Recipes and Stories from the Palestinian Kitchen was published by Bloomsbury on 12 July 2018, RRP £26. Main image by Matt Russell.
Be the first to comment
Do you want to comment on this article? You need to be signed in for this feature