You can now taste the world's first vodka made from milk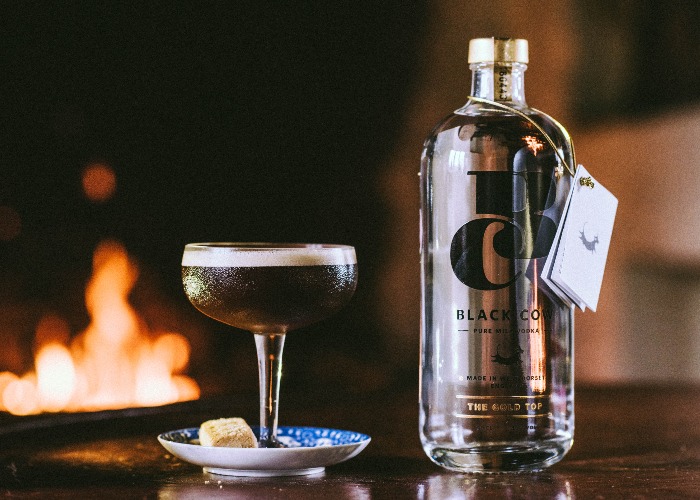 Smooth, creamy and crystal clear, Black Cow vodka is the world's first pure milk vodka. Catherine Balston visits the Dorset dairy farm where it's produced to find out more.
The West Country is the land of bountiful dairy: from its clotted cream, Blue Vinney and Cornish brie, to the town of Cheddar whose name and heritage we have to thank for the UK's most popular cheese.
But when it comes to the local tipple, it's not usually vodka that springs to mind (scrumpy, maybe), which makes dairy farmer Jason Barber's story all the more eccentric.
He spent three years perfecting a process to distill vodka from milk. The result is Black Cow vodka which launched in 2012 and can now be spotted on the shelves of Sainsbury's and Marks & Spencer, as well as in swanky cocktail bars.
How is vodka made from milk?
First, the milk is separated into curds and whey; the curds become Black Cow vintage cheddar. The whey is fermented into a milky beer using a special yeast which transforms the milk sugars (lactose) into alcohol. Nothing new thus far, milk beers have been brewed for centuries in Central Asia, albeit using mare's milk or yak's milk.
Then, the pungent brew is distilled to a 90% alcohol spirit which is brought down to 40% with a blending process kept secret by the Black Cow team. They only stress that everything in the finished vodka comes from milk. Finally, the spirit is triple filtered through charcoal made from coconut husks before it is bottled by hand.
Is the drink really vodka?
Traditionally, in the so-called "vodka belt" countries of Eastern and Northern Europe, vodka is only made from grain or potatoes. But Black Cow, and many other spirit brands, were given a helping hand by the European Union when it relaxed its definition of vodka in 2007.
The EU ruled that spirits made from ingredients other than grain or potatoes could be classified as vodka, as long as the ingredients are clearly labelled.
What does Black Cow vodka taste like?
The vodka has aromas of vanilla, coconut and a hint of pepper which also come through on the palate. Crystal clear and syrupy without being sweet, it has a smooth creaminess with a pleasing warmth rather than the eye-watering burn of shot-it-in-one vodkas.
Although it's made from milk, Black Cow vodka is suitable for those with lactose intolerance because the lactose is converted into alcohol during fermentation.
How can you drink it at home?
The vodka is smooth, making it a good spirit to sip. Pair with wedges of mature cheddar for sublime dairy union. Mixologists love the vodka's creaminess and subtle flavours which aren't overpowering in cocktails. Coffee-based concoctions work well, as do stronger aromatics like ginger, bitters and citrus.
To make an espresso martini, mix a strong shot of coffee with an equal quantity of chilled vodka and a dessert spoon of maple syrup. Shake with ice and strain into a martini glass.
For a Dirty Cow martini, a salty smack of olive brine works beautifully with the spirit. Add a splash of vermouth to vodka, and olive brine to taste, then shake with ice and strain into a martini glass. Serve with an olive.
Alternatively make a moscow mule by mixing two tablespoons of vodka with one tablespoon of honey-and-ginger syrup and the juice of half a lime. Pour into an ice-filled glass, top up with ginger beer and garnish with mint leaves and lime.
Can you visit the distillery?
There's no more bucolic setting to try Black Cow vodka than at the distillery itself, located in the wind-swept green hills of West Dorset where the 280-strong Black Cow herd graze. Just ten miles from the coast, the distillery is located in a converted outhouse on a working dairy farm.
Step out of the muddy farm courtyard into the tasting room – a striking, high-ceilinged space with white-washed walls and a polished concrete floor. In the corner, between a piano and a Harley Davidson, is a slick, white bar where visitors can sip vodka or try one of the house cocktails before going through to the adjacent distillery and bottling room to learn more about the production process.
Whether you meet the dairy farmer Jason Barber, his co-founder Paul Archard (Archie) or creative director Helen Watkins, their passion for the product shines through.
It's clear the welly-wearing entrepreneurs had a fun, if challenging, three years perfecting their recipe, from cultivating the yeasts to finding the right filter and sampling the vodkas.
Distillery tours include a vodka tasting and cocktail (£25 per person) or you can stay for lunch (£70 per person). You can find out more, book tours and get more cocktail ideas on the Black Cow website.
Be the first to comment
Do you want to comment on this article? You need to be signed in for this feature