Gerhard Jenne: meet London's star baker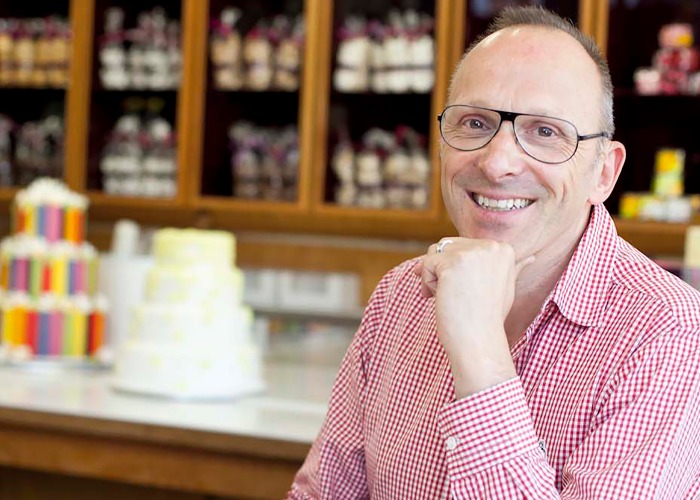 Owner of London's most renowned cake shop, Gerhard Jenne talks Konditor, business and, of course, cakes.
Born in Freiburg, at the bottom of Germany's Black Forest, Gerhard's first introduction to baking was his mother's delicious apfelkuchen. Today his business spans six shops across London, bespoke made-to-order cakes and a cake school, where he teaches a master class in decorating.
Karlina Valeiko found out how he started his journey to baking stardom and what makes him tick.
Where does your passion for baking come from?
My sister was going out with the village baker so I worked with him during summer holidays and I grew to like it. Even back then I got more into decorating and liked the more artistic side of baking.
For me, food was a good way of getting around the world, maybe going on cruise ships and I thought that's quite a good career to have – seeing the world. That was also the reason why I came to London in the first place – to explore the wider world – except that I never got any further than that.
Why do you think you stayed in London?
I did go back to Germany to do a konditor (pastry chef) course in Munich but my heart was left in London.
Back in the 80s it was a very different vibe – there was nothing really – so I felt like there are opportunities to take and I used to dream about having a cake shop or a café one day. Then Jane Asher opened her cake shop and novelty cakes started coming into fashion and you could really feel it's the beginning of something big.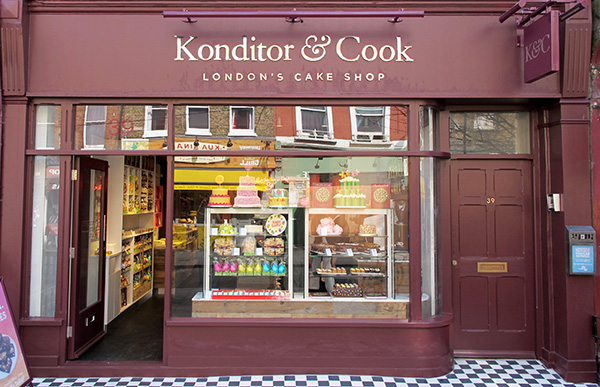 Konditor & Cook
How did the idea of Konditor come about?
Working in Knightsbridge, I got a bit of a reputation as this cake maker who can make amazing party cakes. I was quite good at novelty cakes, I made some for celebrities, like Tina Turner and The Rolling Stones, and I thought, wait, that's something I could specialise in.
I heard about a place for sale in Waterloo. And you have to remember that in 1993 Waterloo was pretty much the forgotten part of London. I had only been to the area once before and, because I was used to working in Knightsbridge, I thought it's a bit of a dump.
I went down and I had a look at the place and it was perfect, it was already set up as a bakery and I realised that actually there are enough people around, who would be interested in better quality food in the area. So I just went for it.
Do you find many differences between English and German tastes?
Oh yes, absolutely! That's probably one of the things I had to learn early on – you can't just come along and push German cakes on English people.
Traditionally, Germans eat a lot more cream-based cakes, while English taste is more for moist cakes and smaller slices. In savoury cooking it's a bit different, people now are a lot more open.
Some cuisines have a better reputation, more romantic perhaps. There's plenty of Spanish and Italian restaurants in London but no one's managed to update German cuisine, not even in Germany. When it comes to business, what I think I bring are the German consistency and attention to detail and the rest is more English. I felt I was combining the best of both worlds and the name Konditor reflects that.
Why the Konditor name?
Back in the 90s, before cupcakes and bake-offs, people weren't really used to going into cake shops so I felt that we need to do savoury food alongside cakes and that's reflected in the name.
Konditor in Germany is a pastry chef and a cook is a savoury chef, so the idea came from people coming in for breakfast or lunch and then picking up a brownie or a slice of cake because they can't resist it – and that's exactly what happened.
Here we are 24 years later, ready to celebrate our silver jubilee next year.
What do you think is a cake everyone should be able to make?
Just a nice sponge cake. It's an easy recipe to remember and you can make it in any situation. A simple sweet pastry recipe too – if you learn that, you can do so many things with it, however people fear pastry.
What would you say sets a great cake apart from just a good one?
It's depth of flavour. Obviously, it has to look good but it's all in the flavour and texture. Flavours stay with us for a long time, it's nostalgia. I remember my mother cakes, while some people would remember how their granny made dreadful cakes and all that comes from the memory of taste.
If you could only eat one dish for the rest of your life what would it be?
Oh, wow, I'm not sure. I think I'd go for chocolate noisette cake. And we do it in gluten-free as well so there you have it.
What's the advice you like to pass on to home bakers?
Keep trying and don't start with croquembouche on your first attempt because then you're just setting yourself up for failure.
Start with tray bakes and sponges and keep it simple. And get somebody to help you with the washing up afterwards! Home baking can get quite messy really quickly, especially if you're doing it with kids.
And finally, a quick fire round:
Red velvet or Victoria? Victoria.
Vanilla or Chocolate? Chocolate.
Sugarpaste or Marzipan? Marzipan.
For more information and nationwide delivery visit the Konditor website
Be the first to comment
Do you want to comment on this article? You need to be signed in for this feature