Abdullah Al Awayed: meet the chef bringing Syrian cuisine to London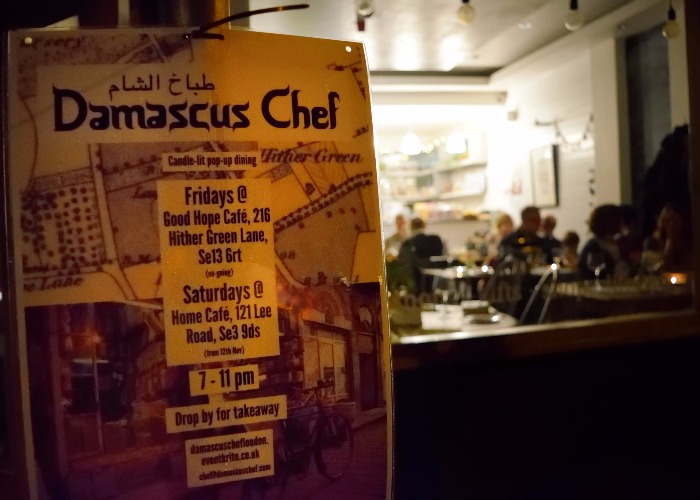 When Abdullah Al Awayed fled Syria's brutal civil war, he took with him an array of recipes from across the country. Now he's introducing them to the UK.
After learning to forage, grow, rear and cook in Jazira, a fertile region wedged between the Euphrates and the Tigris rivers, Abdullah Al Awayed travelled to Damascus to work as a chef.
But after the outbreak of violence in 2011, Abdullah and his family fled Syria and eventually arrived in London. He now runs a flourishing pop-up (Damascus Chef) at venues in South London, serving authentic, seasonal Syrian dishes like jaj bil lebneh (chicken with peppers, walnut and chilli) and fool mu'ela bi zeit (fresh broad beans with garlic and dill).
Shafik Meghji spoke to him about his influences and the highlights of Syrian cuisine.
Where did you grow up?
I was born in a small farming village in northeast Syria, within the Fertile Crescent. My family was Bedouin, and we had 25–30 sheep, cows, chickens and a small plot where we grew tomatoes, spring onions, parsley and other fresh herbs, as well as wheat, barley and cotton.
Everything we ate was organic, and my mum made her own butter, ghee (clarified butter), yoghurt, and cheese. The Bedouin idea is that you don't throw anything away – even the sheep's head is used in a special soup. For us, food is not something you just stuff in your belly, it's a code of living.
Abdullah Al Awayed
How did you become a chef?
Most jobs I've had have come about by accident. I became a chef not because I wanted to be a chef, but because I wanted to eat nice food.
When I was 19 I moved to Damascus to do military service, which for me involved becoming a policeman. Afterwards I worked on a farm and then returned to Damascus. I worked in hotels as a cleaner, handyman, preparing the breakfast, and then the reception.
Eventually I left to work in the kitchens of two famous Damascene restaurants. I did the cleaning, washed the dishes and helped to prepare the vegetables. Sometimes, when I was lucky, the chefs would ask me to help them, and I would watch them closely to learn their techniques.
Why did you come to London?
For two reasons. In 2008, I married an English woman, so it was always in our minds, and then in 2011 the problems in Syria started. At first, I thought, okay, let's wait and see, hopefully it will be all right. But of course, it became even worse, and by 2012, it was time to go.
The British Embassy in Syria had closed at that point, so we had to go to the one in Jordan. It was a very long process: me, my wife and our one-year-old child were stuck in Jordan for a year while my application was processed. And then they rejected me. But I successfully appealed, and finally got my visa.
Abdullah Al Awayed
How did the Damascus Chef pop-up come about?
The Syrian restaurants in Jordan were very expensive, so I squeezed my brain to remember all the dishes I'd learnt over the years. I was hired to cook for students at the Japanese embassy, and after that started to work as a private chef.
After moving to London, I continued working as a private chef, catering parties and special events. I also looked for a restaurant, but the costs were just too high, so I thought of doing a pop-up.
We took part in Food Assemblies in Nunhead and Lee, and after a spell in Peckham, launched the pop-up at the Good Hope Café in Hither Green last August.
We're not just like, "Here we go, that's your food, eat" – we tell people about the history of the food, and make the link between the diners and the land the food came from.
Abdullah Al Awayed
How would you describe Syrian cuisine?
Syria is such a rich country in terms of food resources: we have great fruit from the valleys, and dates, lamb and dairy products from the deserts. And we have long been at the crossroads between east and west, which is why we have such a mix of influences.
Syrian food has a more delicately spiced flavour than, for example, Indian food. The king of the table is cumin: when you add it, it doesn't kill the other flavours, it just enhances them. We also use a lot of dried coriander seeds, chilli, parsley and lemon juice.
What's on your menu at the moment?
We serve unlimited meze – hummus topped with seared courgettes, sautéed onion and fresh coriander; baba ganoush (a smoky aubergine dip); and fool mu'ela bi zeit, fresh broad beans with garlic and dill.
Our most popular main course right now is jaj bil lebneh, chicken sautéed in muhammara (a red pepper, walnut and chilli dip) and served with garlicky courgettes and aubergines, pomegranate seeds, pine nuts and labneh (a soft cream cheese).
We've also got kharoof bil fasoliya, a dish of stewed lamb shoulder with green beans, chickpeas, spring onions and pine nuts, on the menu.
Abdullah Al Awayed
What food do you most miss from home?
I particularly miss the lamb – you can really taste the barley and the grass in the meat. The heat in Syria also helps to give the fat-tailed sheep a special taste. The taste of the fat is indescribable: it's very sweet, rich and melts in your mouth, like proper Turkish delight.
There's a special dish in Damascus, where they fry the tail fat and cover hummus with it instead of olive oil, and sprinkle on chilli flecks, pepper and coriander.
What are your plans for the future?
I'm collecting old recipes from across Syria, and plan to add them to the ones I learnt from my family and friends, write a book about them, and then bring them back to life again.
It won't just be a recipe book – it will tell the history of the food, too. It's like bringing out an old object, cleaning it, and putting it out for visitors to see.
The Damascus Chef is at the Good Hope Café in Hither Green, Lewisham every Friday evening. Abdullah also offers private catering and cookery classes. Find out more at www.damascuschef.com or www.facebook.com/damascuschef.
Header image courtesy of Abdullah Al Awayed.
Be the first to comment
Do you want to comment on this article? You need to be signed in for this feature