How to build your own luxury Christmas food hamper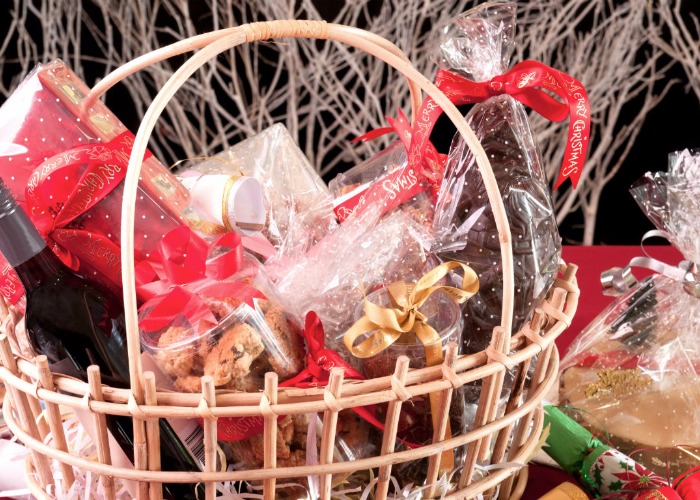 Bored of gifting vouchers and boxes of Quality Street? Create your own luxury Christmas hamper for a more personal and thoughtful gift this year.
A personalised, homemade hamper is one of the most thoughtful Christmas gifts you could give, and it needn't cost a fortune. We take a look at the things you can buy to build your own unique, rustic Christmas hamper for the food lovers in your lives.
Where to buy the hamper
It might be tempting just to pick-up a pre-made hamper from M&S, but why not buy an empty hamper and build it yourself, using products you know the person receiving it will love?
If you don't have any hampers or baskets lying around from previous gifts (it sounds cheap, but it's a great way of recycling), there are hundreds online and in-store for you to choose from. For a wide range of wicker basket options, many of which you can personalise yourself, head to Not On The High Street, where you can buy hampers ranging from £6-£50, depending on the size you're looking for (we recommend at least 20 inches).
Alternatively, eBay, The Basket Company, Hobbycraft and Amazon all sell empty wicker hampers for between £12 and £30 in a range of sizes, colours and designs.
What to fill it with
While everybody has different tastes, there are some foods that are just essential for a classic Christmas hamper. But instead of scouring the shelves in your local supermarket for packaging that doesn't say 'basic' or 'finest' on it, we're providing you with some ideas for foods that already look pretty special. It is a luxury hamper, after all.
Cheese
A Christmas food hamper just wouldn't be the same without cheese. But it's important to make sure you get it right. The ideal hamper really needs a selection of a few different cheeses so your recipient can create their own cheeseboard. Include a good mixture of flavours, texture and colour for the ultimate cheeseboard.
You can go to your local cheesemonger, if you have one. If you want to order online, Tabl have a great selection of artisan cheeses. If you're packing for a real cheese lover, try Paxton & Whitfield cheesemongers, which offers a wide selection of cut cheese collections at different prices.
Chutneys
If you're having cheese, chutney is a must. If you're well-prepared, try making your own pickles, chutneys or relishes, which you can store in a mason jar and decorate accordingly. Read our top tips for making successful pickles and chutneys if you need a little guidance.
But if you're short of time and want a quicker and easier solution, there are plenty of local and online delis that can provide you with some pretty great homemade chutneys (as long as it's homemade somewhere, right?). Try Tabl for a selection of flavours, such as mulberry and wolfberry, or Wilkin and Sons for luxury, artisan chutneys and condiments that you'll also be able to find in most UK supermarkets.
Crackers
While it's always best to keep your crackers simple, those orange boxes of Jacobs crackers just aren't going to cut it for this Christmas hamper. You can just as easily find luxury crackers elsewhere online for a not-so-disimilar price. For example, check out The Cheese Works for charcol crackers (reccomended as a good cheese accompliment) for around £2 a box. Alternatively, if you do want to be a little daring, it also offers chive, rosemary and red hot chilli-flavoured crackers for around £3.15 a box.
Tea
Tea is an easy win in a Christmas hamper, but we're not talking a giant box of PG Tips. Instead, why not try Teapigs for dozens of unique flavours in slightly classier packaging? Or if you know your recipient is a big tea-lover, scrap the bags altogether and opt for some loose leaf tea instead. Teapigs also offer a range of loose leaf flavours at a reasonable price, but if you're willing to spend a little more Fortnum & Masons and Whittard provide some of the best high-end options. Just don't forget to pack a tea-strainer – there's nothing worse than recieving a tin of loose leaf tea that can't be used.
Chocolates
And now for the sweet tooth. Instead of throwing in a box of Celebrations, why not look at artisan options such as Montezumas for a range of innovative choco-treats. Alternatively, just head to your local supermarket and pick up a selection of Green & Blacks bars in your recipient's favourite flavours, such as dark, milk, mint and orange.
Booze
Finally, the booze. This one is where you can be the most personal. Know your recipient's favourite tipple, and then get creative. For example, if they love gin, don't just choose a bottle of Gordon's, look for something a little different. Just Miniatures is perfect for the experimental boozer, as you can select a few different options for them to try. Packing for a wine lover? Just head to your local supermarket/wine store, and pick out a bottle of their favourite. There's no point trying to go overboard on the pricing if you know that what they really love is just a bottle of Oyster Bay Sauvignon Blanc. Stick with what you know and you won't go wrong.
Other options
Of course these are just the essentials. You can be as creative with your hamper-filling as you like (depdending on your budget). The key is to just focus on what your recipient loves. They don't have a sweet tooth? Scrap the chocolates and pick up a tub of olives from your local deli. Or if you're giving the hamper to a meat-lover, hand-pick a selection of cured meats from the deli counter.
How to build your hamper (with some style)
A wicker basket full of food is all well and good, but you wouldn't find Fortnum and Masons selling hampers without decorative wrapping.
The idea is that you want your hamper to look as full as possible, so don't scrimp on the padding. Line your hamper with a few sheets of quality tissue paper, and follow with a base of raffia (straw-like padding), which can act as a cushion for any jars you may have inside.
Hobbycraft sells raffia by the bag at £3 for 75g in a number of different colours, or alternatively, you can buy an entire make your own hamper bundle from the Hobbycraft website for around £8, which will include a hamper, raffia and other decorative materials.
If you're feeling particularly artsy, wrap each of your products individually. Try wrapping boxes in brown parcel paper, tied with ribbon or twine and add a Scandinavian touch by using Christmas or alphabet stamps to stamp onto plain white, or brown tags (pictured above). These are also perfect for tying around any jars or bottles.
Liked that? Try these:
Top five homemade food Christmas presents
How to create a memorable cheeseboard
How to make your own pickles, chutneys and relishes
Be the first to comment
Do you want to comment on this article? You need to be signed in for this feature