How top chefs use aphrodisiacs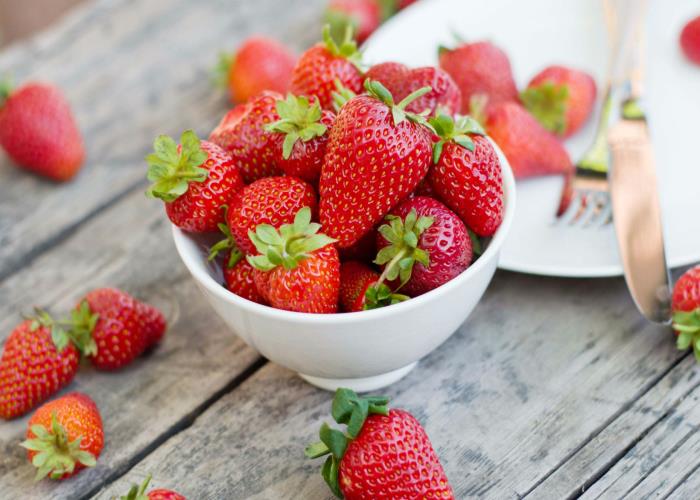 Find out the way to your lover's heart by serving up sexy food to get your Valentine in the mood for love.
The candles are lit, the music is low as you raise a glass of champagne and gaze deeply into each other's eyes. You want your dinner to lead to romance and desire.
There is no doubt certain foods are erotic and sensual. The shape of suggestive asparagus, the sensuous texture of melting chocolate or ice cream and the tingle on the tongue of fizzy champagne can all lead to passionate thoughts.
It may be the symbol of luxury or the association of sex which lead to some foods being regarded as aphrodisiacs.
But it's what you do with it that counts. Top chefs want to bring pleasure to the table for their diners and this is the key to seducing your lover through food at home.
Find out how top chefs use aphrodisiacs in our Valentine's Day special:
Strawberries
Strawberries and cream is a top ten British food so what better way to wow your desired one's taste buds.
Tess in Thomas Hardy's Tess of the D'Urbervilles was seduced through these tempting fruits when wealthy Alec D'Urberville fed her luscious strawberries and sealed her fate.
Take this strategy into the 21st century with Jamie Oliver's strawberry champagne. It will add an extra sparkle to your relationship and make your dinner á deux go off with a bang!
And why not indulge in some messy sensual eating and feed each other with Eric Lanlard's Eton mess? You could replace the raspberries with strawberries and add some passion fruit.
Figs
Other fruits are considered erotic and suggestive. The saucy fig was said to do it for Cleopatra. Take a fig apart, see what it reminds you of and you can see why.
And the first two lovers in the world, according to the Bible, were the fig leaf wearing Adam and Eve.
Andrea Oliver's stylish fig baklava is a stunning dinner party dish which is guaranteed to impress and get the heart racing.
Asparagus
Another opportunity for seductive eating is the long stemmed asparagus.
So sexy were these tender tips that bridegrooms in France were served three courses of asparagus to get them in the mood for the wedding night nuptials.
The green vegetable is also a superfood and will keep you fit and healthy so your body works in peak condition.
Try making Paul Merrett's goat's cheese salad with asparagus as a starter for your Valentine's meal – it's guaranteed to boost your mood and get your senses racing.
Oysters
Charged with erotic symbolism, the oyster is king of the aphrodisiacs in the mind of the beholder. They appear to quiver with pleasure in their shells.
Chef Mark Hix has two oyster restaurants where diners can sit at the oyster bar and suck the salty fish from their shells.
Mussels is also a popular passion food. Restaurateur and fishmonger Mitch Tonks serves his up in a classy dish and Elizabeth David introduced post-war Britain to the pleasures of moules marinière.
Whatever you serve up, I hope you enjoy your meal - and each other.
Written by Catherine Turnbull
Also worth your attention:
Fine chocolates from master chocolatier Paul A Young
The Wright Brothers - Oyster producer to the stars
Be the first to comment
Do you want to comment on this article? You need to be signed in for this feature