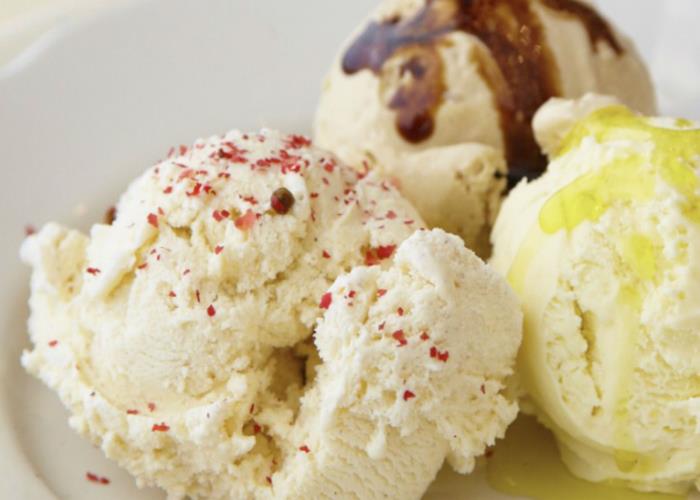 Before the summer months leave us completely, there's still time to make the most of local healthy salads. Sarah Ewing picks the best UK producers.
When the weather is warm, thoughts turn to lighter, healthier eating.
Salads are a quick and easy way of working towards your five fruit and veg portions a day, whether you have them as a side salad at a barbecue or a main course topped with some protein, like grilled chicken.
Locally grown produce means the salads are fresher and higher in nutrients as the vitamins haven't been leeched away during transportation. And there's such a variety of UK grown salads to choose from, there's no excuse for believing they're boring.
Here, we reveal the best five salad producers in the UK.
APS Salads, Cheshire
Founded more than 60 years ago as A Pearson and Sons, APS salads is still a family-run business with keen environmental principles at the heart of its business, so its produce is carbon neutral.
Using a mixture of combined heat and power (CHP) technology and biological control (which means combating pests using natural means), the tomatoes APS produces are like they used to be – juicy, succulent and full of flavour.
Phil Pearson, Group Development Director, says, "Our mission is to grow and source delicious tomatoes in the most environmentally-friendly way possible. We use our tomato waste to generate heat, electricity and biogas. Not only is this great for the environment, but the heat that otherwise would have been wasted is absorbed by the plants and turned into sugar, which results in sweeter, tastier tomatoes with a longer shelf life."
Available in Tesco, www.apssalads.com
Steve's Leaves, Hampshire
The leafy equivalent of the chaps behind the Innocent brand, Steve's Leaves was started by cheery food scientist Dr Steve Rothwell, who actually has a PhD in the health benefits of watercress!
The key to getting the best salads is using the more nutritious outer baby leaves of a plant, which he grows on his nature-friendly farm in Hampshire. He also has a passion for growing new varieties of leaves and these are reflected in the different types of salad bags to choose from.
"Steve's leaves are a unique combination of outstanding convenience, taste, freshness, nutrition and integrity," Steve says. "We've almost 30 years' experience of striving to produce the best salads in a way that enhances, rather than damages, the countryside and its wildlife. Our leaves are grown on the first and only farms growing fresh produce to have been awarded Nature Friendly Farming status by Conservation GradeTM."
Available in Waitrose, Sainsbury's and other good food retailers, www.stevesleaves.co.uk
Nature's Way Foods, West Sussex
Robert Langmead's family-run business supplies over a quarter of the bagged salads in the UK and has been named as one of the fastest growing food companies in the UK by the Sunday Times Virgin Fast Track table.
It even won the equivalent of a food Oscar last year.
With over 400 years of farming in his blood, Robert founded Nature's Way in 1994 and the main goal of the business is getting the produce from field to shop as quickly as possible so you get the freshest tasting leaves and fruit salads.
"My family has been farming since the 1590s and today we farm over 10,000 acres, supplying fresh lettuce to all the major UK supermarkets," he says.
"We're based in West Sussex, which enjoys the highest light levels in the UK, and much of our land is located near the sea, with even more light. Coastal locations are also breezy, keeping humidity levels down, which is perfect for lettuce growing.
"We grow over 30 varieties of organic and traditional lettuce, from whole heads like Romaine and Little Gem to baby leaf types such as Spinach, Wild Rocket and Red Chard. The family also grows watercress in gravel beds fed by the crystal clear chalk streams of Dorset and Hampshire."
Available in Tesco, Morrisons, Waitrose and in Pret a Manger sandwiches, www.natureswayfoods.com
Maddocks Farm Organics, Devon
A real grassroots company, started by Jan and Steve Billington after they ditched their hectic London lives and moved to the country to practice the good life.
Starting with veg boxes, after a few years they focused on salads after the overwhelming local feedback. They now supply some of the top-class restaurants and boutique hotels in the Devon area.
Jan believes there are three things that makes Maddocks Farm Organics' leaves unique.
"Firstly, we only pick to order," she explains. "Our leaves are usually on the plate, or in the shops, on the day that they are picked, which means that they are bursting with freshness and flavour.
"Secondly, we are, and plan to remain, a small firm, so we can maintain close relationships with the chefs that we work with and grow and pick specific varieties, or mixes, to suit them or the event they are catering for.
"Thirdly, I trained as an artist for three years and the visual impact of our salads reflects this. We use a whole host of different edible flowers and leaves depending on the season to create a picture on a plate. Salad doesn't have to be boring!"
Available in delis, shops and farmers markets around Devon, www.maddocksfarmorganics.co.uk
Scot Herbs, near Dundee
Scot Herbs was founded in the 1980s by Robert Wilson, a frustrated dairy farmer, and his wife Sylvia, an excellent cook who loved to entertain. They've developed a Heston Blumenthal-like talent at growing and combing salad leaves, edible flowers and herbs, winning them a Scotland Food and Drink Excellent Award in 2010.
They also have strong community links, educating local youngsters about fresh food. From a herb garden open to the public, they branched out to opening their own restaurant and now supply tens of thousands of bags of salads and herbs to chains and restaurants across the country.
What makes them so unique? "The climate in this part of Scotland has really high sunshine levels and we're constantly rotating the crops on our 250 acre farm to make the most of the soil conditions," says Robert.
"Plus we offer a bespoke recipe service for our clients, so we're constantly looking at the sight, taste and texture of our produce and experimenting. It's a pleasure to reinvigorate jaded appetites," says Sylvia.
Available at Tesco, Asda, Marks & Spencer, and Morrisons, www.scotherbs.co.uk
Also worth your attention:
Jean-Christophe Novelli's Niçoise salad
Ed Baine's smoked chicken salad
Sophie Wright's French camembert salad
Be the first to comment
Do you want to comment on this article? You need to be signed in for this feature