Do chain restaurants put you off?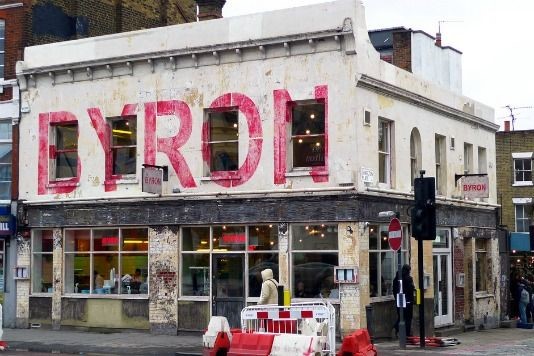 The UK high street is saturated with chain restaurants. But shouldn't we see beyond the familiar menus to independent restaurants where we can actually try something new?
This week I made a discovery. Byron, the burger restaurant that I think knocks the gourmet socks of any other in London, is not an independent chain. It is in fact part of Gondola Holdings, the name behind the prolific pizza chain restaurants Pizza Express, Zizzi and ASK.
My heart sank. I knew the chain had been expanding at a rate that puts Russell Norman's Polpo empire to shame. However, I'd never quite made the connection between its meteoric rise and the kind of money it takes to fund such an expansion.
Despite this revelation, nothing has really changed in the restaurant. The burgers are still the same, cooked medium, juicy, with a tangy special sauce and a clean-tasting, crunchy pickle on the side. I can still sip a malted shake whilst I wait for the sandwich. And I can still regret getting the too-salty garlic mayo afterwards. Yet, now I know it's not independent, I've gone right off Byron and haven't been for ages.
A chain invasion
It's not just Byron. The UK high streets are saturated with chain restaurants. There are bargain basement places like Nando's, Pizza Hut, Bella Pasta, Gourmet Burger Kitchen, all great for a bite on a budget. Or the slightly more upscale joints like Wagamama, Cote Brasserie, Pizza Express, Ping Pong… The list goes on and on.
There is certainly nothing wrong with these chains. They do what they do, and they do it well. But they are about mass appeal – getting the most forks in front of mouths. Their dishes are designed based on what the customer wants, even if the customer doesn't have a clue about good food. As a result their menus are often rigid, unseasonal and unexciting. For someone looking to be inspired by food, they are a total dead end.
For some this isn't necessarily a bad thing. In a time when spending money is scarce, I can completely understand having certain expectations for your one meal out per week (or per whenever). In this case, schlepping down to our local Pizza Express proves the more reliable, if boring, option because we know exactly what we're going to get.
But what about independents?
On the other hand, small independent restaurants are often more flexible, use better ingredients, are more focussed on their food ethos and have a much better idea of changing food trends. You've got to take a bit of a risk of not liking what you get, but intriguing new specials on independent restaurant menus are a daily treat to rival any American Hot. It's undoubtedly a more original, and therefore more exciting, dining experience, a much better use of the occasional meal out.
Cost also comes into it. The discounts and vouchers at chains are very attractive, particularly in the current climate, going someway to explain tables are packed every night full of salivating punters. But to say it's cheaper to eat at a chain than at an independent is not true. There are some brilliant independent restaurants at incredibly reasonable prices, all over the UK – even without vouchers. My local pizza place (Santa Maria in Ealing – go there if you can its fab) is cheaper than Pizza Express and does a 1L carafe of decent red wine for £8.95.
Why are chains so popular?
The real crux of the popularity of chain restaurants is how easy it is to go to one. They are everywhere. You don't need to think about going, no planning ahead, no seeking out a local gem or doing any research. No need to even ask around – see if anyone you know has tried anywhere new. Chain restaurants are right in front of you.
But it's precisely for this reason that I'm not such a fan. Personally, the exclusivity of a fantastic little eatery that only few have heard of is a huge pull, and having made the effort to find it is part of the fun. It was one of the things I used to like most about Byron. I could say to people 'there's this great new burger joint I want to take you to,' and they got excited. Now there's practically one on every corner in the West End.
So yes, chain restaurants do put me off, especially ones like Byron which are almost masquerading as independents. I'm not saying I won't go back to Byron. I still think it holds its own in terms of emphasising using the best meat and cooking it to get the best taste out of it. Plus there will always be times when you need to grab a bite fast and you look for the familiar name. But I'm definitely on the lookout for a new burger joint. Next time you're off for dinner, why don't you try and find something new too?
Want more?
McDonald's replaces humans with swipe cards and touch screens
Can fast food ever be healthy?
I'm never going to Starbucks again
Be the first to comment
Do you want to comment on this article? You need to be signed in for this feature