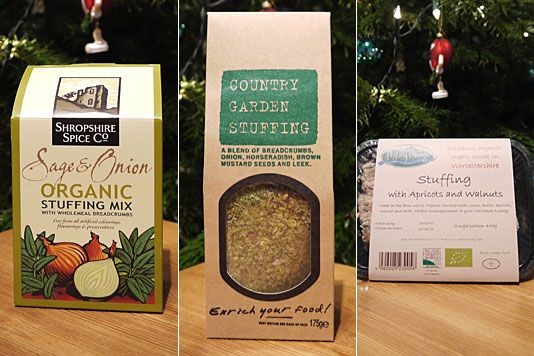 You can't call it a Christmas dinner without some stuffing. But should you go to the trouble of making your own? Should you 'eck. Here are three of the best pre-made stuffings on the market
Organic Stuffing with Apricots and Walnuts
This moreish organic sausage meat stuffing is packed with whole walnuts, sweet dried apricots, sautéed onions, sage and thyme. It's meaty, sweet, bitter and by far the best pre-made stuffing that the Lovefood.com team tasted. You could easily pretend this was homemade. Great with turkey or pork.
Best for? Meat eaters and those who like it organic.
Lovefood.com tip: If you have any of this stuffing left over, make little patties and serve with a poached egg for a luxurious Boxing Day brunch.
How much? This organic stuffing cost £5.99 for 450g from Abel & Cole. Serves around six.
www.abelandcole.co.uk
Shropshire Spice Co Sage and Onion Organic Stuffing Mix
Sage and onion stuffing is a classic accompaniment to the Christmas day lunch but this is wholesome alternative to that family favourite pre-mix that rhymes with taxo. It needs a bit of extra seasoning in our humble opinion but it's got good texture and a real meaty taste from the sage. Wholemeal breadcrumbs add a real nuttiness. Best with poultry.
Best for? Traditionalists, as well as vegetarians and vegans.
Lovefood.com tip: We'd add some extra salt and pepper to bring out the best flavours in this mix. Try adding fresh chilli and stuffing in a pepper for the veggies, too.
How much? A 150g box, which serves five to six, costs £1.35 direct from the Shropshire Spice Co. It is also available from Tesco, Waitrose and selected delis across the UK.
www.shropshire-spice.co.uk
Country Garden Stuffing
A vibrant green blend of breadcrumbs, onion, horseradish, mustard seeds and leek – this is definitely an alternative stuffing. There's lots of bite to it and a real heat which would work really well if you're one of the few who are roasting a joint of beef this year instead of a turkey. A good looking stuffing.
Best for? Those looking for a stuffing to partner with red meat or simply as an alternative to the traditional offering.
Lovefood.com tip: If you're cooking beef, smear the fillet with English mustard and pat on some of this stuffing (after you've prepared it with water and butter). Roast until the beef is cooked to your liking and you have a golden, crunchy crumb top.
How much? A 175g pack, which serves around six, costs £1.65 from Waitrose.
www.waitrose.com
More stuffing things
Chestnuts – get 'em while they're hot
Rachel Allen's roast chicken with chorizo stuffing
Be the first to comment
Do you want to comment on this article? You need to be signed in for this feature