Guide to British hard cheese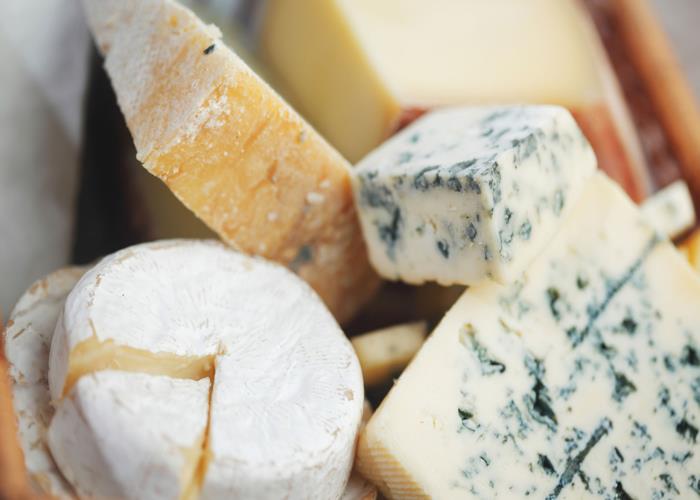 We have some magnificent regional hard cheeses here in the UK. Here are just a few of the nation's greatest.
We've had a long and enduring relationship with hard cheese here in Britain, most notably cheddar. It sustained us throughout rationing for one thing; albeit to the detriment of a thriving cheese culture at that time.
It provides the cornerstone to that Great British lunch, the ploughman's. However, beyond the omnipresent cheddar, we have a wide array of regional hard cheese demonstrating our deep and multi-layered food heritage. Here we take a look at just a tiny handful of the firmer, denser cheeses of Great Britain.
Quicke's Extra Mature
During the foot and mouth epidemic Mary Quicke was forced to close her shop for nine months. As a result, her West Country farmhouse cheddar ended up maturing for two years instead of the usual 15 months. The result packs a punch and has a mild acidity that tingles the tongue. Mary Quicke is the only female producer of traditional West Country cheddar and says this comes through in the 24-month-old cheese. "It's powerful, yet gentle," Mary explains. "Women don't want to be beaten up on their way to pleasure."
Mrs Kirkham's Lancashire cheese
Lancashire cheese is in fact one of the oldest in Britain. In 1939 there were over 200 farms producing Lancashire cheese, but now in 2011 there are but a few. Ruth Kirkham, another lady of cheese renown, has been making her award winning Lancashire cheese for over 30 years. Mrs Kirkham's Lancashire is crumbly, moist and probably the best cheese for a cheeky rarebit and simply magnificent when used in quiche.
Sparkenhoe Red Leicester
While we might remember relatively flavourless slabs of orange cheese in the fridge door during our youth, Red Leicester can actually be incredibly special. In 2005 David and Jo Clarke decided to make a traditional cloth-bound Red Leicester on their farm, which hadn't produced cheese since 1875. Sparkenhoe is the only Red Leicester to use unpasteurised milk and with it comes an abundance of sweet, nutty flavours. Enjoy a long lasting wholesome flavour with a subtle bite to it. Red Leicester gains its orange hue from the addition of annatto, the pulp that surrounds the seeds of the achiote tree of South America. Now there's a little fact for the dinner table.
Gorwydd Caerphilly
With a velvety crust of grey mould, Gorwydd Caerphilly is a grassy, fresh tasting cheese with a hint of citrus. It has an earthy aroma and the cheese is softer near to the rind and firmer, but still moist, at its centre. Produced by the Trethowan family on Gorwydd farm, near Llanddewi Brefi, it's a traditional Welsh cheese made from raw unpasteurised milk and matured for two months at the farm.
Woolsery Goats
Woolsery is a hard white goat's cheese that carries a creeping butter-cup yellow mould interspersed between white and grey on its rind. Aged for three months, Woolsery has a distinct fresh grassy flavour and only a mild hint of goatiness. Annette Lee has been making the cheese for 18 years down in Dorset and says you can substitute it for any hard cheese in cooking. "It's not as rich as cheddar and I find it wonderful in an omelette," she says.
Other varieties
There are, of course, many others. Berkswell is an beautiful flying saucer-shaped cheese made from ewe's milk and Lincolnshire Poacher gives even the best West Country cheddars a run for their money.
Do you have any firm favourites? And if so, what are they? Let us know in the Comments box below.
More cheesy goodness
The UK's five best cheese shops
Six secrets to buying good cheese
Be the first to comment
Do you want to comment on this article? You need to be signed in for this feature