The top five meat substitutes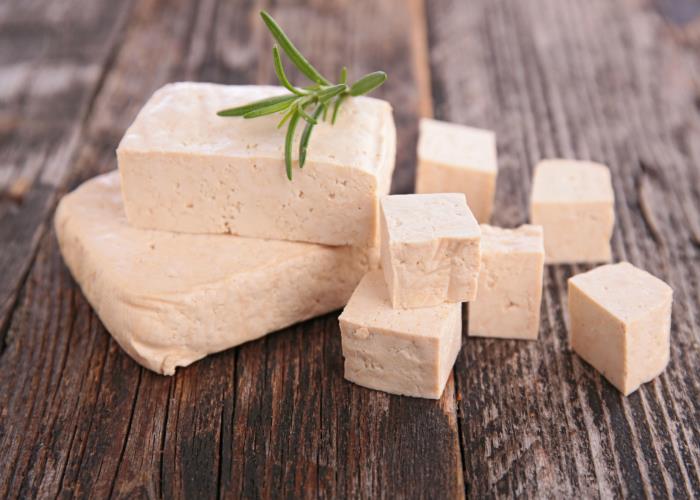 Vegetarian, pescetarian, flexitarian, or meat reducer? Here's our round-up of the best meat substitutes.
Available in large supermarkets, Asian grocers, health food stores or online, these 'meat analogues' can be used in soups, stews, salads, stir-fries, hot-pots, curries, pies and bakes.
They may not replicate the taste of meat, but they give texture to a dish. And they can be used as 'meat extenders', too: used in conjunction with meat or fish, they'll help keep the cost of your meal down.
Tofu
Originating in ancient China and widely used in various Asian cuisines, tofu is normally made from soya beans, but can also be produced from moong beans, sweetcorn, black beans, split chick peas, or fresh green edamame beans.
It's not to everyone's taste and is the butt of many jokes, but I think Tofu an unfairly maligned and much misunderstood ingredient. It comes in a range of textures, from silken to firm. Marinate in Asian flavourings, then cut into cubes or slices, and fry or grill before use. Tofu can be used in savoury and sweet dishes as well as drinks, and can also be steamed, mashed or stuffed.
Tempeh
This dense-textured, deep-flavoured protein originated in Indonesia, possibly in the nineteenth century. It's usually made from fermented whole soya beans; but sometimes other beans, wheat berries, grains like barley and oats, nuts and seeds are also added.
Shaped into firm patties and available fresh, frozen or dried, tempeh has a complex, distinctively earthy and nutty flavour. Cube or slice the tempeh, then boil or marinade in a sauce, and fry or grill before use. It can also be simmered in coconut milk, steamed in banana leaves, battered and deep-fried, or grated like cheese.
Textured Vegetable Protein (TVP)
TVP is normally made from defatted high-protein soya flour and, occasionally, cotton seeds, wheat or oats. It's available as dehydrated cubes, nuggets, flakes, strips or mince. TVP should be soaked in double the quantity of water (or as per the packet instructions) before use. Because it's bland, you can add flavourings to the soaking water to make it tastier.
Wheat Gluten
Widely used in Buddhist Asian and macrobiotic cuisines, wheat gluten is made by washing wheat flour in several changes of water until all the starch dissolves and you're left with a soft, spongy ball.
This stringy, chewy, moist protein is then steamed, baked, fried until puffy, or braised in a stew. Sometimes stuffed with tofu, it's available fresh, frozen or canned.
There are several varieties of wheat gluten. Seitan is available in blocks or slices, and is often flavoured with sauces, herbs or mushrooms. Mock duck, which is gluten stewed in soya sauce and other flavourings, is available in cans, and should be rinsed before use. Fu, used in Japanese cuisine, comes in dried form (resembling large croutons) or fresh (combined with glutinous rice flour and millet).
Mycoprotein
More commonly known by its brand name Quorn, this pale-coloured protein, available as mince, cubes, balls and slices, was developed in the twentieth century to combat the world hunger crisis. It's produced from the fungus Fusarium venenatum. Sounds unappetising? It could have been worse: we could have ended up with chlorella.
Mild in flavour, mycoprotein should be sautéed briefly before used, as per the packet instructions. Avoid mixing it with mushrooms in a dish – the fungus overload may make you queasy.
Also worth your attention:
Nicola Graimes' Vegetarian Yakisoba recipe
Mushrooms: The best substitution for meat
Can 'fake foods' be as good as the real thing?
Be the first to comment
Do you want to comment on this article? You need to be signed in for this feature