The top five spices in Indian food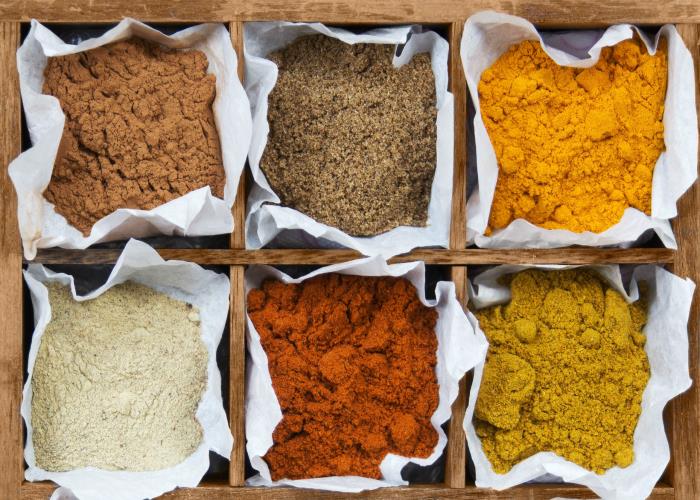 To understand Indian food, you have to know the basics, and things don't get more fundamental than the careful use of spices and aromatics. Indian food expert Maunika Gowardhan tells us more.
Spices have for years formed the backbone of Indian cooking. Anyone who cooks an Indian meal knows what an important part they play in rustling up a gorgeous fresh curry, and no Indian kitchen is complete without their masala dabba or spice box. This stainless steel box is divided into little compartments that hold a small selection of spices for everyday use. It's these spices that home cooks rely on as their base to build on for easy Indian meals. My spice box has been in the family for generations and it's these spices that I always recommend curry lovers to stock upon. This is your starting point and the more you cook, the easier it will get as you adapt your spice stock based on what you would like to add. Here then are my top five spices.
Coriander seeds (ground or whole)
Part of the coriander plant, the seeds have a slight lemony flavour to them. I buy them whole, roast them in a dry frying pan to release their oils and then grind them to a fine powder. The seeds can also be coarsely crushed in yoghurt, raitas or in marinades.
Garam masala
An aromatic spice blend made with a mix of spices. Most Indian families have their individual (secret!) recipe for the masala. Patak's range has a Garam Masala paste that is a ready to use blend for curries and marinades.
Turmeric
Lending a yellow hue to curries; turmeric is one of the most essential spices in the Indian cooking repertoire. Part of the turmeric root, it is ground down and releases a distinct aroma and flavour in warm oil. Turmeric is also used for its healing properties in India.
Chilli powder
Available in various grades of heat and colour. I tend to stock Kashmiri chilli powder as its high on colour and relatively mild on heat; lending a lovely bright red colour to sauce. If you cannot find it you can use paprika for colour instead. Add a pinch of cayenne pepper for heat or even some fresh green chillies.
Cumin seeds (whole or ground)
When added to hot oil cumin seeds release a nutty flavour. Always give the seeds a few seconds to sizzle in the pan to lend their aroma before adding your other ingredients. You can grind the seeds to a fine powder which is perfect for meats and roasting vegetables too.
So there you have it, by using these spices as a foundation you can build layers of flavour. Of course the beauty of a country the size of Indian is that there are literally hundreds of spices, aromatics and flavourings to play with. What spices occupy pride of place in your kitchen cupboards and which do you regularly reach for? Tell us in the comments below.
More tasty things you'll enjoy
Be the first to comment
Do you want to comment on this article? You need to be signed in for this feature