The complete guide to pasta shapes – and what to make with each one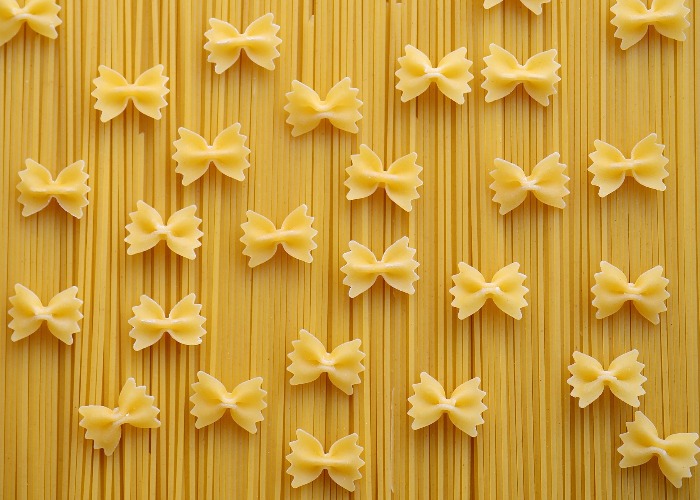 Confuse your fettucini with your farfalle? This guide will tell you everything you need to know.
There are hundreds of different pasta shapes out there, to complement hundreds of recipes. Here we've rounded up some of the most common types beyond the store cupboard staples of spaghetti, linguini and fusilli.
Some shapes are very similar to one another, and you may even find that the names for something that looks identical will change from region to region in Italy.
So while it's not a straightforward topic, this guide might help you find new types of pasta to try in your cooking.
Capelli d'Angelo (Angel Hair)

Type of pasta: Long pasta. Pronounced cap-eh-lee dah-anj-eh-lo.
Description: The thinnest of all pasta, it comes in long, delicate strands and is often used in Asian cooking too. It only takes two minutes to boil.
Best eaten with: Generally speaking, angel hair should be eaten alongside delicate tomato or broth-based sauces; the Neapolitans serve it only with shrimp and vegetables. Simply tossed with a glug of good olive oil is nice, too.
Bucatini

Type of pasta: Long pasta. Pronounced boo-cah-TEE-nee.
Description: Coming from the word 'buco', meaning 'hole' in Italian, bucatini is thicker than regular spaghetti pasta and is great for twisting round one's fork. There's a thin, straw-like hole down the centre of each strand, and this type of pasta originated in central Italy.
Best eaten with: Try bucatini alla'matriciana when in Rome. The locals love the light, spicy sauce with pancetta and red pepper flakes. Don't forget to top with a grating of Pecorino cheese.
Farfalle

Type of pasta: Shaped pasta. Pronounced far-FAH-leh.
Description: Farfalle dates back to the 1500s and was first eaten in the Lombardy region of north Italy. Fondly referred to as bow pasta, or butterfly pasta (we think they look more like the former), they are essentially rectangular pieces of pasta pinched in the middle.
Best eaten with: Very versatile this one. Good in cold pasta salads, or warm main meals with a light and creamy sauce. Mini farfalle are made for use in soups, too.
Fettuccine

Type of pasta: Ribbon pasta. Pronounced feh-too-CHEE-nay.
Description: Made from flat sheets of pasta, cut into ribbon-shaped strands. Probably one of the most popular pasta shapes, because it provides such a great surface for catching sauces. Some say that fettuccine originated in Rome, although nowadays you're more likely to find it spelt 'fettuccini', because of America's obsession with it.
Best eaten with: Rich and creamy sauces. Fettuccine alfredo, one of the most common dishes to use this pasta, is made with a rich butter, cream, and Parmigiano-Reggiano cheese sauce. You could also try fettuccine con verdure with seasonal vegetables.
Cannelloni

Type of pasta: Tubular pasta. Pronounced CAN-eh-lone-ee.
Description: Translates to 'big reeds' in Italian. The pasta is formed into large, hollow tubes
Best eaten with: Cannelloni always comes stuffed with something or other – meat, cheese, or a seafood mixture usually, then is covered with a sauce and baked. Extra cheese is scattered on top, like with a lasagne. This pumpkin cannelloni is one of our favourite recipes.
Ruote

Type of pasta: Shaped pasta. Pronounced roo-OH-tay.
Description: One for the kids. Shaped like wagon wheels, they're very small so are perfect for little appetites. Sauces will get stuck in the 'spokes', which are also good for catching peas.
Best eaten with: Perfect in pasta salads, and with chunky sauces.
Mezzelune

Type of pasta: Stuffed pasta. Pronounced metz-eh-loon-eh.
Description: Literally 'half moon' pasta. Typically it starts with a base of egg pasta, which is rolled out and then cut into circular shapes, and then carefully filled with mixes of varying flavours. Because it's quite small, mezzelune pasta should cook within a few minutes.
Best eaten with: The filling inside ranges from meats to mushrooms, seafood, or just herbs. Take care not to over-stuff your Mezzelune, as it can be delicate.
Rigatoni

Type of pasta: Tubular pasta. Pronounced rih-gah-TOE-nee.
Description: Large, ridged, slightly curvy tubes of pasta, which are the most commonly used in southern and central Italy. The difference between rigatoni and penne is that the latter have angle-cut ends.
Best eaten with: Chunky meat sauces, such as this sausage ragu, because the ridges catch it so well. The entire surface, both inside and out, works to stick to the sauce.
Conchiglie

Type of pasta: Shaped pasta. Pronounced con-KEEL-yay.
Description: Eaten in abundance by ever-hungry students, 'shell' pasta is probably the most popular type in the UK. Jumbo stuffed shells are traditionally found in the south of Italy, where stuffed pasta dishes are favoured.
Best eaten with: A rich ragu (meat sauce), a cream, or cheese sauce. The shell serves as a scoop to collect all those delicious juices.
Rotini

Type of pasta: Shaped pasta. Pronounced ro-TEE-nee.
Description: Spirals or twists shorter than fusilli pasta, about 1 inch long. It's a pretty tight spiral, which originates in northern Italy.
Best eaten with: Both fusilli and rotini work well with pesto, because the bunched up spirals can catch even the thinnest sauce. They also work well in pasta salads.
Orzo

Type of pasta: Small pasta. Pronounced ort-zo.
Description: Shaped like fat grains of rice,
Best eaten with: Orzo is a versatile type of pasta that can be added to soups and stews, or eaten cold in salads. Good with rich sauces that it can be stirred into and swell up in, absorbing the flavour. Try this recipe for orzo with cabbage, lemon and pine nuts.
Ravioli

Type of pasta: Stuffed pasta. Pronounced rahv-yo-lee.
Description: Little packages of pasta stuffed with any filling you like.
Best eaten with: There are an infinite number of stuffings you could fill ravioli with, and what you stuff it with will dictate the sauce. A diced pork and herb stuffing would go well with a simple tomato and basil sauce, while a four cheese stuffing would sit better with a cheesy white sauce. Try this cheese and spinach ravioli with burnt butter.
This article was originally published in June 2012 and updated in August 2017.
You might also like
The A to Z of essential herbs and spices
17 tips for cooking perfect pasta
Be the first to comment
Do you want to comment on this article? You need to be signed in for this feature