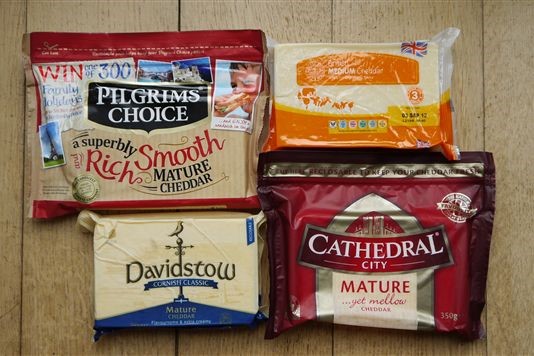 There are a few groceries which appear time and time again in our shopping basket, and in the UK cheddar ranks high on that list. But does it matter what cheddar you choose? Laura Rowe finds out.
Two types of cheddar
Essentially, there are two types of cheddar: 1) West Country Farmhouse Cheddar, which holds Protected Designation of Origin (PDO) status and is made in small batches using traditional methods; and 2) everything else, which is the cheese you're most likely to find in the supermarkets.
But of course, not everyone can afford the price tag of the former; and, unless you are buying cheese to eat on its own, often supermarket cheeses do just fine for the kids' sandwiches or melted into a pasta bake. So, in light of the economic climate (which is almost as bad as our actual weather forecast this summer) here's a look at four of the top brand leaders of cheddar:
Cathedral City Mature yet Mellow Cheddar £3 for 350g
Pilgrims Choice Mature Cheddar £2 for 350g
Davidstow Cornish Classic Mature Cheddar £3 for 395g
And a budget version Aldi British Medium Cheddar £2.29 for 400g.
The taste test
If you like your mature cheddar to pack a punch (and I do), then Davidstow (first left) has got its recipe spot on. Smooth, creamy and with a really strong, sharp tang, this is a cheese that makes an impact considering its price point. It tastes just as good as it smells which is probably down to a 14-month maturing period. Pilgrims Choice (first right) is less
distinctive but still flavoursome, although it doesn't have a set maturing time. It again has a uniform texture, nice smell, good crumble and was the brightest
yellow of the bunch – I am assured this is "all natural". Cathedral City (second left) is lovely, creamy and rounded in flavour, but it lacks the maturity of Davidstow – Dairy Crest state that its Cathedral City Mature cheeses are matured over 12 months (the Vintage is matured for an additional eight months to gain a crunchy, flinty texture). Aldi (second right) meanwhile is very mild and not what I would
consider 'medium', although it is matured for roughly eight to 12 months and again contains no colourings. It is a good family cheese, though – it's not so strong as to put off children, but grown-ups might need an extra splosh of Worcestershire sauce on their cheese on toast. It's springier in texture but it's not rubbery, and definitely not the worst cheddar I have ever tasted.
Provenance
Don't assume you are buying British just because you're buying cheddar. When asked where Pilgrims Choice sources its cheese from, the team replied: "…we source our product from dairy farms across the UK, although not all Pilgrims Choice is exclusively British. The majority is from Britain and we also source from Australia and New Zealand". Davidstow's creamy has been based on the North Cornish coast for the past 60 years, while fellow Dairy Crest cheese Cathedral City uses milk from Dairy Crest farms across Britain but produces it at the Davidstow site. Nice to see British producers being supported, although the firm has recently been criticised for driving down the prices it pays for milk. Aldi cheese is British made and gets its milk from two processors (Robert Wiseman and Arla), who source milk from numerous dairy farmers. Regarding the recent price cuts, Aldi commented: "any price cuts our dairy farmers are facing have gone directly to the processors and Aldi are looking to address this situation and its impact upon farmers".
Packaging
Interestingly, the two smallest 350g cheeses (Pilgrims Choice and Cathedral City) had the most amount of packaging. Both use a resealable plastic bag. Davidstow is tightly packaged in plastic but has a sticker to reseal its bag, while Aldi keeps it simple with a simple plastic wrapping to help keep costs to a minimum. Its cheese is packaged in a "vacuum-sealed skin which keeps the block airtight and free from mould, whilst at the same time allowing it to develop in flavour". But do you value the resealable bag enough to pay more? The British Cheese Board recommends wrapping cheese tightly in foil, while the Curd Nerds say wrap in a combination of parchment paper and clingfilm. But in my experience, parchment paper on its own will do just fine. Clingfilm or plastic bags tend to make hard cheeses sweat.
So what cheese do you reach for in the supermarket? Do you go budget or brand?
You might also like
Be the first to comment
Do you want to comment on this article? You need to be signed in for this feature