Theme park food: France v England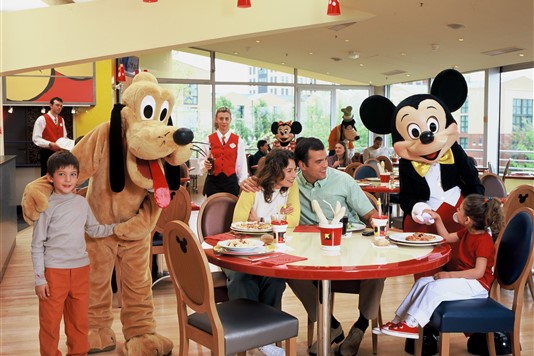 Mission: eat well at a theme park. Is it really only yellow food on offer, or is there scope for a balanced diet?
Chips and doughnuts. That and meeting Mickey Mouse were the two magical memories I took from my first visit to Disneyland Paris, many moons ago.
But as joyous as junk food was for a little girl, the novelty of it has worn off; beige plates of food are my enemy now. So how did I cope when, one May weekend, my sister Elise and I went back to Disneyland Paris for three days? Here's how we got on, and what to expect from English theme parks too…
Lunch
The buzz of Disneyland's Big Thunder Mountain (by far my favourite ride) kept our appetites at bay until 2pm, when we stopped for our first Disney luncheon. Wanting to eat relatively light (a full belly is not desirable when one is planning on loop-the-loops), we chose the Hakuna Matata café (pictured left), one of near-50 fast food joints in the park.
Disneyland sores 10/10 when it comes to décor and attention to detail; the table next to us were eating with Timon (of Timon and Pumbaa fame). But what of the food? My heart initially sank when, from a distance, the pictorial menu looked overwhelmingly yellow… but I judged too early; as well as the usual junk (which, to be fair, a lot of people want to eat when on holiday), there were healthier, nutritious options too: I had a giant 'Hakuna salad' with fresh baguette and prawns; while Elise enjoyed well-spiced African chicken with rice – good value at just over £6.
The English way: It's harder to find carbohydrates other than chips and burger buns back in the UK's parks. At Thorpe Park burritos, burgers, hot dogs and fish 'n chips reign supreme; although you can find jacket potatoes at the Calypso BBQ and Bar, or get a (sort of) veg-fix at Wild Wong's Noodle Bar.
New for 2012 at Alton Towers is The Fried Chicken Company…oh dear. But Alton is at least cheap – you can eat as much as you want all day for just £22.50 – and there are some outlets which serve food displaying a 'Healthier Choices' logo (under 600 calories).
For kids, Legoland wins. They have healthy cookbook author Annabel Karmel on board, who is helping come up with a new range of menus for little'uns. Plus every kid's meal is served with an apple as standard, and meals low in fat, salt and calories are proudly identified.
Snacks
If you like to snack on popcorn, crisps, toffee apples and candy floss, then Disneyland is where dreams are made of. But if like my dental student sister you can't abide the feel of sugar rotting your teeth all day, I'd suggest bringing your own snacks in. Strictly speaking, you're not allowed to bring your own food and drink into the parks – although there is a picnic area where you can eat whatever you please.
On the plus side, we did spot a few fruit carts (apples, bananas, the odd cup of melon) propped in corners of both the main park and Disney Studios. And encouragingly, they were always pretty busy. More of that please, Disney!
The English way: we already know about Legoland's fruit policy. But what about a smoothie stall? Or selling cups of nuts and dried fruit? Maybe there's just not a big enough demand.
Click under the 'snacks' tab on the Thorpe Park website, and you've got a choice of either 'Ice cream and Sweet Treats', or 'Donuts'. Spelt wrong. Methinks I won't find any fruit carts here. Alton Towers is exactly the same – except they do waffles and pancakes, too.
At least Blackpool Pleasure Beach makes an effort. You can buy Yoomoo (fat free frozen yoghurt), or maybe snack on a couple of oysters at the Oyster Bar, found under the Flying Machines.
Dinner
All our roller coaster-related exertions soon had us hungry again; to Disney Village for dinner, then, where you'll find the same kind of food as inside the park, only in a more formal, table service environment.
We had big bowls of veg-packed pasta in creamy garlic sauce, and a decent steak with potato dauphinoise at the Rainforest Café for £15 each (a large tip for seating us next to the tropical fish tank); and dinner the next day at Annette's Diner (pictured above) was a scream, given that the waiters scoot about on roller skates and, if you're lucky, dance on the tables when the juke box plays. Don't expect wonders if you're a veggie though; the Green Piece veggie burger – stuffed full of avocado, mozzarella, potato tortilla, and loads of grilled veg – was great, but one of only two veg-friendly options. Expect to pay between £10 and £15 for a filling main at Disney Village.
The English way: sit-down restaurants are few and far between at the English parks, maybe because no one stays long enough for dinner. However, Alton Towers does have table service at their Woodcutter Bar & Grill (ribs, burgers, salads and chargrills for £8), and Blackpool Pleasure Beach has the pretty swanky White Tower Restaurant with marvellous views of the Blackpool promenade.
Go gourmet
Is there anything for the distinguished palate at Disneyland? The Blue Lagoon (very nicely situated inside the Pirates of the Carribean ride) offered veal with aged Jamaican rum sauce, or roasted sea bream flavoured with saffron (3 courses for £32); Walt's restaurant was similarly swish with grilled fillet of Charolais beef and cod steak in spice crust; and you can pick up freshly baked brioche from the Cookie Kitchen on the main street up to Cinderalla castle.
But sticking to a no-more-than-30-euros-a-day-on-food-each rule, we couldn't afford three courses at any of the finer establishments. Although we did nip into the Blue Lagoon for just pudding, once – a gorgeous flambéed pineapple ice cream, with pineapple carpaccio. Délicieux!
The English way: gourmet food at theme parks is an exclusively French phenomenon; there are no veal medallions in Thorpe Park.
What do you think of theme park food? Do you wish there were more healthy options, or is eating junk food all part of the fun? Talk to us in the Comments box below…
You might also like
Schoolgirl's shocking school dinners
Be the first to comment
Do you want to comment on this article? You need to be signed in for this feature